The store bought items used as sci-fi movie props
The Dyson Airblade - drying hands and I.Ding aliens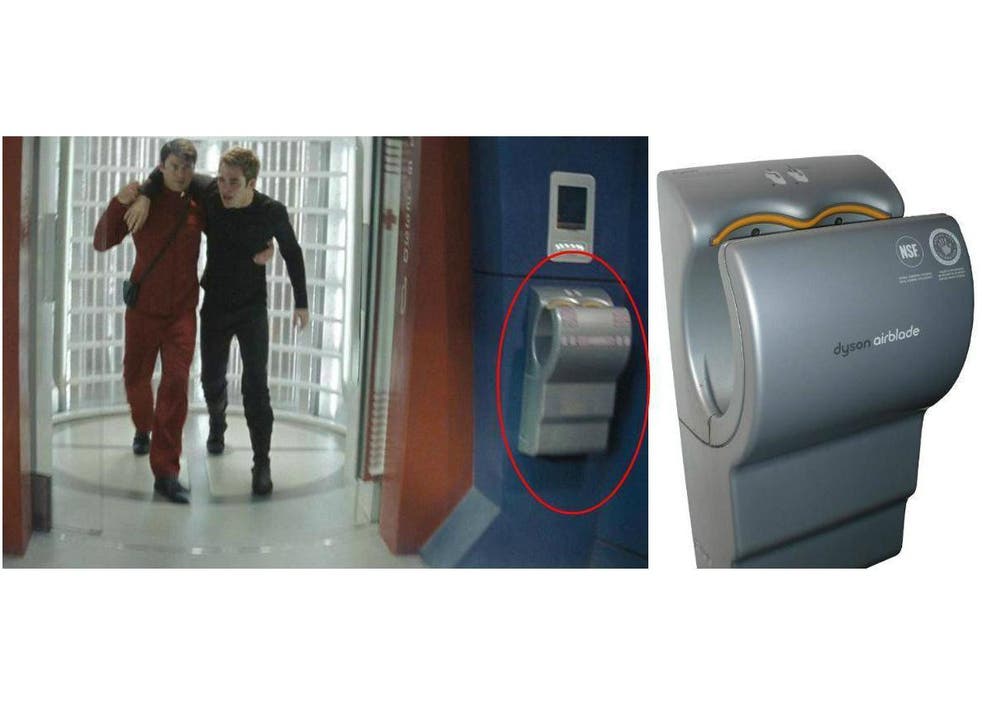 Blockbusters might have notoriously big budgets, but sometimes resource or time constraints mean that props and sets have to be turned around pretty speedily.
Most of the time, the set designers will still produce original items out of materials, but occasionally they'll repurpose commonly sold products.
The result range from 'so carefully concealed you wouldn't even notice', to 'so clearly recognisable you'll feel pulled out of the narrative'.
Let's look at some classics collated on Reddit this week (not all sci-fi, and some from TV):
Qui Gon's communicator in The Phantom Menace was a women's razor.
And Jai Alai equipment became kitchen utensils on Tatooine.
Back to the Future's Mr. Fusion home reactor looked uncannily like a Krups coffee grinder.
While in The Fifth Element, the Mangalore terrorists' bomb timer is little more than a combination lock with an LED on it.
The parasites in the film? Bumble Balls covered in latex and paint.
This reading light jammed signals in V for Vendetta.
And in Avatar recorded Jake's personal log.
In Star Trek, a potato peeler was used as a scanner.
And a Plantronics wireless headset with a little coloured glass added made Scotty's eyepiece.
Here's a Doctor Who hologram device (just a close up of a USB cable).
Lightsabers were originally made from the flashes on cheap Graflex cameras.
Here's a shoe polisher turned PKE meter in the original Ghostbusters.
Terra Nova used Nerf blasters painted to look like futuristic rifles.
A LEGO train speed regulator was a third party NES controller in Virtuosity.
The reverse of a Shure 55 microphone served as a medical droid's mouthpiece in Star Wars.
This Total Recall wearable computer was just a tape recorder strapped to a wrist.
A spacesuit in Sharknado 3 was mostly just American Football padding.
The 1965 German SF TV show Raumpatrouille famously used an iron as the centerpiece of its engineering console.
Babylon 5's Narn fighter headrests? Abdominal exercisers.
Dyson Airblades in Star Trek. Presumably some sort of I.D. scanner.
During the evacuation of Cloud City in The Empire Strikes Back, a resident flees with an ice cream maker (it was supposed to be a device carrying Rebel contacts). The extra was given a name, Willow Hood, and became a fan favourite.
And not forgetting the dog with a horn strapped to its head playing an 'exotic creature' in Star Trek.
Which recent movies will become classics?

Show all 21
Read more: Watch actors playing actors acting
Join our new commenting forum
Join thought-provoking conversations, follow other Independent readers and see their replies