The alternative Oscars 2014: Jared Leto the big winner as gongs awarded for Best Wardrobe Malfunction, Best Photobomb, Best Lookalike
Arguably more prestigious than the real thing...
Adam Withnall
Monday 03 March 2014 13:55 Comments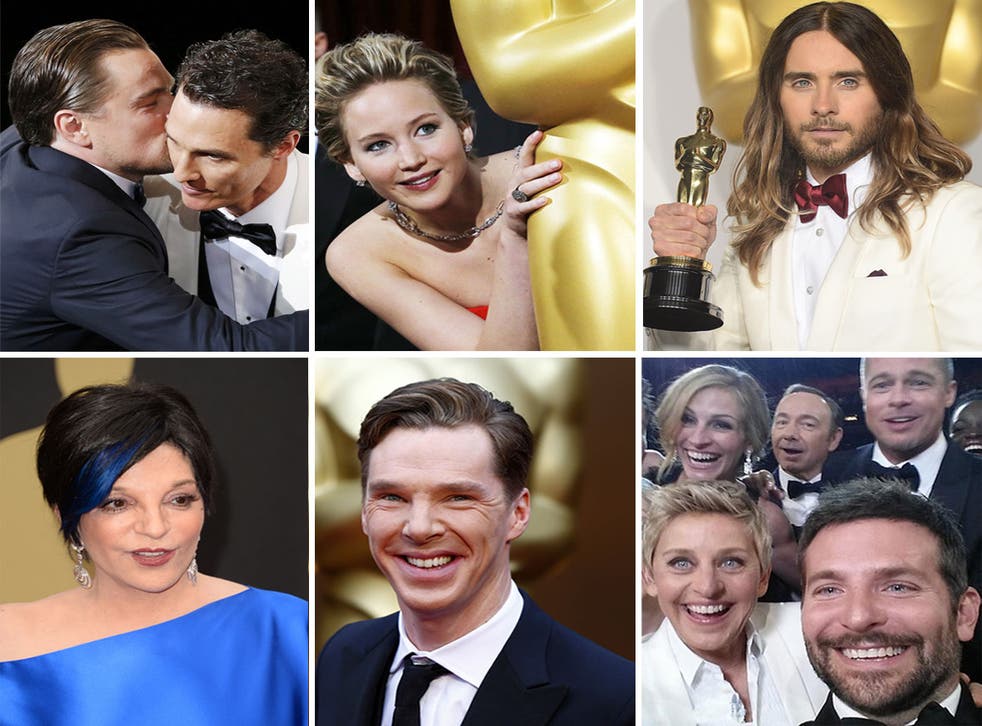 If like most of the rest of the world you now are now fully up to speed on the official winners at this year's Academy Awards, you may not be aware who came out on top in this year's highly unofficial alternative Oscars.
With two gongs, Jared Leto is the undisputed winner as far as remarkable incidents, sensational comments and fantastic photo opportunities are concerned – and Leonardo DiCaprio is everyone's favourite loser, again.
From Best Photobomb to Best PR Stunt, we take a very unacademic look at who came out on top in the light-hearted alternative universe of the internet.
Best Twitter Rant - Rose McGowan
In one of the world's finest examples where the phrase "took to Twitter" can be fully justified, the actress Rose McGowan bombarded social media with a furious rant after this year's Oscars audience failed to give 81-year-old star Kim Novak a standing ovation.
"Kim Novak! No standing ovation?! Self-obsessed and disrespectful, that sums up the Oscar audience," she wrote.
Then she retweeted herself for good measure.
Best Wardrobe Malfunction – Liza Minnelli
She may be a legend of US entertainment, but Liza Minnelli shocked viewers with her "borderline obscene" electric blue trouser suit last night.
Apparently she had "forgotten" to wear underwear - or at least, that's the verdict Twitter came to.
Best Product Placement - Samsung
An early front-runner to take a Best Selfie award, Ellen DeGeneres' celebrity-stuffed photograph has since been demoted to being referred to as "'a moment devoid of all subtlety".
The general consensus among tech commentators is that the picture, taken by Bradley Cooper and later breaking Twitter's retweet function, was an elaborate ruse to get Samsung's Galaxy Note 3 on to centre stage.
Best PR Stunt – Jennifer Lawrence
A controversial victory in the alternative Oscars now, after Twitter users turned on their usual darling and previous actual-Oscars-winner Jennifer Lawrence.
Access unlimited streaming of movies and TV shows with Amazon Prime Video Sign up now for a 30-day free trial
Sign up
Last year she "fell on to the stage and fell into our hearts" - and this time the American Hustle star got her tumble out of the way early on.
Social media users were unforgiving, though, with many questioning: "Is Jennifer Lawrence falling over on purpose?"
Oscars 2014 Winners

Show all 8
Best Photobombing – U2 with Benedict Cumberbatch
Looking very serious and surly on the red carpet last night, U2 were just asking for someone to inject a little fun into proceedings.
Thankfully, Sherlock star Benedict Cumberbatch happily (and acrobatically) obliged.
An honourable mention for this award should go to Peter N'yong'O, the brother of Lupita Nyong'O and the only non-actor to get in on that selfie.
Best Political Shoehorn – Jared Leto
On the heels of other greatssuch as Marlon Brando or more recently David Bowie, 30 Seconds To Mars frontman Jared Leto accepted an award with a slightly awkward attempt to shoehorn in a political message.
"To all the dreamers out there around the world watching this tonight in places like the Ukraine and Venezuela, I want to say we are here and as you struggle to… to make your dreams happen, to live the impossible… We're thinking of you tonight," he said.
An admirable attempt, if a little out of place.
Best Tribute To Late Colleague – Bill Murray
Everyone loves Bill Murray - that's just a fact - and they did so just that little bit more last night after he went off-script with an emotional tribute to the late comedy star and colleague Harold Ramis.
Needless to say, the shout-out to the actor, who died last week aged 69, was well-received.
Best Lookalike – Jared Leto
Ensuring Mr Leto as the big winner from this year's awards, it's a second gong for the man who seems never to age and who can do no wrong at the moment.
Apparently, his hair stylist found it a challenge to make sure "that he doesn't look like a woman" this year.
Mission accomplished, then, as he ended up looking not unlike the Messiah himself.
Best Loser – Leonardo DiCaprio
It is a truth universally acknowledged that Leonardo DiCaprio should, by now, have won a Best Actor Academy Award.
No one would begrudge a bit of recognition for the extraordinary revival of Matthew McConaughey - who, by the way, thanked himself in his acceptance speech last night.
But with his gracious non-acceptance of an award and his enormous popularity among Google-searching fans, surely it is only a matter of time before DiCaprio claims his place among the greats.
Register for free to continue reading
Registration is a free and easy way to support our truly independent journalism
By registering, you will also enjoy limited access to Premium articles, exclusive newsletters, commenting, and virtual events with our leading journalists
Already have an account? sign in
Join our new commenting forum
Join thought-provoking conversations, follow other Independent readers and see their replies