The Big Short trailer: Ryan Gosling, Brad Pitt, Christian Bale and Steve Carell star in financial crisis comedy
Comedy centres on those who profited from the crisis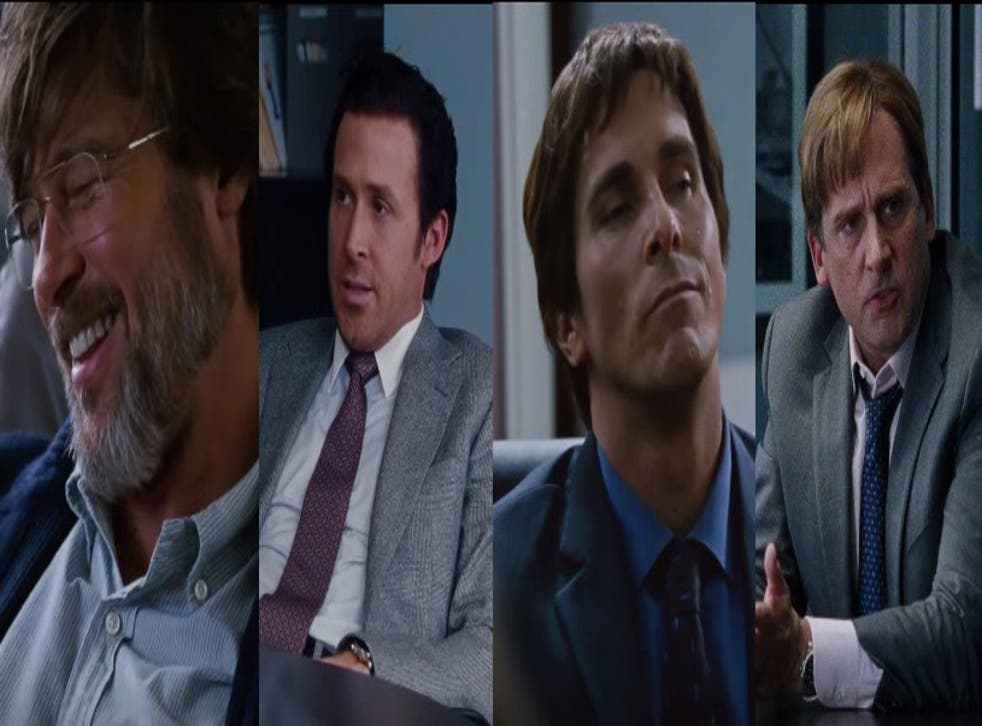 The first trailer for The Big Short is out, a comedy about the financial crisis of 2007-2010 written and directed by Anchorman's Adam McKay that could be a big awards contender.
Like an even darker version of The Wolf of Wall Street, the film sees Pitt, Bale, Gosling and Carell play key players in the creation of the credit default swap market that sought to bet against the debt bubble and ended up actually profiting from the crisis.
Serious though the subject matter is, the film is pitched toward comedy, with McKay being best known for Anchorman, Talladega Nights and Step Brothers.
The film has a truly all-star cast, with Marisa Tomei, Karen Gillan, Selena Gomez and Rafe Spall also featuring.
"There's such a difference between people that are establishing themselves and people that are established," McKay told EW of the film's A-list quartet.
"These guys are all so successful that they most of all just appreciate each other. So there was no real feeling of competition or territorialism going on, but there was a feeling of everyone's got to be on their game because everyone respects everyone around them."
The Big Short is based on the non-fiction book about the financial crisis of the same name.
"It was really about the characters, and that's what drew me to it," McKay said of why he wanted to adapt it, "this idea that we sort of picked the wrong heroes, that the people we need to be listening to are the ones who don't make eye contact, the ones with a bad haircut, the ones who don't dress well. That's what I loved about it.
"I knew that I had to explain these financial instruments, but I also knew that if these characters were strong, and you understood their perspective, they could carry us through it."
The Big Short opens in cinemas 11 December, 2015.
Register for free to continue reading
Registration is a free and easy way to support our truly independent journalism
By registering, you will also enjoy limited access to Premium articles, exclusive newsletters, commenting, and virtual events with our leading journalists
Already have an account? sign in
Register for free to continue reading
Registration is a free and easy way to support our truly independent journalism
By registering, you will also enjoy limited access to Premium articles, exclusive newsletters, commenting, and virtual events with our leading journalists
Already have an account? sign in
Join our new commenting forum
Join thought-provoking conversations, follow other Independent readers and see their replies