'The Irishman': First look at Robert De Niro and Al Pacino's latest film pairing
The movie is set for release in 2019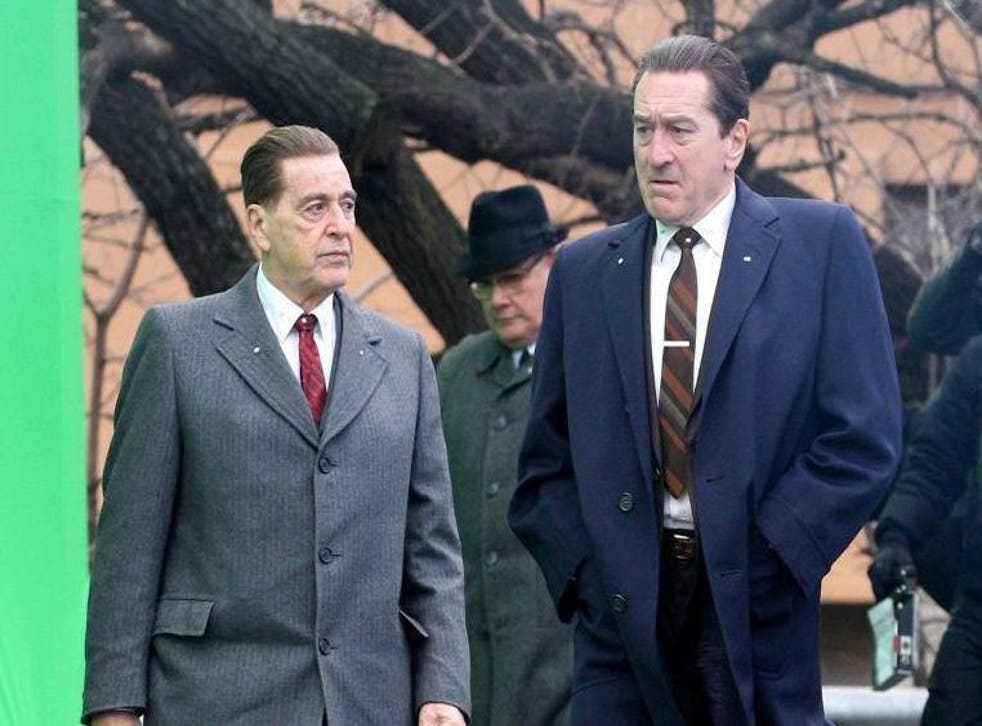 Al Pacino and Robert DeNiro are together once again - and everyone's talking about DeNiro's shoes.
For Martin Scorsese's upcoming film The Irishman, the duo will reunite on-screen for the first time in years.
It's clear Netflix knows it has a hit on its hands: the streaming service has spent a whopping $105m (£82m) on the crime drama.
Now, we have a first look at The Irishman, which is being filmed in New York City.
Someone spotted Pacino and DeNiro reunited in their first look for the movie.
What stands out in the leaked images the most however is Robert DeNiro's footwear choice; the 5'11" star is sporting Spice Girls-style platform shoes to make him tower over Pacino who is 5'7".
While The Irishman isn't set for release until 2019, it's already generating a lot of buzz thanks to a robust cast featuring not only Pacino and DeNiro, but Joe Pesci and Harvey Keitel.
Earlier this year, The Wolf Of Wall Street director divulged how the film would be a new kind of mob movie for him.
He told us, "This is different, I think it is. I admit that there are – you know, Goodfellas and Casino have a certain style that I created for them – it's on the page in the script actually. Putting Goodfellas together was almost like an afterthought, at times I was kind of rushing, I felt I'd already done it because I'd played it all out in terms of the camera moves and the editing and that sort of thing. The style of the picture, the cuts, the freeze-frames, all of this was planned way in advance, but here it's a little different."
Based on the book, I Hear You Paint Houses, by Charles Brandt, the story follows mob hitman Frank 'The Irishman' Sheeran (Robert De Niro) who is supposedly involved in a mystery surrounding the 1975 disappearance of Teamsters boss Jimmy Hoffa.
We can already see the Oscar nomination for an unsolved gangster mystery with Scorsese's name behind it.
Join our new commenting forum
Join thought-provoking conversations, follow other Independent readers and see their replies