Transgender Day of Visibility: The 'transgender tipping point' in TV and film has arrived, but are we doing enough?
Between Orange is the New Black, The Danish Girl, and Transparent - are trans narratives being done justice on screen?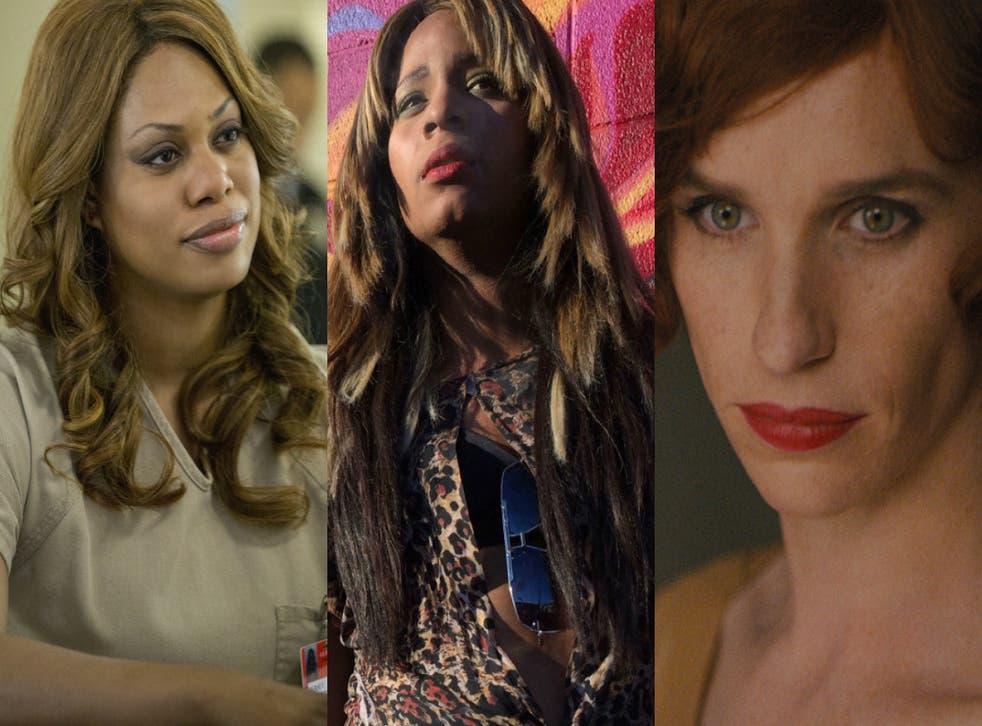 "The transgender tipping point," declared TIME's front cover.
29 May, 2014. The pop of champagne bottles, and the electricity of change in the air; never before had the spirit and contributions of the trans community been so felt amongst the currents of mainstream culture.
In film and television, trans narratives were finally shifting to its centre; where before they'd be so often reduced to drained stereotypes and transphobic mockeries, the punch line to a joke or a sinister other in the shadows.
At that moment, Orange is the New Black's Laverne Cox arrived like the herald to a new era; gracing TIME's cover with all the wit, self-assuredness, and charisma that's made her one of the Netflix series' standout characters.
As Litchfield Penitentiary's resident hairdresser, Cox's Sophia Burset sees her stand tall through the trials of her imprisonment for credit fraud, the struggles of being a mother behind bars, and the transphobic abuse she receives from other inmates.
Though her presence feels remarkable, in reality, her character should merely represent the normality of trans experience on screen. Someone as filled with diverse fears, passions, and flaws as the reality we see around us; whose transition isn't muffled into silence, but hasn't engulfed her as the sole defining part of her identity.
It's not exactly magic, to merely treat trans characters with the same complexity and investment as their cisgender equivalents; yet the fact someone like Sophia Burset can feel like such a unique revelation is true testament to exactly how far we have left to go. It's the time for celebration; but only the kind of celebration that marks the start of a revolution, and not the end of one.
Not to elevate the Oscars too far beyond their frivolous, back-patting niceties; but awards season appears always to inevitably amplify Hollywood's deepest inequalities; with the issues rife amongst trans narratives certainly not excluded from their grasp. Two major trans characters have made their mark on Hollywood in the past few years, with both landing their respective actors a touch of Academy Awards glory.
The problem? Neither of those actors were transgender; with Jared Leto winning Best Supporting Actor for his portrayal of Dallas Buyers Club's Rayon, and The Danish Girl's Eddie Redmayne receiving a nomination for his portrayal of Lili Elbe.
As Paris Lees argues, the issue here is in whether these trans narratives are actually doing the community any justice; whether trans voices are being heard, as opposed to their stories merely being appropriated to give some the most superficial sense of progression and diversity.
Access unlimited streaming of movies and TV shows with Amazon Prime Video Sign up now for a 30-day free trial
Sign up
It's unfair to assume selfish motivations on the part of Dallas Buyers Club director Jean-Marc Vallée or The Danish Girl's Tom Hooper, and nor is there a sense of ungratefulness at seeing trans narratives in major Hollywood movies; but does this really feel like progress when those narratives are being taken away from those who've actually experienced them?
When Vallée was asked in 2013 whether he'd have considered hiring a trans actor for the role of Rayon, he merely retorted: "Never. Are there any transgender actors? I'm not aiming for the real thing. I'm aiming for an experienced actor who wants to portray the thing."
Frankly, that's a troubling attitude to see; and part of a wider misperception that casting dispersions on cisgender actors in trans roles is some sort of attack on the very art of acting. Simply put, when Hollywood is truly a level playing field; when trans actors can play cisgender roles without the bat of an eyelid, then so should cisgender actors portray trans roles without hestitation.
Except, trans actors aren't being considered for cisgender roles; and, if they aren't being considered for transgender roles either, where exactly can their voices be heard in mainstream cinema?
As Eddie Redmayne walked the awards red carpets for The Danish Girl, Tangerine celebrated the performances of two spectacular trans actors at the Independent Spirit Awards. Mya Taylor took home Best Supporting Female award at the ceremony, and her speech summed it all up rather beautifully; "There is transgender talent. There's very beautiful transgender talent, so you better get out there and put it in your next movie."

And there really is. Amazon's Transparent series brings to light a vast diversity in trans narratives; though Jeffrey Tambor plays the titular role of the transitioning Maura Pfefferman, there exists significant trans talent amongst its cast. Trace Lysette appears as yoga teacher Shea, and stand-up Ian Harvie appears in the role of Dale.
Hari Nef joined the cast in its second season as Tante Gittel, a trans woman living in 1930s Weimar Berlin whose story parallels Pfefferman's; Alexandra Billings also features, who happens to be the first openly trans woman to play a transgender character on TV in 2005's Romy and Michele: In the Beginning.
Netflix's Sense 8 is also worth mentioning here; it's a TV series by trans creators, featuring a trans lead role played by a trans actor. Jamie Clayton's "hacktivist" Nomi Marks is a sparkling example of trans narratives on screen; absolutely courageous, whip-smart, and sensitive.
It's not something that cisgender creators would be incapable of producing, but the perspective given to the character by the show's creators and writers, The Wachowski Sisters, is so vital to the show in depicting trans narratives in an absolutely authentic, honest light.

There's no reason trans narratives need to be entirely withheld from cisgender creators; the very beauty of the creative soul is its capability of living in the minds of others, of understanding the deep variance of our lives and experiences.
But we're dealing with a cultural shift where trans voices continue to be excluded from their own narratives; it's ludicrous to think that they don't somehow deserve to shape how they themselves are portrayed on screen. If we really want to talk about the "transgender tipping point", that's precisely the target we need to be aiming for.
Register for free to continue reading
Registration is a free and easy way to support our truly independent journalism
By registering, you will also enjoy limited access to Premium articles, exclusive newsletters, commenting, and virtual events with our leading journalists
Already have an account? sign in
Register for free to continue reading
Registration is a free and easy way to support our truly independent journalism
By registering, you will also enjoy limited access to Premium articles, exclusive newsletters, commenting, and virtual events with our leading journalists
Already have an account? sign in
Join our new commenting forum
Join thought-provoking conversations, follow other Independent readers and see their replies