Underground Film Club returns with Hamlet, Toy Story, Jurassic World and more lined up
Tickets cost £15 and screenings take place give nights a week in the Vaults beneath Waterloo Station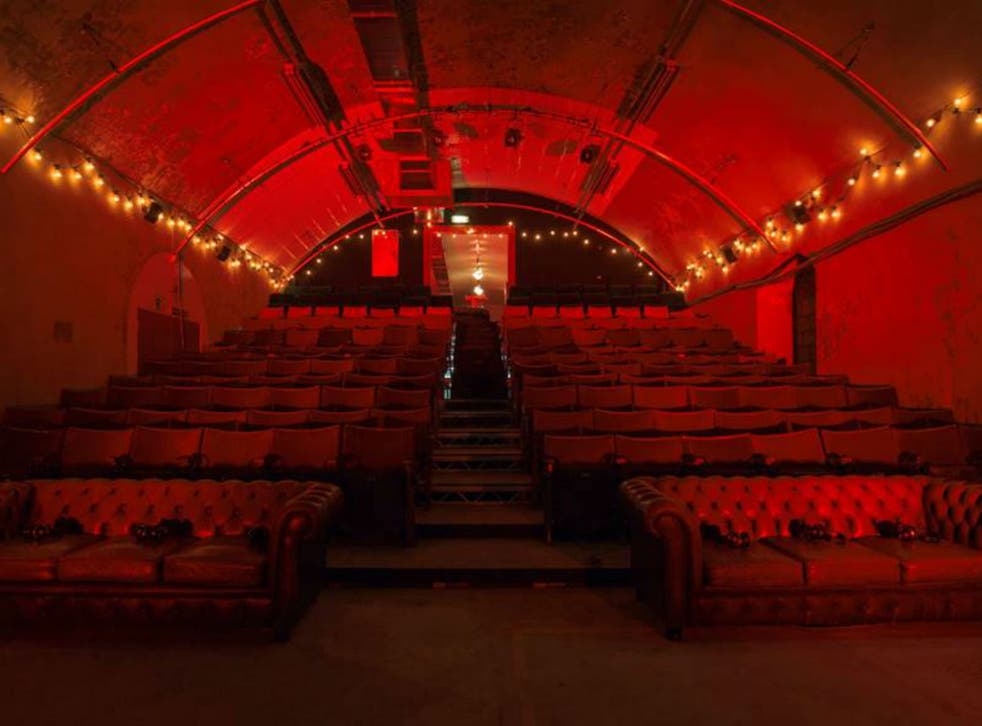 The start of autumn may signal the end of outdoor cinema evenings, but Underground Film Club has announced that tickets will go on sale tomorrow morning for its upcoming season in the Vaults of Waterloo Station.
There will be a large range of movies screening, from classics like Pulp Fiction and Casablanca to recent summer blockbusters Mad Max: Fury Road and Jurassic World, set amid the striking Victorian brickwork chambers and atmospheric railway arches.
Those who missed out on tickets for Benedict Cumberbatch's Hamlet can watch a pre-recorded National Theatre performance of the play, along with a screen version of James Franco and Chris O'Dowd's Of Mice and Men Broadway production.
Toy Story celebrates its 20th anniversary on 22 November and there will be a Pixar movie marathon held in celebration, with Toy Story, Up and Inside Out being shown back-to-back.
Cocktails and street food will be available, with screenings taking place five nights a week at at the times shown below. Tickets cost £15 and will be sold online from 10am, Wednesday 7 October, at undergroundfilmclub.com.
Full schedule
Tangerine - 8pm, Thursday 12 November
Friday 13th - 7pm, Friday 13 November
Top Gun - 9pm, Friday 13 November
Labyrinth - 5pm, Saturday 14 November
Casablanca - 7pm, Saturday 14 November
Some Like It Hot - 9pm, Saturday 14 November
The Big Lebowski - 4pm, Sunday 15 November
Back to the Future - 7pm, Sunday 15 November
Breakfast at Tiffany's - 8pm, Tuesday 17 November
Amy - 8pm, Wednesday 18 November
Of Mice and Men - 8pm, Thursday 19 November
Clueless - 7pm, Friday 20 November
Jurassic World - 9pm, Friday 20 November
Spice World - 5pm, Saturday 21 November
The Rocky Horror Picture Show - 7pm, Saturday 21 November
Mad Max: Fury Road - 9pm, Saturday 21 November
Toy Story - 2pm, Sunday 22 November
Up - 4pm, Sunday 22 November
Inside Out - 6pm, Sunday 22 November
Dirty Dancing - 8pm, Tuesday 24 November
Cinema Paradiso - 8pm, Wednesday 25 November
Strangers on a Train - 8pm, Thursday 26 November
The Goonies - 7pm, Friday 27 November
Pulp Fiction - 9pm, Friday 27 November
The Grand Budapest Hotel - 5pm, Saturday 28 November
Ghostbusters - 7pm, Saturday 28 November
Trainspotting - 9pm, Saturday 28 November
Selma - 2pm, Sunday 29 November
Withnail & I - 5pm, Sunday 29 November
Hamlet - 7pm, Sunday 29 November
Register for free to continue reading
Registration is a free and easy way to support our truly independent journalism
By registering, you will also enjoy limited access to Premium articles, exclusive newsletters, commenting, and virtual events with our leading journalists
Already have an account? sign in
Register for free to continue reading
Registration is a free and easy way to support our truly independent journalism
By registering, you will also enjoy limited access to Premium articles, exclusive newsletters, commenting, and virtual events with our leading journalists
Already have an account? sign in
Join our new commenting forum
Join thought-provoking conversations, follow other Independent readers and see their replies