Walter Tull, footballer and WW1 hero, takes his place in history
Tull has become something of a cult figure and will take centre stage in schools at Black History Month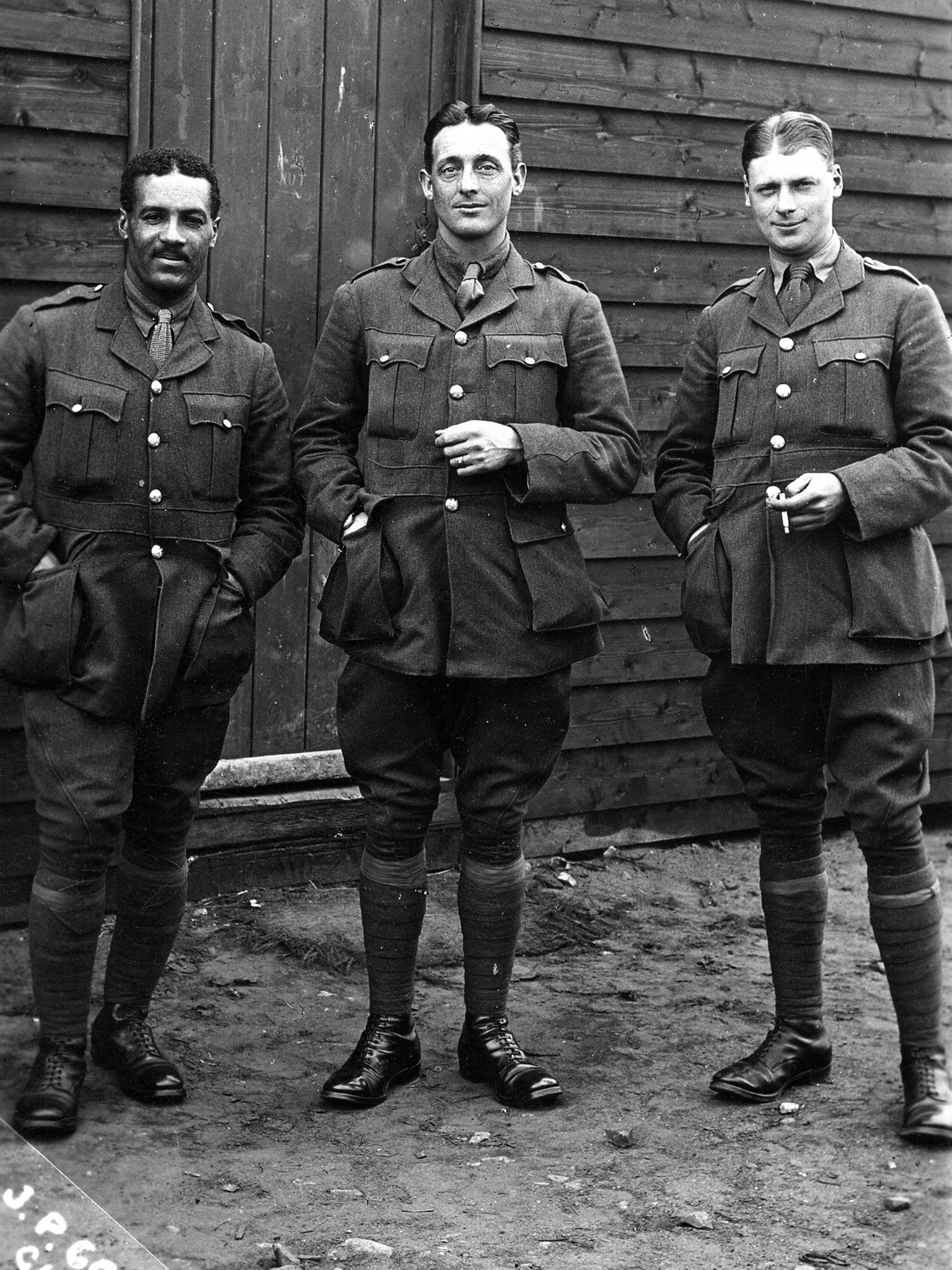 Former Premier League hard man Vinnie Jones and actor David Morrissey are to appear in a new film celebrating the life of Walter Tull, the first black British Army officer to lead white troops into battle.
Tull, who died fighting on the Somme in 1918, will be played by Nathan Ives-Moiba who has already impressed in the role on stage. He was also the second black professional footballer to play in Britain, for Tottenham Hotspur, which he joined in 1909.
After almost a century of near anonymity, Tull has become something of a cult figure and will take centre stage in schools at Black History Month, which begins on Tuesday. A touring theatre production, The Hallowed Turf, will also celebrate his achievements.
The film, simply titled Tull, is set to star the Oscar-nominated Yorkshire actor Tom Wilkinson as Herbert Chapman, the man considered the first modern football manager, who became a mentor to the orphan Tull.
Shooting of Tull begins next year, with release planned for July 2016, the centenary of the Battle of the Somme.
Morrissey has been cast as the Rev Thomas B Stephenson, a Methodist minister who founded the National Children's Home (now the Action for Children charity), where Tull and his brother Edward grew up.
Jones, who came to prominence as an actor through his role as Big Chris in Guy Ritchie's Lock Stock & Two Smoking Barrels, will play Terry Warren, Tull's trainer at Spurs. Noel Clarke and Jodie May are also set to take roles in the film.
The Royal Mint last month recognised Tull's legacy by making him the subject of a £5 coin (pictured below) to commemorate the First World War. Dr Kevin Clancy, director of The Royal Mint Museum, said Tull was chosen for the coin as an example of "the great bravery of ordinary people who went on to perform extraordinary acts". As a second lieutenant in the 2nd Footballers' Battalion, part of the Middlesex Regiment, he led raids on the Italian Front in 1917 and was cited for bravery.
Biographer Phil Vasili, author of Walter Tull 1888-1918 Officer Footballer: All the Guns in France Couldn't Wake Me, said the footballing soldier was a "very humble" man who would have been shocked by the attention he was now receiving. "He was a quiet man who did what he thought was the right thing."
Access unlimited streaming of movies and TV shows with Amazon Prime Video
Sign up now for a 30-day free trial
Sign up
Access unlimited streaming of movies and TV shows with Amazon Prime Video
Sign up now for a 30-day free trial
Sign up
Tull was only the UK's second black professional player, behind Arthur Wharton of Rotherham Town in 1889.
Newspaper accounts from 1909 contain the first reports of terrace racism – with Tull as the victim. He was playing for Spurs in an FA Cup tie away at Bristol City when he was subjected to abuse from fans, said Vasili.
"The headline was 'Colour Prejudice Problem at Bristol'. I had never seen that written before and I have done research on football from the 1870s onwards."
Another paper, the Football Star, remarked admiringly on his approach to the game: "Tull is a model for all white men who play football."
A centre-forward and then left-half, he was later signed for Northampton Town by Herbert Chapman, who went on to become a revered figure at Arsenal. Both were devout Methodists.
Tull was recommended for the Military Cross, but never received it. After his death, his commanding officer told relatives he should have been given the award. The Hallowed Turf explores the relationship between Tull and the soldiers under his command.
Pamela Cole-Hudson, who wrote the play, is artistic director of the West Midlands-based theatre company Gazebo. She said: "The desperate attempts of members of his platoon to retrieve his body, through heavy enemy fire, when he was struck down during the second battle of the Somme, led me to write a story of the last few weeks of Walter's life."
Pat Justad, his brother Edward's granddaughter, said: "The lovely thing is that the story is being used educationally, but it's also slightly strange because it's always just been a family story for us."
Join our commenting forum
Join thought-provoking conversations, follow other Independent readers and see their replies