The Independent's journalism is supported by our readers. When you purchase through links on our site, we may earn commission.
Was Oscar host Seth MacFarlane funny or inappropriate?
Daisy Wyatt
Monday 25 February 2013 18:09 Comments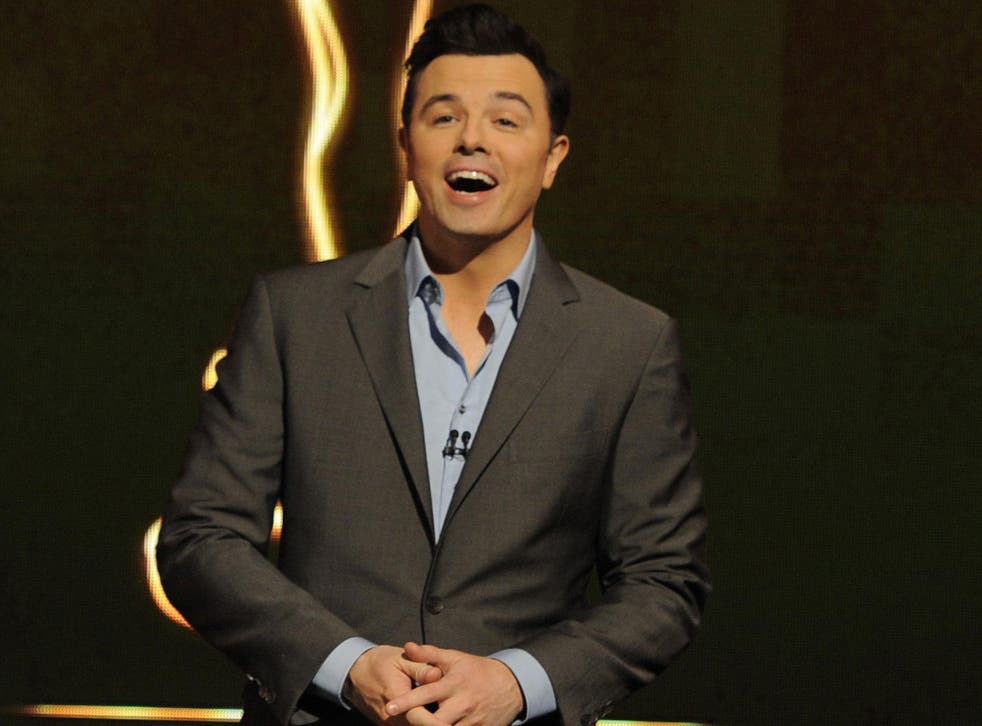 The "non-politically correct" jokes of Oscar host Seth MacFarlane have divided opinion.
The Family Guy creator set the tone of the show with a song and dance number called "We saw your boobs", where he listed the actresses (many of whom were present) who had gone topless in films- including Meryl Streep, Kate Winslet, Anne Hathaway and Charlize Theron.
His jokes then went on to touch on race, sexism, Jews, domestic violence and the Lincoln assassination.
He likened the violence in Django Unchained to "a Chris Brown & Rihanna date movie"; pretended to confuse Denzel Washington with Eddie Murphy and proclaimed nine-year-old Quvenzhané Wallis still had 16 years to go before she was "too old" for George Clooney.
He then mocked the Jewish presence in Hollywood by bringing out his Ted puppet who said: "I was born Theodore Shapiro and I would like to donate money to Israel and continue to work in Hollywood forever."
If the critics are divided on MacFarlane's "inappropriate" approach, they can agree on one thing- that the host was drafted in by the Academy Awards to make the ceremony appeal to a younger audience.
The Daily Beast brandished the show "The Juvenile Oscars", calling the event a "disaster". Marlow Stern wrote Seth MacFarlane did an "incredibly awkward Rat Pack-meets-Crank Yankers routine, replete with silly jokes touching on rape, race, sexism, Nazis, and the Lincoln assassination."
Tim Goodman in the Hollywood Reporter disagreed, saying: "MacFarlane was relatively tame if you know anything at all about his canon, and he was respectful through and through. As a guy who can actually sing and has recorded a successful album (fueling more jealousy and backlash from his detractors), his pick was more spot-on than anyone gave the Academy credit for…He took the job extremely seriously and put himself out there. Ultimately, he excelled at balance."
Goodman said the show had been the most over-analysed in the Academy's history and that the films, not the host, should be at the forefront of the reviews. "Besides, if we can agree that the host, like a quarterback, gets too much credit and too much blame, the onus is really on whether the movies that year were any good, popular or engaging," he said.
The New York Times' Alessandra Stanley agreed that MacFarlane's hosting achieved balance. "The Academy of Motion Picture Arts and Sciences, ever worried about the defection of younger viewers, has veered between pandering to new Hollywood and honoring the old…They chose Mr. MacFarlane as a split-the-difference host: he's a comedian with a profane Generation Y sense of humor who also has a bond with the American Association of Retired Persons (He recorded an album of 1950s standards in 2011, "Music Is Better than Words.") And he worked hard to serve both audiences."
Access unlimited streaming of movies and TV shows with Amazon Prime Video Sign up now for a 30-day free trial
Sign up
She described his jokes as "borderline-offensive irreverence", but concluded that "Mr. MacFarlane didn't ruin the show. But the show almost ruined the Oscars."
Register for free to continue reading
Registration is a free and easy way to support our truly independent journalism
By registering, you will also enjoy limited access to Premium articles, exclusive newsletters, commenting, and virtual events with our leading journalists
Already have an account? sign in
Join our new commenting forum
Join thought-provoking conversations, follow other Independent readers and see their replies