Woody Allen reveals Hillary Clinton rejected his 2016 campaign donation
Controversial director was speaking alongside his wife, Soon-Yi Previn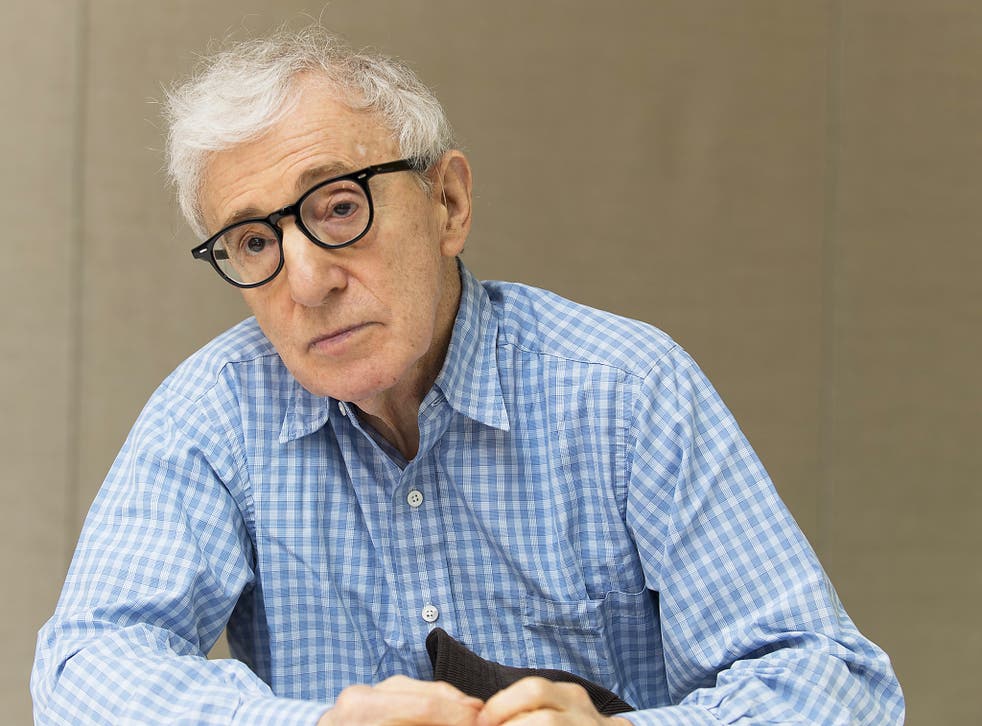 Hillary Clinton returned Woody Allen's contribution to her presidential run, the controversial director has revealed.
The New York Magazine's website Vulture were interviewing Allen's wife, Soon-Yi Previn, when he interrupted the conversation to make a point about the public perception of their marriage.
"I am a pariah," he said. "People think that I was Soon-Yi's father, that I raped and married my underaged, retarded daughter."
Allen underlined the point by claiming the pair's donation to Clinton's last campaign was unceremoniously returned, implying it had something to do with his public perception. He did not disclose how much he planned to donate.
Previn was the adopted daughter of Mia Farrow and André Previn, who divorced when Soon-Yi was nine-years-old.
Farrow and Allen then entered into a relationship, separating 12 years later after Farrow discovered that he was having an affair with Soon-Yi Previn, 35 years his junior.
Shortly after Farrow and Allen's separation, Allen was accused of molesting his adopted daughter, Dylan Farrow, in 1992. Previn defended Allen against the allegations in the New York Magazine interview and accused Mia Farrow of using the #MeToo movement as part of a revenge campaign.
Dylan Farrow, along with her siblings Ronan Farrow, Matthew Previn, Sascha Previn, Fletcher Previn, Daisy Previn, Isaiah Farrow and Quincy Farrow, condemned the interview, saying it contained "multiple obvious falsehoods" and repeated her allegation that Allen molested her when she was seven-years-old.
Allen has always denied the claims. An investigation in 1993 found that he had not sexually assaulted her. However, a judge said at a 1993 custody ruling that "we will probably never know what occurred on 4 August 1992... Mr Allen's behaviour toward Dylan was grossly inappropriate and... measures must be taken to protect her." Dylan Farrow was removed from Allen's custody.
Access unlimited streaming of movies and TV shows with Amazon Prime Video Sign up now for a 30-day free trial
Sign up
"What's happened to Woody is so upsetting, so unjust," Previn said. "[Mia] has taken advantage of the #MeToo movement and paraded Dylan [Farrow] as a victim. And a whole new generation is hearing about it when they shouldn't."
Clinton's presidential campaign took place between 2015 and 2016, a year before the Harvey Weinstein allegations that sparked the #MeToo movement.
"We love and stand by our mom [Mia Farrow], who has always been a caring and giving parent," a statement shared by Dylan and Ronan Farrow on Twitter read. "None of us ever witnessed anything other than compassionate treatment in our home, which is why the courts granted sole custody to our mother of all her children. We reject any effort to deflect from Dylan's allegation by trying to vilify our mom."
World news in pictures

Show all 50
The New York Times has been criticised because the interview was written by Daphne Merkin, a longtime friend and admirer of Allen's who is also a vocal critic of the #MeToo movement.
Dylan Farrow's brother Ronan, who has published multiple pieces on the #MeToo movement, said: "As a brother and a son, I'm angry that New York Magazine would participate in this kind of a hit job, written by a longtime admirer and friend of Woody Allen's. As a journalist, I'm shocked by the lack of care for the facts, the refusal to include eyewitness testimony that would contradict falsehoods in this piece, and the failure to include my sister's complete responses. Survivors of abuse deserve better."
A spokeswoman for the publication defended the interview and its author, saying: "Soon-Yi Previn is telling her story for the first time, and we hope people will withhold judgement until they have read the feature.
"Daphne Merkin's relationship to Woody Allen is disclosed and is a part of the story as is Soon-Yi's reason for speaking out now. I would add that Daphne approached Soon-Yi about doing this piece, not vice-versa. We reached out to both Mia and Dylan Farrow for comment; Dylan chose to speak through her representative. The story is transparent about being told from Soon-Yi's point of view."
Register for free to continue reading
Registration is a free and easy way to support our truly independent journalism
By registering, you will also enjoy limited access to Premium articles, exclusive newsletters, commenting, and virtual events with our leading journalists
Already have an account? sign in
Register for free to continue reading
Registration is a free and easy way to support our truly independent journalism
By registering, you will also enjoy limited access to Premium articles, exclusive newsletters, commenting, and virtual events with our leading journalists
Already have an account? sign in
Join our new commenting forum
Join thought-provoking conversations, follow other Independent readers and see their replies