Nick Cave financed the documentary One More Time with Feeling so that he would not have to speak with journalists about the death of his son
The film is released ahead of his sixteenth album with the Bad Seeds, Skeleton Tree. Kaleem Aftab speaks to filmmaker Andrew Dominik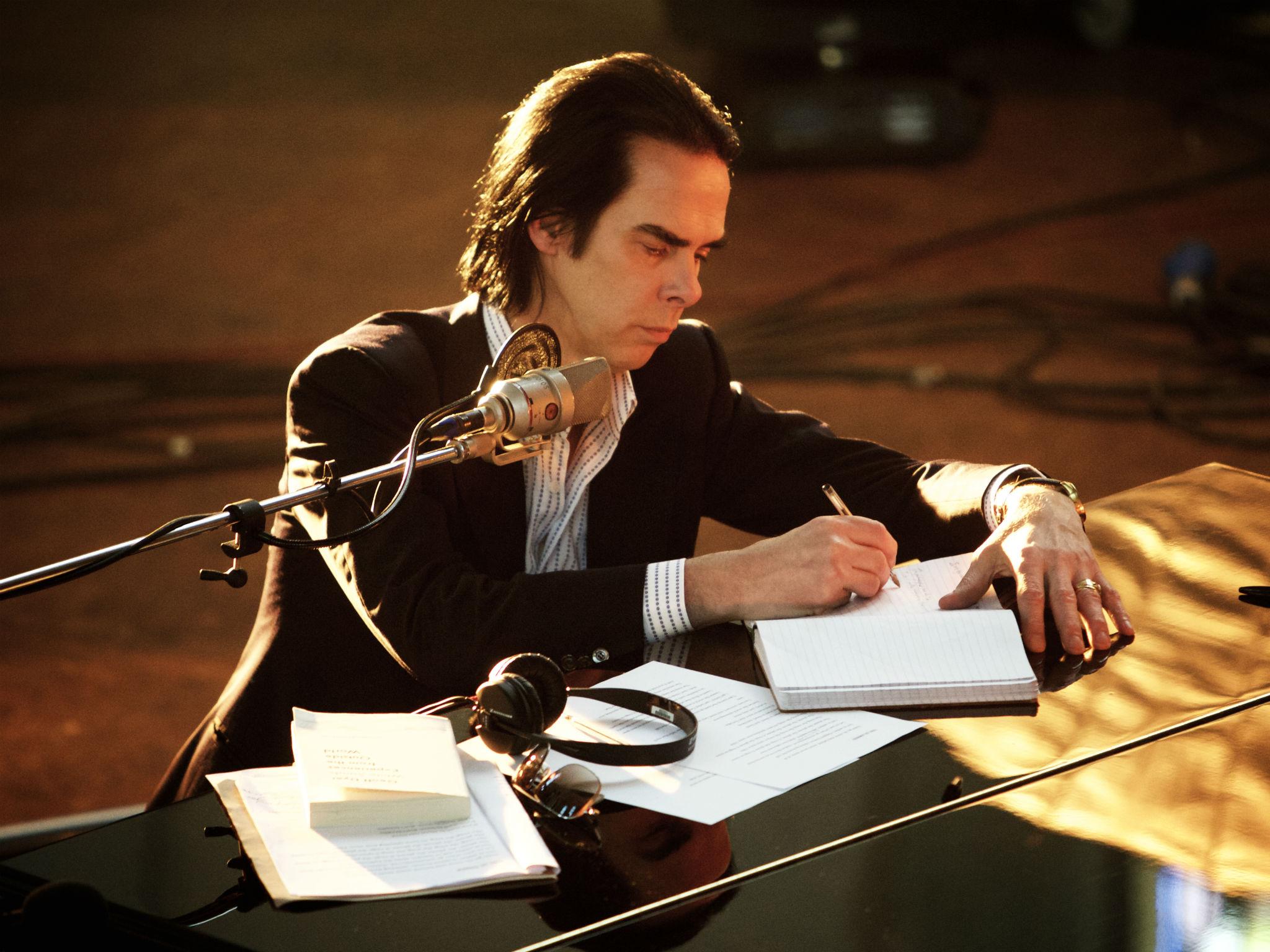 Nick Cave financed the documentary One More Time with Feeling so that he would not have to speak with journalists about the death of his son, Arthur, ahead of the release of his sixteenth album with the Bad Seeds, called Skeleton Tree, which comes out on Friday.
The documentary premiered at the Venice Film Festival on Monday and will screen in UK and Irish cinemas for one night only on Thursday, ahead of the album's release.
The film is made by Australian filmmaker Andrew Dominik. In 2007, Cave and Warren Ellis, of the Bad Seeds, composed the music for Dominik's western, The Assassination of Jesse James by the Coward Robert Ford. Dominik had met Cave through one of Cave's ex-girlfriends and they have a long friendship.
In the film Cave discusses how the death of his son Arthur diminished his artistic capability: "We all hope for this dramatic event in our life that we can write about, but this trauma, it was very damaging to the creative process."
Cave does not talk directly about how his son died, or the days following his death. Arthur Cave died aged 15 on 14 July 2015 after he took LSD and plunged off the side of a cliff in Brighton. Cave's wife Susie and Arthur's twin brother Earl appear in the film.
Cave says that in the aftermath, "I lost belief in myself. That me and Susie looked away for a terrible second and fucked up." In one of the film's most poignant moments, Susie finds a painting drawn by Arthur and shows it to her husband. The singer talks of the changes in his own personality and how he now cannot predict how he will respond to events occurring in his life. His son's death is the central pivot in his life: "Time is elastic. We can go away from the event but at some point the elastic snaps and we always come back to it."
The singer also discusses how his artistic sensibility was compromised by the death, how it would be easier to "reduce the event to the platitude of a greeting card". When he did eventually manage to write songs and record the new album, he often abandoned the songs even if he felt that they were flawed and needed more work. He felt it better to release the flawed songs into the public domain, rather than give them more of a polish.
At the Venice Film Festival, director Dominik says of his own motivation to do the film: "There is a part of me that was uncomfortable with making the film, because Arthur died. My fear was the film would be exploitative. That there was something about it that would be off, but the other way of looking at it was that Arthur was a man of promise, and this allows him to leave a mark – I know that Susie sees it this way. Nick's primary concern, and he says it in the film, is that it somehow diminishes Arthur."
Dominik felt that his friend was in such need that he should put his own feelings to one side. They agreed that Cave would have the final cut over the film, which is mostly in black and white and shot in 3D. He says of his impression of Cave's reaction to his son's death: "I think for Nick, he is used to turning trauma into his music, but in this case his instinct was to go back to the studio and record music as a way of feeling better – but it didn't work. It's interesting watching people grieving, they are always trying to do something, but there is nothing to be done. Nothing works."
Access unlimited streaming of movies and TV shows with Amazon Prime Video
Sign up now for a 30-day free trial
Sign up
Access unlimited streaming of movies and TV shows with Amazon Prime Video
Sign up now for a 30-day free trial
Sign up
Several of the songs on the new album are played in full. As for what was included in the film, Dominik says: "We talked about what happened that day, but we didn't talk about that when the camera was running. You get a sense, and he says it on camera, those days are a place that you don't want to go. I don't really think that is what the film is, it's not like an investigation. What I was interested in was how you navigate life after an event like that. I find that whole thing with the painting interesting because Susie finds this painting and it destroys her, and then she has to decide whether to show it to Nick, because she knows the reaction he will have, it will be like hers. That strikes me as interesting because it's a problem that you have to face. Anything he says that is about the process of dealing with death, I felt like that was okay. Parts that display emotion fall into the realm of belonging off-screen."
When Cave watched the film he had mixed emotions, according to Dominik. "He liked the early part of the film, he didn't like the stuff where he was talking. He liked the stuff in the cab, but not in the kitchen. There was an awareness that he could react negatively and so we decided Susie should be there, as she is a better barometer. But Susie liked all the stuff with Nick, but not with herself, while Nick liked the stuff with Susie and not himself. So they decided to call Warren and Warren decided the fate and he said it's great, don't change it."
One More Time with Feeling is in selected cinemas on Thursday 8 September only
Join our commenting forum
Join thought-provoking conversations, follow other Independent readers and see their replies