Noah, film review: Soggy and bombastic
Voyage aboard the Ark makes for very heavy going viewing indeed
Geoffrey Macnab
Thursday 03 April 2014 09:28 Comments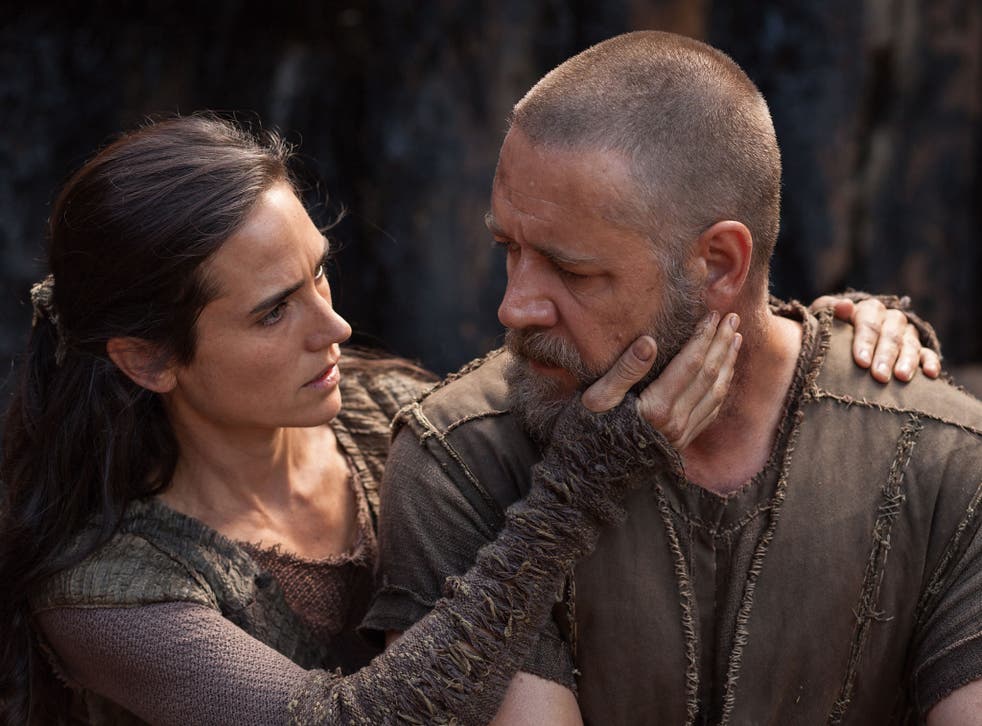 Biblical epics don't come any more soggy or bombastic than Darren Aronofsky's Noah. The film tells the very familiar story of the Ark in a solemn and portentous fashion that seems inspired by Tolkein, Transformers and Cecil B. DeMille in equal measure.
In spite of the furore surrounding Noah in advance of its release, Aronofsky isn't offering an especially radical or debunking perspective on the Old Testament fable. The animals still go in two by two. The earth still gets flooded.
When he is not pondering humanity's slip from grace or preaching an environmentalist message, Aronofsky is busy with what becomes an increasingly embroiled family melodrama.
Noah (Russell Crowe) is a grim patriarch determined to do his creator's bidding, even if it means turning his wife and sons against him.
Crowe brings growling presence to his role as Noah. He is not a sweet natured zoo keeper with a white beard. He may have a Prince Charles-like belief in sustainable farming, only taking what he needs and can use, but he isn't above kicking ass. There is a hint of Mad Max or Romper Stomper about him in the early sequences in which he is struggling to keep his family alive in barren wastelands.
Noah: Picture Preview

Show all 8
We see him slaughter a group of brigands who attack him as he tends a dying animal. Fleeing from another group of thugs, he leads his family into a forbidden zone inhabited by the "Watchers," stone creatures who look as if they're on leave from a Michael Bay movie. They've been expelled from Eden by the Creator and forced to come to earth where they've been persecuted by humans.
The CGI does Aronofsky few favours. Whether a pulsing piece of fruit on the tree of knowledge or the "Watchers" rising up from the ground in a whirlwind of dust and gravel, there is little sense of wonder to the digital special effects. We've seen too many Marvel movies for these effects to startle us. Far stronger are the dream sequences in which Noah begins to sense the catastrophe ahead. He stands as if on a sea of blood and has visions of the drowned and of a fiery eyed green snake, curling many a wanton wreath toward the camera.
Haunted by these visions, Noah heads up into the mountains to visit his grandfather Methuselah (Anthony Hopkins), a wizened old magus with a touch of Obi Kenobi (in the Alec Guinness incarnation) about him. Noah is given a seed from which - in a mini-orgy of time-lapse photography - first a flower grows and then a vast forest. "This is our Ark," he deduces and sets to work building his vast boat under the protection of the "Watchers." Noah is convinced that the Creator is planning to "blot out" all of humanity because of what "man has done" and start the world again from scratch.
Throughout, there is a sense of a film pulling in two different directions. Aronofsky is keen to make a Terrence Malick-style character study about a flawed patriarch and to explore the symbolism and environmental undercurrent to the myth of the Ark.
Access unlimited streaming of movies and TV shows with Amazon Prime Video Sign up now for a 30-day free trial
Sign up
At the same time, to justify his enormous budget, he is obliged to serve up the kind of action sequences that wouldn't look out of place in Lord of the Rings or Narnia movies. When Ray Winstone's hordes attack the "Watchers" in a desperate bid to gain access to the Ark, the film hits a nadir.
Winstone's character, Tubal-Cain, is a descendant of Cain. He is Noah's nemesis, his dark shadow. He even looks a little like Noah and utters his dialogue in the same guttural growl. He and his followers rule the world through violence, cunning and corruption. These are traits that Noah sees in himself. "The wickedness is not just in them. It is in all of us," he warns his wife (Jennifer Connelly.)
One of the disappointments about Noah is that there is so much distracting imagery and special effects that we risk losing sight of what could have been a very fine performance from Russell Crowe.
In Aronofsky's superb 2008 feature The Wrestler, Mickey Rourke played the bruised, battered and drug-addled Randy "the Ram" Robinson. It is obviously perverse in the extreme to compare a biblical figure like Crowe's Noah with an over-the-hill New Jersey wrestler but there are similarities between the two characters. They're both wounded men who have difficult relationships with their children.
In Noah, at the same time that the world is flooding, Aronofsky is busy venturing into the realm of family psycho-drama. Noah (who has a touch of Abraham about him) is prepared to sacrifice his own grandchildren and to prevent his sons marrying if he feels that this is the creator's will.
He is the self-appointed interpreter of that will. Crowe hints at his character's guilt and his self-doubt as he risks destroying the lives of his beloved step-daughter Ila (an incongruously well-spoken Emma Watson) and his son Shem (Douglas Booth.)
However, amid the sturm und drang and effects driven action sequences with which the film is filled, the human dimension is diminished. Even in his lowest moments, when he has become a pariah to those he loves and is looking more and more like Oliver Reed in Castaway, Crowe's Noah still seems caught in some netherworld between real character and biblical archetype. With so much else going on, the performance simply can't match the intensity and pathos that Rourke gave to a film as pared down as The Wrestler.
Nor does Aronofsky's biblical epic possess that sense of mischief, irony and malice that the director brought to his backstage ballet film Black Swan (2010.) Noah is a solemn affair that takes itself very seriously indeed. In dealing with big themes - man's inhumanity to man, the great flood etc - Aronofsky seems to have misplaced any sense of levity.
As a result, this voyage aboard the Ark makes very heavy going indeed.
Register for free to continue reading
Registration is a free and easy way to support our truly independent journalism
By registering, you will also enjoy limited access to Premium articles, exclusive newsletters, commenting, and virtual events with our leading journalists
Already have an account? sign in
Join our new commenting forum
Join thought-provoking conversations, follow other Independent readers and see their replies