Nordic noir: Exclusive interview with the star and creator of 'The Bridge'
In the second instalment of a three-part exploration into Nordic noir, Andy Martin goes to Malmo to meet Hans Rosenfeldt and Sofia Helin, the creative team behind dark Swedish-Danish masterpiece 'The Bridge', unearthing an exclusive revelation that will have fans slavering...
Andy Martin
Thursday 17 November 2016 16:41 Comments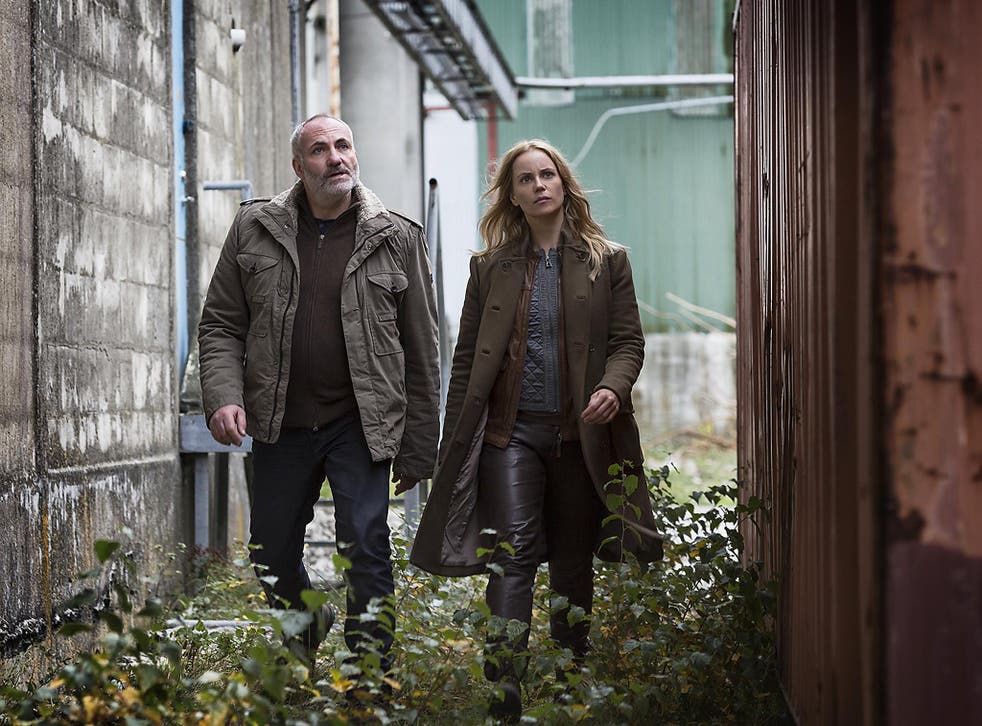 Your first impression of Hans Rosenfeldt, as you crane your head up to try and catch his eye, is that he is as tall as a basketball player. A particularly big, bearish, bearded Swedish basketball player. Turns out he really did play basketball before creating The Bridge. So what you see is what you get. There is a frankness and directness about him that is entirely disarming and is reflected in one of Saga Noren's most famous lines: "Vill du har sex?" ("Do you want to have sex?") No irony, no games. Yes or no?
He also tried his hand at acting for several years before going into writing full-time. How did that go? "I was completely untalented," he says. "And I went into it for all the wrong reasons. I only wanted to be famous." Being well over two metres tall may have had something to do with it, I suggest. Bigger than Jack Reacher. Roles limited to either the Big Friendly Giant or… "No, it's just nobody wanted me on stage any more. They noticed I was bad. The only thing left was scripts and editing." Writing 318 episodes of a weekly soap opera, High Seas, and then a few original Wallanders, was a desperate last resort.
"I've done a few feature films too," Rosenfeldt says, knocking back a Diet Pepsi in the lounge of the Malmo's Master Johann hotel. "They're terrible."
He is also coming back to London soon for a second series of Marcella. Not so terrible.
I had gone from Copenhagen to Malmo over "the Bridge" – the 16 km-long Oresund Bridge connecting Denmark and Sweden – to meet Rosenfeldt and Sofia Helin, aka Saga Noren. The exciting news for all fans (and there are millions) is that they were both there to start shooting the fourth series of The Bridge.
"We never start filming till October or November," says Rosenfeldt. "And we have to stop around April, or May at the outside. This is Nordic noir, not green. We hate green. The weather has to be bleak and grey and cold. Probably with snow. We save up some interiors for when the weather is too nice or flowers start blooming." They like the trees to be bare, more like a Beckett play than a Wordsworth poem. No daffodils, please.
Malmo is actually a beautiful city. You wouldn't know it from the show; they only shoot the blandest or least attractive backdrops. The interiors are wonderfully glassy though. All those huge picture windows that someone is bound to be pushed out of one of these days.
In the beginning, there were only two absolute givens. First, they had to come up with 10 hours of television. Second, it had to be a 50-50 Danish-Swedish co-production. OK, says Hans, in his straightforward no-messing-about way, why don't we wrap it around the Oresund Bridge? Easy. And then let's say we have a body, chopped in two, with the top half on this side of the border, and the legs on the other side – then we'd have to have a collaboration between police forces in both countries, right? Gruesome, but so simple it's genius.
Of the two lead investigators, they started with the Danish guy, Martin Rohde, played by Kim Bodnia. They liked Bodnia because he had already played a lot of heavy dudes, mobster, hit-man, ruthless drugs kingpin and the like. So they wanted to turn him around and make him into a big cuddly teddy bear who loves everyone (maybe just a little too much from the point of view of his wife). Saga Noren was born as his exact counterpoint: cold, stiff, logical, insensitive, with no graces, an uncompromising truth-speaker on a par with Camus' Meursault – the outsider. She drives a Porsche 911, in contrast to his people-carrier.
"We were playing a lot on national stereotypes," Rosenfeldt confesses. "We Swedes tend to see Danes as laid-back with a mañana mentality. They see us as sticklers and bureaucrats." Thus the primal scene in which Saga tries to book Martin for allowing an ambulance bearing a life-and-death case across the bridge when the police had closed it off. Rigidity versus fluidity, that was the essential dialectic. Strict conformity to the rule-book against loose, amiable, easy-going pragmatism. He has a family so she is a loner.
Access unlimited streaming of movies and TV shows with Amazon Prime Video Sign up now for a 30-day free trial
Sign up
The other classic encounter is when Martin goes over to Malmo police HQ and sets out the essentials of the case, as he sees it, to the assembled Swedish team. They all nod and smile and then finally say, "Do you think you could repeat that, a bit more slowly this time?" The show is fully bilingual: The Bridge is both Bron (Swedish) and Broen (Danish). Part of the joke of the series is that the Danes speak Danish and the Swedes speak Swedish and they pretend to understand one another. "It's a fiction," said Rosenfeldt. "If we did it properly half the show would be taken up by people going 'What?'. If you take a Dane and a Swede and put them in a room together, they'll listen to one another for about 30 seconds and then throw up their hands and switch to English." The subtitles are useful for Scandinavian natives too, not just English-speaking audiences.
Culture news in pictures

Show all 33
Spoiler alert: I am about to give away the ending of the fourh series, because Rosenfeldt gave it away to me, so I am just passing it on. If you don't want to know, look away now.
The fact is that it has an ENDING. It really really ends. The last episode is the last. There are no loose ends. "This is the fourth and final series," says Rosenfeldt. That's it. That's my revelation. Make of it what you will. There will be closure, of some kind. Rosenfeldt, being the straight-shooter he is, actually wanted to reveal all, but I think he might have been chopped up and dumped on the Bridge if he had. Danish-speaking Henryk (Thure Lindhardt) is still in there, by the way, the nice guy with the hallucinatory wife and ghost children. And maybe Saga has evolved just a little, and loosened up, having learnt to lie when absolutely necessary
Rosenfeldt heads off with his co-writer Camilla Ahlgren (she is technically "script editor") to do some rewrites. As soon as the coast is clear, I take a sly selfie with Sofia Helin, as fine and fragile and sharply etched as a snowflake. I'm kind of star-struck, but I manage to get over it mainly on account of her not being some semi-supernatural silver-screen goddess but more of a real but cool-looking intellectual and feminist who wants to take over from Rosenfeldt. Hans, I just thought I should warn you: she wants your job
I mean, on top of the acting. She isn't giving that up. Big sigh of relief. She was drawn to The Bridge by "the poetry of the thing". She wasn't that into Lisbeth Salander (in Stieg Larsson's Millennium trilogy). Her unadorned look in The Bridge was largely driven by a simple fact: at the time the whole thing kicked off, she was carrying her one-year-old daughter around with her. She didn't want to have to fuss too much over make-up. So they agreed on straight hair, shoulder-length, more or less uncombed, absolute minimum of face-paint. Her face is, in effect, naked, tough yet vulnerable, with everything visible on the surface, scars and all. She doesn't know about lying and covering up and disguising anything. She just has a soft spot for tight leather trousers (she has got through about three pairs and I believe there are some hanging in the Malmo museum).
It should be noted that the name "Saga", having been something of a rarity in Sweden, has now shot up into the top 10. If I had a daughter I would probably want to call her Saga too. It's like she has encapsulated and supplanted the old Viking-style sagas in which everyone was called Snorri or Håkon. Big improvement.
Helin studied philosophy at university and she still speaks like a philosopher and is a voracious reader, happy to debate Wittgenstein or Sartre. She is prone to self-doubt. "I often feel lost in my life. And I think I'm a useless individual and I don't do anything properly. I keep on failing. I'm from the country and there you have to be doing something useful, build a house or be a farmer or doctor. And then I tell myself: I'm a storyteller. This is what I do. And people need stories like they need food."
Back in April, Helin had this Big Idea for a story she wanted to tell. She did some research and made some calls and went into seclusion with three other Swedish actresses over the summer, and together they worked up her original synopsis into the Project. This is all I know about the Project. First, it's "definitely Nordic, definitely noir". Second "it's going to be very dark". Third, it begins with sexual violence. And, I would guess, it's going to be huge. Swedish television is now casting around for international partners to finance it. I don't think they'll be flying solo for very long.
Sofia Helin, although sworn to secrecy, gives a number of clues about the way this deeply noir project will work. Scandinavian geography and climate and cosmology play a big part. "We are all like two different people, depending on whether it's winter or summer. We are in the darkness and then we see the light." She likes the cold and the dark and gets uncomfortable if she has to be in warm, sunny climates for too long.
She dismisses the binary divide between good guys and bad guys as too simplistic. "The most important thing that inspired me was the idea of telling a story where you can't say who is good and who is bad. The evil is within you. That is the philosophy. You can't say to yourself: 'I could never have done that.' Then it gets scary. Because we are all capable of good and bad."
Gender issues are definitely a factor. "Women here in Sweden, we are really very lucky. Because we get child support from the state that enables us to have a career as well as being mothers. It's more equal here. Of course we still have to struggle, but in other places it's men who lose out. Here you see lots of fathers strolling around with kids. So many more men commit suicide because they can't address their feelings."
And there is a global politics at stake in the Project. "In Sweden I fear at the moment that we are going more towards thinking of us as the good guys, us and them, insiders and outsiders." She notes that a Swedish neo-Nazi party is growing in popularity, set to become the third largest.
So the Project is personal, political, and philosophical. Everything gets in there, but all tightly wrapped up inside the noir form, like a sonnet or a haiku. "I like the constraints," Helin says. "It has to be a great thriller, but it has to ask these existential questions."
She has recently returned from filming The Snowman with Michael Fassbender, in Norway. Which is exactly where I'm going next. Further north, to the land of the midnight sun and darkness at noon and blood on snow – and Scandinavia's biggest-selling noir-monger, Jo Nesbo.
Next week, continuing his quest into the heart of Nordic noir, Andy Martin heads to Norway to meet Jo Nesbo, master of the genre and author of 'The Snowman'
Andy Martin is the author of 'Reacher Said Nothing: Lee Child and the Making of Make Me' (Bantam Press, RRP £18.99)
Register for free to continue reading
Registration is a free and easy way to support our truly independent journalism
By registering, you will also enjoy limited access to Premium articles, exclusive newsletters, commenting, and virtual events with our leading journalists
Already have an account? sign in
Register for free to continue reading
Registration is a free and easy way to support our truly independent journalism
By registering, you will also enjoy limited access to Premium articles, exclusive newsletters, commenting, and virtual events with our leading journalists
Already have an account? sign in
Join our new commenting forum
Join thought-provoking conversations, follow other Independent readers and see their replies