Moonlight/La La Land Oscars gaffe: People think Leonardo DiCaprio is to blame for the Best Picture chaos
One word springs to mind here: revenge.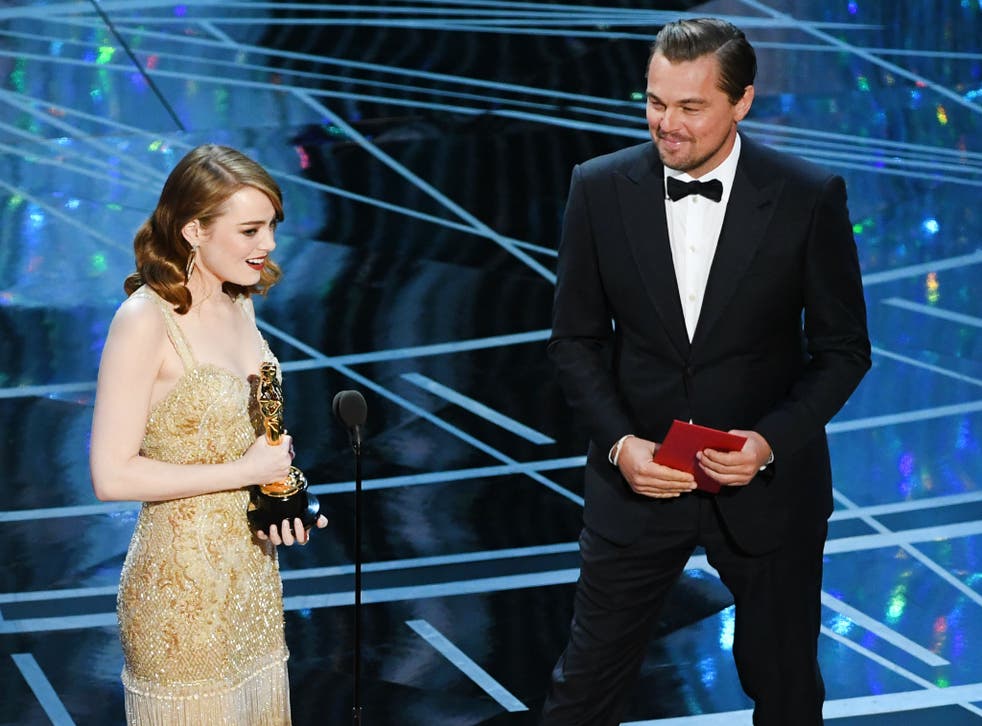 Leonardo DiCaprio may have been the star of last year's Oscars, when he put an end to the #PoorLeo memes by finally winning Best Actor, but the Hollywood favourite has unexpectedly found himself in the spotlight this time around too for his role in the Moonlight/La La Land mixup chaos.
In case you've missed it, Moonlight won Best Picture, but only after La La Land's name was read out first by presenters Warren Beatty and Faye Dunaway. Beatty had somehow ended up with the Best Actress envelope announcing La La Land's Emma Stone as the winner. He saw her name and assumed that La La Land had won Best Picture, which seems pretty silly, but in the heat of the moment, maybe we'd have done the same thing (we'd almost certainly have checked, but anyway…).
Unfortunately, the La La Land cast and crew arrived on stage and started their acceptance speeches before the news spread that, actually, the gong wasn't theirs after all. The cringe levels were palpable as the bemused La La Land team shuffled awkwardly back to their seats and shocked Moonlight director Barry Jenkins took the mic. Everyone was supportive of each other and it all ended happily, bar the pervading sense of disappointment that Moonlight's moment was somewhat stolen from them.
Oscars 2017: Watch the La La Land-Moonlight Best Picture error in full

But what does this all have to do with Leo? Well, in keeping with the tradition of last year's winners presenting the new winners with their Oscars, he was back to give Stone her gong, meaning he had been holding the card with her name on it before all this drama kicked off.
Theoretically, as fans are suggesting, this means that Leo could have plonked it down in the wrong place backstage or given it to a producer, leading Beatty and Dunaway to pick it up or be given it by mistake.
Somewhat disappointingly, because blaming Leo and imagining him enacting sweet revenge for his long Oscars win wait is fun, Beatty's card must have been a duplicate because a representative for DiCaprio told The Independent: "He gave the card directly to Emma and said, 'You are going to want to keep this'."
Stone confirmed the story backstage, telling reporters that she was "holding the card the whole time". "I'm not sure what happened, I think everyone's in a state of confusion still," she said. "Excitement but confusion. I think everyone is just so excited for Moonlight. It's such an incredible film."
It's a comedy of errors and all very confusing. Our heads hurt.
Register for free to continue reading
Registration is a free and easy way to support our truly independent journalism
By registering, you will also enjoy limited access to Premium articles, exclusive newsletters, commenting, and virtual events with our leading journalists
Already have an account? sign in
Register for free to continue reading
Registration is a free and easy way to support our truly independent journalism
By registering, you will also enjoy limited access to Premium articles, exclusive newsletters, commenting, and virtual events with our leading journalists
Already have an account? sign in
Join our new commenting forum
Join thought-provoking conversations, follow other Independent readers and see their replies