Why Tatum O'Neal's 1974 Oscar win was clouded in family drama
The actress became the youngest competitive Academy Award winner in history when she picked up a gong at the age of 10. But that achievement didn't stop her from feeling abandoned by her parents, writes Bruce Fretts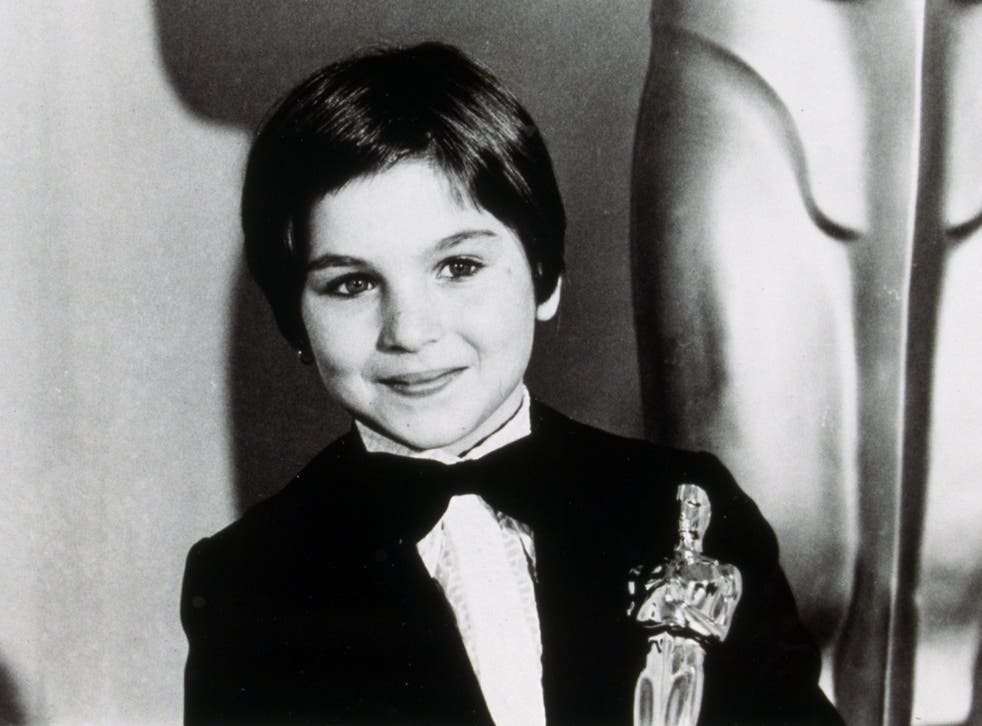 On the surface, it seems like one of the most joyfully innocent moments in Oscar history: Tatum O'Neal became the youngest competitive winner in history, taking home the 1974 Academy Award for Best Supporting Actress at the age of 10 for the Depression-era comedy Paper Moon.
But the story behind her victory is darker, involving a fractured family and bitter controversy surrounding a competitor.
Director Peter Bogdanovich had cast the girl, an acting novice, opposite her father, Ryan O'Neal, with whom he worked on 1972 farce What's Up, Doc? At the time, O'Neal said he hoped the new movie would bring him closer to his restless daughter, who was estranged from her mother, actress Joanna Moore. "This was the first opportunity to try to channel her energy and mind into something constructive," he told People in 1974. "And give her what she never had enough of – love."
The film, shot in black and white for $2.5m, was a hit, earning more than $30m. But when Tatum O'Neal was nominated for an Oscar and her father wasn't, it created tension. "In the press, he played the doting father," she wrote in A Paper Life, her 2004 memoir. "But in his eyes, I read the truth: deep resentment that his own brilliant performance was being dismissed." Tatum O'Neal declined to comment for this article.
Her classification as a supporting actress confused some people, including Bogdanovich, who said of another Paper Moon co-star nominated in the same category, "I don't know how Madeline Kahn, who's on screen for maybe 18 minutes, can be up against Tatum, who's in 100 of the 103 minutes of the film."
As Tom O'Neil, founder and editor of the awards-themed goldderby.com, says: "Tatum had that secret weapon you need in supporting races, which is a lead role. And she had this irresistible, devilish charm."
Her competition included another devilish young star: Linda Blair, the 15-year-old who had played the possessed Regan in The Exorcist. But the perception of her performance may have been tainted by the revelation that her demonic voice had been dubbed by Mercedes McCambridge (herself a Best Supporting Actress winner, for the 1949 movie All the King's Men).
The 10 best Oscar Best Picture winners

Show all 10
McCambridge initially didn't receive credit for her work and criticised director William Friedkin in the press. "Any child could have wiggled on the bed," she told The New York Times in January 1974. "If there was any horror in the exorcism, it was me!" After the actress sued Warner Bros, the studio behind the film, "and Mercedes McCambridge" was added to the end credits.
At the Academy Awards a few months later, Tatum O'Neal, wearing a mini-tuxedo inspired by the suits favoured by Bianca Jagger (who later said she had an affair with Ryan O'Neal in the early 1970s), received a huge ovation when she won the Oscar and said only, "All I really want to thank is my director, Peter Bogdanovich, and my father." Her grandfather, Charles O'Neal, accompanied her onstage and added, "Her grandfather thanks you, her father thanks you and I know Tatum thanks you."
Access unlimited streaming of movies and TV shows with Amazon Prime Video Sign up now for a 30-day free trial
Sign up
Ryan O'Neal was in England filming Stanley Kubrick's Barry Lyndon at the time. He congratulated his daughter by phone after the ceremony, but Tatum O'Neal wrote in A Paper Life: "I had little sense of accomplishment. There was no fanfare from anyone who mattered to me, so the pride and self-worth I might have gained from what most people would consider a life-defining honour was leached away.
The feeling I most associate with winning an Oscar is an overwhelming sadness at being abandoned by my parents – both of them, for my mother remained silent – one more time." Moore died in 1997; Tatum O'Neal eventually attempted to reconcile with her father and documented it in another memoir, Found: A Daughter's Journey Home, in 2011.
As an adult, O'Neal has attracted attention for her marriage to and divorce from tennis star John McEnroe and her recovery from drug addiction as well as her sporadic acting roles (Rescue Me, God's Not Dead: A Light in Darkness).
She remains the youngest Oscar winner in a competitive category. An honorary Academy Juvenile Award was presented sporadically to young stars beginning with 6-year-old Shirley Temple in 1935 and ending with 14-year-old Hayley Mills in 1961. After 16-year-old Patty Duke (The Miracle Worker) beat 10-year-old Mary Badham (To Kill a Mockingbird) for Best Supporting Actress in 1963, "the academy realised child actors are just like adult actors and did away with the Juvenile Awards", Arnold Wayne Jones, author of The Envelope, Please: The Ultimate Academy Awards Trivia Book, says.
In 1994, Anna Paquin, then 12, won Best Supporting Actress for The Piano, becoming the second-youngest Oscar winner. "Historically, Oscar voters have proven they will embrace young actresses but not young actors," O'Neil, of goldderby.com, says, noting that 8-year-old Justin Henry (Kramer vs. Kramer) and 11-year-old Haley Joel Osment (The Sixth Sense) were nominated for Best Supporting Actor but didn't win.
Support free-thinking journalism and attend Independent events
The youngest actor to win remains Timothy Hutton, who was 20 when he was named Best Supporting Actor for Ordinary People in 1981. "Of course," Jones points out, like Tatum O'Neal's, "his was really a leading role, too."
© New York Times
Register for free to continue reading
Registration is a free and easy way to support our truly independent journalism
By registering, you will also enjoy limited access to Premium articles, exclusive newsletters, commenting, and virtual events with our leading journalists
Already have an account? sign in
Register for free to continue reading
Registration is a free and easy way to support our truly independent journalism
By registering, you will also enjoy limited access to Premium articles, exclusive newsletters, commenting, and virtual events with our leading journalists
Already have an account? sign in
Join our new commenting forum
Join thought-provoking conversations, follow other Independent readers and see their replies