Oscars 2015: Who are the multiple winners, who said what, who made history? The Independent on Sunday Academy Awards quiz...
Chris Maume has devised a brain teaser to whet your appetite for tonight's 87th Academy Awards ceremony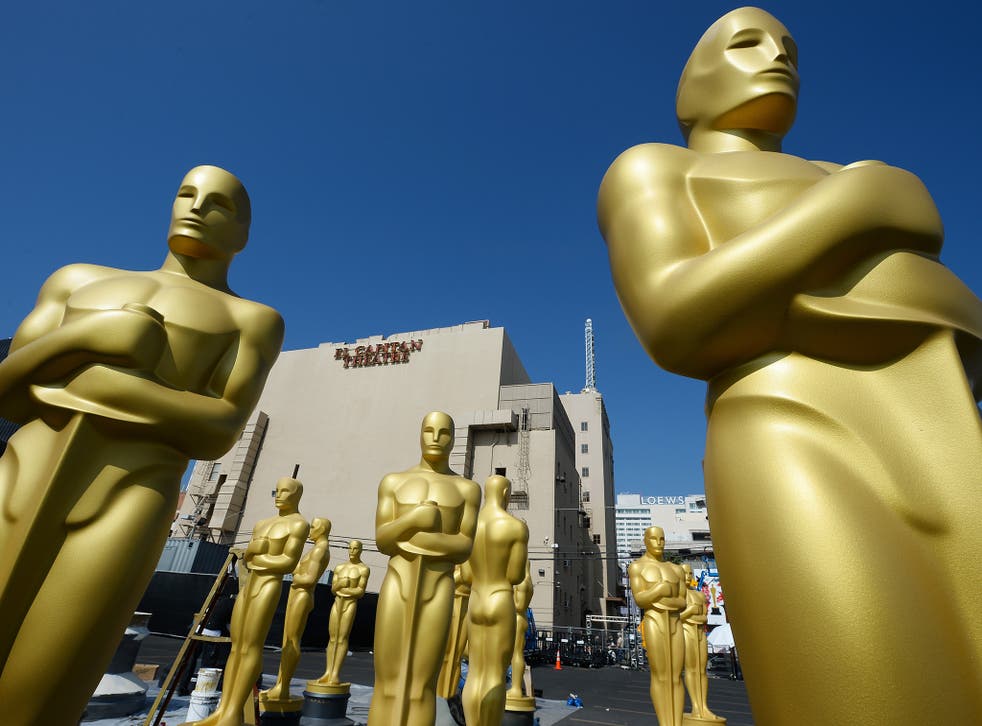 African-Americans
1 Who was the first African-American to win an Academy Award (for Best Supporting Actress in 1939)?
2 Who was the first African-American man to be nominated for Best Actor, in 1958?
3 The first African-American to be nominated for Best Director, in 1991, was also, at 24, the youngest to be nominated. Who?
4 The last two African-American Best Actors have both played real-life characters, in 2004 and 2006. Who?
5 In 2001, for the first time African-Americans won both Best Actress and Best Actor. Who?
6 Better known in another line of work, who was nominated for Best Supporting Actress in 1985?
7 Herbie Hancock is one of two African-Americans to win for an original score with his Best Original Score, for Round Midnight (1986). Who was the other, for Best Original Song Score, two years earlier, in a film in which he also acted?
8 The first African-American woman to be nominated for Best Actress was Dorothy Dandridge in 1954, for her part in which adaptation of a story that had already been adapted as an opera?
9 Who in 2012 became the youngest female acting nominee, and the first Oscar nominee born this century?
10 In 1972 for the first time there were two African-American nominees for Best Actress. One was Cicely Tyson for Sounder; the other was a singer making her film debut. Who?
Multiple Winners
1 Three films have won 11 Oscars, in 1959, 1997 and 2003. Which?
2 Who in 2013 became only the third actor to win Oscars in his career for both acting and producing?
3 Luise Rainer and Spencer Tracy did it in the 1930s, Katharine Hepburn in the 1960s, Jason Robards in the 1970s and Tom Hanks in the 1990s. What feat did they achieve?
4 Only one individual has won four times in one year, in 1953, for Best Documentary (Feature), Best Documentary (Short Subject, Best Short Subject (Cartoon) and Best Short Subject (Two-Reel). Who?
Access unlimited streaming of movies and TV shows with Amazon Prime Video Sign up now for a 30-day free trial
Sign up
5 The Best Actress of 1970 and 1973 later pursued a radically different career, from which she will retire in May. Who?
6 Francis Ford Coppola won three Oscars in 1974 for The Godfather Part II. In what categories?
7 The Irish art director Cedric Gibbons won 11 Oscars from 39 nominations, but, crucially to the Academy Awards, what did he design?
8 Only three films have won the "Big Five" – Best Picture, Director, Actress, Actor and Screenplay – a comedy from 1934 starring Clark Gable and Claudette Colbert, a gritty drama from 1975 set largely in a psychiatric hospital and a thriller from 1991. What are they?
9 The most awards won by a woman is eight, by Edith Head, whose wins included Samson and Delilah, A Place in the Sun and the circus drama The Greatest Show on Earth. What category did she win in?
10 Daniel Day-Lewis has won a record three Best Actor awards. For which films?
Words and Music
1 Which American director, writer and actor has had 16 writing nominations and three writing wins, the first in 1977, for a film that also won Best Picture, the most recent in 2011?
2 Which musician won Oscars in three categories in 1973, for The Way We Were and The Sting?
3 The winner of two Best Original Song Oscars, for animated films in 2002 and 2011, is part of a four-man dynasty who have 12 wins and 77 nominations between them. What's their surname?
4 Which pair of former schoolfriends got together to win Best Original Screenplay in 1997?
5 Three women have won for Best Original Score: US lyricist Marilyn Bergman, who won for Yentl, and two Britons, one for Emma in 1996, the other for The Full Monty, the following year. Who were they?
6 Which composer has had 49 nominations in various musical categories, three of his five wins coming with the same director, in 1975, 1981 and 1993?
7 Which conductor, composer and pianist has had 13 nominations and four wins, but will be forever known in Britain for a television appearance on Christmas Day 1971?
8 Who won the Nobel Prize in Literature in 1925 and shared an Oscar in 1938 for adapting his own play?
9 Francis Ford Coppola, William Goldman, Bo Goldman and the Coen brothers share what double Oscar-winning distinction?
10 Only one married couple have shared the Best Adapted Screenplay award, in 2003. Fran Walsh is one half of the couple. Who's the other half?
Brits Abroad
1 "The British are coming!" Who said so, in 1981?
2 Which film, starring Greer Garson, won six Oscars in 1942 and was, said Winston Churchill (right), "Worth more to the war effort than a flotilla of destroyers" as it did much to rally US support for the Allies?
3 Which 11-time Carry On veteran was nominated for Best Song in 1966 for writing the lyric to "Georgy Girl"?
4 In which 1976 novel did Frederic Raphael fictionalise his Oscar award for Best Original Screenplay for Darling (1965)?
5 Which historical drama starring Charles Laughton was the first non-Hollywood film to win an Oscar?
6 George Arliss (bottom left) was the first Briton to win Best Actor, in 1929-30, for playing which eponymous 19th-century politician?
7 Only one Shakespeare adaptation has won Best Picture, in 1948. Which one?
8 A theatrical knight is one of only 12 people to have won an Oscar, an Emmy, a Grammy and a Tony. His Oscar for Best Supporting Actor, came in 1982, playing opposite an English comedian-turned-actor.
9 Another theatrical knight, who won Best Actor in 1957, and an honorary one in 1980, was also nominated for his screenplay adapted from Joyce Cary's novel The Horse's Mouth in 1958. Who?
10 Which woman is the only person to receive Oscars for both acting and writing?
Women
1 What first did Kathryn Bigelow, director of The Hurt Locker, achieve in 2010?
2 Apart from Bigelow, only three other women have been nominated for Best Director: a daughter keeping it in the family in 2003 (when she won Best Original Screenplay), a New Zealander in 1993, and an Italian for Seven Beauties (1976). Who?
3 At the 1969 Oscars there was a tie for Best Actress between the female leads in Funny Girl and A Lion in Winter. Who were they?
4 Who is the only person to have won both an Oscar (1986 and 1992) and the Booker Prize (1975)?
5 Greta Garbo (top right) famously uttered the line "I want to be alone" – in which 1932 Best Picture?
6 Which two-time Best Actress winner claimed to have coined the nickname "Oscar", after her first husband, the bandleader Oscar Nelson? (Her account is disputed.)
7 The youngest person to win an Oscar was five-year-old Shirley Temple, but that was honorary. Who's the youngest, at 10, to win a standard Oscar, in 1974?
8 Who was the first female producer to win Best Picture, for The Sting in 1973? She was later noted for a tell-all Hollywood memoir.
9 Shirley Booth (Come Back Little Sheba, 1952), Julie Andrews (Mary Poppins, 1964), Barbra Streisand (Funny Girl, 1968) and Marlee Matlin (Children of a Lesser God, 1986) all won Best Actress – but what distinction do they hold?
10 In 2012 Brenda Chapman became the first woman director to win Best Animated Feature, for a story set in the Scottish Highlands. Which film?
Around the World
1 Who was the first Asian producer (he was Indian-born) to be nominated for Best Picture, in 1985?
2 Who in 2011 became the only Frenchman to win Best Actor?
3 Who was the first Asian to win Best Actor, for playing a royal personage in 1956?
4 Only one Asian has won Best Director twice, in 2005 and 2012. Who?
5 In 1955 Anna Magnani won Best Actress for The Rose Tattoo, but who six years later became the only Italian to win Best Actress for a film in Italian?
6 Who's the only Mexican to win Best Director?
7 Two Australian women have three nominations as Best Actress. Who?
8 Which Swede won acting Oscars for Gaslight, Anastasia and Murder on the Orient Express?
9 Roman Polanski (left) won Best Director for The Pianist (2002), but for what two films had he been nominated, in 1974 and 1980?
10 The first French person to win an Academy Award was Simone Signoret in 1959. For which adaptation of an English novel?
The Missing
These films were nominated for Best Picture but lost. Which movie won?
1 Citizen Kane, The Maltese Falcon (both below), Suspicion (1941).
2 The Graduate, Bonnie and Clyde, Guess Who's Coming to Dinner, Doctor Dolittle (1967).
3 Jaws, Nashville, Dog Day Afternoon, Barry Lyndon.
4 All the President's Men, Taxi Driver, Bound for Glory, Network (1976).
5 Raging Bull, The Elephant Man, Coal Miner's Daughter, Tess (1976).
6 The Color Purple, Kiss of the Spider Woman, Prizzi's Honor, Witness (1985).
7 Hannah and Her Sisters, A Room With a View, The Mission, Children of a Lesser God.( 1986).
8 The Shawshank Redemption, Four Weddings and a Funeral, Pulp Fiction, Quiz Show (1994).
9 Fargo, Jerry Maguire, Secrets and Lies, Shine (1996).
10 Chocolat, Crouching Tiger, Hidden Dragon, Erin Brockovitch, Traffic (2000).
Home Front (US)
1 Only one pair of brothers has been nominated for Best Actor (not in the same year), one of whom died in 1993; the other has been nominated three times, most recently in 2012. Which pair?
2 Which American was named Best Director a record four times? Orson Welles and Ingmar Bergman were two of the many to describe him as the greatest director in cinema history.
3 Ian McLellan Hunter (1953), Robert Rich (1956), Pierre Boulle (1957) and Nahan E Douglas all won writing Oscars. What was unusual about them?
4 Billy Crystal has hosted the Oscars night nine times, the second most often, but who hosted it 19 times, first in 1940 and the last time in 1978?
5 Victor Fleming won the Best Director award for 1939 for Gone With the Wind, but which other movie classic did he also direct that year, which lost out to Gone With the Wind for Best Picture?
6 Who in 1970 became the first actor to turn down an Oscar, for Best Actor, saying, "The "whole thing is a goddamn meat parade. I don't want any part of it"?
7 And who three years later, sent a Native American woman to the ceremony to turn down his award?
8 Which actor – three times a winner himself, and nominated 12 times – has presented the Best Picture Oscar eight times, most recently with Michelle Obama?
9 Who was nominated posthumously for Best Actor twice in the mid-1950s?
10 Which 2001 Best Picture won despite a campaign to label its real-life subject as anti-Semitic?
Miscellaneous
1 In 2006 the US Internal Revenue Service issued a warning to those attending the ceremony that year. What had sparked their interest?
2 Only one X-rated film has won Best Picture, in 1969, directed by John Schlesinger. Which one?
3 What did the grandson of the producer Mike Todd, a Best Picture winner in 1956, attempt to do in 1989, but was prevented by an injunction gained by the Academy?
4 In 2001, which film was the first winner in the Best Animated Feature category?
5 And before Best Animated Feature, the most recently instituted award, a behind-the-scenes category which began in 1981, was won by American Werewolf in London. Which one?
6 What were Academy members able to do for the first time in 2013?
7 What distinction does Wings (1929) hold?
8 The 1937 Best Picture was The Life of Emile Zola, which some critics said only came alive when it got to L'Affaire Dreyfus, which hinged on anti-Semitism. Which three-letter word did studio head Jack Warner order to be excised from the script?
9 Which 1956 Best Picture, starring David Niven, featured a host of star cameos, including Sinatra, Coward, Gielgud, Dietrich and Keaton?
10 To the nearest 500, how many Oscars have been awarded in 87 years?
Join our new commenting forum
Join thought-provoking conversations, follow other Independent readers and see their replies