22 Jump Street review: Jonah Hill's yearning for Channing Tatum is never in doubt
Unlike most buddy movies, the homoeroticism is never suppressed
Geoffrey Macnab
Wednesday 04 June 2014 13:33 Comments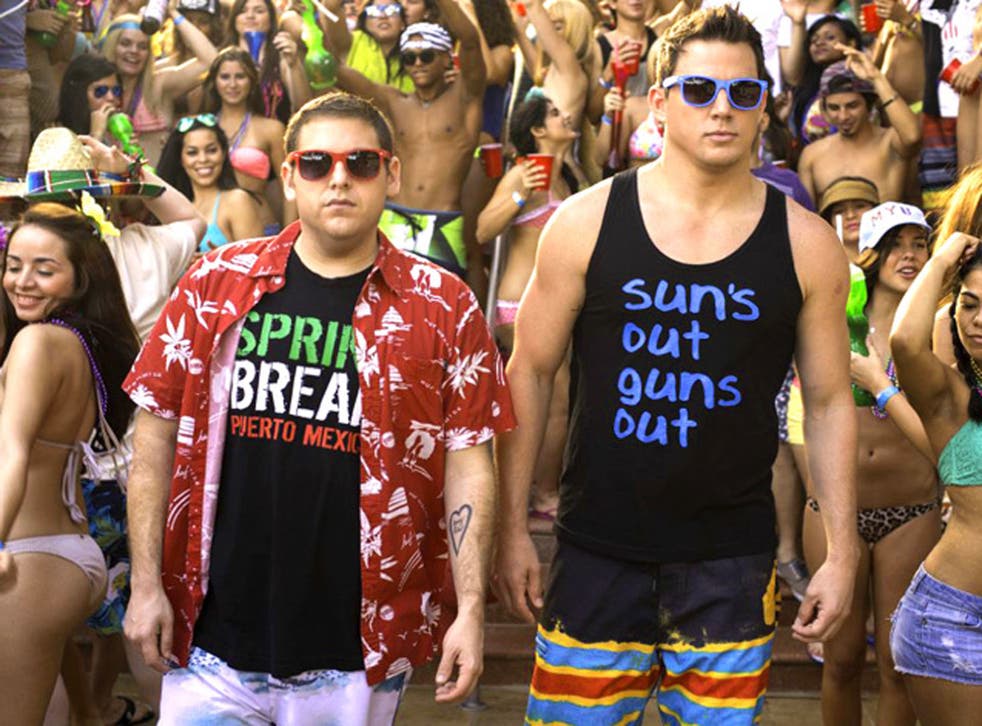 In an era in which sequels and reboots of old franchises invariably have more to do with merchandising than cinema, you can't help but warm to the glee with which writer-directors Phil Lord and Chris Miller customise other people's ideas.
They did a wonderful job with The Lego Movie, foregrounding the kids' toys in a way which will have made the manufacturers happy while also filling the film with ironic and subversive pop cultural references that kept the parents entertained.
Lord and Miller are in equally inventive form with 22 Jump Street, their follow-up to their own 21 Jump Street (which was, in turn, based on the 80s TV series about undercover cops which helped make Johnny Depp a star.)
Whereas new superhero films tend to try to conceal the fact that they are re-telling a story that has been told countless times on screen before, Lord and Miller make a virtue of the fact that the new film is intended as a near carbon copy of its predecessor. That's part of the joke. "Do the same thing as first time. Everybody's happy," is the philosophy.
In 21 Jump Street, cops Schmidt (Jonah Hill) and Jenko (Channing Tatum) infiltrated a high school to catch the dealers of a drug called H.F.S. The subtle change this time round is that they are going undercover at a local university college instead to hunt down the supplier of new drug called Why Fy. (This enables takers to study with intense focus for four hours and then to party wildly.)
The humour here ranges from Mack Sennett-style slapstick to sophisticated, very knowing satire. The film opens with Schmidt and Jenko trying haplessly to pass themselves off as Mexicans in an attempt to arrest a notorious drugs kingpin Ghost. (He is played by Swedish actor Peter Stormare, one of Ingmar Bergman's old favourites.) For no very good reason, they get attacked by an octopus and end up dangling in mid air after a collision on a bridge.
Tatum is very funny as the taciturn, slow-witted Jenko who fires off malapropisms whenever he is called on to speak. "I am so sorry for being a homophone," he says after making an anti-gay joke. He doesn't know the difference between "anal" and "annal" or between "carte blanche" and "Cate Blanchett."
There is something strangely touching about his response after arriving on campus and discovering the college has a library. "They still have books!" he exclaims in true wonder. "I thought they just put the books into the computers." His Jenko is like a comic version of the Olympic wrestler he plays in another, far darker new movie, Foxcatcher. He's an all-American jock: a star athlete who can open bottles of beer with his teeth but lacks anything resembling an inner life.
By contrast, Jonah Hill's Schmidt is neurotic, self-conscious - and all inner life . He is nicknamed "Maya Angelou" after a wildly eccentric attempt at performance poetry. Whatever he does riles his boss, Captain Dickson (Ice Cube in roaring, self-parodic form.)
Access unlimited streaming of movies and TV shows with Amazon Prime Video Sign up now for a 30-day free trial
Sign up
In most buddy movies, the homoeroticism is suppressed. Here, Schmidt's romantic yearning for his athletic partner is never in doubt. They hold hands when they visit a therapist to discuss their relationship (and to try to smoke out the drug dealer.)
The plot sees the grizzled thirty something heroes going through all the traditional college rituals. They endure some frat party hazing. They both find new objects of affection. Schmidt begins an unlikely affair with Maya (Amber Stevens) while Jenko becomes soul mates (in a Bill and Ted-style way) with the college football team's quarterback Zook (Wyatt Russell), who is almost as dim as he is and shares his orgasmic love of Lamborghinis. Zook and Jenko don't so much communicate in language as in whoops and in high fives. The two words they use most frequently are "dude" or "bro."
Against the odds, Lord and Miller makes us care about characters who could easily seem like grotesque comic creations. There is a sweetness to Schmidt that is evident both in his bungling courtship of Maya and in his dogged loyalty to his fellow undercover cop. Jenko, meanwhile, is endlessly good natured, whatever insults and humiliations come his way.
For all its self-reflexive jokes, 22 Jump Street is a very traditional affair that offers audiences the same pleasures as Laurel and Hardy, Abbott and Costello or even Jerry Lewis and Dean Martin films. Its undercover policemen heroes are yet another variation on the hapless but innocent heroes of comedies from the silent era onward. We root for them in spite of their monumental stupidity.
The film attitude toward sex is ambivalent in the extreme. There are plenty of double entendres in the dialogue but the scenes between Schmidt and Maya are very discreetly shot. We don't see their lovemaking - we just hear about it in the lurid, mocking descriptions given by Maya's endlessly sarcastic roommate Mercedes (Jillian Bell). Schmidt and Jenko may be well into their 30s but they are as naive as college freshmen.
In the final reel, as the cops head down to Florida, the film veers into the same territory as Harmony Korine's Spring Breakers (2012). The shots of thousands of scantily clad college students dancing and drinking on the beach could come straight from Korine's film.
22 Jump Street isn't as subversive as Spring Breakers, which turned usual beach movie conventions on their head as it exposed the racial and class tensions that went alongside the drug taking and sexual excess.
Lord and Miller opt instead for a cartoonish finale in which Schmidt and Jenko are finally given the chance to demonstrate their action hero credentials.
There is no sign of the filmmakers' inspiration running dry. After all, they just need to keep on repeating themselves. As they demonstrate in a montage sequence over the end credits, they could easily make 20 or more Jump Street sequels following exactly the same formula - and few audiences would begrudge them if they did.
Register for free to continue reading
Registration is a free and easy way to support our truly independent journalism
By registering, you will also enjoy limited access to Premium articles, exclusive newsletters, commenting, and virtual events with our leading journalists
Already have an account? sign in
Join our new commenting forum
Join thought-provoking conversations, follow other Independent readers and see their replies