A Hologram For The King, film review: 'One of Tom Hanks's richest recent performances'
(12A) Tom Tykwer, 97 mins, starring: Tom Hanks, Ben Whishaw, Tom Skerritt, Sarita Choudhury, Sidse Babett Knudsen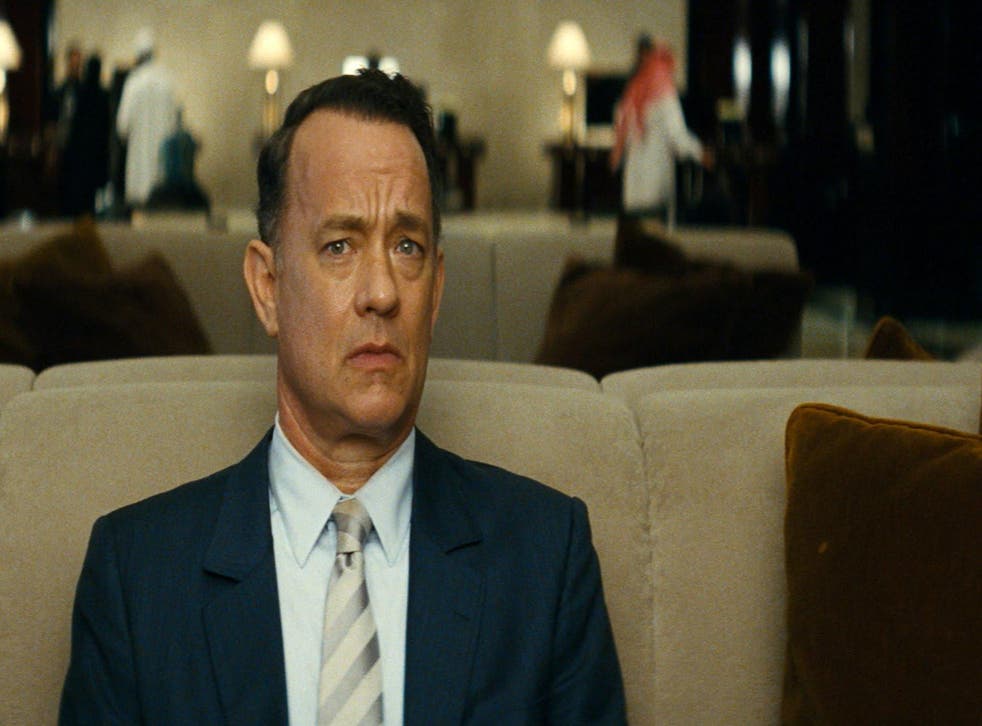 "Do you ever feel you might have done it differently?" is the question that Tom Hanks' character asks himself again and again in A Hologram For The King (adapted from Dave Eggers' bestselling novel.) Alan Clay is a middle-aged, middle-class American businessman whose life is dribbling away from him. He has split up from his wife. He can no longer afford to pay his daughter's college fees. There's a lump on his back that may be cancerous. A last chance to save his career comes in the form of a trip to Saudi Arabia, where he is to pitch a potentially lucrative IT project involving holograms to the king.
This is a very strange film, perched between whimsy and despair. German writer-director Tom Tykwer is very good at capturing the sense of ennui and pointlessness that his protagonist feels as he wrestles with the metaphysical meaninglessness of existence. Hanks is often cast as the dependable American everyman type. Here, he shows a darker, more anxious side to that character. It is one of his richest recent performances. Bonhomie, optimism and wisecracking can only get Clay so far. His cheerfulness becomes harder and harder to maintain.
Tykwer is also sharp in his observations of the Middle East and its relations with westerners. There are many carpetbaggers looking to redeem their lives and make their fortunes in the desert kingdoms. Instead, what they find is the emptiness at the core of their own lives. For Clay, nothing seems very real or meaningful at all.
Films to watch in 2016

Show all 30
It seems crazy, though, for Tykwer to treat such downbeat material as the stuff of screwball comedy. The bleaker Clay's predicament, the lighter and more facetious the storytelling becomes. The director isn't above a certain self-conscious, post-modern jokiness. The opening sequence, in which we see Clay miming away to Talking Heads' Once In A Lifetime as if he is trapped in a 1980s pop promo, is especially bizarre.
As Clay and his younger colleagues wait in the desert for a meeting with the king, he is frequently on the verge of humiliation. When he tries to have sex with a Danish woman, he can't manage it. When he jokes about being a member of the CIA, he risks being lynched. At first, he just isn't able to decode the world around him. Even the behaviour (and musical tastes) off his genial driver Youssef (Alexander Black) perplexes him. The themes here are similar to those in Anomalisa, the brilliant recent animated feature by Charlie Kaufman and Duke Johnson that also looks at middle aged angst. The difference is that A Hologram For The King has a redemptive, comic undertow. If nothing is real or meaningful, then that means nothing needs to be taken too seriously. Instead of despair, there's always romance and scuba diving.
Register for free to continue reading
Registration is a free and easy way to support our truly independent journalism
By registering, you will also enjoy limited access to Premium articles, exclusive newsletters, commenting, and virtual events with our leading journalists
Already have an account? sign in
Register for free to continue reading
Registration is a free and easy way to support our truly independent journalism
By registering, you will also enjoy limited access to Premium articles, exclusive newsletters, commenting, and virtual events with our leading journalists
Already have an account? sign in
Join our new commenting forum
Join thought-provoking conversations, follow other Independent readers and see their replies