Album box set reviews: The Beatles - Happy Christmas Beatle People!: The Christmas Records, Fela Kuti - Vinyl Box Set #4, and more
Glenn Gould - The Goldberg Variations: Complete Unreleased Recording Sessions June 1955, The Fall - The Singles 1978-2016, Wilson Pickett - The Complete Atlantic Albums Collection, Various Artists - To The Outside Of Everything, Elton John - Diamonds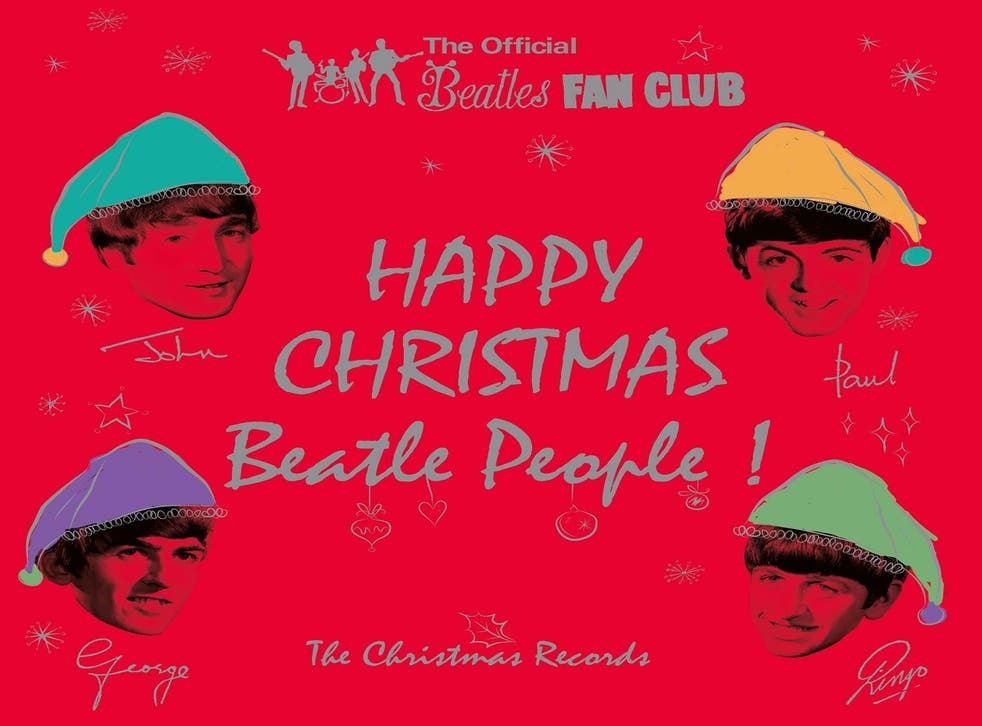 The Beatles, Happy Christmas Beatle People!: The Christmas Records
★★★★☆
Download: 1968; 1969; 1967; 1965
The growth of social media has revolutionised the way that pop stars connect with fans, offering both a precisely-targeted promotional tool delivering information about forthcoming products and appearances, and algorithmic analysis of their fanbase's desires.
Before the internet exerted its grip, this sort of putative star/fan interfacing was undertaken by the fan club, via mail-shot newsletters. And as with most things, The Beatles were way ahead of the game in this respect, starting in 1963 a tradition of sending a free seasonal flexi-disc of unique material to every fan club member, collected together here for the first time as a box of vinyl singles. Initially, they were simple scripts of hokey messages written by publicist Tony Barrow, transformed into something more personal through mis-readings ("We hope you enjoy the records as much as we enjoy melting them"), mickey-taking and bogus laughter, whilst amusingly re-written Christmas carols like "Jingle Bells" are bashed out on piano, kazoo and harmonica.
By 1965, they had got more into the swing of things. Recorded following the Rubber Soul sessions, the routine messages and accounts of their activities are adrift amongst a tide of impromptu nonsense – bogus Scottish folk-songs, "Yesterday" in pub singalong style, with Christmas lyric, etc – and an apparently sincere apology, "Please everybody, if we haven't done what we could have done, we tried". In 1966, they tried even harder: helmed by McCartney, and titled Pantomime, it involved a series of nonsensical tableaux such as the fairytale "Podgy The Bear And Jasper" and bogus Corsican chorale "Orowayna", book-ended by "Everywhere It's Christmas".
The following year's seasonal song, "Christmas Time (Is Here Again)", was subsequently used as the B-side of "Free As A Bird", although the welter of nonsense originally surrounding it – tap-dancing audition, spoof political interview, game-show parody, request for "Plenty Of Jam-Jars" by The Ravellers – prefigures the more involved montages created by Kenny Everett for the 1968 and 1969 Christmas Records. The former is the best, a whip-smart assemblage of edits and effects incorporating atonal piano tinklings, a sped-up bit of "Helter Skelter", McCartney's all-purpose year-round greetings song, a snatch of Perrey & Kingsley's bouncing electronica, typical nonsense verbiage from Lennon ("This film is about an hourglass pleasure-boat"), and a guest slot of Tiny Tim warbling tremulously through "Nowhere Man".
By 1969, the band had broken up, which made Everett's job harder, and rendered the already sardonic goodwill messages even less sincere. John and Yoko shouldered most of the duties, recounting the activities of "Jock and Yono"; but the best moment is Everett's treatment of Ringo's attempt to get in a plug for his forthcoming movie appearance, with a sped-up transition of "Merry Christmas" into "Magic Christian".
Having long been amongst the most sought-after Beatles ephemera, this set of the Christmas Records makes a welcome addition to the official catalogue; although sometimes as flimsy in content as they were physically, their whimsical flights of fancy and relentlessly frivolous tone provide refreshing reminders of an era when pop was less ruthlessly commercial and less achingly earnest.
Fela Kuti, Vinyl Box Set #4
★★★★☆
Download: Yellow Fever; Na Poi '75; No Agreement; Coffin For Head Of State; Underground System
Following previous Fela Kuti assemblages by Questlove, Ginger Baker and Brian Eno, this fourth set of seven LPs was curated by Erykah Badu, ranging from 1976's Yellow Fever to 1992's Underground System, the last album released in Fela's lifetime. As with most of his work, the records feature just one or two long tracks, immersive Afrobeat grooves which, Badu believes, enable performer and listener to become "one living, breathing organism". Save for 1977's No Agreement, which prominently features Art Ensemble trumpeter Lester Bowie, the focus was always firmly on Fela, a dominating presence conducting his band through vamps of electric piano or sax, building up a majestic momentum of burring brass, while delivering pidgin tongue-lashings aimed at everything from skin-lightening ("Yellow Fever") to the covert crushing of forces for change ("Underground System"). "Coffin For Head Of State" is the saddest and most affecting, a lament for his mother, who died from injuries sustained after being thrown from an upstairs window by government soldiers invading Fela's Kalakuta Republic compound.
Glenn Gould, The Goldberg Variations: Complete Unreleased Recording Sessions June 1955
★★★★★
Download: Aria; Variation 1; Variation 5; Variation 6; Variation 12
Glenn Gould is solely responsible for the current popularity of Bach's Goldberg Variations, which until his 1955 debut Columbia recording was an overlooked obscurity. As demonstrated by this exhaustive account, featuring every session across five CDs, the young Gould was a ferment of focused innovation from the start. He works assiduously through 21 takes of the opening "Aria" before dashing through the first take of "Variation 1" at an incredible blur of light-speed fingering that's simply dazzling. He's mindful of his eccentricities throughout, pondering whether he needs a higher chair, and enquiring whether any of his notorious "singing" spoiled a take. But he's also keenly aware of the possibilities of the studio – by "Variation 5", he's asking for the first half of one take to be combined with the latter half of another, an early instance of the process that would characterise his subsequent recordings. Including vinyl and CD versions of the finished album, and a book of photos, essays and transcripts of studio discussions, this is a treasure trove for any Gould enthusiast.
The Fall, The Singles 1978-2016
★★★★☆
Download: Rowche Rumble; Totally Wired; Kicker Conspiracy; Cruiser's Creek; Mr. Pharmacist; There's A Ghost In My House; Hit The North, Pt 1
Access unlimited streaming of movies and TV shows with Amazon Prime Video Sign up now for a 30-day free trial
Sign up
You'll never find him on any celebrity red carpet, but Mark E Smith has always been an A-lister: specifically, a list that includes alcohol, amphetamines, asperity, antipathy and the avant-garde, stirred into a glorious blurt of often perplexing words and music probably best heard in the relatively approachable confines of this seven CD collection of The Fall's singles. Smith's lyrical interests range from comics to football, drugs to religion, Lancashire to sociopathy, while his musical inspirations are evident in the band's cover versions: classic Britpop like "Victoria" and "I Can Hear The Grass Grow"; melodramatic narratives like "There's A Ghost In My House"; and particularly, mutant rockabilly cuts like that most blatant of drug songs, "Mr Pharmacist". Distilled into original material, at their best The Fall produced triumphant outsider anthems like "Totally Wired" and "Cruiser's Creek", pop with a devilish, rockabilly rebel edge; though with "Hit The North, Pt 1", they effectively created the basic blueprint for the later groovy rumblings of Madchester. All human life, as the saying goes, is here.
Wilson Pickett, The Complete Atlantic Albums Collection
★★★★☆
Download: In The Midnight Hour; Land Of 1000 Dances; 634-5789; Mustang Sally; Hey Jude; Don't Knock My Love
Wilson Pickett had few peers when it came to packing Sixties dancefloors. The rasp of Pickett's voice barking the instructions of songs like "In The Midnight Hour", "Land Of 1000 Dances" and "Mustang Sally" was perfectly matched with the sticky funk-soul grooves created at Fame Studios in Muscle Shoals, to which he brought a dark, incendiary presence: not for nothing did the short-tempered singer acquire the nickname the Wicked Pickett, also the title of one of his best albums. This 10-CD set charts his tenure with Atlantic from the extraordinary highs of 1966's The Exciting Wilson Pickett, through fruitful alliances with co-writer Bobby Womack, and guitar legind-in-waiting Duane Allman, to a less confident early Seventies when he was reduced to covering "Sugar, Sugar". But he always had a keen ear for future funk possibilities: Don't Knock My Love, his undervalued final album for the label, anticipates developments subsequently capitalised upon by such as Curtis Mayfield, Willie Mitchell and Allen Toussaint.
Various Artists, To The Outside Of Everything
★★★★★
Download: Shot By Both Sides; I Am The Fly; Damaged Goods; Transmission; Typical Girls; The Affectionate Punch
If punk rock was a nihilist response to the tedium of prog rock, then new wave was an almost instant response to the tedium of punk rock. Barely was 1977 over before the earliest examples here, Magazine's "Shot By Both Sides" and Wire's "I Am The Fly", were feverishly building on the scorched earth left behind. Both appeared on hippy labels (Virgin and Harvest), suggesting how this new exploratory approach paralleled the Sixties art-school takeover of the music mainstream. Though spanning just three short years, this five-CD set covers a huge range of new-wave innovation, spawned by the transformative effect of the DIY ethos, including pioneering work in agit-rock (Gang Of Four, Scritti Politti), feminist pop (The Raincoats, The Slits) and Goth (Joy Division, The Birthday Party). Meanwhile, bleeping away on primitive synths, outliers like The Human League, Gary Numan and Daniel Miller were quietly establishing the electropop that would take over the pop mainstream. A fascinating account of a brief period of intense, diverse innovation.
Elton John, Diamonds
★★★★☆
Download: Your Song; Tiny Dancer; Rocket Man; Crocodile Rock; Saturday Night's Alright (For Fighting); Goodbye Yellow Brick Road; I'm Still Standing
Such is the range and duration of Elton John's career that one expects a retrospective box set to indulge the variety of his work over six or seven discs. But Diamonds is an uncharacteristically modest affair, squeezing his highlights onto two CDs, bulked out with an additional third disc of "personal favourites" curated by Elton himself. It has to be said that the two main discs offer an extraordinary confirmation of his talent, almost three dozen tracks with barely a duff moment amongst them. But the third CD blots the copybook badly: in part, it seems like a misguided attempt to shoehorn in collaborations with the likes of Pavarotti, Dionne Warwick and LeAnn Rimes, when the only duet that really matters – George Michael's transformative contribution to "Don't Let The Sun Go Down On Me" – rightly features earlier as a highlight. Apart from that, it's a motley selection of covers ("Lucy In The Sky With Diamonds", "Pinball Wizard"), serious contenders ("Skyline Pigeon", "This Train Don't Stop There Anymore"), and the remix hook-up with PNAU that secured Elton's most recent chart-topper.
Register for free to continue reading
Registration is a free and easy way to support our truly independent journalism
By registering, you will also enjoy limited access to Premium articles, exclusive newsletters, commenting, and virtual events with our leading journalists
Already have an account? sign in
Register for free to continue reading
Registration is a free and easy way to support our truly independent journalism
By registering, you will also enjoy limited access to Premium articles, exclusive newsletters, commenting, and virtual events with our leading journalists
Already have an account? sign in
Join our new commenting forum
Join thought-provoking conversations, follow other Independent readers and see their replies