The Amazing Spider-Man 2, film review: The cobwebs are starting to show
(12A) Marc Webb, 142 mins Starring: Andrew Garfield, Emma Stone, Jamie Foxx, Dane DeHaan, Campbell Scott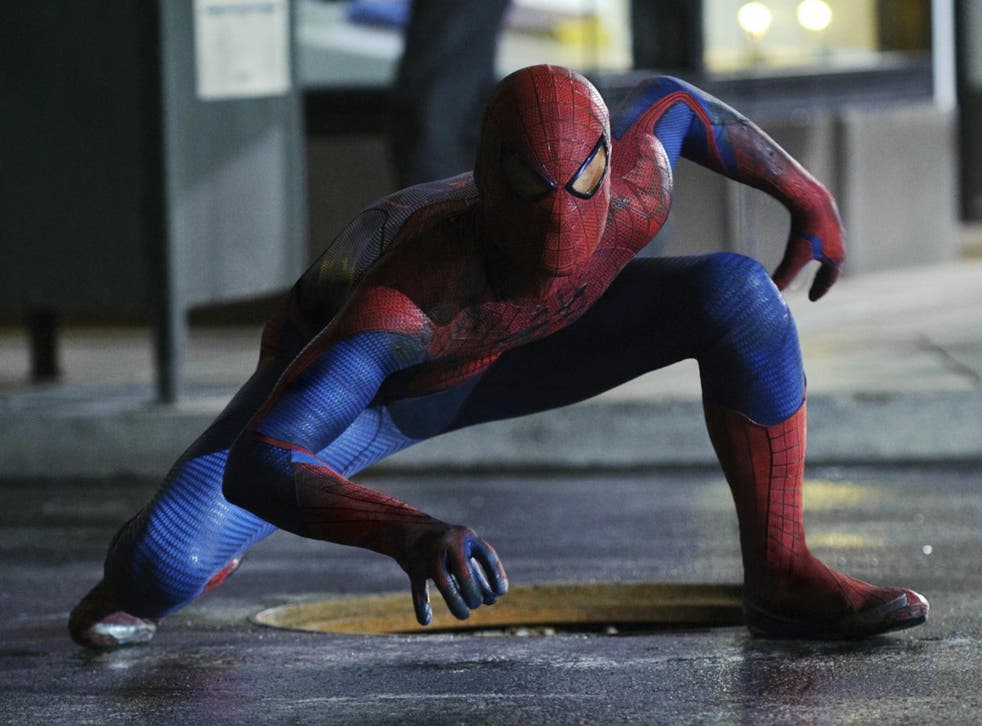 One of the wonders of modern-day Hollywood is the immense amount of mileage the US studios have been able to crank out of superhero films. These studios have continually found ingenious new ways to tell us stories that we've been told countless times before. You can't help but admire the skill with which the best of the films combine spectacle, humour and characterisation.
Unfortunately, though, for all its attractive elements, The Amazing Spider-Man 2 is hoary, unconvincing fare. The cobwebs are beginning to show. This certainly isn't a patch on the recently released Captain America: The Winter Soldier.
There is a sense that the director, Marc Webb, is being pulled in very different directions. On the one hand, he wants to make a quirky romantic drama in the vein of his own 2009 indie hit, (500) Days of Summer. In Andrew Garfield (Peter Parker/Spider-Man) and Emma Stone (Gwen Stacy), he has two very engaging leads with the same wisecracking, offbeat quality that Zooey Deschanel and Joseph Gordon-Levitt had as the young lovers in that film. On the other, Webb is duty-bound to include, almost by rote at times, the action sequences that come with a franchise like this. When Gwen tells Peter, "you're Spider-Man and I love that but I love Peter Parker more," she is expressing a sentiment that Webb clearly shares.
Almost every sequence and set-up here seems familiar from some earlier superhero film. Just as in The Dark Knight Rises (2012), we are treated to an aerial prelude. This is staged effectively enough but is utterly unoriginal. We've seen the same kind of fights on planes countless times before. The back-story about Parker's parents is sketched in perfunctory fashion. The scenes in which Spider-Man rescues passers-by from collisions and crashes on the streets of New York could be cut and pasted from any earlier film featuring the webbed crusader. The half-hearted references to Spider-Man's "vigilante" behaviour and his dark side are thoroughly unconvincing.

As played by Garfield, Peter Parker is a lanky, likeable young adult with a hint of Andy Murray about him. The clues to his character are stuck on his bedroom wall. He is politically aware (there is a poster of Aung San Suu Kyi up there), likes arthouse movies (he has a picture of Blow-Up) and is also keen on skateboarding. His Aunt May (Sally Field) clucks and frets about his dirty clothes, untidy room and failure to wash his face as if she is appearing in a washing-powder commercial.
Parker's sense of responsibility is such that he will be rescuing the city from catastrophe one moment and then rushing to high-school graduation the next. Garfield plays him with a winning mix of adolescent goofiness and civic-minded, superhero seriousness.
Spider-Man's movements as he leaps around New York are strangely jerky. His habit of uttering facetious pleasantries to villains while trying to apprehend them soon grates. It is heartening, though, to see Paul Giamatti, so often cast as neurotic types or sidekicks, playing an out-and-out thug. Giamatti hams it up joyously in his scenes with Spider-Man, which come at the beginning and end of the film.

The main villain is Max (Jamie Foxx), a sweet-natured, downtrodden electrician working for Oscorp Industries, the shadowy corporation with which Parker's own family is intimately linked. After a workplace mishap involving killer eels and searing electrical currents, Max is turned into "Electro". The screenplay never really explains why he then develops such a bitter grudge against Spider-Man, having idolised him for so long. (Spider-Man briefly forgets his name but that hardly seems pretext enough for wreaking havoc on the world.) "Electro" roars a lot, unleashing waves of deadly energy and turning out all the lights in the city without coming close to galvanising the movie.
Dane DeHaan has an equally thankless task as Harry Osborn/Green Goblin. DeHaan, who played the Beat generation anti-hero Lucien Carr in Kill Your Darlings and will soon be seen as James Dean in Anton Corbijn's biopic Life, is very good at projecting adolescent angst and rebelliousness. His first scenes with Garfield work well. They are old friends mulling over the hand that fate and their absent fathers have dealt them. DeHaan plays Harry as a charming but troubled and insecure figure, a little like Patricia Highsmith's Tom Ripley.
Access unlimited streaming of movies and TV shows with Amazon Prime Video Sign up now for a 30-day free trial
Sign up

There's little point, though, in trying to give a layered and subtle performance one moment when you're going to be shrieking through the air, dressed in a green outfit and lurid make-up and looking as if you're on leave from The Wizard of Oz the next. All the villains here stray far too far into pantomime-style caricature. Marton Csokas's evil scientist Dr Kafka is a strictly comic-book figure.
As a theme-park thrill ride, this Spider-Man still just about delivers. In keeping with most recent Marvel adaptations, the production design and special effects are spectacular. The film-makers use 3D to heighten the impact as Spider-Man swoops down from precipices or spins arabesques around his antagonists. There are beautifully crafted high-angle shots of the city as its lights flicker into life, as well as intricately detailed sequences set in the bowels of the Oscorp building and the laboratory hidden in an old subway station. The irony is that the film is at its strongest in its non-Marvel moments, in the scenes between Garfield and Stone, or in those between Garfield and DeHaan, in which there is at least an attempt at psychological realism.
We no longer expect superhero films to surprise us with their plot lines (despite the major final-reel twist here). There are only so many variations you can spin on the lives or adventures of Peter Parker. The real problem with The Amazing Spider-Man 2 isn't so much over-familiarity as a lack of wattage. There just isn't the energy and inventiveness that illuminate Marvel blockbusters at their best.
Join our new commenting forum
Join thought-provoking conversations, follow other Independent readers and see their replies