Ant-Man, film review: Paul Rudd's superhero is so puny he can't compete with Marvel rivals
Peyton Reed, 120 mins, starring: Paul Rudd, Michael Douglas, Evangeline Lilly, Corey Stoll.
Geoffrey Macnab
Wednesday 15 July 2015 09:25 Comments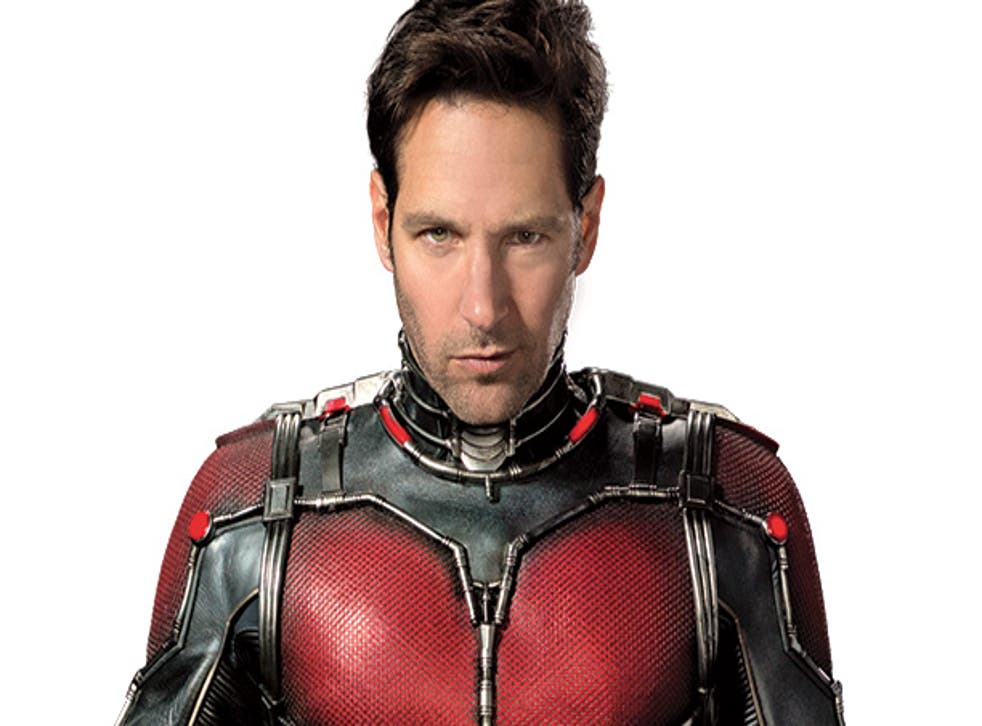 Ant-Man is a midget Marvel film, a new superhero movie in which the protagonist's most distinctive characteristic, at least when he is wearing his incredible shrinking man costume, is his ability to reduce himself to the size of a small insect.
After the portentousness of recent Avengers outings, it is refreshing to encounter an action-adventure with a Lilliputian lightness of touch. The downside, though, is that Ant-Man seems very insubstantial fare by comparison with Iron Man, Captain America et al.
The story here is by British writers Edgar Wright and Joe Cornish. Wright had originally been assigned to direct as well but stepped down from the project last year. Traces of the self-mocking humour found in Wright's earlier films (Shaun Of The Dead, Hot Fuzz) remain but this is a film unsure of how seriously to take itself. At times, it is as if we are watching a full-blown spoof of the typical Marvel film but then Ant-Man will become strangely earnest. The filmmakers are clearly wary about thinking too small. This is a 3D summer blockbuster, after all, and there appears to be an obligation to throw in the usual bombastic special effects and action sequences alongside the Honey I Shrunk The Kids-style visual gags.
As we first encounter him, he is brilliant, tough enough to bare knuckle box against fellow inmates, and yet he is also presented as a petty thief with a very mixed up private life. His former wife (Judy Greer) is married to a cop (Bobby Cannavale) who despises him. Scott is way behind on his maintenance payments and isn't even allowed visitation rights to the daughter he dotes on.
Upcoming Marvel films

Show all 10
Rudd plays Scott in engaging, laid-back fashion, even more tongue in cheek than Robert Downey Jr's Iron Man. Much of the early part of the film shows him joshing around with his hapless friends from the criminal underworld (led by Michael Peña) who are trying to persuade him to take part in heists.
While Scott is attempting to sort out his domestic problems, another family is in turmoil. Scientist Dr Hank Pym (Michael Douglas sporting spectacles and a sleek, wispy beard) is dismayed that his company has been taken over by Darren Cross (Corey Stoll), his former protégé, with the collusion of his daughter Hope (Evangeline Lilly.)
Cross has gone to the dark side. Once he has worked out how to create soldiers the size of insects ("the ultimate secret weapon"), he is planning to sell the technology to the highest bidder. Hank recruits Scott to become "Ant-Man" to thwart him.
The film is aimed at a family audience. That means the violence is kept in check. In one tremendous scene early on, a villain zaps a colleague he doesn't trust, thereby melting him down into a gooey puddle of blood and guts that he can then wipe away with a tissue. That, sadly, is as gory as it gets. The ants themselves aren't given individual characteristics. They are impeccably hygienic, loyal little creatures who work like Trojans and can even be persuaded to put the sugar in your tea if you ask them nicely enough. (As Scott puts it, "they are kind of cute.") We don't see them getting squished. Nor do we encounter too many worms, cockroaches or slugs. The insect world as portrayed here is notably short on slime or larvae.
Midway through the movie, there is a prolonged passage in which Scott endures the equivalent of Ant-Man boot camp. He needs to learn how to use the suit and proboscis-like helmet and just what it takes to shrink himself down so he can fly through a keyhole. His mis-steps yield some enjoyable slapstick. We see him slamming into doors and continually being beaten up by Hope, who has become his personal trainer but punches and high kicks far harder than he does. The more hostile her behaviour toward him, the more apparent it becomes that they have a strong attraction to one another.
Access unlimited streaming of movies and TV shows with Amazon Prime Video Sign up now for a 30-day free trial
Sign up
One of the best set-pieces here takes place on a child's railway set. Given that Ant-Man is less than an inch tall, even tiny toys (for example, a little blue Thomas The Tank engine) seem gigantic to him and his main adversary, Yellow-Jacket.
The exposition is on the laborious side. The filmmakers spend a mini-eternity in giving us Scott and Hank's back story and in explaining what being an Ant-Man is all about. There are also a few too many in-jokes about other Marvel characters and long-winded asides linking Ant-Man to The Avengers. With all the wisecracking, a facetiousness creeps into the storytelling. None of the relationships are developed in any meaningful depth. As a consequence, the performances are cheery but determinedly superficial. Hope's fury with her father over what happened to her mother years before and Scott's desperation to prove himself to his daughter are both skimmed over.
It is a pity to see an actor as capable as Bobby Cannavale (brilliant as mobster Gyp Rosetti in Boardwalk Empire) in such a thinly sketched role as the grumpy, dim-witted cop. Corey Stoll enjoys himself as a pantomime-style villain while Michael Douglas brings a sly humour to his role as the visionary scientist terrified his invention will fall in the wrong hands. Ant-Man, though, is more an hors-d'oeuvre than a full meal - a slither of a film that Marvel is serving up while we wait for the real beef of the next proper, super-sized action-hero movie.
Register for free to continue reading
Registration is a free and easy way to support our truly independent journalism
By registering, you will also enjoy limited access to Premium articles, exclusive newsletters, commenting, and virtual events with our leading journalists
Already have an account? sign in
Join our new commenting forum
Join thought-provoking conversations, follow other Independent readers and see their replies