Batman v Superman: Dawn of Justice: Ultimate Edition, review: Three hours to tell a story about two men in spandex punching each other, no thanks
Adding half an hour of build-up does little to save Zack Snyder's second Superman film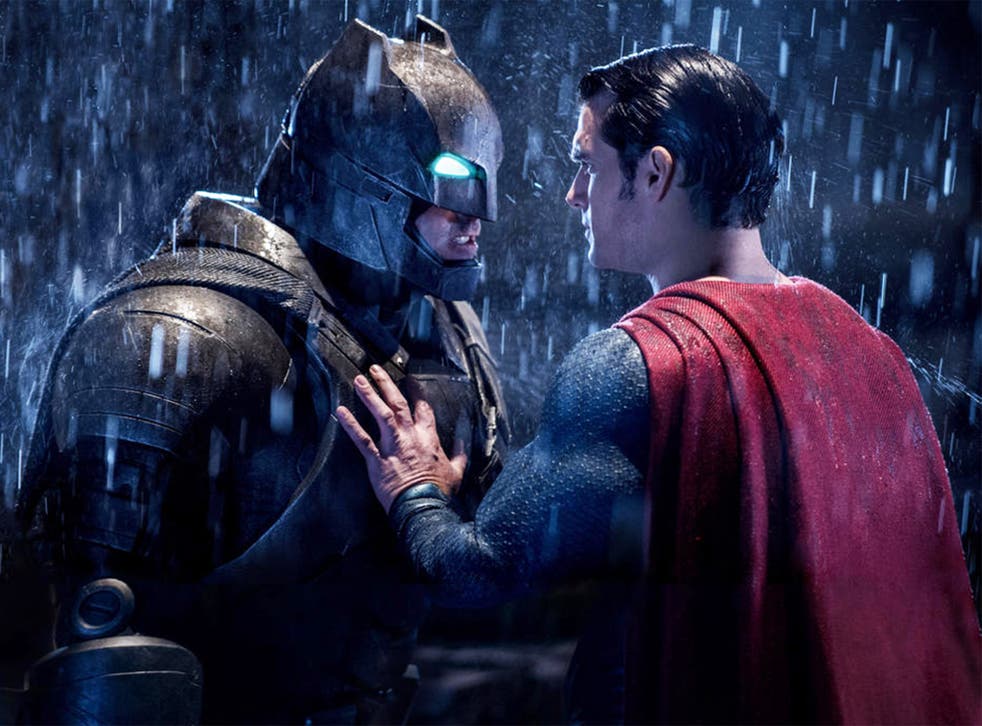 Warning: this review contains spoilers for Batman v Superman. It will touch on the differences between the theatrical edition and the Ultimate Edition, but not spoil them
A couple of months ago now, the world was finally treated to the superhero film every comic book fan had been waiting decades to see on the big screen: Batman v Superman. The excitement that followed Zack Snyder's announcement at Comic Con 2013 was extraordinary, and so the pressure was on to deliver the comic-book film of their dreams.
Unfortunately, upon its release, the critics dug their claws in, criticising the film for being long, complicated, and shoehorning in dozens of characters and plot lines. Many fans were left disappointed with the result, leading to an ever-so-slightly disappointing box-office return (it still made almost $900 million).
When Warner Bros. eventually announced an extended, R-Rated version (still a 12 in the UK) of the film was to be released on Blue-Ray, excitement was somewhat dampened. But, here we are, the 'Ultimate Edition' - which adds 30 minutes of footage to the film - is finally out. So, how does the it compare to the original?
It's certainly longer. A lot longer. And that's an issue. Not because three hour films are inherently bad, not by any means at all. No. What's frustrating about this extended cut is, despite helping Lex Luthor's plan make more sense, it's all unnecessarily complicated.
Batman v Superman concept art (spoilers)

Show all 14
Let's cut to the chase. If you purchase this film, you're probably hoping to see these two titular heroes fight, as denoted by the 'v' between Batman and Superman's names. That shouldn't require too much set-up - especially when you consider that, within the first 10 minutes, Bruce Wayne already has a reason to fight Superman thanks to a city being demolished in a scene eerily reminiscent of the twin towers bombings.
Despite this, it's another two-and-a-half-hours until the heroes actually battle, and even then Superman's motivations are particularly sketchy. The 'Ultimate Cut' builds on why Superman wants to fight Batman, allowing Clark Kent to do some investigative journalism in Gotham, adding various scenes in which he is warned by random citizens 'only actions can stop Batman'. Yet, even with these additional moments, the main reason Superman eventually fights Batman is because his mother, Martha is in trouble; other developments in the story are pretty much thrown out the window, leading to still baffling reasoning for wanting the caped crusader dead. (Don't get me started on how *that* Martha scene undoes all Batman's hatred for Superman within seconds. It still makes no sense.)
Other additions that bulk out the time between our spandex-wearing warriors fighting are further scenes that explain what happened in Africa and how the Democratic senator from Kentucky came to know the truth about the incident. These scenes help not only explain Lex's convoluted plan further but also give Lois Lane, played by a sidelined Amy Adams, something proper to do other than being a damsel in distress. It also means Jena Malone features in the film, acting as Q to Lois's Bond, an interesting side-plot that should have remained in the theatrical version.
However, it's understandable why Warner Bros. wanted Snyder to make these cuts. As you may have suspected from an additional 30 minutes of footage, the pace of the film is slowed down considerably. Instead of sporadic editing to shave off seconds, information is eased out rather than rushed; at times, this is a plus, while at others you understand why the studio was worried their audience would lose focus and wonder why Superman doesn't go save Martha himself.
Access unlimited streaming of movies and TV shows with Amazon Prime Video Sign up now for a 30-day free trial
Sign up
Of course, Snyder's eye for intriguing imagery remains. The opening scene, in which Martha Wayne's necklace shatters, is a perfect example of the director making something that is impractical to the story but no doubt looks 'artistic'. (It also feels like the Jesus imagery with Superman is also just to look 'cool', but that's another discussion.) Unfortunately, Wonder Woman's role in the film also remains the same, with little extra screen time dedicated to the Amazonian.
So, where does this leave the 'Ultimate Edition'? Better than the original? Undoubtedly. While longer, it's still slightly more watchable. However, it really is only slightly; Batman v Superman doesn't have a rich or interesting enough plot to occupy three hours. The Fellowship was formed, fought a Balrog, and fell in that time, yet Superman can barely muster any real motivation to fight Batman. Surely, it shouldn't take that long to get two men in spandex to punch each other?
Register for free to continue reading
Registration is a free and easy way to support our truly independent journalism
By registering, you will also enjoy limited access to Premium articles, exclusive newsletters, commenting, and virtual events with our leading journalists
Already have an account? sign in
Register for free to continue reading
Registration is a free and easy way to support our truly independent journalism
By registering, you will also enjoy limited access to Premium articles, exclusive newsletters, commenting, and virtual events with our leading journalists
Already have an account? sign in
Join our new commenting forum
Join thought-provoking conversations, follow other Independent readers and see their replies