Boyhood review: Affecting and truthful coming of age film from Richard Linklater
166 mins, starring: Patricia Arquette, Ellar Coltrane, Lorelei Linklater, Ethan Hawke, Marco Perella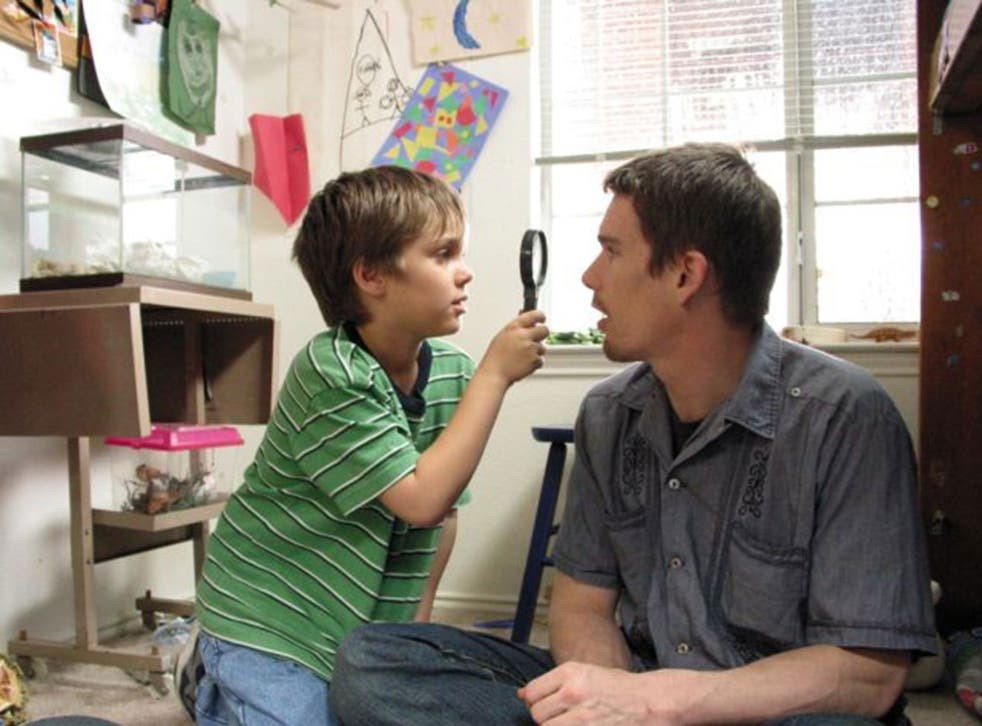 After Boyhood won the top award at the Baftas last night for Best Film, read our review:
Boyhood is the dramatic equivalent to Michael Apted's long running Seven Up documentary series (which has followed its subjects at seven year intervals since they were kids.).
Richard Linklater began his remarkable project in 2002 when his unknown lead actor Ellar Coltrane (who plays Mason Jr.) was seven years old and kept on shooting at regular intervals until late 2013. In the process, he has fashioned a drama that feels far more authentic than any other coming of age movie.
Baftas 2015: The winners in pictures

Show all 18
Toward the end of the film, when he is a freshman student out hiking in the mountains and taking magic mushrooms, he still has the same sense of wonder and detachment.
One of Boyhood's trump cards is its ordinariness. Mason Jr. isn't some child prodigy. As first encountered, he is a quietly spoken, fairly typical American boy, growing up in the Texas suburbs. He likes riding his bike and playing video games. He bickers with his sister Samantha (played by the director's daughter Lorelei Linklater.)
Events here are always seen from the perspective of the kids, which is invariably very different to that of their parents. For example, Olivia, who lives in a cramped apartment, considers it natural to want to move to a bigger, better place. For Mason and Samantha, the prospect of leaving home is traumatic. They can't bear the idea of being wrenched away from their familiar surroundings and routine.
The storytelling style here is deliberately impressionistic and elliptical. Linklater is portraying isolated moments from Mason's boyhood. The director often focuses on incidents which, of themselves, seem banal but when added together are very revealing of Mason's changing character. He dwells on the anticipation and anxiety Mason feels on his first day at a new school. We fully understand the boy's sense of impending calamity at having his hair shaven. The film shows Mason trying to make sense of the abusive behaviour of his mother's boyfriends. (At one stage late in the film, he refers to them as "a parade of drunken assholes.") We see him frequently at meal times. He is shown fighting in the back of the car with his sister or goofing around with his father on a camping trip.
The film doesn't always fill in the blanks as to what happens next. There are hints that Mason as a teenager is being bullied. In one scene, we see him being pushed around by other boys in the school bathroom but there is no follow-up. Certain characters who play prominent parts in young Mason's life simply vanish as we jump forward in time.
Boyhood doesn't offer much in the way of big dramatic set-pieces either. The closest to an action scene is when Mason Snr. encourages his kids to join him in some aggressive pro-Obama political campaigning or when Mason tests out the shotgun his grandfather gives him. There are tense scenes involving Mason's hard-drinking and violent stepfather (Marco Perella), but, generally, Linklater avoids climactic moments. The film isn't judgmental either. Mason remains equally detached and respectful with almost everyone, whether his ultra-religious relatives or his father's wastrel musician friends.
The film isn't just the boy's story. His parents and sister undergo equally startling transformations in the course of the 12-year shooting period. Arquette is excellent as the doggedly determined mom who supports her kids and builds herself a career in the face of multiple setbacks. Hawke (who has collaborated with Linklater many times) brings rueful charm to his role as the father coming to terms with his responsibilities.
Access unlimited streaming of movies and TV shows with Amazon Prime Video Sign up now for a 30-day free trial
Sign up
Boyhood is both a companion piece to Linklater's Before Sunrise, Before Sunset and Before Midnight films and their antithesis. Whereas each of those played out over a very tight time frame, Boyhood unfolds over more than a decade. The similarity is in the attention Linklater pays to dialogue and character. Before Sunrise and its successors charted a relationship by showing couple (Hawke and Julie Delpy) talking about life and love at endless length. Boyhood is likewise full of scenes in which Mason tries to make sense of his life by discussing it. His father (Hawke) is always ready to share his offbeat wisdom. His photography teacher lectures him sternly that he needs discipline as well as ability to make the most of his artistic gifts. There is even an episode of which plays like Before Sunrise in microcosm as the teenage Mason has his first love affair.
Not everything about Boyhood works. It is possible to become a little exasperated with Linklater's slacker, cooler than thou Austin sensibility. With his artistic, laid-back temperament Mason sometimes risks seeming like a younger version of the narcissistic types found in other Linklater movies. The circumstances under which Boyhood was made - the director and his cast filming over short periods from 2002 until 2013 - don't lend themselves to tidy storytelling.
Even so, this is a film with a huge emotional charge. We're aware throughout that time is passing and that Mason's childhood won't last for ever. That's one reason why the film seems so affecting and so truthful in spite of its slow-burning, episodic storytelling.
Register for free to continue reading
Registration is a free and easy way to support our truly independent journalism
By registering, you will also enjoy limited access to Premium articles, exclusive newsletters, commenting, and virtual events with our leading journalists
Already have an account? sign in
Register for free to continue reading
Registration is a free and easy way to support our truly independent journalism
By registering, you will also enjoy limited access to Premium articles, exclusive newsletters, commenting, and virtual events with our leading journalists
Already have an account? sign in
Join our new commenting forum
Join thought-provoking conversations, follow other Independent readers and see their replies