Bridge Of Spies, film review: Steven Spielberg brings thaw to Cold War
(12A)​ Steven Spielberg, 141 mins. Starring: Tom Hanks, Mark Rylance, Amy Ryan, Alan Alda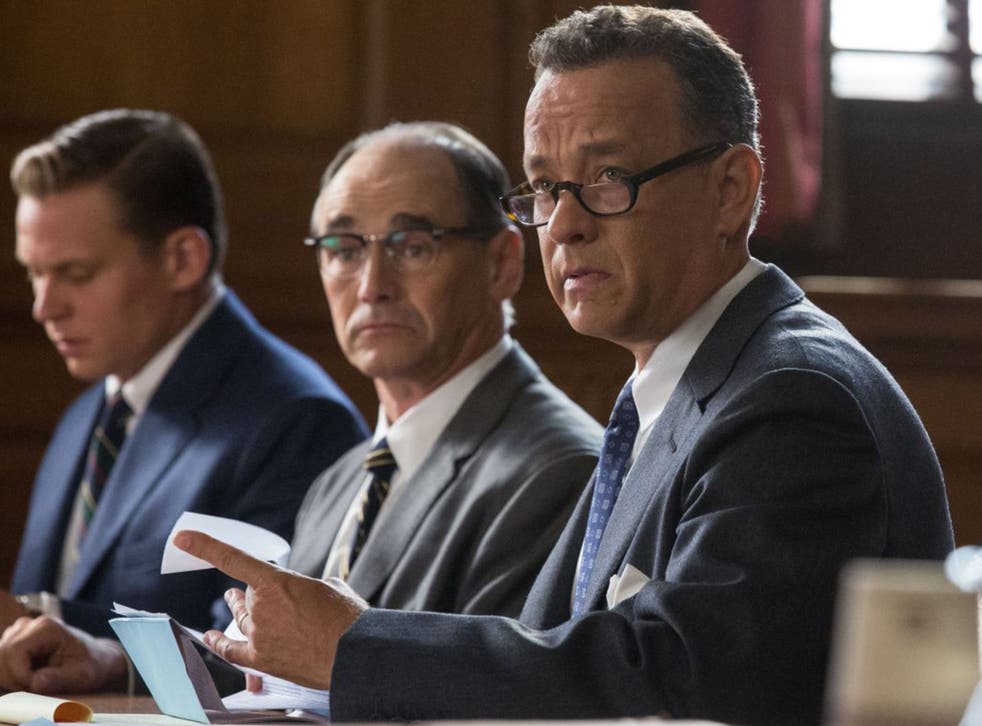 Steven Spielberg ventures into Cold War espionage territory in this consummately crafted, richly layered thriller. The film has very fine performances from Tom Hanks and Mark Rylance, but the one hitch is that it is just too wholesome. It evokes memories of everything from The Third Man to The Spy Who Came in from the Cold but lacks their seediness and desperate pathos. Spielberg is dealing with duplicity and deception, with a war that does not involve "men in arms" but the spinning of information and misinformation. Somehow, even as he explores the very worst in human nature, he still manages to make Bridge of Spies into a rousing flag-waver which celebrates the best of American values.
The film opens brilliantly with a chase/arrest sequence set in Brooklyn in 1957, at the height of the Cold War. Rylance plays Rudolf Abel, a Soviet agent who lives in a New York tenement and seems as dedicated to his painting as to his espionage. FBI agents are on to him. Spielberg portrays a city in which all the men, Abel included, have crew cuts and dress in jackets and ties. Amid such conformity, it is very hard for the Feds to keep track of their quarry.
Culture news in pictures

Show all 33
Rylance's Abel has a pronounced Scottish accent. He wears dentures and shows a zen-like calm at even the most fraught moments. As a captured Soviet agent at a time of intense Cold War paranoia and fear about the A-bomb, he becomes a figure of loathing for the US public – "the most unpopular man in America", as he is styled. Hanks plays James Donovan, a wily but idealistic insurance lawyer assigned to take on Abel's defence. "Everyone will hate me, but at least I'll lose," is how he sees his brief.
The first half of the film plays like one of those old Alfred Hitchcock or Otto Preminger films in which a doughty American everyman (generally played by James Stewart) stands up for the underdog. What is intriguing is how negatively it portrays the American public. As shown here, everyone from cops to senior judges has a lynch-mob mentality. Hanks plays Donovan in his best Clarence Darrow-like fashion. He is a family man who seems to have a well-nigh permanent cold. The irony, though, is that it is not his rousing speeches which sway opinion but his pragmatism. The Americans are busy spying on the Soviet Union. How they treat their Cold War prisoners is bound to affect the way that the Russians treat any Americans who fall into their hands.
In the second half of the film, the action switches to frozen East Berlin just as the Wall is being built. Donovan is sent there as a hostage negotiator. He is operating in a private capacity as neither the US nor the Soviets want to acknowledge official ties.
The Berlin scenes, which see Donovan venturing east, past checkpoints and through maze-like Berlin streets in search of his contact, the elusive Mr Vogel, have a Kafka-esque feel. Spielberg's craftsmanship is breathtaking. He seems inspired by newsreels and old Cold War movies in equal measure. We are in a world of subterfuge and darkness. That is why the film's patriotic optimism seems so jarring. Spielberg, it seems, just doesn't do cynicism.
Register for free to continue reading
Registration is a free and easy way to support our truly independent journalism
By registering, you will also enjoy limited access to Premium articles, exclusive newsletters, commenting, and virtual events with our leading journalists
Already have an account? sign in
Register for free to continue reading
Registration is a free and easy way to support our truly independent journalism
By registering, you will also enjoy limited access to Premium articles, exclusive newsletters, commenting, and virtual events with our leading journalists
Already have an account? sign in
Join our new commenting forum
Join thought-provoking conversations, follow other Independent readers and see their replies