Bridget Jones's Baby, film review: A very welcome return for a character who hasn't lost her neurotic charm
Reneé Zellweger returns 15 years after her debut as Helen Fielding's Bridget
Geoffrey Macnab
Tuesday 06 September 2016 00:20 Comments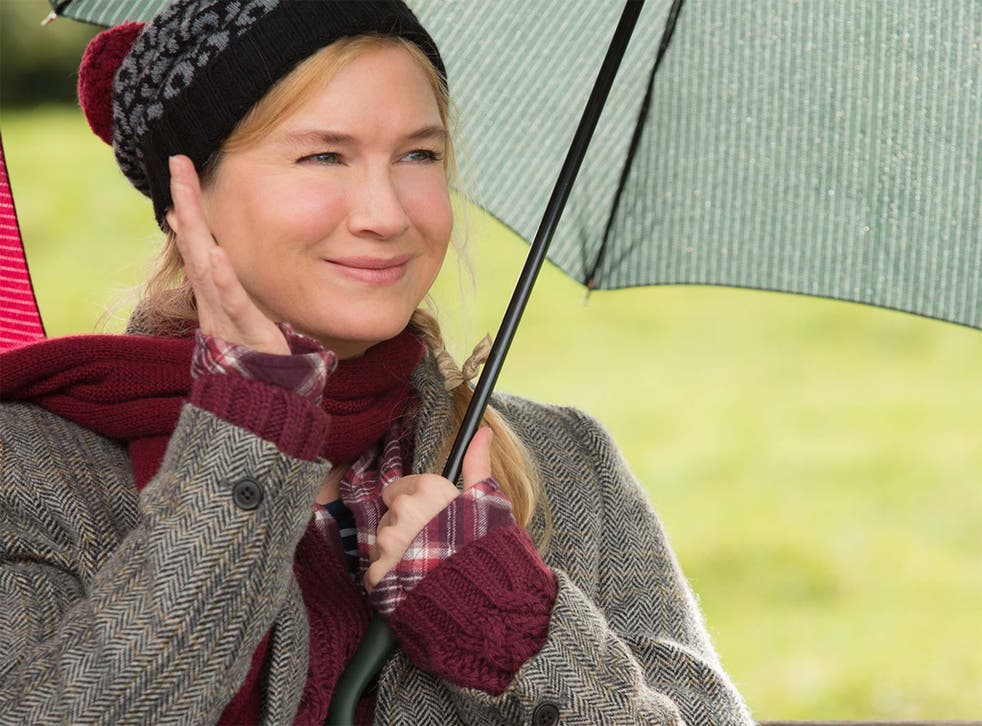 Dir Sharon Maguire, 125 mins, starring Reneé Zellweger, Colin Firth, Patrick Dempsey
"I can't go back and keep making the same mistake…when I can make new ones," Bridget Jones confides in her latest screen outing (released 12 years after she was last on screen.) Jones's latest mistake is a whopper, even by her own standards. The world's most famous singleton is pregnant and she can't work out who is the dad - whether it is the estranged love of her life, Darcy (Colin Firth) or the equally handsome and dashing American technology guru Jack (Patrick Dempsey), who reckons that you can design algorithms for love.
Bridget still has the ability to make us squirm and laugh at the same time. She still quaffs wine by the gallon. She is (literally) dragged through the mud in an early comic scene at the Glastonbury Festival here. Zellweger plays her just as before, with that simpering home counties accent. Years ago when she first won the role, there was consternation in some cirlces that an American actress had been chosen to play such a quintessentially English heroine.
Bridget Jones's Baby Clip - Bridget's Doctor
Any doubts about her Bridget have long since been laid to rest. Picking up the role after more than a decade, she again gives a thoroughably winning comic performance. Puckering her cheeks, looking thoroughly flabbergasted (but also secretly very pleased) when she realiises she's up the duff, Bridget ("the Mary Magdelene of middle England" as she is characterised) also shows that steeliness which made her such an appealing character in the first place.
The new film is actually an improvement on The Edge Of Reason, Bridget's last outing. There was a sense then that Working Title was desperate to establish a Bridget Jones franchise but didn't know quite how to do so. The fact that so much time has passed enables the filmakers to enrichen the character.
At the Leicester Square premiere, Bridget's creator Helen Fielding acknowledged that she hadn't thought she was going to revive the character and wouldn't have done so unless it "meant something."
As first encountered here, Bridget is 43. She is still on her own. The Hugh Grant character has been killed off, much to the chagrin of a generation of eastern European models. Bridget is working as a producer at a hard news TV show. What she needs, according to a friend, is a good "shafting". This is what leads her to Glastonbury, where she has a fling with the handsome American.
Bridget Jones in quotes

Show all 16
Then, shortly afterwards, she meets her beloved Darcy at a christening and has sex with him as well. A few weeks later, she discovers she is pregnant - and she can't tell which man is the father. Blame the out of date vegan condoms. There's no Hugh Grant-like cad in the frame. Both the prospective fathers, millionaire dating app designer Jack and human rights lawyer Darcy, are decent sorts. The former is a touchy feely American, the latter is an uptight Brit but both stick by our Bridget. In fact, they fight for her affections.
The first half of Bridget Jones is a blast. The script is very witty and the scenes inside the TV newsroom are an exercise in comic mayhem.
Bridget has an excellent rapport with her subversive newsreader friend, Miranda (Sarah Solemani), who helps lead her into romantic mischief. There's an enjoyably sardonic cameo from Emma Thompson (who co-scripted) as Bridget's doctor. In the second half, some of the comic spark goes as Bridget, classed as a "geriatric mother," contemplates the enormity of what she is getting herself into and tries to choose Mr Right.
The storytelling becomes increasingly formulaic and just a little maudlin. Even so, Zellweger and the filmmakers squeeze maximum comic value out of the scenes in which Bridget goes into labour. (She has to be rushed across London in the middle of a traffic jam caused by a riot for a Russian feminist Pussy Riot-style punk band.) For all its foibles and occasional missteps, Bridget Jones's Baby marks a very welcome return for a character who, all these years on, hasn't lost her neurotic charm in the slightest.
Register for free to continue reading
Registration is a free and easy way to support our truly independent journalism
By registering, you will also enjoy limited access to Premium articles, exclusive newsletters, commenting, and virtual events with our leading journalists
Already have an account? sign in
Join our new commenting forum
Join thought-provoking conversations, follow other Independent readers and see their replies