Brimstone review: Blood-soaked Kit Harington revenge western can't help but get under your skin
Director Martin Koolhoven finds lyricism amid squalor in this powerful piece of filmmaking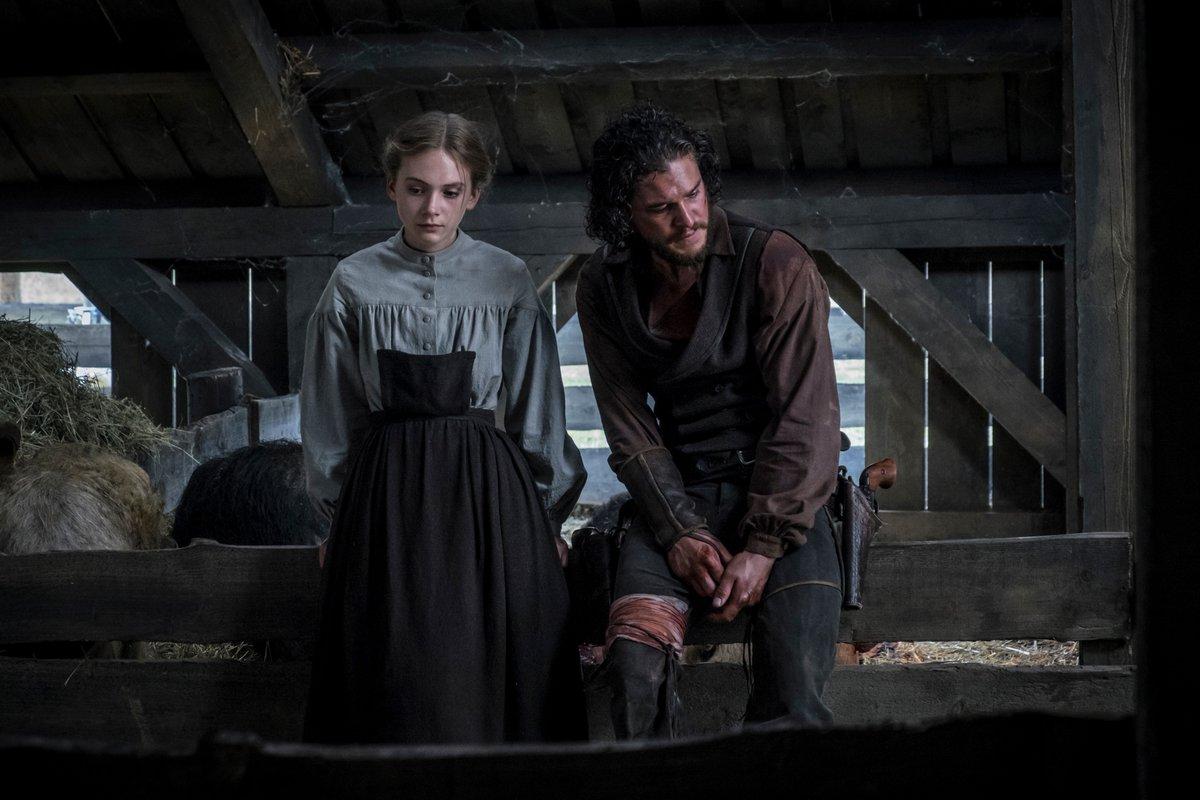 Dir: Martin Koolhoven, 149 minutes, starring: Dakota Fanning, Guy Pearce, Carice van Houten, Kit Harington
Brimstone is a blood-soaked revenge western epic, very violent, extremely vivid and full of overwrought biblical references. In the brutal, misogynistic world that its Dutch writer-director Martin Koolhoven conjures up, women are preyed on by their menfolk as a matter of course. They are whipped and assaulted. Their rights are non-existent and sadistic measures are taken to silence them. Nonetheless, they are the strongest and most admirable characters while the men here are, almost without exception, despicable.
The film is divided into four chapters, all with portentous titles like "Genesis", "Exodus" and "Retribution". Dakota Fanning gives arguably the performance of her career so far as the long-suffering heroine, Liz. It is a role she took at short notice when the original star Mia Wasikowska pulled out weeks before shooting but she excels. As first encountered, Liz is mute. She is living contentedly in a small rural community full of Dutch settlers with her farmer husband Eli (one of the few men in the film who is remotely sympathetic), her daughter and her truculent stepson.
It doesn't take long for evil to arrive in the shape of a hellfire preacher (Guy Pearce) who is keen to let everyone in the community know that they are doomed. Liz has a connection with this man, one that Koolhoven deliberately refuses to make clear until very late in the picture.
The early scenes very briefly evoke a Laura Ingalls Wilder-like world of prairie innocence. Then, as a woman goes into labour in the church and no one knows how to help her, it rapidly becomes apparent just how brutal this world is. Koolhoven argued in Venice this weekend that much of the violence in the film is implied rather than shown directly. Even so, there are still scenes of brains seeping out of the heads of men who've been shot, stabbings, whippings, hangings and characters getting their tongues ripped out.
There isn't much spaghetti western-style humour either to leaven the very grim mood. During the first chapter, Fanning's Joanna doesn't speak at all. However, she has an extraordinarily expressive face, one that rekindles memories of silent stars like Lillian Gish in old DW Griffith movies. She also demonstrates her resilience. Soon, she and her daughter are on the run with the preacher coming after them.
Pearce gives an eccentric but chilling performance as this preacher. He speaks English with a grating Dutch accent and has a beard that makes him look like an Amish elder. He dresses in black and walks in the same menacing and deliberate way that Robert Mitchum did in Night Of The Hunter. Koolhoven's screenplay goes back in time and shows him terrorising his wife (Carice van Houten) on the grounds that she won't sleep with him. Spurned by her, in some of the film's most disturbing and distasteful scenes, he preys on much younger women.
Early Oscars 2017 contenders
Show all 19

There is a spirited performance from 14-year-old British actress Emilia Jones as the youthful Joanna, a girl on the cusp of womanhood who sees the very darkest side of male behaviour but shows remarkable endurance. Kit Harington (Jon Snow from Game Of Thrones) makes an effective if brief appearance as a wounded but still dashing outlaw hiding out in a barn.
The sombre, elegiac music from Junkie XL (the Dutch composer who also scored Mad Max: Fury Road) helps give the film an epic and solemn quality in spite of its frequently squalid subject matter. Koolhoven can't resist throwing in a few western cliches – high noon style gunfights, a saloon full of drunken miners and kind hearted whores. Sometimes, the action sequences (one outlaw trying to throttle another in the outhouse, a character grabbing the gun pointing at his head and aiming it the other way) feel contrived and cartoonish.
What Koolhoven does have in spades is the ability to find lyricism amid squalor. In its own sulphurous way, Brimstone is raw and very powerful filmmaking, a movie that can't help but get under your skin.
Join our commenting forum
Join thought-provoking conversations, follow other Independent readers and see their replies