Calvary, film review: Dark religious comedy is caustic look at the sins of the fathers
Amid the black humour, it stands up as a moving and sincere drama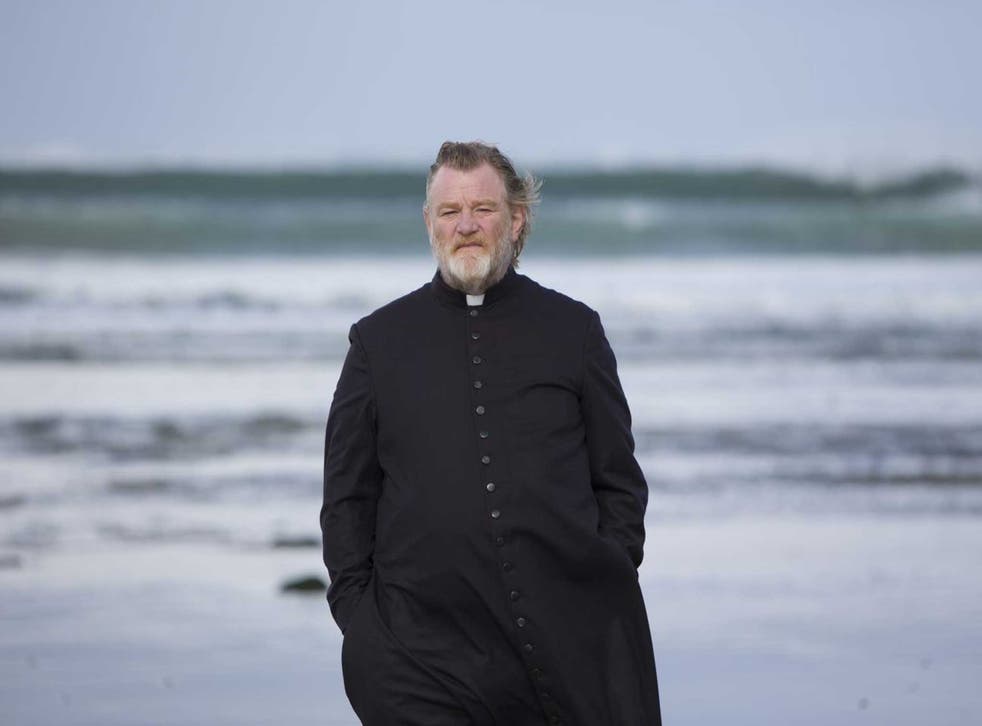 "Do not despair; one of the thieves was saved. Do not presume; one of the thieves was damned," reads the quote that opens Calvary. It's attributed to St Augustine but was also one of Samuel Beckett's favourite paradoxes. There is a strong whiff of Beckett-like absurdism and bleak humour in the film, which benefits from a performance of wonderfully droll dignity and bemusement from Brendan Gleeson as a priest confronting his mortality.
John Michael McDonagh's previous feature, The Guard, like his brother Martin's films In Bruges and Seven Psychopaths, was a shaggy dog story, funny, macabre, and whimsical by turns. Calvary has altogether more heft to it. The tone is set right at the outset as we see Gleeson's priest Father James in close up, hearing confession from an unseen man. The shot of Gleeson is held for a mini-eternity as the man details the extreme abuse he suffered as a child. He was seven years old when he "first tasted semen" and was raped "orally and anally" by a "bad" priest. Gleeson's character is a "good" priest but the man has decided to kill him anyway - and will give him until a week on Sunday to set his affairs in order.
The scene wrong foots and challenges the audience. Initially, it seems comic but there is nothing funny in child sexual abuse. Father James is uncertain how seriously to take the threat to his life.
McDonagh's portrayal of a rural Irish community is very caustic, indeed. Casual racism (something also evident in The Guard), wife-beating, alcoholism and theft prevail. Characters may look as if they're eccentrics on leave from some Ealing-style comedy but most are either psychopathic or tormented. The community even has its own Hannibal Lecter-like cannibal, a sweet-natured young man who tells the Priest that human flesh tasted like pheasant, a bit "gamey".
Without labouring the point, McDonagh makes it clear that we are in an Ireland still reeling from economic collapse. The local squire Fitzgerald (Dylan Moran) stands for the banker types who grew filthy rich during the heyday of the Celtic Tiger. In one grotesque scene, we see him take a Holbein masterpiece from his wall and urinate on it to demonstrate to the priest his disdain for worldly goods. The painting is Holbein's The Ambassadors, famous for its anamorphic skull and yet another reminder for the priest that death is nearby. The scene is shot low down and behind him from between his legs so that we can see the priest in the background as the liquid splatters on the canvas.
The humour in Calvary is almost always undercut by references to death, suffering and violence. Characters show a reckless contempt for one another and they all love to goad and provoke the priest. The promiscuous Veronica Brennan (Orla O'Rourke) is keen to share details about her latest romantic trysts. Dr Frank Harte ( Aidan Gillen), the proud atheist who sees plenty of extreme suffering at the local hospital, relishes telling the priest grim stories about victims of freak accidents. Simon Asamoah (Isaach de Bankolé), the Ghana-born mechanic, flicks ash on him and threatens him with physical violence. The butcher (Chris O'Dowd) taunts him relentlessly. The local detective inspector (Gary Lydon) is relentlessly sarcastic about the church. The priest's fiery-tempered daughter (Kelly Reilly), who comes to visit him from London, is still angry at him for his abandonment of her.
In Robert Bresson's Diary of a Country Priest (1951), an obvious inspiration here, a rural community treats a young priest with disdain because he is young, effete and has a high-minded view of religion entirely out of keeping with the grind of their daily lives. Gleeson's character, by contrast, is worldly wise. He may be dressed in a soutane but that doesn't stop him driving a sports car, usually with his beloved dog in the passenger seat.
McDonagh litters the film with visual gags and trademark cynical, wisecracking dialogue. His view of human nature often seems bleak. "A friend is just an enemy you haven't made yet," is a typical one-liner. After an unexplained fire, the cops refuse to rule out terrorist involvement... at least until a local observer drags them back to their senses, pointing out, "I don't think Sligo is too high on Al Qaeda's agenda."
The wonder of Calvary is that amid all the blarney and black humour, it stands up as a moving and sincere drama about religious faith and the fear of death. McDonagh includes many shots of Father James alone against rugged landscapes or walking down a deserted beach. We see his face frequently in close up.
Access unlimited streaming of movies and TV shows with Amazon Prime Video Sign up now for a 30-day free trial
Sign up
The director has talked about the humour in Calvary being Buñuelian, "anarchic, dark and lacerating". In films from Un Chien Andalou to Viridiana, Buñuel excoriated Catholicism and mocked its priests. McDonagh does something similar in Calvary. Nonetheless, Father James is still the hero of the film: its only character not driven by self-interest. Gleeson squeezes out the pathos and the comedy in a man who dotes on his pet dog and is as comfortable around guns and alcohol as he is giving communion. At the same time, he gives Father James grace and moral authority - and those are not qualities that we've encountered before in films from either of the McDonagh brothers.
Register for free to continue reading
Registration is a free and easy way to support our truly independent journalism
By registering, you will also enjoy limited access to Premium articles, exclusive newsletters, commenting, and virtual events with our leading journalists
Already have an account? sign in
Register for free to continue reading
Registration is a free and easy way to support our truly independent journalism
By registering, you will also enjoy limited access to Premium articles, exclusive newsletters, commenting, and virtual events with our leading journalists
Already have an account? sign in
Join our new commenting forum
Join thought-provoking conversations, follow other Independent readers and see their replies