Charlie Says, Venice Film Festival, review: An attempt to understand what drove the Manson women to kill
The disgust here at their eventual actions is tempered with pity for them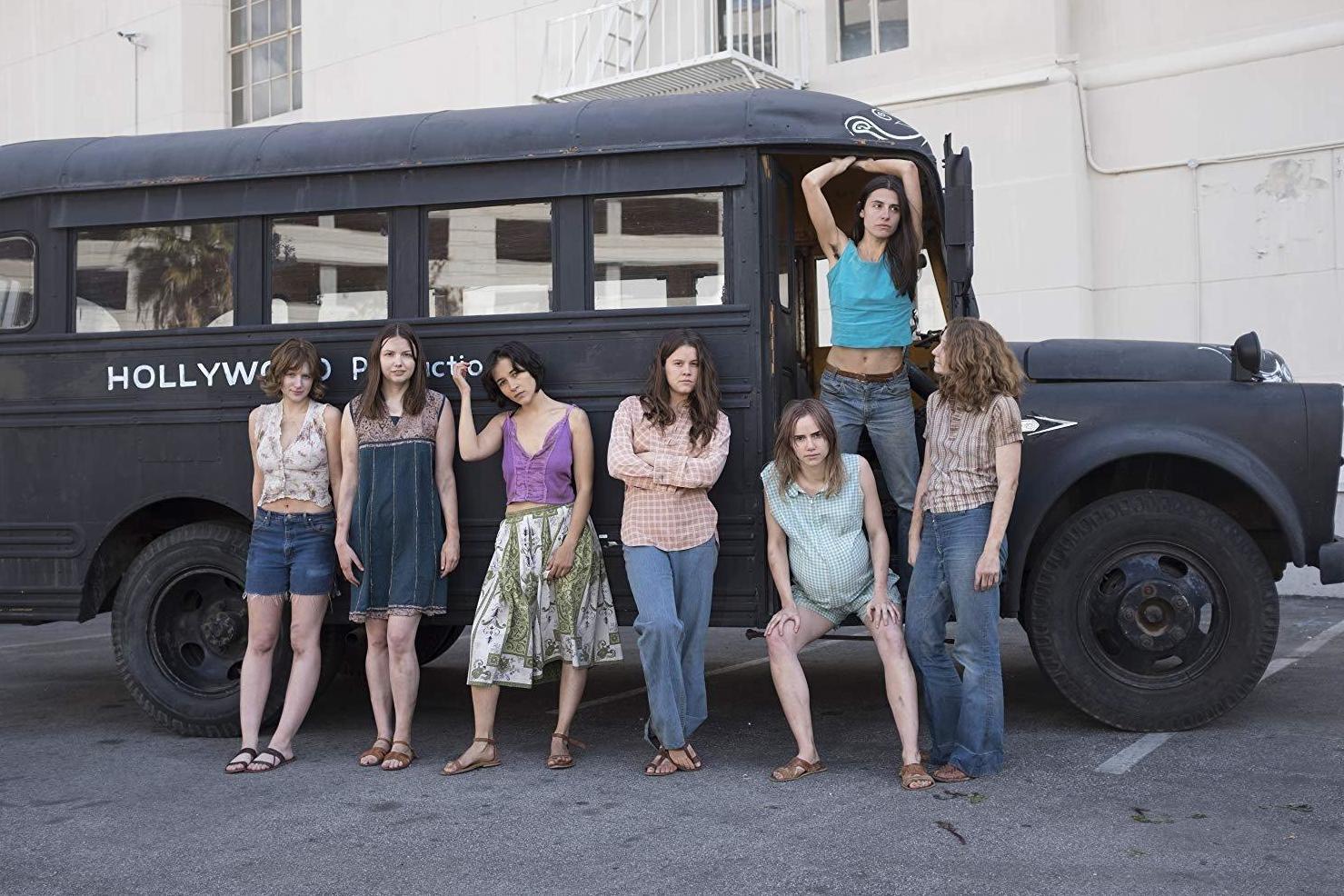 Dir: Mary Harron; starring Kimi Shields, Suki Waterhouse, Hannah Murray, Matt Smith. Cert tbc, 104 mins.
American Psycho director Mary Harron manages the unlikely feat of making three women involved in the "Manson" murders seem sympathetic in Charlie Says. She also pulls off one of the stranger pieces of casting in recent film history, choosing much loved British actor Matt Smith from Dr Who and The Crown to play the notorious, mad-eyed Charles Manson.
Smith was in Venice for the world premiere of the film this weekend and told the audience at a Q&A afterwards that portraying Manson really wasn't that different to playing Prince Philip. He also likened the challenge to that faced by Anthony Hopkins as serial killer, Hannibal Lecter.
He gives a restlessly energetic performance as the bearded cult leader Manson, albeit one with just a hint of Catweazle about it. He is commanding and surprisingly funny but doesn't come close to catching the darkness of his character.
His Manson is a self-obsessed, power-crazed, monstrously egotistical but ridiculous figure who, early on, is never seen without his guitar. The film's most startling moment comes when Manson, desperate to get a record deal, performs for record producer Terry Melcher in an outdoor farmyard concert, accompanied by topless backing singers.
His songs are anodyne and quite pleasant, with very soppy lyrics. Melcher's rejection of him, though, is one of the factors behind the gruesome murders that the "Manson family" members eventually commit on his behalf.
The tone here oscillates between the comic and the horrific. The three main characters are naive and trusting young women who do whatever Manson tells him and have lost the ability to think for themselves. As they happily acknowledge, "we all belong to Charlie."
They live on a Bonanza-like ranch and sustain themselves by foraging for left-over in garbage dumps. On good days, it's as if they're in a 60s utopia. On bad days, they're eating rancid food and being forced to perform sex favours for Hell's Angels.
Charlie Says opens with someone wiping blood off herself in the shower - a harbinger of the carnage that will eventually follow. We see the fresh-faced youngsters hitching a lift somewhere in California, offering to buy their driver breakfast but failing to mention to him that they've just taken part in a massacre.
Access unlimited streaming of movies and TV shows with Amazon Prime Video
Sign up now for a 30-day free trial
Sign up
Access unlimited streaming of movies and TV shows with Amazon Prime Video
Sign up now for a 30-day free trial
Sign up
The best films of 2018 (so far)
Show all 17

The "Manson girls," Leslie "Lulu" Van Houten (Hannah Murray), Patricia "Katie" Krenwinkle (Sosie Bacon), and Susan "Sadie" Atkins (Marianne Rendon), are then shown three years later, in 1972. They're locked away in jail but there is no death penalty in California.
The women are therefore kept in their cells on Death Row for 23 hours a day while the authorities try to work out what to do with them. A teacher, Karlene Faith (Merrit Weaver), is assigned to give them lessons and to see if she can remind them of the people they used to be, before they became in thrall to Manson.
Guinevere Turner's screenplay flits between the sessions in the prison and the time the women spent as part of the Manson family in the build-up to the Sharon Tate murders.
In the hysteria following the killings, Manson was (understandably) demonised and no-one paid much attention to the back stories of the "Manson girls." When they have all played a part in the brutal 1969 murders which, as Joan Didion famously noted, "ended" the 60s and brought the summer of love to an abrupt close, it would be perverse to extend them too much tolerance and understanding.
Nonetheless, Harron makes a convincing case that they were brain-washed. The pick of the performances here comes from Hannah Murray as the very naive ingenue who joins the Manson family in search of adventure. There is comedy and pathos in her behaviour.
She dutifully rings up her parents to tell them that, no, she can't see any more and that they should forget she exists. Murray (who plays Gilly in Game Of Thrones) brings a wide-eyed innocence to her role. She plays Lula as such a likeable figure that it defies comprehension when she too finally joins in the violence.
We've had plenty of books and films about the end of the 60s, the loss of innocence and the corruption and drugs abuse that shattered the hippy dream. Most are portentous affairs. What makes Charlie Says so original is its perspective and its willingness to depict the banality and absurdity of life with Manson rather than simply to portray him as the quintessence of evil.
The cult leader is a truly preposterous figure who can't help contradicting himself and whose theories about revolution and race war are crackpot in the extreme. Harron allows us to laugh at him. She also reminds us that the so-called "Manson girls" were victims as well as perpetrators.
The disgust here at their eventual actions is tempered with pity for them and an attempt at understanding how such normal-seeming young Americans came to make such a bloody mess of their lives.
Join our commenting forum
Join thought-provoking conversations, follow other Independent readers and see their replies