Coming 2 America review: Comedy sequel never dares to try anything new
Craig Brewer's sequel to the 1988 comedy classic lives in fear of besmirching its predecessor
Leer en Español
Dir: Craig Brewer. Starring: Eddie Murphy, Arsenio Hall, Jermaine Fowler, Leslie Jones, Tracy Morgan, KiKi Layne, Shari Headley, Teyana Taylor, Wesley Snipes, James Earl Jones. 12, 110 mins
Coming 2 America is one of those sequels in which the characters discuss how terrible sequels tend to be. "If something's good, why ruin it?" comes the cry. For the actors, it's clearly taking every ounce of their energy not to look straight into the camera. This type of scene always goes one of two ways: if the film is good, it plays as a wry aside. If it's not, the audience is left contorting with secondhand embarrassment. Regrettably, the latter is true here – the scene even provides a concise summary of what went wrong.
Craig Brewer's sequel to the 1988 comedy classic lives in fear of besmirching its predecessor. So it does nothing new. It's a film sealed in amber, a perfectly preserved replication. That level of deference is unnecessary – no one could "ruin" Coming to America. It's far too embedded in pop culture. Released at the height of Eddie Murphy's powers, following Beverly Hills Cop (1984) and his stand-up shows Delirious (1983) and Raw (1987), the film was a box-office smash and a landmark in onscreen representation. The jokes have even become part of our language – Murphy maintains that the film features the very first mic drop.
Coming to America saw Prince Akeem (Murphy) leave the opulence of his Zamundan palace and travel to Queens, in New York City, to find love. Its sequel offers the same story in reverse – Akeem discovers that he has a now-adult son still living in the borough, conceived during a one-night stand with a woman named Mary (Leslie Jones). Lavelle (Jermaine Fowler), a college drop-out who scalps tickets while in between jobs, arrives in Zamunda only to face the same challenges his father did. He, too, must choose between love, heritage, family, and duty. The script – penned by the original writing duo of Barry W Blaustein and David Sheffield, alongside Black-ish's Kenya Barris – plows through the same beats and emotions. All that's added is a dash of pop feminism in the form of Akeem's ass-kicking daughters. The eldest of the three, Princess Meeka (KiKi Layne) has been barred from the throne by patriarchal tradition, despite being clearly suited for it.
The real draw of Coming 2 America is, of course, the reunion of Murphy and Arsenio Hall. The two have remained friends and the joy they share in each other's presence is untouched by the passing of time. They're as buoyant as ever as Akeem and his aide Semmi, or under of layers of prosthetics to play the many other characters they doubled up as in the original film – including soul singer Randy Watson, preacher Reverend Brown, and the bickering men in the barbershop. Coming 2 America was mean to be part of a wider comeback effort from Murphy, who had pre-Covid plans to follow up 2019's Dolemite Is My Name with a new stand-up tour.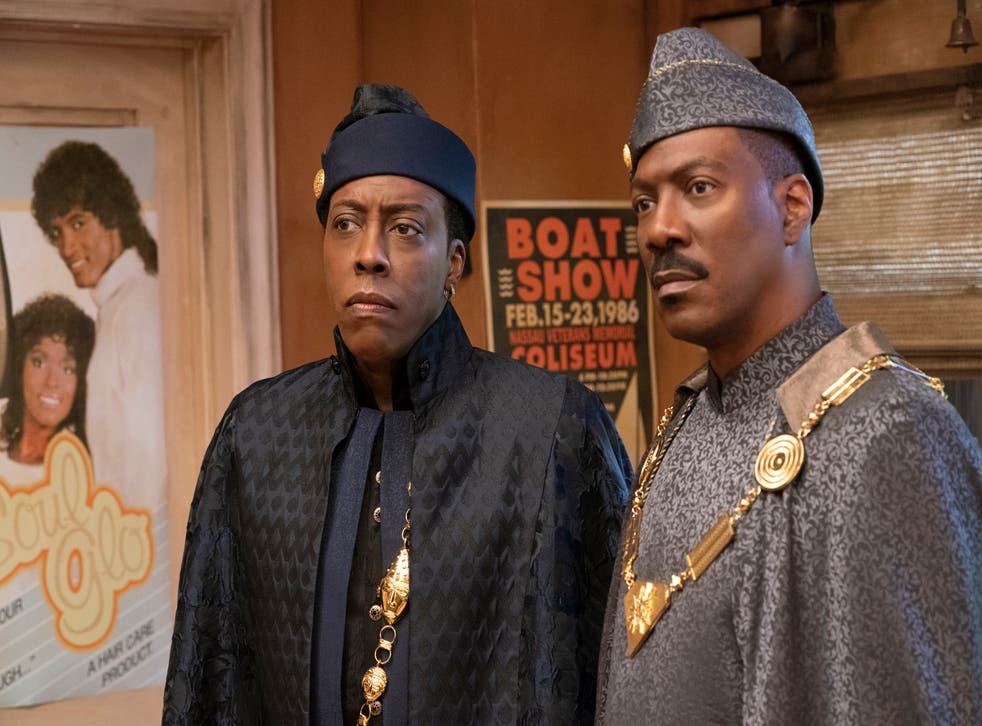 They are surrounded by talent – James Earl Jones and Shari Headley return, alongside new additions like Fowler, Jones, Wesley Snipes, and Tracy Morgan. And while the actors still find small moments to shine, they're given such little room to explore and experiment. Coming 2 America is so dedicated to its callbacks – the "royal privates", McDowells, and the dejected princess who barks like a dog – that there's little room for anything else, even if the musical performances do serve up a few fun cameos. The material is only updated in the flimsiest sense, with a nod to gentrification and cargo pant-wearing Neo-Nazis, while its flippant treatment of sexual assault and trans issues does nothing to acknowledge how comedy has changed in the intervening years.
The only aspect of the film that really strikes the right balance between past and present is Ruth E Carter's costume design, which honours Deborah Nadoolman's work on the original film while reflecting current trends. Meeka's royal garb is an inspired mix of modern athleisure wear and traditional silhouettes and patterns. It certainly doesn't "ruin" what came before. If only the rest of Coming 2 America had shown the same daring.
Join our new commenting forum
Join thought-provoking conversations, follow other Independent readers and see their replies