Creed, film review: Sylvester Stallone rises to the challenge of growing old
(12A) Ryan Coogler, 133 mins. Starring: Michael B Jordan, Sylvester Stallone, Tessa Thompson, Phylicia Rashad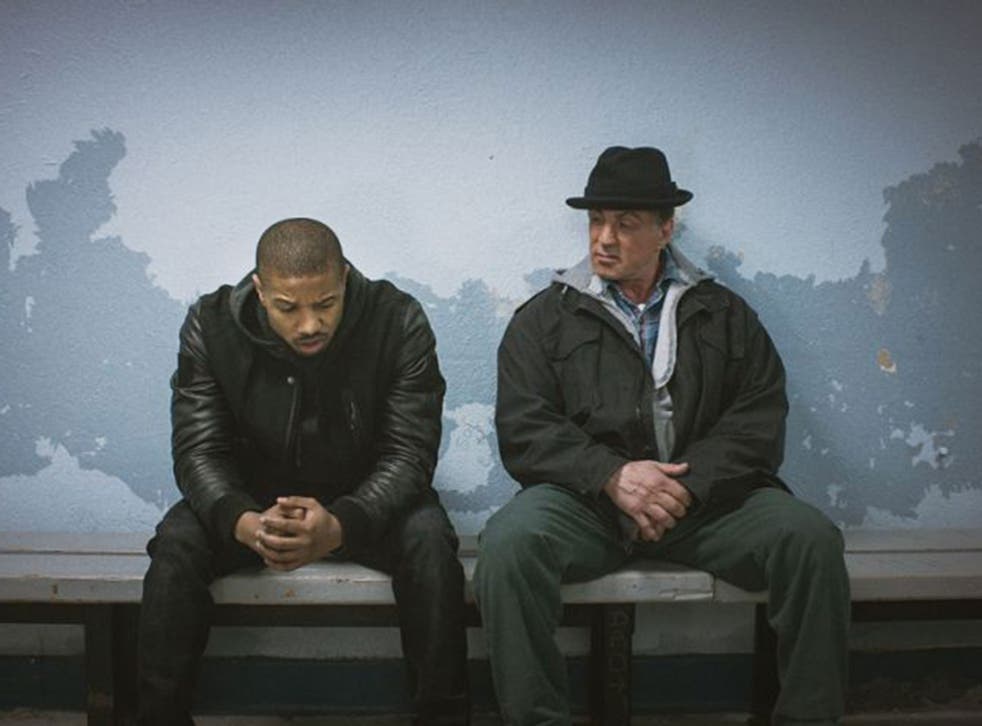 It's a battered old genre whose every possible new narrative move or feint has long since been exhausted, but, like a punch-drunk fighter who refuses to throw in the towel, the boxing movie just won't go away. Ryan Coogler's Creed, a follow-up to the Rocky series, is only the latest in a very long line of fight films. It's a rousing but thoroughly corny affair. This is a film steeped in nostalgia: one that, for all of its references to death, illness and brain-damage in the ring, turns out to be an old-fashioned exercise in Cinderella-like escapism. If you can stomach the schmaltz and suspend your disbelief in the face of the film's pounding predictability, you'll find plenty to enjoy.
The 69-year-old Sylvester Stallone is back again as Rocky Balboa. What makes his performance so moving and so unusual is that the Italian Stallion seems, finally, to be accepting his age. This isn't Stallone in OAP action mode, waving machine guns and running after baddies, as in the Expendables movies or Rambo sequels. Here, we really have the sense that his joints are creaking and he's out of breath. At times, it's as if Stallone has swapped roles with the old Hollywood actor Burgess Meredith, who played his coach, Mickey Goldmill, in the original Rocky movies. Stallone even gets to repeat Meredith's chauvinistic one-liner about boxers avoiding sex before bouts: "Women weaken legs." Stallone knows just how to eke out every last bit of pathos from his role and how to steal scenes from under the noses of the film's ostensible stars.
Culture news in pictures

Show all 33
The film opens in Los Angeles in 1998. Adonis Johnson (played as a young boy by Alex Henderson) is in juvenile detention. "He's a good kid. He just fights… all the time," it is said of him. Adonis never met his father, former world heavyweight champion Apollo Creed, Rocky's fiercest opponent and, eventually, close friend. Apollo's wife, Mary Anne (Phylicia Rashad), agrees to adopt Adonis. Flash-forward 17 years and Adonis (Michael B Jordan) is a young, white-collar professional with an affluent lifestyle. He's also a self-taught boxer who sneaks off to fight illicit bouts in Mexican gambling dens.
Director and co-writer Coogler's previous feature, Fruitvale Station, also starring Jordan, was based on the true story of a police shooting of a 22-year-old African-American man at a railway station in Oakland, California, on New Year's Day 2009. Coogler was dealing in frank and moving fashion with racism and random violence. Creed is a film in a very different register: a boy's own wish-fulfilment fantasy.
In most boxing movies, including Rocky, the fighters come from the streets. The twist here is that Adonis is from a privileged background. "Why would you pick a fighter's life if you don't have to?" he is asked. His own father died in the ring. He is told again and again that this is a brutal sport. Coogler emphasises the contrast between Adonis's LA home, where he lived in a gated mansion, with the blue-collar grittiness of Philadelphia, where he comes to try to make it as a boxer – and to persuade Rocky to be his trainer. Bizarrely, those close to Adonis who warn him to stay out of the ring end up becoming his biggest cheerleaders. The idea that he might end up with his brain bleeding or his faculties impaired no longer seems to occur to them as his chance of glory beckons.
The film-makers go out of their way to give Creed at least a patina of realism. There's an emphasis on bodily functions. We see boxers and their trainers vomiting. Mouth guards come out. There is lots of blood and saliva flying about. In the changing room, minutes before his first big fight, Adonis has to have his gloves cut off so he can rush off to empty his bowels. The film-makers surround Jordan and Stallone with real-life boxers, among them Liverpudlian (and ardent Everton FC fan) Tony Bellew as "Pretty" Ricky Conlan and former world champ Andre Ward as Danny "Stuntman" Wheeler. There are lots of grizzled old-timers in the fighters' corners too, patching up their cuts.
For all the authenticity of the detail, the storyline is unashamedly far-fetched. A romantic sub-plot is engineered in tokenistic fashion. Adonis stays in a Philadelphia boarding house where his neighbour downstairs just happens to be beautiful singer-songwriter Bianca (Tessa Thompson). She has a career but is remarkably indulgent to the young boxer.
The fight scenes – especially the big bout at Goodison Park which marks the finale – combine sweaty close-ups and aerial shots with absurdly exaggerated sound editing. Every thwack of a glove registers like a heavy drum beat. The rousing score from composer Ludwig Göransson (echoing the original music) inevitably lends a triumphalist note to proceedings.
Jordan is likeable as the driven young boxer, trying to reconcile his feelings of reverence and resentment toward Apollo Creed, the father he never knew, and to "leave his own legacy". He is up, though, against an opponent he has no chance of bettering: Stallone himself. As Rocky, Sly gets the best moments. There is some comic schtick with hens and a lachrymose interlude in which he chats with his departed loved ones in the cemetery. We see him shuffling around the Italian restaurant he now owns, and staggering up the steps he used to ascend so easily when he was in training. In the Philadelphia gyms, he is treated with reverence. It isn't subtle acting but it is moving, especially for viewers who remember him from the first time round.
Creed looks set to spawn sequels. The original Rocky films grew more absurd with each instalment. Coogler isn't breaking new ground here. Then again, you don't look to boxing movies for originality. Creed isn't any more far-fetched or manipulative than the first Rocky film – and that film ended up beating Taxi Driver and All the President's Men to the Best Picture Oscar.
Register for free to continue reading
Registration is a free and easy way to support our truly independent journalism
By registering, you will also enjoy limited access to Premium articles, exclusive newsletters, commenting, and virtual events with our leading journalists
Already have an account? sign in
Register for free to continue reading
Registration is a free and easy way to support our truly independent journalism
By registering, you will also enjoy limited access to Premium articles, exclusive newsletters, commenting, and virtual events with our leading journalists
Already have an account? sign in
Join our new commenting forum
Join thought-provoking conversations, follow other Independent readers and see their replies