Damsels in Distress, Whit Stillman, 99 mins (15)
These women talk in Wildean epigrams and want you to tap dance, yet you may well end up pals
Jonathan Romney
Saturday 28 April 2012 19:21 Comments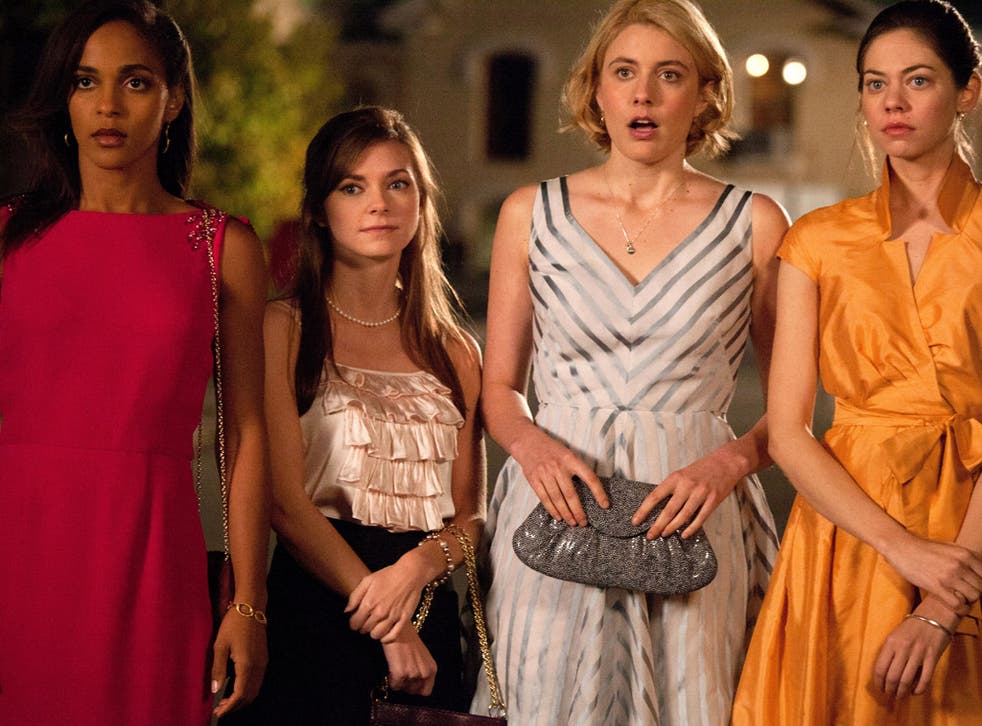 In college comedy Damsels in Distress, you are the new kid. At first, you don't feel comfortable: everyone you meet is snobbish or neurotic, some chillingly smart, others downright dopey, the most interesting ones both at once.
People have a strange stilted way of talking, as if reciting once-brilliant aperçus from ancient copies of The New Yorker. But don't worry, because by the end of term, you'll feel right at home – and even tapping your feet to the big closing dance number.
Damsels in Distress is a peculiar film, a radically love-it-or-hate-it proposition from the long-absent Whit Stillman. He was one of the stars of the 1980s-1990s US independent wave, but he didn't quite fit in: while other indie directors were all backward baseball caps, Stillman was a dapper Brooks Brothers type, his Metropolitan (1990) an ironic-romantic vignette of Manhattan's preppie set.
Returning 13 years after his third film The Last Days of Disco, Stillman has become markedly more eccentric. With Damsels in Distress, he's thrown caution to the wind and made a film that's a crazy, exuberant objet, a glimmering bauble fashioned for the sheer delight of it.
Set on the leafy, Greek-colonnaded campus of Seven Oaks, Damsels begins with the arrival of wide-eyed Lily (Analeigh Tipton), who is pounced on by three confident young women, as fragrant as their names suggest: Violet (Greta Gerwig), Rose (Megalyn Echikunwoke) and Heather (Carrie MacLemore). Memories of high-school black comedy Heathers make you suspect these alpha maidens are evil snobs out to destroy. Not at all.
They may be snooty – they seize their noses as the college's more brutish boys pass, gagging at the "acrid odour" of "male barbarism". Yet – gauchely, cheerfully conceited as they are – these superior misses simply want to sprinkle their fairy dust upon the world. They run a Suicide Prevention Centre and try to save the despairing by cajoling them to tap dance. Things backfire, however, when one of the centre's female lame ducks takes up with Violet's boyfriend Frank, sending our heroine into a crisis – from which she's saved by a miraculous bar of soap.
That's the kind of film this is – less a coherent narrative than a chain of flip, sometimes arcane conceits. Lily's French boyfriend (Hugo Becker) seduces her into the sexual practices associated with the ancient Cathar religion; suavely-suited Charlie (Adam Brody) is suspected of being what Rose classifies as "a Playboy or Opera-tor [sic] Type"; and Violet pursues her crusade to help humanity by launching a new dance craze, the Sambola! (exclamation mark integral).
Stillman's film may well strike you as anachronistic – the title is a wink at A Damsel in Distress, a 1937 Fred Astaire musical scripted by P G Wodehouse. The characters oddly resemble swains and shepherdesses in 18th-century pastoral, and you wonder when Gerwig will turn up with an attendant baa-lamb. At one point, there's a lecture about the Dandy Tradition in Literature, with reference to the quintessentially precious English novelist Ronald Firbank – and the film plays rather as if Firbank had been brought in to doctor a Woody Allen script.
The result is a tone that may well stick in your craw, and strike you as show-offy and unfunny. But the nature of dandy humour, surely, is that everything should have the ring of sparkling wit, while not necessarily being funny per se. Here the characters are forever dispensing prolix pronouncements that sound like Wildean epigrams, yet are oddly solemn, even laborious: but they are Stillmanisms, and that's their essence. These lines don't sit naturally on modern American lips, and some of the actors deliver them as if they'd learned them phonetically, like Martians having a crack at Molière. The humour is less LOL, Laugh Out Loud, than RQE, Raise Quizzical Eyebrow.
Access unlimited streaming of movies and TV shows with Amazon Prime Video Sign up now for a 30-day free trial
Sign up
This proudly counter-intuitive confection works partly because of the charm of the cast. Echikunwoke is irresistible as the haughty Rose, an African-American siren who feigns to be English and adopts the lofty diction of Gore Vidal; Ryan Metcalf is a find as the ebulliently lunkish Frank; and Tipton is an unlikely Everygirl, a lolloping beanpole with a rubber-faced cartoon beauty.
As Violet, Gerwig – a long way from her days as face of the "mumblecore" school of indie – is a star turn. She has the robust look of those tennis girls that once set John Betjeman's heart a-flutter, but her earnest, poised delivery, matched with the hurried waddle of her walk, make her Violet a fascinatingly ungainly goddess – Venus as a dork.
The film is gorgeously shot by Doug Emmett, who puts a summery gleam on the marble frontages, and scored by Mark Suozzo and Adam Schlesinger with echoes of breezily vacant 1950s pop. This is a feelgood film, if you must – but not in any way you'll recognise. You'll gape at the sheer improbability of Damsels In Distress, but go with it, and you may find it lifts your soul even as it makes your jaw drop. Whether you also dance the Sambola! is left to your discretion.
Register for free to continue reading
Registration is a free and easy way to support our truly independent journalism
By registering, you will also enjoy limited access to Premium articles, exclusive newsletters, commenting, and virtual events with our leading journalists
Already have an account? sign in
Join our new commenting forum
Join thought-provoking conversations, follow other Independent readers and see their replies