DAU. Natasha review, Berlin Film Festival: Top secret project finally unveiled, and with it comes a radical intensity
Cloaked in secrecy for 15 years, Ilya Khrzhanovskiy's sprawling epic has finally been unleashed upon the world... or at least a small part of it
Geoffrey Macnab
Wednesday 26 February 2020 23:12 Comments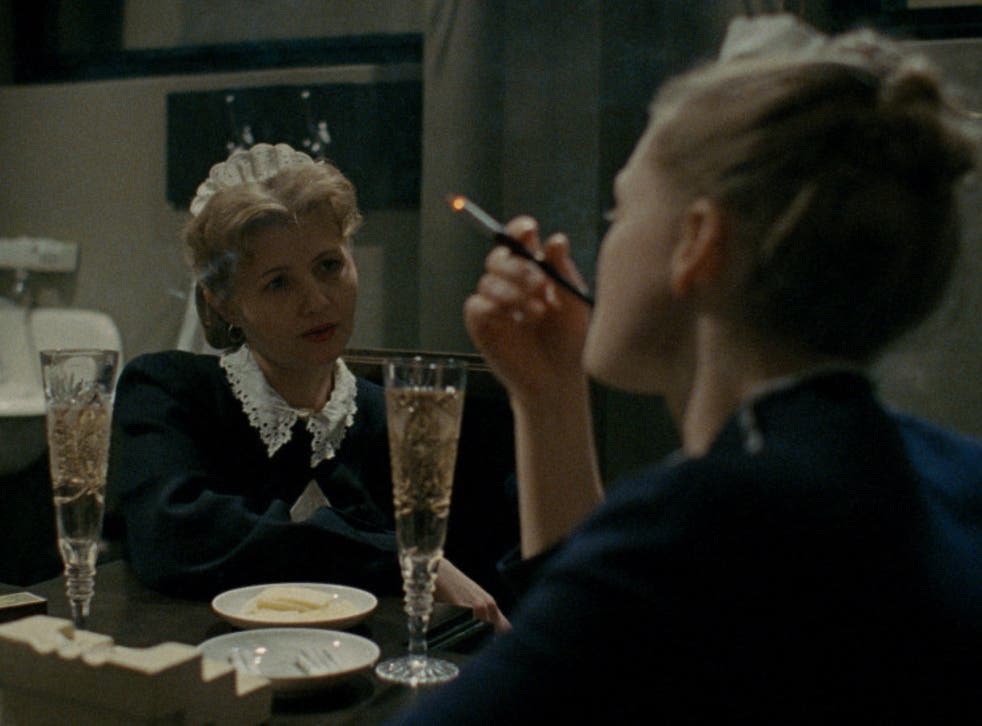 Dir: Ilya Khrzhanovskiy, Jekaterina Oertel. Starring: Natalia Berezhnaya, Olga Shkabarnya, Vladimir Azhippo, Alexei Blinov, Luc Bigé. TBC Cert. 145 mins
DAU. Natasha is the first feature film spun off from Russian director Ilya Khrzhanovskiy's massive, multi-million dollar DAU project, which was originally conceived 15 years ago. It's a sprawling and very dark psycho-drama about the misadventures of two waitresses working in a cafe in a secret Soviet research institute in 1952.
Like the scientists, soldiers and employees they serve, Natasha (Natasha Berezhnaya) and her young assistant, Olga (Olga Sergeevna Shkabarnya), live in monotony and terror. They can be denounced, arrested and tortured by the secret police at any time. Cooped up in the institute, they use alcohol and sex as a way of escape.
Khrzhanovskiy originally planned DAU as a conventional biopic about the brilliant Russian-Jewish physicist Lev Landau (1908-1968), to be made on a fairly modest budget. Then he met Sergey Adoniev, the oligarch who introduced 4G into Russia. Adoniev bankrolled DAU, which mushroomed into one of the most ambitious, expensive and eccentric projects in European cinema history. Tens of thousands of extras were involved. At least nine feature films have been made so far, with another four or five in the pipeline. Some focus on Landau (although he isn't seen in this one).
Nobel prize-winning scientists and famous artists came to the institute in Ukraine where the filmmakers based themselves – and appear as characters in some of the films alongside unknowns like Natasha and Olga. DAU has spawned a TV series and an exhibition. It has also been mired in controversy because of its sex, violence and perceived pretentiousness. Big name actors, Willem Dafoe and Charlotte Rampling among them, have been involved in the project in different capacities.
19 films to look out for in 2020

Show all 19
By a grim coincidence, DAU. Natasha is premiering in the week that disgraced Hollywood mogul Harvey Weinstein has been sent to jail. It has a very bleak scene in which a hulking senior Soviet interrogator, who looks like Weinstein in a KGB outfit, sexually abuses and assaults a female character. The scene is bound to provoke heated debate. Audiences may also be repelled by moments in which the residents drink to excess and then throw up. They may be bored by the long periods in which very little happens. Nonetheless, the film has an intensity and formal boldness that puts most of the other titles in competition in Berlin to shame.
DAU was shot handheld but in 35mm by Jürgen Jürges, the brilliant German cinematographer best known for his work with Rainer Werner Fassbinder and Michael Haneke. What makes the film so powerful is its hyper-reality: the idea that nothing, or very little, we see on screen is being faked. There is minimal cutting and no music or special effects. At the same time, the level of detail is far beyond that found in Lars von Trier's pared-down Dogme films. The performances don't seem like performances. The actors look as if they are simply being themselves. The women's drunkenness isn't feigned. Nor are their tears. In one scene, Natasha and Olga have a fight that starts from nothing but ends with kicks and hair pulling. They grate on each others' nerves but are also dependent on one another.
Berezhnaya is brilliant as Natasha, an elegant, resourceful but increasingly insecure figure. She makes the mistake of having an affair with a foreign scientist, something the Secret Police just won't tolerate. A non-professional who has reportedly never acted before, Berezhnaya plays her role with sensitivity, subtlety and considerable bravery.
If you have the slightest curiosity about the reality of life in Stalin's Russia, the DAU project as a whole will take you closer to it than any history book can. DAU.Natasha itself is uneven. Certain scenes are very uncomfortable to watch. There are times when you think that Khrzhanovskiy and his co-director Jekaterina Oertel are provoking the audiences for the sake of it, but this is still a film that will worm its way right under the skins of most viewers.
Register for free to continue reading
Registration is a free and easy way to support our truly independent journalism
By registering, you will also enjoy limited access to Premium articles, exclusive newsletters, commenting, and virtual events with our leading journalists
Already have an account? sign in
Join our new commenting forum
Join thought-provoking conversations, follow other Independent readers and see their replies