Dumb And Dumber To, movie review: This revolting and misogynistic film will put you off your popcorn
Not even Jim Carrey and Jeff Daniels can make the Farrelly brothers' infantile humour relevant two decades after Dumb and Dumber
Geoffrey Macnab
Wednesday 17 December 2014 15:31 Comments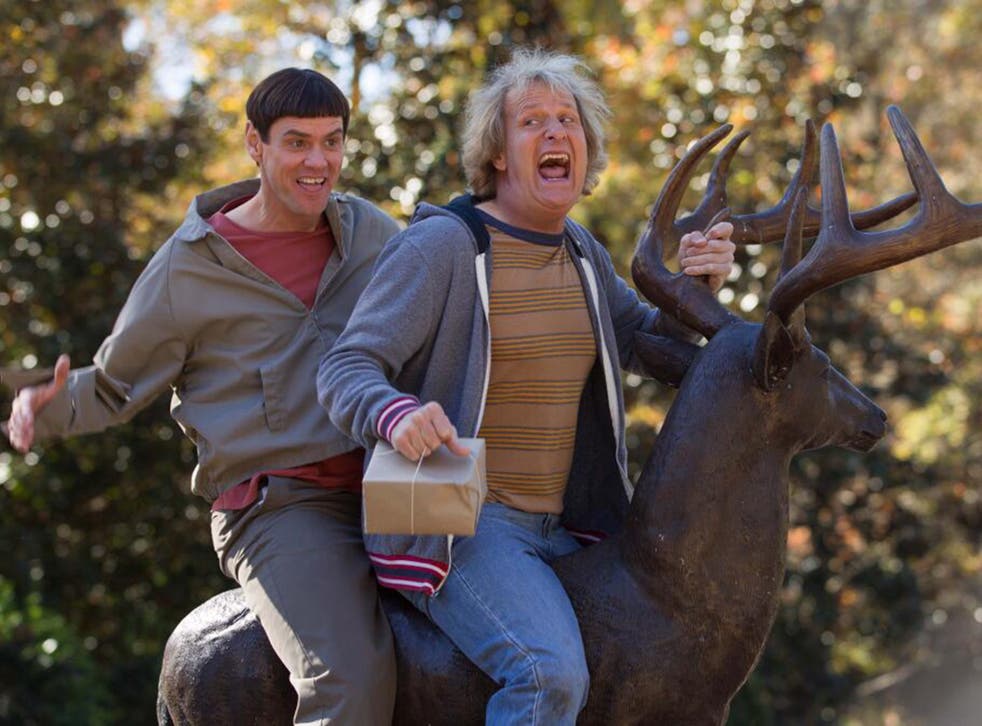 It takes a lot of intelligence and wit to make a truly memorable comedy about deeply stupid people. At their best, the Farrelly brothers do it better than anyone. They are past masters of mindlessness and bad taste.
Their humour is never particularly innocent - they trade in scatology and sexual innuendo - and yet it evokes an old tradition of US movie slapstick that stretches back to Jerry Lewis, The Three Stooges (an influence they acknowledged in their last movie) and beyond that to Mack Sennett comedies of the silent era. Their films very rarely get good reviews. They're just too goofy and abrasive for the tastes of most critics.
Sadly, Dumb And Dumber To isn't vintage Farrelly fare. It has an undercurrent of nastiness. There is a miasmatic whiff here that isn't just to do with the fact that its lead characters Lloyd Christmas (Jim Carrey) and Harry Dunne (Jeff Daniels) think it the height of hilarity to fart in a car that has its windows closed. Some of the humour is misogynistic (ill-advised jokes about menstruating teenagers or lustful grannies with diamonds hidden in their private parts.) Some of the plotting makes no sense whatsoever. The final reel drama hinges on a case of mistaken identity which pre-supposes every other character is just as dumb as Lloyd and Harry. The film is often deliberately revolting in its visual gags. (The sight of Jim Carrey's Lloyd eating a hotdog whole through his mustard smeared mouth or having his nappy changed by Harry will be enough to put most audiences off their popcorn.)
Farrelly brothers' humour works by a process of attrition. They invite viewers' disdain and repulsion but as one crude joke follows another, they clearly believe that defences will be worn down and that eventually they will hit the funny bone. It worked in the earlier films and is true of Dumb And Dumber To too…but only to a very limited extent. The occasional uproarious moment is small reward for the long scenes we're forced to endure of Carrey and Daniels gurning and grinning as if they are fresh out of bedlam.
As sequels go, this seemed a dumb proposition from the outset. The first film was released 20 years ago. It was sneered at even then by reviewers then but turned into a huge box office hit. Back in those days, Jim Carrey was one of Hollywood's biggest stars and Jeff Daniels had Terms Of Endearment and Purple Rose Of Cairo to his name. Dumb And Dumber launched the Farrelly brothers' career and seemed very fresh. Young audiences swarmed to see one of the most supremely moronic films of its era. Two decades on, Carrey's name no longer carries the same weight and the fans of the original movie are well into middle age - and presumably far too sensible to be seduced for a second time by Farrelly-style infantilism. Even so, Dumb And Dumber To arrives in the UK having already topped US box office charts.
The new film is refreshing in the way that thee brothers' films always are. There are plenty of other equally idiotic films being made in Hollywood but at least the Farrelly brothers acknowledge their own movie's stupidity in the very title. It is heartening in a way, too, to encounter a buddy movie that doesn't sink under the weight of its own mawkishness. Lloyd and Harry may be best mates but their friendship manifests itself in truly epic acts of malice and one-upmanship. They love to see each other squirm.
As the sequel starts, Lloyd is a patient in a mental institution, wheelchair bound, bearded and seemingly catatonic. He has been in this state for 20 years but Harry still visits him every day and tends to his every needs, even going as far as to change his nappies and fiddle with his catheter. Harry himself has his own health scare - he needs a new kidney. When Harry is given a letter posted two decades before, the complications really begin. Our dim-witted hero discovers that he may have a daughter called Fanny. If this is the case, she could be the perfect donor for him. The mom Fraida Felcher (Kathleen Turner in battleaxe mode) reveals that she reluctantly put her daughter up for adoption but would be delighted to be re-united with her.
Just occasionally, the jokes here are sweet and child-like. In their sweeter moments, the two chumps are like holy innocents. They take an utterly blissful pleasure in their childish pranks and there is something endearing about the way they misinterpret the most obvious instructions and social signals or drink embalming fluid as if it is cola. At times, as they wave their arms and jump around in manic fashion, they resemble hyper-active kids' TV presenters. Even so, both Carrey and Daniels are formidable comic actors. The fact that they're now middle-aged makes their antics seem all the less dignified - and therefore all the more grotesque and funny.
The plot is so riddled with non-sequiturs that you have suspect Harry and Lloyd had a hand in writing it. The daughter (very sweetly played by Rachel Melvin) turns out to be as dumb and forgetful as the man (or men) who may be her father. In the final reel, the filmmakers take great pleasure in sending up highbrow TED conferences by showing Carrey and Daniels wreaking havoc at a "KEN" conference - an event, ironically, at which they seem to fit in relatively comfortably.
Access unlimited streaming of movies and TV shows with Amazon Prime Video Sign up now for a 30-day free trial
Sign up
"God's got a pretty warped sense of humour," Harry murmurs at one stage, summing up what seems to be the filmmakers' own philosophy - namely that real life is even dumber than anything found in their movies. Dumb and Dumber To doesn't feel condescending toward its characters, whose antic vision of the universe the Farrelly brothers clearly share. Its bigger problem is that its scattergun comedy tactics are only fitfully effective. The dumbest, most wasteful thing here is that so much energy is being expended for so few laughs.
Register for free to continue reading
Registration is a free and easy way to support our truly independent journalism
By registering, you will also enjoy limited access to Premium articles, exclusive newsletters, commenting, and virtual events with our leading journalists
Already have an account? sign in
Join our new commenting forum
Join thought-provoking conversations, follow other Independent readers and see their replies