Elvis & Nixon review: A very likeable movie, despite its lack of substance
'This is a whimsical, enjoyable but very slight drama which recreates the famous meeting between Elvis and Nixon in 1970'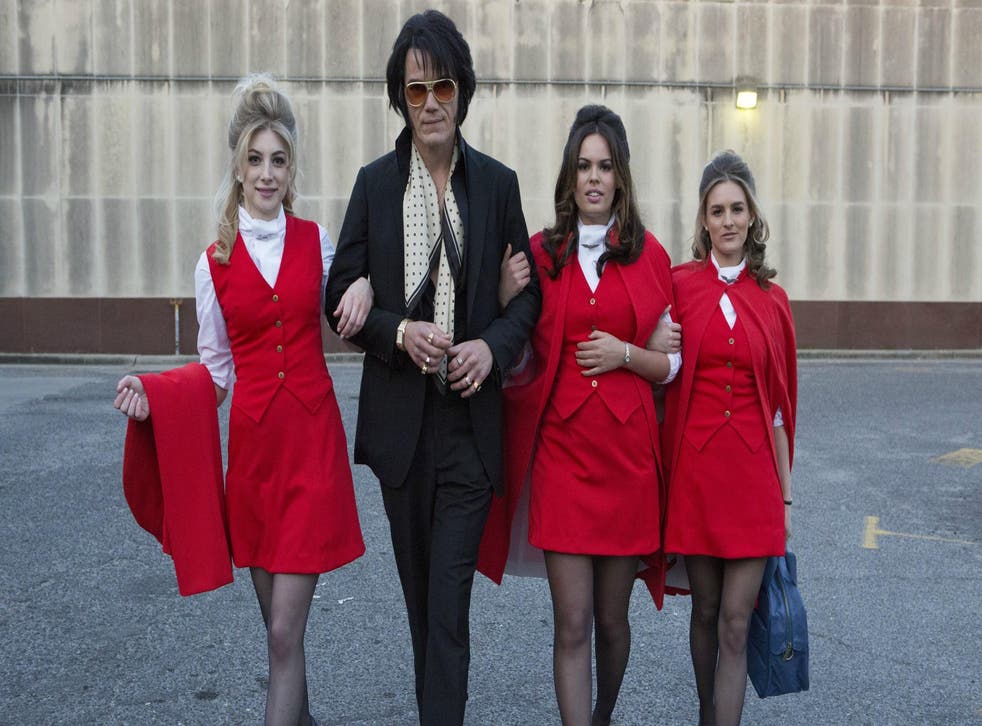 Liza Johnson, 86 mins, starring: Michael Shannon, Kevin Spacey, Alex Pettyfer, Johnny Knoxville
It's a wonderfully incongruous and jarring image: Elvis Presley in a black cape and gold belt, looking as if he has just walked off the set of a Tim Burton movie, and the very clammy and furtive seeming US President Richard Nixon, shaking hands.
Given that Elvis took vast amount of drugs himself (albeit most of them prescribed) and was a quintessential symbol of youth rebellion, there is an obvious irony in his joining Nixon's crusade against the counter-culture.
This is a whimsical, enjoyable but very slight drama which recreates the famous meeting between Elvis and Nixon in 1970. Both subjects' lives have been chronicled in exhaustive fashion but there is still an air of mystery around their unlikely encounter.
It came before Watergate and before Nixon had begun secretly taping everything that happened in the White House. The filmmakers, therefore, have to rely on the (not always reliable) accounts given by members of the Elvis entourage, the so-called "Memphis Mafia".
The version given here is that Elvis turned up at the northwest gate of the White House with a hand written letter requesting the meeting. At first, Nixon was inclined to rebuff him but eventually reconsidered, primarily in order to get an autograph for his daughter. When they did finally come face to face, they got on famously. The "king" was far more regal than the President.
The White House, he told Nixon, reminded him of his own pad in Memphis, Graceland. Both men were from similarly humble backgrounds. Both distrusted communists. Elvis got his badge, allowing him to become a federal agent at large.
There is a telling moment early on, when Elvis (Michael Shannon) is accosted at the airport by an Elvis impersonator. The impersonator thinks that the real Elvis is also an impersonator. (Popular mythology has it that Presley once came third in an Elvis lookalike contest.) Shannon, a notably intense Method actor, is strange casting as the "king".
He has none of the playful, puppyish innocence that the real Presley brought to movies like Fun In Acapulco or Girls! Girls! Girls!. Shannon, first seen shooting a pistol at the TV screens in Graceland (one of which is playing Dr. Strangelove), brings majesty and dark humour to his performance. His Elvis is accustomed to being accosted by fans and reacts to autograph hunters with the same lofty politeness that a monarch might show to his subjects.
He is so removed from everyday life that he is surprised that an airline might object to his carrying multiple concealed guns onto a plane. Shannon's earnest performance helps bring out the deadpan comedy, not least when he is demonstrating kung fu moves to the bemused President.
Access unlimited streaming of movies and TV shows with Amazon Prime Video Sign up now for a 30-day free trial
Sign up
Spacey, meanwhile, is wearing heavy make-up and some kind of skull cap that makes him look like Nixon, complete with very long forehead and receding hairline. House Of Cards viewers will notice that many of his gestures are very similar to those he uses when playing fictional President Frank Underwood in the HBO series.
The other main character is Presley's friend, Jerry Schilling (Alex Pettyfer), who accompanies the "king" to Washington and acts as his publicist and general flunkey. Schilling is a young, likeable US everyman type at a crossroads in his own life, on the verge of marrying and trying to break away from Elvis to establish his own identity.
Elvis & Nixon doesn't reveal much about its protagonists that isn't already well known. This is a film that feels like a bar room anecdote stretched to feature length and wildly embellished in the process. It's a very likeable movie, though, and one that you warm to in spite of its lack of substance... and of Elvis music.
Join our new commenting forum
Join thought-provoking conversations, follow other Independent readers and see their replies