Fantastic Beasts and Where to Find Them review: A mightily impressive new JK Rowling adaptation
The first entry into this five-film franchise is a thoroughly invigorating affair which only whets our appetites for its sequels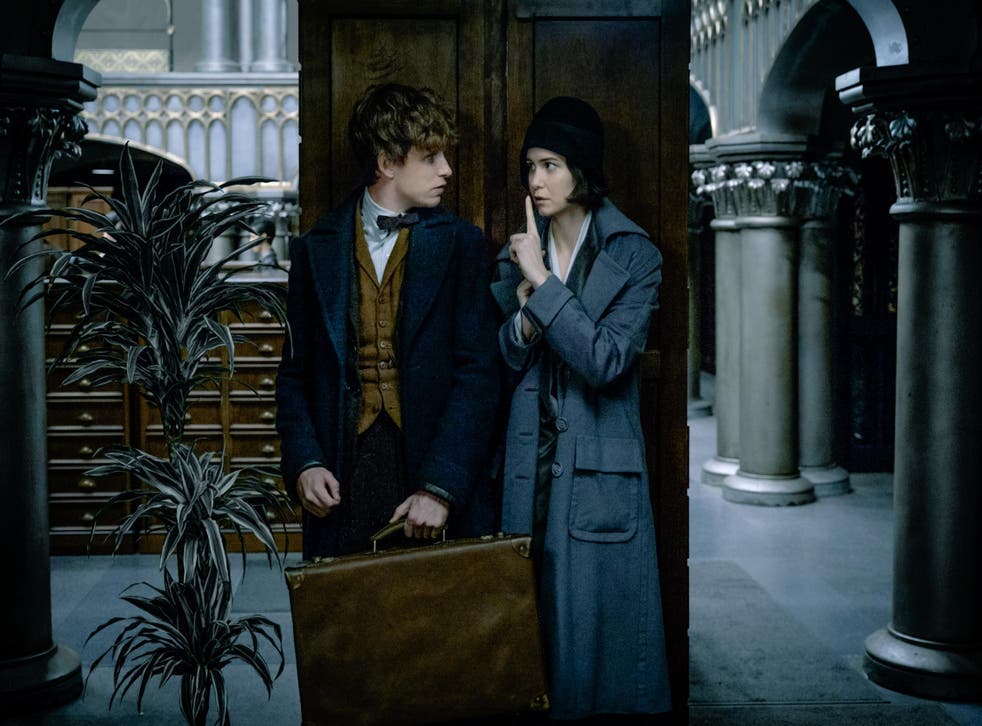 Dir: David Yates, 133 mins, starring: Eddie Redmayne, Katherine Waterson, Dan Fogler, Ezra Miller, Colin Farrell, Jon Voight
There's a phrase those with wizarding powers use regularly in this mightily impressive new JK Rowling adaptation. They talk of "obliviating" No-Majs (American parlance for "Muggles," which is to say those without magical powers) who've seen them at work. They don't mean killing the civilians. To be "obliviated" is to forget what you've just witnessed.
There's no danger of that happening to audiences who come to see Fantastic Beasts. This is rousing filmmaking that combines astonishing special effects with plenty of humour and pathos. At times, the storytelling becomes very dark, verging on film noir, but even at its most foreboding, Fantastic Beasts never loses its charm or its winning whimsicality.
Instead of enrolling again at Hogwarts, we're in New York in 1926 – the era of Boardwalk Empire, gangsters and speakeasies. Amiable British eccentric "Newt" Scamander (Redmayne), expelled from Hogwarts some years before, is arriving in America. The young wizard is carrying a battered brown suitcase that contains within it some of the fantastic beasts that give the film its name.
Redmayne gives an ingratiating performance as the Englishman abroad. His dress sense rekindles memories of Tom Baker-era Dr. Who while his solicitousness toward his animals at times lends him a David Attenborough-like air. He's always apologising ("so sorry!") and looking distracted.
The beasts themselves are compulsive scene-stealers. The most adorable is the "Niffler," a platypus-like little gonk addicted to shiny things. Director Yates throws in early shots of tenement buildings and streets being destroyed in a wrecking spree orchestrated by the shadowy dark wizard Gellert Grindelwald.
He follows up with a delightful comic set-piece in which the "Niffler" escapes the suitcase and rampages across a bank, guzzling coins and silver wherever it sees them and leaving Scamander trailing in its wake. It's in the bank we're first introduced to Jacob Kowalski (Dan Fogler), a factory worker not long back from Europe, where he fought in the First World War, and who hopes to open his own bakery. The hitch is that he doesn't have any collateral – so the bank won't lend him the money.
Fantastic Beasts And Where To Find Them - Latest Trailer
Kowalski is the human equivalent of the "Niffler," a lovable underdog with a roll poly girth and a mournful charm about him that enraptures everyone from Scamander himself to the beautiful Queenie Goldstein (Alison Sudol) who can read people's minds and knows immediately just how sweet natured he is.
It's also at the bank that we are first introduced to Queenie's sister Tina Goldstein (Waterston), an employee working for the Magical Congress of the United States of America (MACUSA), which seems to be the wizards' answer to the FBI. She wants to arrest Scamander, who is suspected of smuggling dangerous animals into the country.
Access unlimited streaming of movies and TV shows with Amazon Prime Video Sign up now for a 30-day free trial
Sign up
As in the Harry Potter features, the filmmakers have filled the cast with redoubtable character actors. These include Ron Perlman as a goblin-like gangster who runs an underground bar, Samantha Morton as a very stern, Quaker-like matriarch who wants the wizards destroyed and Ezra Miller as a troubled adolescent who turns out to have hidden depths. Johnny Depp also makes a brief but effective appearance - one suggesting we'll see more of him in subsequent episodes.
At times, the storytelling is a little confusing. Scamander keeps on disappearing into his suitcase and then turning up somewhere altogether new. (At one stage, he pops up in Arizona and it looks as if he has fallen into a John Ford western by mistake.) The motives of the characters aren't especially well explained.
It is not initially clear why Tina has been demoted or what infernal plans the sleek but obviously untrustworthy Percival Graves (Colin Farrell) is hatching. The behaviour of the No-Maj politicians is likewise hard to fathom. There are references to some ineffable dark force that children can harness; that will burst out in an orgy of violence and then vanish again.
JK Rowling's hidden Harry Potter sketches

Show all 7

Rather than trying to unpick the narrative, it's best just to bask in the wondrous performances and the extraordinary craftsmanship. The recreation of 20s New York here is meticulously detailed. Extreme care has been paid to everything from the costumes to the jazz-era music. The film is a constant dance between light and dark, between playful knockabout comedy and havoc and destruction.
Five years on from Harry Potter's last screen outing, Fantastic Beasts could easily have seemed derivative or anti-climactic. Instead, it's a thoroughly invigorating affair which only whets our appetites for its sequels.
'Fantastic Beasts and Where to Find Them' hits UK cinemas 18 November
Register for free to continue reading
Registration is a free and easy way to support our truly independent journalism
By registering, you will also enjoy limited access to Premium articles, exclusive newsletters, commenting, and virtual events with our leading journalists
Already have an account? sign in
Register for free to continue reading
Registration is a free and easy way to support our truly independent journalism
By registering, you will also enjoy limited access to Premium articles, exclusive newsletters, commenting, and virtual events with our leading journalists
Already have an account? sign in
Join our new commenting forum
Join thought-provoking conversations, follow other Independent readers and see their replies