Film review: Philomena - Steve Coogan directs Judi Dench in one of her most memorable roles
Directed by Stephen Frears and starring Steve Coogan and Anna Maxwell Martin (12A, 98mins)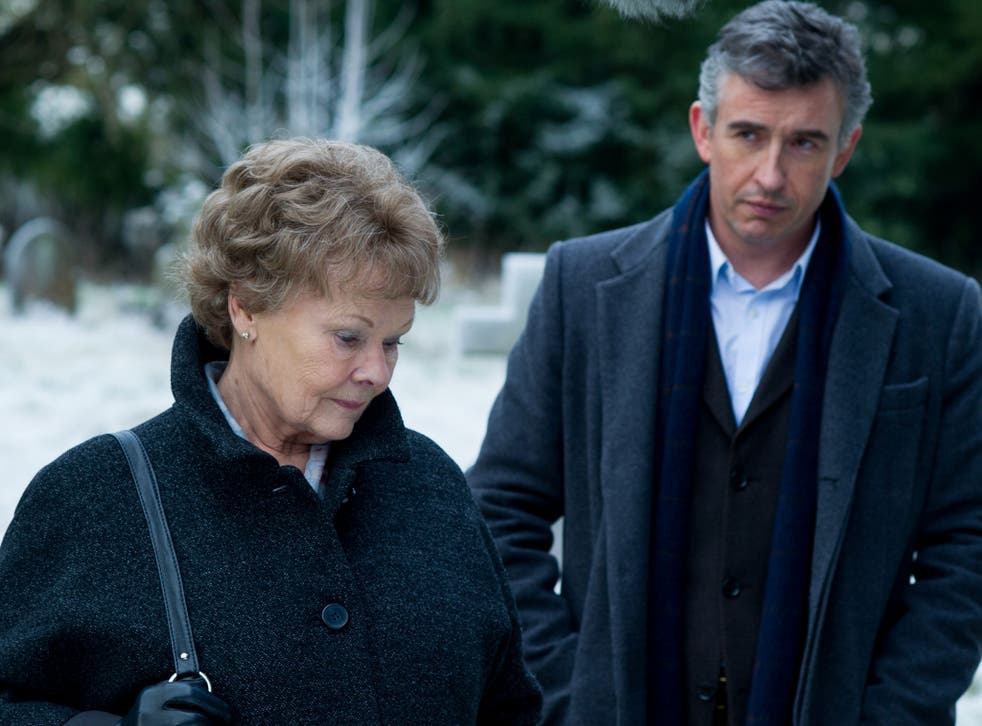 "You're talking about a human-interest story," world-weary journalist Martin Sixsmith (Steve Coogan) sighs early on in Stephen Frears new film, Philomena.
It has just been suggested that he write an article about a woman who had a baby as a teenager and then kept it secret for 50 years. Such stories, Sixsmith believes, belong rightfully in women's weeklies. He's a heavyweight former political spin doctor who used to be the BBC's "man in Moscow". He doesn't stoop to such trivial fare – or wouldn't if his career wasn't at such a low ebb.
Some audiences might feel the same suspicion toward the movie itself. This is an unabashed tearjerker that seems to belong to the Ladies in Lavender school of cosy British films that your granny might enjoy. It has Judi Dench in national treasure mode and plays up its own odd-couple elements shamelessly. Dench's Philomena Lee is a clucking old lady who reads the Daily Mail and enjoys a gossip. Coogan's Sixsmith is cynical and sardonic.
However, Philomena is so beautifully written and performed that it goes far beyond sitcom-style stereotyping. It is never patronising. As Sixsmith quickly discovers, and sceptical audiences will learn, too, there is every bit as much conspiracy, drama and complexity in the case of Philomena's missing child as in any of the "big" political stories that Sixsmith might once have worked on.
Philomena is based on actual events and exposes a very real injustice. The Catholic Church did take away Philomena's child as a toddler in the early 1950s and sell him for adoption. We see in flashback to early 1950s Ireland the short-lived and giddy romance that led to Philomena (played as a young woman by Sophie Kennedy Clark) conceiving her son. In scenes reminiscent of Peter Mullan's The Magdalene Sisters (2002), Philomena is shown locked away in a convent with nuns who make sure she feels she has sinned. The fateful moment arrives when her boy is removed.
Tremendously played by Dench, Philomena is a strong-willed woman who generally likes to keep her emotions in check. She is not as well read as Coogan's Oxbridge-educated Sixsmith (who yearns to write dense history books), but has a common sense and kindness that he lacks. Dench gives the character a heroic dimension. She has her own prejudices and eccentricities – which the actress milks for maximum comic effect – but she is also utterly single-minded. For all her love of convoluted romantic novels and her superstitions, she is never the butt of the joke. Dench makes us aware of the huge grief and remorse that her character feels, but she also shows us Philomena's tenacity.
Given his own vexed relationship with the press, there is an obvious irony in Coogan playing a "nasty journalist" ready to doorstop potential interviewees, but he too excels. In comedy terms, he is often Dench's straight man. She gets the best lines while he is quietly sarcastic and hides his own feelings behind a veil of irony. His jokes bounce back at him. She doesn't understand what he is talking about and he is invariably the one left looking foolish.
Coogan co-wrote and produced the film, but the fact that he originated the project doesn't mean he ever tries to upstage his co-star. This is his third leading performance in films this year, after his turns as the Norfolk DJ Alan Partridge in Alpha Papa and the porn baron Paul Raymond in The Look of Love. His performance as Sixsmith is the least showy of the three, but also the most affecting.
Philomena develops into a road movie, as the odd couple make a quixotic journey to Ireland, to her old convent where the nuns still stick to their code of omerta, and then to the US in pursuit of the child who went missing half a century before.
Access unlimited streaming of movies and TV shows with Amazon Prime Video Sign up now for a 30-day free trial
Sign up
Stephen Frears was brought on to Philomena relatively late in the project's development. He is the ideal director for material that could have seemed either horribly mawkish or flippant in other hands. Frears isn't above squeezing out the pathos from the film's climactic moments but he also brings a dry British understatement to affairs. It's as if the director realises that the story he is telling carries a huge emotional kick anyway and that there is no point in trying to heighten matters with self-conscious camerawork (beyond one or two harrowing close-ups of Dench looking utterly forlorn).
The humour is there in abundance in the screenplay (by Coogan and Jeff Pope) but the director pitches the film so that it doesn't trivialise Philomena's plight. Nor is the tone solemn or hectoring. The film shows the cruelty of the nuns, but Frears isn't interested in making an anti-Catholic diatribe. This is a human-interest story, after all, not a polemical documentary. Philomena herself is a forgiving type and Frears tries to reflect that.
In its own light-footed fashion, the film touches on weighty themes, including the abusive way in which unmarried mothers were treated in 1950s Ireland, and the plight of gay couples in Reagan and Bush-era America. There are asides about back-stabbing in British politics. (The film is set just after Sixsmith has been sacked as a spin doctor for allegedly trying to bury bad news.) This is also a story about exile and loss.
During her lengthy screen and stage career, Dench has played plenty of very strong women, Mother Courage, Lady Macbeth, Queen Victoria, Elizabeth I and M among them. Compared to such figures, her character here may seem a little bit of a lightweight: an eccentric old lady on a quest. However, when it comes to Dench's most memorable roles, Philomena Lee ranks with the best of them – something that will surely be underlined when this year's awards season comes round.
Register for free to continue reading
Registration is a free and easy way to support our truly independent journalism
By registering, you will also enjoy limited access to Premium articles, exclusive newsletters, commenting, and virtual events with our leading journalists
Already have an account? sign in
Register for free to continue reading
Registration is a free and easy way to support our truly independent journalism
By registering, you will also enjoy limited access to Premium articles, exclusive newsletters, commenting, and virtual events with our leading journalists
Already have an account? sign in
Join our new commenting forum
Join thought-provoking conversations, follow other Independent readers and see their replies