Film reviews round-up: Kong: Skull Island, Catfight, The Love Witch, Dancer
A big budget monster mash, Anne Heche vs. Sandra Oh, a feminist witch tale, and a doc on ballet's bad boy
Geoffrey Macnab
Wednesday 08 March 2017 13:14 Comments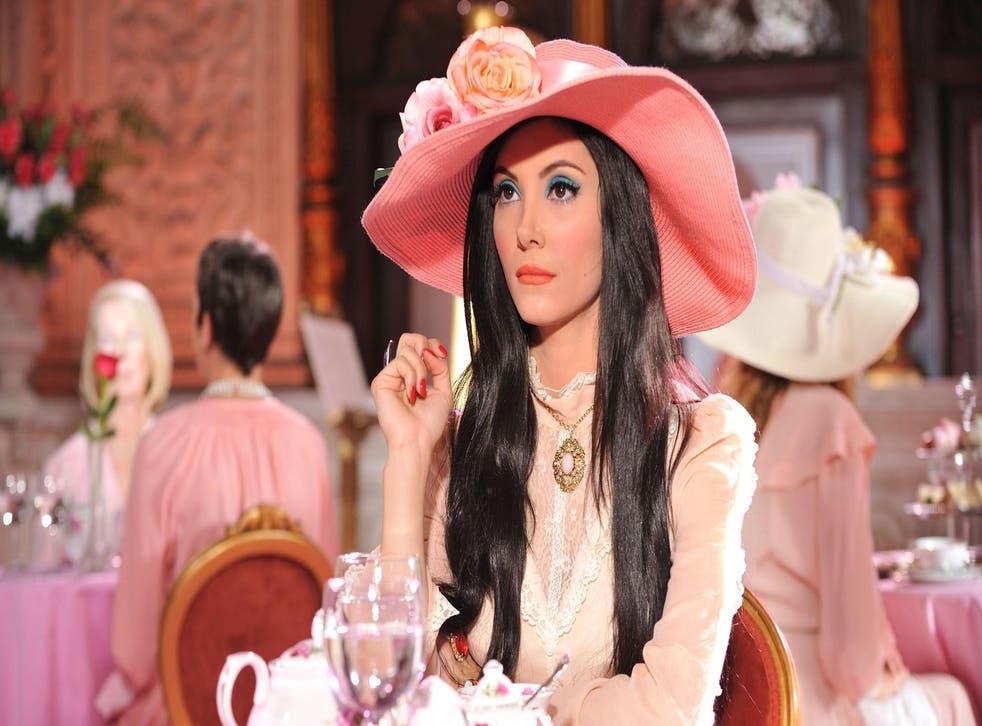 Kong: Skull Island (12A)
★★★☆☆
Jordan Vogt-Roberts, 118 mins, starring: Samuel L. Jackson, Brie Larson, Toby Kebbell, Tom Hiddleston, John Goodman, John C. Reilly
There's a moment in Kong: Skull Island in which we see the giant ape eating a human and are then shown a close-up of someone munching on a sandwich. In IMAX 3D, the latter image is just as disquieting as the former. A little later, Kong ("he's king around here") slurps up an enormous octopus.
This is a story full of ants ("big ones"), wildebeest that are the size of bungalows, spiders with bamboo-like legs as long as skyscrapers and vicious lizard-like creatures called "skullcrawlers". There is so much new wildlife introduced scene to scene that you half expect David Attenborough to appear from behind a tree in a pith helmet to talk us through the origins of all these new species.
Instead of Attenborough, the film offers us as our guide a British tracker and explorer called James Conrad (apparently ex-special forces). But Tom Hiddleston is just a little bit too urbane and metropolitan to be fully convincing as an Indiana Jones-type.
The pleasure of the film, directed with plenty of vigour by Jordan Vogt-Roberts, lies in its absolute refusal to take itself remotely seriously. This may be a big budget summer action movie but the filmmakers' tongues are very firmly in their cheeks. "What imaginary monster are you hunting for now?" an exasperated politician asks the scientists from the secretive Monarch operation as they try to chisel out yet more government funding for their latest expedition.
It is worth remembering that when the original King Kong (now acknowledged as a classic) was first released in 1933, critics called it "a super goofy yarn about a 50ft ape who goes for a five-foot blonde". The new film shares the B-movie outlandishness and tendency toward kitsch of its predecessor. It opens with a Hell In The Pacific-style prelude set in 1944 and involving a Japanese officer and an American airman waging their own private war on the island before being interrupted by a gigantic creature with a huge furry paw.
Then, for reasons which aren't immediately obvious, we are whisked forward to 1973 to Nixon-era America. The early 1970s settings allow the filmmakers to throw in some strident Credence Clearwater Revival and David Bowie on the soundtrack as well as lots of self-conscious allusions to the Vietnam War and Apocalypse Now.
The hard-nosed army colonel Packard (Samuel L. Jackson), determined to show Kong that "man is king," has more than a passing resemblance to Robert Duvall's Bill Kilgore in Apocalypse Now. He doesn't get to say that he loves the smell of napalm in the morning but the script feeds him plenty of equally pithy and belligerent one-liners.
Kong: Skull Island - Trailer 3
Just in case we're missing the Joseph Conrad references, John C. Reilly's character is called Marlow (the name of the narrator in Heart Of Darkness) and gets to take a boat down river. He has been stuck on the island since the Second World War and there is lots of laboured Rip Van Winkle-like humour about how much the world has moved on since he last read a newspaper or checked the latest baseball scores.
Access unlimited streaming of movies and TV shows with Amazon Prime Video Sign up now for a 30-day free trial
Sign up
Reilly plays Marlow as a good-natured, slightly buffoonish figure. He has won the trust of the local inhabitants (who are portrayed in very patronising fashion that rekindles memories of the way Native Americans used to be stereotyped in westerns).
After her Oscar for the claustrophobic Room, Brie Larson enjoys the wide open spaces as Mason Weaver, a fearless war photojournalist in the Lee Miller mould. Inevitably, she's the one who sees the good in Kong – and he takes an obvious shine to her too. (Unlike other heroines in King Kong films, from Fay Wray to Jessica Lange and Naomi Watts, she isn't blonde. It doesn't put Kong off her in the slightest).
This isn't a film in which any of the actors will receive awards for their performances. Nonetheless, most of them seem to relish the preposterousness of a project in which they all run the risk of ending up as finger food for a hungry ape. John Goodman is the hard-driving scientist, desperate to find out what he can about the beasts on Skull Island. It is implied, a little ridiculously, that this may help the Americans in their Cold War battles with the Soviets.
Kong himself starts as a figure of dread but we realise that he's just responding in kind to the violence of the humans. In fact, he is the guardian of the kingdom. Without him to keep the skullcrawlers in check, the fragile ecosystem would be destroyed.
At times, it's hard to work out the point of this reboot. The filmmakers haven't re-invented Kong in a radical fashion. He still beats his breast and roars in much the same way that he always has done in the past. Skull Island is best not thought about too deeply. It's old-fashioned matinee fare with a very creaky plot, very decent special effects and plenty to chuckle about along the way. Kong himself is set to return in a new feature in which he will share the screen with Godzilla. That is surely a sequel too far – an idea even more monstrously silly than this one.
Catfight (15)
★★★☆☆
Onur Tukel, 95 mins, starring: Sandra Oh, Anne Heche, Alicia Silverstone, Justin Ahdoot, Dylan Baker, Tituss Burgess
On the evidence of Catfight, whether you're rich or poor in America, successful or a failure, it makes little difference. You're not going to be happy either way.
Onur Tukel's film is dark in its satire. It's organised around three extremely vicious and prolonged fights between former college friends Veronica (Sandra Oh) and Ashley (Anne Heche).
As first encountered, Veronica is a wealthy New Yorker who drinks red wine by the gallon and who is so materially minded that she can't bear the idea of her teenage son becoming an artist. Ashley seems to prove her theory. She has been painting since college but nobody buys her work. She earns extra money by helping her girlfriend (Alicia Silverstone) out as a caterer at parties. That's how she runs into Veronica, who is extremely condescending toward her.
When the two women start their brawl, they don't hold back. Every punch and smack reverberates loudly on the soundtrack. The women have a strange approach to conflict. One will smash the other and will wait for the other to hit her back. It takes a while to realise that Tukel's storytelling is highly stylised.
This is a glorified Punch and Judy show, not a realist drama. The ironic use of classical music including Beethoven's Fifth Symphony on the soundtrack hints at the director's cartoonish intentions. As the two women feud in New York, America is about to start its latest war in the Gulf (a conflict we see referred to continually in a satirical TV news show). This war is to the benefit of the women: Veronica's husband is a security contractor who makes money from it while it seems to create an appetite for Ashley's rage-filled painting.
Both Veronica and Ashley have their ups... and their impoverished, humiliating, battered, bruised and comatose downs. They may pay lip service to the idea of being "nicer to people" after they get their comeuppances but put them in a room together and it will be only a matter of time till the brawling recommences.
The pessimism of Catfight is belied by the very lively performances from the two leads. Heche relishes the chance to vent her inner fury while Oh matches her for vengefulness and spite. It's hard, though, to work out just what the film is attacking. Is this an anti-war parable? Is it a movie about the perils of success and the bizarre vagaries of the art market? Is it a study in a friendship gone sour? We're never quite sure but the nagging suspicion remains that this is really just a film about two women with a compulsive desire to beat one another to a pulp.
The Love Witch (15)
★★★☆☆
Anna Biller, 118 mins, starring: Samantha Robinson, Jeffrey Vincent Parise, Laura Waddell, Jared Sanford, Robert Seeley
The Love Witch plays like an adult version of TV's Bewitched. Instead of the modest nose-wrinkling witch played by Elizabeth Montgomery in that series, writer-director Anna Biller offers us the altogether more subversive Elaine (Samantha Robinson). She uses her spells and potions to explore her sexuality – and leaves a trail of dead and distraught lovers in her wake.
Set in 1960s California, the film is shot in glowing pinks and reds. Biller pays exhaustive attention to costume and production design. At times, the film teeters on the edge of kitsch but it holds together both as a thriller and as a luridly ingenious horror film. There are nods in the direction of everything from Psycho to Rosemary's Baby and scenes of burlesque that rekindle memories of Bettie Page.
Even in the film's most far-fetched moments, Biller has trenchant points to make about conservative, middle-class America's fear of female sexuality and the double standards that apply to men and women's romantic behaviour.
Dancer (12A)
★★★★☆
Steven Cantor, 85 mins, featuring: Sergei Polunin
This documentary about Ukrainian dancer Sergei Polunin turns out not just to be a film about ballet but a poignant account of a family coming apart. The cocaine-taking, tattooed Polunin has been dubbed the "bad boy of ballet" but seems personable enough here. He was a talented young gymnast from a humble background whose parents skimped and saved to give him the chance to pursue a ballet career.
He was living his mother's dream as much as his own. Without his family, he would never have had his chance. However, when he went to the Royal Ballet School in London (where he was to become the youngest ever principal) he had to leave his parents behind. His motivation for becoming a star dancer was to bring the family back together again - but his parents' divorce scuppered that dream.
Steven Cantor's film benefits from some extraordinarily rich archival sources. There are grainy videos of Polunin as a youngster, first beginning to dance in Kiev; footage of him rehearsing with a Nijinsky-like intensity as a teenage student in London and off-duty material shot on cell phones of him getting up to mischief with his friends in London. The film reveals the extreme sacrifices he made to become the world's best dancer.
He speaks frankly about the physical grind, loneliness, and monotony of his life in ballet and of his struggle to stay motivated after quickly achieving every goal he set himself when starting out.
Polunin looks a little like Zlatan Ibrahimović and has Zlatan's self-belief. The documentary (executive produced by Steve Coogan) highlights his brilliance as a performer but its real richness lies in its frank and painful account of just what it took for him to reach the top and of his doubt about what to do once he got there.
Register for free to continue reading
Registration is a free and easy way to support our truly independent journalism
By registering, you will also enjoy limited access to Premium articles, exclusive newsletters, commenting, and virtual events with our leading journalists
Already have an account? sign in
Join our new commenting forum
Join thought-provoking conversations, follow other Independent readers and see their replies