Film review: Ryan Gosling lends The Place Beyond the Pines its headlong, fatalistic charge
(15)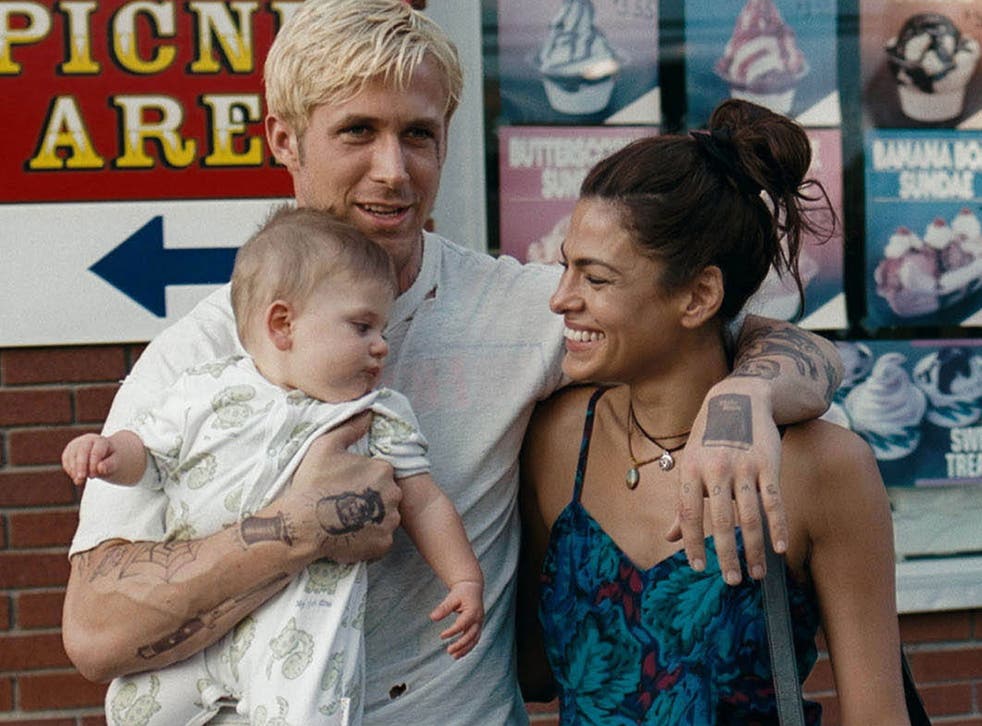 I started watching The Place Beyond the Pines without knowing much about it, and I wish you could, too. Its daring switches of tempo and character took me by surprise, as did one time jump that seems at first so outrageous that the film can't possibly get away with it. The writer-director Derek Cianfrance gave notice of his talent in the marital tragedy Blue Valentine (2011), which also worked a provocative time trick by eliding scenes from a couple's early courtship with scenes from their breakdown.
That film was a two-hander, and a chamber piece more or less. The Place Beyond the Pines starts out like a small-scale independent drama before revealing itself as a more ambitious project, a triptych that ranges (and rages) over manhood, fatherhood, responsibility, remorse and the strange workings of destiny. It goes on too long, and it falters in its endgame, but by this point we can't help being on its side.
Cianfrance has reunited with his Blue Valentine star Ryan Gosling, whom we first see striding, back to camera, through an upstate rural fairground. He's Luke, a motorcycle stunt rider who's been on the road so long he wouldn't know home from a hole in the ground. His act involves riding his bike around a tight spherical cage, which would be difficult enough without two other riders crisscrossing him. As a metaphor of life it hardly requires comment. He meets Romina (Eva Mendes), a woman he had a fling with when he was last in town.
By chance he discovers that she has an infant son – by him – and now lives with a man (Mahershala Ali) who's taken on the boy as his own. Out of naive and desperate chivalry Luke decides that he's going to do right by the kid. But how to get money? He has a friend named Robin (Ben Mendelsohn), no Boy Wonder but a car mechanic who knows a bit about robbing banks. Luke's got the perfect getaway vehicle in his motorbike, and thus they join felonious forces: "Not since Hall and Oates has there been such a team."
The script, co-written by Cianfrance, Ben Coccio and Darius Marder, is less interested in drolleries like that than in structure and setting. The drab milieu of Schenectady, NY, comes through vividly, early on in scenes of hardscrabble working lives – diners, fairgrounds, backwoods garages – later in the middle-class territory of suburban homes with swimming-pools. The first time these two categories overlap it's marked by violent tragedy. Gosling's performance is key, lending the film its headlong, fatalistic charge and invoking memories of his stylish wheelman in Drive.
His Luke turns out be a more volatile character than we thought, his suspect temperament betraying him into sloppy technique. When he goes solo on a bank job he forgets his face disguise – not a good idea when you've got a dagger tattoo below your eye – and his getaway has the panicked momentum of a fox pursued by hounds.
It's a breathless set-piece we're still recovering from when the film jumps tracks to focus on a police officer named Avery (Bradley Cooper). Like Luke he's the father of a young son, and also grappling with his conscience. Acclaimed a hero for his role in an incident on the beat, he finds himself all at sea with a wife (Rose Byrne) he can't talk to and an ex-judge father (Harris Yulin) he can't live up to. Again, Cianfrance and his writers throw a clever feint in these first impressions. The vulnerable cop we think he is, suborned by a bad-apple older colleague (and played, almost inevitably, by Ray Liotta), turns out to be a much tougher and wilier proposition, though not before a long and terrifying car journey in which the "hero" practically whimpers at the prospect of being whacked.
This middle section, recalling the Sylvester Stallone movie CopLand, is as good as, if not better than, the first, with Cooper excelling as an archetype, the principled man who is personally rather dislikeable. Much as I enjoyed him in The Hangover, I never imagined this actor capable of such layered character work.
It is when the film tries to dovetail the two stories in a grand finale of revenge that the wheels start coming off. For one thing, the leap of 15 years is quite a stretch in the ageing department: Cooper has merely grown his hair a bit, Mendes streaks hers with unconvincing grey, and Byrne stays exactly the same. Fifteen years? More like 15 minutes. But the real problem is to do with the way the sins of the father are imprinted on the teenage offspring of cop and robber.
Access unlimited streaming of movies and TV shows with Amazon Prime Video Sign up now for a 30-day free trial
Sign up
Cooper, by now a careerist running for State Attorney General, has an obnoxious druggy son (Emory Cohen) who somehow befriends Jason (Dane DeHaan), a skinny, sensitive kid who's much too slow on the uptake about his old man. Forget the coincidence of their meeting, these two would never be friends. DeHaan is extraordinarily good in the role, but he's asked to shoulder far too much melodrama in the last 20 minutes. The mood of disaffection and menace that has haunted the film thins out here; the thrilling particularities of the earlier parts have succumbed to generalities.
By the end, though, the ledger shows the film still heavily in credit. I keep remembering moments from it, like Gosling's cool nod of gladiatorial bravado to his co-stuntmen before they enter the cage; and Cooper's long stare of hopelessness as his words dry up in conversation with a police psychologist. Or the truly scarifying sight of Liotta's eyes as he bends to a car window. Cianfrance gets the right stuff out of his cast, and his cinematographer Sean Bobbitt lights the grimy, troubled corners of Schenectady with persuasive sadness. Not all of it compels, but the parts that do are fantastic.
Join our new commenting forum
Join thought-provoking conversations, follow other Independent readers and see their replies