Film reviews round-up: Red Sparrow, Game Night, A Fantastic Woman
Also: 'The Nile Hilton Incident' and 'Monster Family'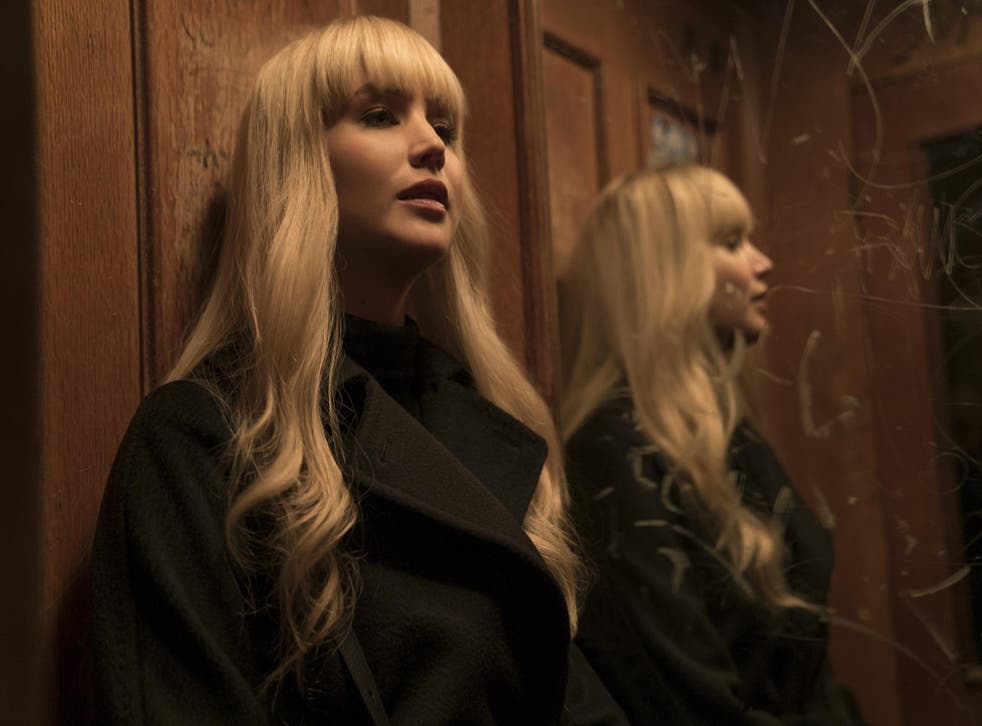 Red Sparrow (15)
★★★☆☆
Dir Francis Lawrence, 140 mins, starring: Jennifer Lawrence, Joel Edgerton, Jeremy Irons, Matthias Schoenaerts, Charlotte Rampling, Mary-Louise Parker, Joely Richardson
Jennifer Lawrence is put through the wringer in the luridly entertaining new thrillerRed Sparrow. Her character, leading Bolshoi ballet dancer-turned Russian spy Dominika Egorova, is told early on that her "body belongs to the state". This is the excuse for her to be tortured, sexually assaulted, beaten up, stabbed and blackmailed. She is the symbolic sacrificial victim. There is something very perverse about the filmmakers' desire to inflict as much pain on her as possible, as if in extreme resentment that she is one of the highest paid movie actresses in the world.
Hollywood tends to offer two kinds of spy movies. This can be the bleakest of genres. Films like The Spy Who Came in from the Cold or, more recently, Bridge of Spies are studies in betrayal, subterfuge and human weakness. By complete contrast, James Bond-like fantasies emphasise the action, the glamour, the sex and all the foreign travel. Red Sparrow sits between the two. Its vision of contemporary Russia is both grim and cliché-laden. We are told more than once that the Cold War isn't over – it has "shattered" into multiple mini-conflicts. The west has grown weak, "drunk on social media and shopping" as we are told in the film's single most toe-curling line, and the Russkies are looking to capitalise on western decadence. That's why they are training up young men and women to set honey traps for credulous and sentimental American spies. Much of the plot seems so far-fetched that it comes as a surprise to learn that Jason Matthews (author of the novel on which the film is based) was actually a CIA operative himself whose job was running foreign agents.
Dominika and the other main characters in the Moscow scenes speak English with the kind of heavy Russian accents you associate with Smersh or Spectre agents in Bond stories. There's a very svelte and sinister-looking Matthias Schoenaerts as Dominka's spymaster uncle Ivan – he's the one who lures her into the espionage business. Ivan's bosses include a bespectacled, professorial-looking Jeremy Irons as General Korchnoi, Ciarán Hinds as the extremely dour Colonrel Zyuganov, and Charlotte Rampling as the martinet, Rosa Klebb-like "matron" at the school for seduction where Dominika is enrolled after her ballet career crashes to a halt. (This is where spies go to learn "how to love on command".)
At the start of the film, Dominika is a prima ballerina at the Bolshoi but still lives in Soviet-style poverty in a tiny Bolshoi-owned apartment with her apparently ailing mother (an incongruously glamorous Joely Richardson) to whom she is utterly devoted.
We get to see Lawrence's Dominika in full-blown Margot Fonteyn-mode on stage. Lawrence may not be a natural ballet dancer but she looks convincing enough as she leaps and pirouettes.
Director Francis Lawrence can't resist throwing a few Hitchcock-like ideas into the mix. Dominika dyes her hair blonde so she look like Kim Novak or Tippi Hedren in a Hitchcock thriller. The American spy "Nate" Nash (Joel Edgerton), who becomes obsessed by her, has some of the same everyman qualities as James Stewart in one of those thrillers. Nate, though, is a peeping tom by instinct as well as by profession. He ogles the women at the swimming pool in Budapest. The Russians, who've checked his browsing history, know that he likes to look at pornography (not something you ever catch Bond or Jason Bourne doing).
The problem with Red Sparrow, as in many other spy movies that rely on multiple levels of deception, is that there is no firm ground. Everyone is tricking everyone else. If characters declare love for one another or never-ending loyalty to their country, this might just be another double bluff. As a result, it is quite impossible to trust any of the protagonists or to believe in them. With its Cold War mentality, the film feels antiquated. No one appears to have told director Lawrence and his team that the Iron Curtain has come down. Certain scenes are surprisingly graphic. We see Dominika sexually humiliating one fellow recruit in "seduction school" who has tried to attack her. There is also some very unpleasant business involving garrotting and skin flaying. The filmmakers are delving into same very dark places at the same time that they are making an escapist and, at times, tongue-in-cheek thriller.
Francis Lawrence has worked with Jennifer Lawrence on three of the Hunger Game movies. Red Sparrow plays like an adult version of that franchise. Lawrence's Dominika is up for every challenge, just as her Katniss Everdeen used to be in the Hunger Games franchise. The difference is that Lawrence's Katniss was more a freedom fighter and an athlete than a Mata Hari. You can't help but admire her gumption in taking on the role here and then being ready to do everything it entailed (including the gratuitous nudity). Like her character, she has somehow found a way of "inuring herself" to everything she "finds most repellent".
Access unlimited streaming of movies and TV shows with Amazon Prime Video Sign up now for a 30-day free trial
Sign up
Domenika may be made to suffer but she dishes out the violence as well. If her fellow ballet dancers betray her, she has no compunctions at all about bludgeoning them nearly to death. She is every bit as lethal as Charlize Theron's MI5 agent in last year's Atomic Blonde, another film which provided an uncomfortable mix of brutal, hardboiled action and comic-book escapism.
Francis Lawrence keeps the tempo high. He knows how to generate suspense and how to suggest horror without showing it directly. (In the most gruesome scenes, we don't actually see victims' skin being peeled off their bodies – we just think we do.) Even so, this is a curiously old-fashioned thriller with a bizarre view of US-Russian relations. It is also strangely prurient. The filmmakers seem to be drawing on the worlds both of George Smiley and of Austin Powers – and that makes for as bizarre a spy movie as you will see in a very long time.
Game Night (15)
★★★☆☆
Dirs Jonathan Goldstein, John Francis Daley, 100 mins, starring: Rachel McAdams, Jesse Plemons, Jason Bateman, Billy Magnussen, Kyle Chandler, Sharon Horgan
Comedy-thriller Game Night is a hoot – at least, to begin with. The raucous energy of the early scenes isn't sustained and the film becomes increasingly repetitious and silly. The comedy elements here work far better than the thriller ones
Max (Jason Bateman) and Annie (Rachel McAdams) fall in love because they share the same ultra-competitive genes. Neither one can bear to lose a barroom quiz let alone an evening of charades or Scrabble. Winning at parlour games is no trivial pursuit for them. It's their very reason for existence.
Bateman and McAdams make a delightful comic couple and put across the gags and one-liners in Mark Perez's screenplay with plenty of zing and self-deprecating irony. They're very likeable protagonists. The problem is constructing an entire feature film around characters who would surely function much better in a sitcom. This is where Max's big brother, Brooks (Kyle Chandler), comes in. He has always been cleverer, richer, better hung, more handsome and more lucky than Max. The stress of even thinking about him affects the "motility" of Max's sperm and is seemingly the reason why he and Annie haven't yet been able to have any kids. Brooks breezes back into town, immediately antagonises his brother and takes the art of one-upmanship to extreme levels by organising a "game night" on a scale that Max and his friends can't match. Kyle has organised for armed kidnappers (or, at least, out-of-work actors playing them) to make off with one of the guests. The challenge for the others is to find the kidnap victim first. It's at this point the film slowly begins to unravel. Inevitably, the armed kidnappers turn out to be real criminals.
Game Night offers plenty of incidental pleasures along the way. Billy Magnussen is very funny as Ryan, the dim-witted womaniser who gets the wrong end of every available stick. Sharon Horgan is in enjoyably sarcastic groove as Ryan's Irish "date", who is infinitely smarter than he is. Lamorne Morris and Kylie Bunbury are good value, too, as the long-married couple Kevin and Michelle, childhood sweethearts, whose relationship begins to fray when Kevin discovers Michelle may once have slept with a celebrity (possibly even the great Denzel Washington himself). Much of the early part of the film concerns the Game Night players' efforts to avoid the creepy and earnest next-door neighbour, divorced police officer Gary (Jesse Plemons), who is desperate to join in.
The characters are all very vividly drawn but the plotting is so goofy it would barely pass muster in an off-colour episode of Scooby Doo. Villainous thugs emerge from where we least expect them. Whacky car chases and plane crashes are thrown into the story just to pep matters up. In one bizarre sequence, the friends stumble on a Fight Club-like event being thrown in the mansion owned by the ultra-wealthy, ultra-sleazy Anderson (Danny Huston). Sub-plots involving Fabergé eggs and names on a witness protection programme only serve to confuse matters further. Directing team John Francis Daley and Jonathan Goldstein are shameless in the glee with which they use one volte-face after another to confuse the audience. For all the charm of the performances, the film eventually spirals away into utter meaninglessness and you yearn for the games to end.
The Nile Hilton Incident (15)
★★★★☆
Dir Tarik Saleh, 111 mins, starring: Fares Fares, Mari Malek, Yasser Ali Maher, Ahmed Selim, Hania Amar, Mohamed Yousry
Corruption seeps into every pore of Egyptian society in Tarik Saleh's impressive thriller. It is 2011, the eve of the Arab Spring. Chain-smoking police officer Noredin Mostafa (Fares Fares) is on the take, like everyone else in Cairo. Without bribery and nepotism to oil it, the film suggests, the entire Egyptian state machinery would grind to a halt. Every time Noredin turns on the battered old TV set, President Hosni Mubarak and his cronies seem to be talking about their bold plans to rebuild society. Then comes the moment a Sudanese maid in a luxury hotel witnesses the killing of a young woman. Noredin's investigations into the crime, which he carries out at first in an entirely desultory and lackadaisical way, lead him straight to the heart of the ruling elite.
This is a political thriller which takes its inspiration from Roman Polanski's Chinatown. The convulsions elsewhere in the Middle East, for example in nearby Tunisia, are of no interest to Noredin, played in wonderfully lugubrious and fatalistic fashion by the imposing Fares, who seems at times like an Egyptian Philip Marlowe. His ailing father warns him that his integrity is being completely compromised but Noredin pays no attention and keep on skimming off bribes. This is what he has been taught to do by his uncle, a senior officer in the force.
Saleh includes all the ingredients of traditional Hollywood film noir – femme fatales, multiple plot twists, incriminating photographic negatives and gallows humour. One of its most original aspects of the film is that it is looking at the Mubarak regime from within. This isn't one of those rousing tales about protesters in Tahrir Square, taking on the security forces and trying to topple Mubarak. It's about someone who works for the regime and has a vested interest in seeing it stay in power. There is nothing obviously heroic about Noredin but he has a streak of decency about him which makes him persist with the case and keep on following the clues wherever they lead him. Swedish-based director Saleh shot The Nile Hilton Incident in Casablanca and in Germany but the film gives us a feel of street-level Cairo in the run-up to the revolution. It manages the feat of remaining a moody and atmospheric private eye-style mystery while offering more insight into the final days of Mubarak's presidency than any didactic, self-righteous documentary could ever manage.
A Fantastic Woman (15)
★★★★☆
Dir Sebastián Lelio, 104 mins, starring: Daniela Vega, Francisco Reyes, Luis Gnecco, Aline Küppenheim, Nicolás Saavedra, Amparo Noguera
The transgender heroine of Chilean director Sebastián Lelio's rousing melodrama fully lives up to the film's title. Marina (Daniela Vega) is a wonderfully complex, defiant and passionate character – and one who keeps her poise and dignity in the most trying circumstances imaginable. She is a singer and waitress with a much older boyfriend, Orlando (Francisco Reyes). He's a silver-haired, 57-year-old businessman from a very bourgeois background who has a wife and grown-up children. They simply can't accept that their father has taken up with a woman like Marina.
A Fantastic Woman unfolds over a few tempestuous days in Marina's life in which she experiences joy and sudden bereavement – and then fights with admirable tenacity to be allowed to grieve properly for her loved one. Lelio tells her story in a matter-of-fact way.
Exclusive clip for 'A Fantastic Woman', an Oscar nominee for Best Foreign Language Film
It appears as if the whole of Chilean society is pitted against Marina. She is "different" and is therefore regarded with extreme suspicion and hostility by Orlando's family, by the doctors and by the female police officer who keeps on snooping into her affairs. She endures every kind of humiliation imaginable. She's made to strip in a police station. She is treated as if she is a thief, a gold digger or a prostitute and is the victim of openly homophobic abuse. (At one stage, her tormentors wrap her face around with sticky tape so that she can't speak and her features are made to look squashed and grotesque.) Her boss won't give her time off work. Her feelings are regarded as utterly inconsequential by Orlando's colleagues and relatives. She doesn't have money or powerful friends – and yet she remains effortlessly classy.
Lelio's approach rekindles memories of films that John Cassavetes used to make with his partner and muse, Gena Rowlands, in which Rowlands would play women in similarly fraught situations but who take on a heroic quality in the way they deal with suffering. She appears in almost every scene of the film and is the only character Lelio focuses on in any depth.
Some of the events depicted here verge on the banal. We see everyday incidents from Marina's life as she copes with the fallout from the sudden death. Only once or twice does she express her emotions in an extravagant way but it's a measure of Vega's subtle and moving performance that we are always aware of her anguish. Marina refuses to go away or to apologise for what those around her see as her "perversion" – her refusal to stick by the fixed rules about gender, class, intergenerational romance or anything else. Lelio includes constant close-ups of his lead actress, looking pained and extremely vulnerable but still glamorous as everyone tries to sideline her.
Regardless of the story's sexual politics, Marina is the type of movie heroine that any audience will root for (one reason why it has secured an Oscar nomination). Lelio is far too subtle a filmmaker to provide big set-pieces in which she gets to turn the tables on her enemies. Beyond scenes in which she climbs on top of a car or is seen leaning forward into a wind that is trying to push her back, there aren't many big formal flourishes. Instead, Lelio conveys her courage and endurance through his delicately observed depiction of her encounters with Orlando's family members (who seem more interested in reclaiming his car, apartment and material possessions than in grieving for him properly). Whatever contempt they show, she just won't give up her right to mourn for the man she loved or to express her own independence.
Monster Family (PG)
★☆☆☆☆
Dir Holger Tappe, 93 mins,voiced by: Emily Watson, Nick Frost, Celia Imrie, Jason Isaacs, Jessica Brown Findlay, Catherine Tate
Computer animated feature Monster Family (released in cinemas and on Sky Cinema at the same time) is a clunky, ungainly and misconceived affair, neither witty nor visually imaginative enough even to begin to compare with the best Hollywood animation.
The film seems to be set in New York and yet its main characters, the Wishbones, are all voiced by British actors in British accents. They're an unhappy family, always squabbling with one another, Emma Wishbone (Emily Watson), runs a bookshop that has fallen on hard times. Her woebegone husband Frank (Nick Frost), who suffers from extreme flatulence at times of stress, has a soul-destroying office job. Their son Max (Ethan Rouse) is nerdy and bullied at school. Their teenage daughter Fay (Jessica Brown Findlay) is behind on her studies and suffering from adolescent romantic angst. The bizarre plot sees Emma taking the family in monster costume to what she thinks is a costume party. They're mistaken for the band, kicked out when it becomes obvious they can't play and then turned into real monsters by Baba Yaga (Catherine Tate), a hairy-faced crone who works for Dracula (Jason Isaacs). The Prince of Darkness has taken a shine to Emma and wants her to become his vampire bride.
German producer and director Holger Tappe is unable to bring any snap or energy to the storytelling whatsoever, or to make much capital out of the high-profile voice cast. Scenes drag interminably. Whether the monsters are stuck in deepest Transylvania or lost in the Egyptian desert, the same leaden feeling persists. The moralising is hard to take too. We know right from the outset that the real aim here is to show that the bickering Wishbones love each other really and will learn how to exorcise their demons and live together as a happy family, all in time for the final reel.
Join our new commenting forum
Join thought-provoking conversations, follow other Independent readers and see their replies