Film reviews round-up: Darkest Hour, My Life Story, A Woman's Life, Eric Clapton: A Life in 12 Bars, The Brawler
A Bafta nominee, two musical documentaries, an unusual period piece, and an underdog boxer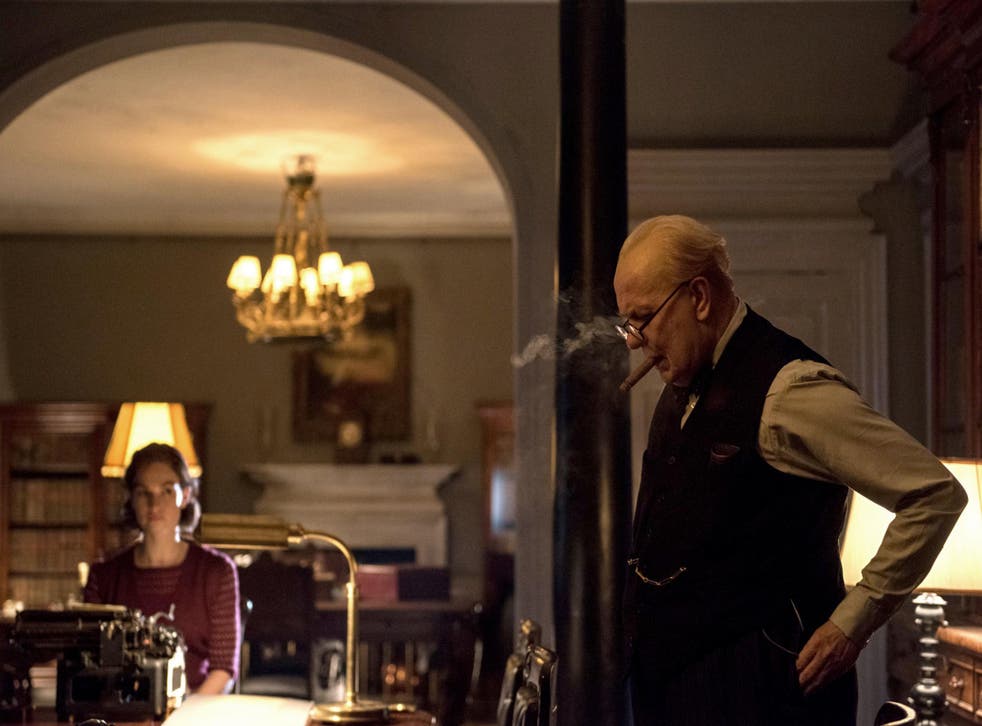 Darkest Hour (PG)
★★★★☆
Dir Joe Wright, 125 mins, starring: Gary Oldman, Kristin Scott Thomas, Lily James, Ben Mendelsohn, Stephen Dillane
Winston Churchill (Gary Oldman) is first seen in Darkest Hour in bed, having breakfast. No, Weetabix isn't on the menu. There is a massive plate of bacon, sausages and eggs, a full "English," but the food is getting cold because he has a cigar to deal with, and a big glass of whisky too.
He is dictating letters, answering telephone calls and bawling out his new secretary, Elizabeth Layton (Lily James.) He has barely been on screen for a moment but we are immediately given a sense of his childishness, his pomposity, his eccentricity, his way with words and his ability to juggle multiple tasks at once. The date is 10 May 1940 and he is on the verge of fulfilling his lifetime ambition and becoming Prime Minister.
Oldman, who has just won a Golden Globe, is in phenomenal form as Churchill. He doesn't underplay at all. There wouldn't be any point in that. He blusters and bellows, makes V signs, smokes cigars, and generally lives up to everybody's preconceptions about the man voted in a 2002 BBC poll as the "greatest Briton of all time".
This, though, is acting that moves well beyond caricature and bowler hat-wearing mannerism. Oldman's Churchill is devious, alcoholic and conceited, but also resilient and perceptive. He's riven with guilt about Gallipoli and also fretting about household expenses. (His wife can't afford to pay the bills.)
Oldman doesn't look entirely like his character. Even after the hundreds of hours of make-up, he's not as bulky as Churchill. When he is prowling down the corridors of Whitehall, he seems far more nimble than you'd expect a man of his age and girth to be. None of this matters.
Oldman's great insight is that Churchill was giving a performance. "Be yourself," his wife Clemmie (an improbably glamorous Kristin Scott Thomas) tells him as he prepares to take office. "Which self should I be today?" he replies. Oldman is a chameleon playing a chameleon.
Director Joe Wright takes the film's title at face value and shoots it as if it is a film noir. Whether it's the House Of Commons, or Buckingham Palace, where Churchill is summoned by an untrusting King George VI (played by Australian actor Ben Mendelsohn in an altogether sterner way that he was by Colin Firth in The King's Speech) or the Cabinet War Rooms, every interior is bathed in heavy shadows.
This is a chamber piece but one done on an epic scale. The camera never stops moving. Every so often, Wright throws in surprising formal flourishes to take us away from the talking heads. For example, when Churchill gives an address on the radio, his face is bathed in red light from the broadcasting equipment. The film cuts to a high angle shot of Europe in flames. From the red of the fires, we next see a huge close up of the face of a dead soldier, whose eye is also bloodshot red.
Access unlimited streaming of movies and TV shows with Amazon Prime Video Sign up now for a 30-day free trial
Sign up
The backstairs intrigues here are putting the nation's future at risk. Although the film opens with black and white footage of massed forces of German tanks, soldiers and generals, the "villains" aren't just Hitler and Mussolini; in the two or three weeks in May that the story covers, Lord Halifax (Stephen Dillane) and Neville Chamberlain (Ronald Pickup), are Churchill's main antagonists.
For reasons the film doesn't fully explain, Halifax has passed over the chance to become Prime Minister himself. The pacifist Chamberlain has been ousted because the opposition won't accept him as a wartime leader. He is ill with cancer. Both men still want to sue for peace.
The film portrays them in a highly ambivalent fashion. They may be trying to stem the bloodshed and slaughter but they're always shown in a furtive light, as if they're traitors, hiding in corners, conspiring against their own country as they try to engineer a vote of no confidence against Churchill.
At one stage, Churchill reveals that he has hardly even travelled on London's public transport system. Nor, it appears, has screenwriter Anthony McCarten. The film's most crucial scene involves the Prime Minister, at his weakest and most anguished point, making a single stop journey on the Underground.
This would normally take a minute or two at most but the journey lasts for a small eternity as Churchill meets a selection of salt-of-the-earth British types – bricklayers, housewives and the like – who reinforce him in the conviction that Britain must never surrender.
Much of the first half of Darkest Hour is devoted to highlighting Churchill's foibles: his childlike dependence on Clemmie, his drunkenness, his boorishness, his "delusional" perspective on the war, and his tendency towards depression.
In the latter part of the film, we finally begin to see just what made him such an inspirational leader; it wasn't just his rhetoric but the clarity of his vision. For all his egotism, he paid attention to the public in a way the other politicians didn't.
Unlike Halifax and Chamberlain, he also understood that Britain had to fight, even if it was facing likely defeat and annihilation."If we were beaten, we should be no worse off than we should be if we were now to abandon the struggle," he roars at his War Cabinet. "You cannot reason with a tiger when your head is in its mouth." He argued that "nations which go down fighting rise again" but those that "surrender tamely are finished."
Thankfully, Darkest Hour largely steers clear of jingoism. This isn't an uncritical celebration of British bulldog spirit but a nuanced portrait of Churchill at a key point early in the war. At times, as played by Oldman, he's like one of those forlorn characters in a Samuel Beckett play, an old man consumed with guilt and regret.
We know, though, that he'll soon find the words that won't just banish his own doubts but those of the nation too. The expressive, rapier-thin Oldman was improbable casting as spymaster George Smiley in Tinker, Tailor, Soldier Spy and is an even less likely choice to play Churchill but he tackles the role in bravura fashion, showing us the character's weaknesses and how far he had to go to overcome them.
My Life Story (15)
★★★★☆
Dirs Julien Temple, Owen Lewis, 96 mins, starring: Graham McPherson (Suggs), Dean Mumford, Perry Benson
In recent years, Julien Temple has been providing an alternative social history of Britain through his music documentaries about the Clash, the Sex Pistols and Wilko Johnson. In My Life Story (which he co-directed with Owen Lewis), he is working with Graham McPherson (Suggs from Madness) on a screen version of Suggs's "stage" autobiography.
It's an eccentric, wildly entertaining and very inventive affair which combines live performance and music hall references with documentary elements. There is even some animation thrown in. Suggs is a wonderful raconteur with a witty turn of phrase who, amid the wisecracks, deals frankly with troubling elements in his family history.
The stage show begins with the conceit that Suggs has just turned 50. He's not sure whether that is an excuse for a celebration or a wake. His beloved cat has died in freak circumstances. From this starting point, Suggs takes us on a whistle-stop tour through his life, accompanied by his pianist Deano.
We learn about his jazz singer mother. He goes in search of his mysterious father, who vanished from his life when he was very young. At the start of his journey, he knows very little about his father other than that his mother said he was the nicest man she had ever met and that he may have been a heroin addict.
Suggs tells us how he chose his stage name (Peter Suggs was a Kentucky jazz drummer he found listed in a jazz encyclopaedia). In this portrait of an artist as a young nutty boy, he gives an uproariously entertaining account of his school days in north London, his exposure to punk in 1977, how Madness came into being, and how he became the band's lead singer.
We discover the autobiographical background to his best-known songs, among them "Baggy Trousers", and he also has wry stories about his collaboration with Jerry Dammers of the Specials, the band Madness joined on the famous 2 Tone Tour.
As Suggs narrates on stage, Temple illustrates his anecdotes with archive material and reconstructions. The singer's colourful version of his own life is delivered in a style that rekindles memories of old Galton and Simpson comedies like Hancock's Half Hour and Steptoe And Son.
There are some tremendous stories along the way including one about Madness members dressed as police officers, pretending to bust a studio where the Clash were rehearsing. One tic that does become irritating is Temple's tendency to cut away to close-ups of glamorous looking audience members, laughing wildly at Suggs' latest jokes.
Suggs was only 27 when Madness broke up. The latter parts of the film, in which he tells us about his misadventures as a DJ and TV quiz show host, don't have anything like the madcap energy of the early episodes, detailing the band's rise to fame.
Suggs reveals how Madness, when they reformed, managed to cause a Force 5 earthquake in Finsbury Park. (This seems like an urban myth but Temple has archive footage of a seismologist saying on camera this really did happen.)
There is also a good story about Madness stepping into the breach to help out a French promoter when the Gallagher brothers had a row and Oasis refused to perform at a big event in Paris.
My Life Story, which is being given an "event" release in multiple cinemas on 17 January, is uneven but it is funny and abrasive enough never simply to seem like an exercise in nutty boy nostalgia. Like all of Temple's music films, it has plenty to tell us not just about the ups and downs in its subject's life but about equally seismic changes in British society as well.
A Woman's Life (12A)
★★★☆☆
Dir Stéphane Brizé, 116 mins, starring: Judith Chemla, Jean-Pierre Darroussin, Yolande Moreau, Swann Arlaud, Nina Meurisse, Olivier Perrier
In the course of Stéphane Brizé's gruelling new film (adapted from Guy De Maupassant's A Life), its young heroine is put through the emotional wringer. Jeanne (Judith Chemla) is an aristocrat, growing up in rural Normandy in the early 19th century. She has devoted parents. There is nothing to suggest her life will be anything other than one of bland contentment.
Brizé shoots A Woman's Life in detached, matter-of-fact style. If Jeanne's ne'er-do-well husband, the handsome but impoverished young Vicount Julien de Lamare (Swann Arlaud) is betraying her with another woman, or if two lovers are caught in flagrante and killed, he will depict the scenes in the same sober way as he shows Jeanne's father tending his garden. There are no melodramatic flourishes, even when you most expect them. The harpsichord music also has a distancing effect.
At times, Brizé's technique is alienating. His protagonists show very little emotion. He follows them as if he is a naturalist, studying behaviour as it occurs. He doesn't judge any of the characters either, even if their actions do leave Jeanne in a state of increasing despair as the years pass.
Chemla's performance is as understated as Brizé's direction. She accepts her misfortunes passively and without complaint. One of the main points of the film is that she has no control over her own destiny. The menfolk make all the decisions on her behalf and invariably to her disadvantage. The money is spent and the family's farms are mortgaged but she can't do anything to stop the wealth ebbing away.
The most climactic moments tend to happen off screen. We will see Jeanne sitting patiently at home as she receives yet another letter from her wastrel son, who is racking up debts far away in London and is slowly bankrupting the family.
There is something almost comic in his behaviour. He means well but can't avoid leaving chaos in his wake wherever he goes. She is doggedly devoted to him, just as she was when he was a brattish child being bullied at school.
"Life is never as good or as bad as one thinks," is the line from De Maupassant that ends the film. Its use seems highly ironic. There is nothing "good" about Jeanne's life at all. This is a story of endurance and of quiet misery, a costume drama in which a naive and beautiful young French aristocrat who seems to have every advantage endures an increasingly wretched existence. It doesn't make for cheerful viewing but, in its own downbeat way, A Woman's Life makes absorbing filmmaking.
Eric Clapton: Life In 12 Bars (15)
★★★☆☆
Dir Lili Fini Zanuck, 131 mins, featuring: Eric Clapton
"Clapton is God" read the graffiti daubed on the corrugated iron wall on Arvon Road in Highbury as an Ena Sharples-like old lady walked by, frowning at the camera. It was a famous photograph from the 1960s and sums up the enormous regard in which Eric Clapton was then held by British blues enthusiasts.
Archive-based documentary Eric Clapton: Life In 12 Bars tells Clapton's story. An introverted little boy from Surrey somehow discovered BB King and taught himself how to play the guitar. He was from a very English, very home counties background but, as the film reveals, his life has featured as much turbulence as that of any old American bluesman who sold his soul to the devil at the crossroads.
Director Lili Fini Zanuck, previously best known as the producer of Driving Miss Daisy and director of the 1991 thriller Rush, follows a strategy familiar from several other recent documentaries. The interviewees are heard, not seen.
This avoids the problem of having various elderly men and women reminiscing about their hedonistic youths. Instead, we see them as they were, in the prime. The filmmakers have done an excellent job in drawing together film, photographs and audio material both from Clapton's professional career and from his private life.
We learn of his dismay as a youngster when he discovered the woman he had always assumed to be his mother was, in fact, his grandmother. He had been told that his real mother, who had had had him when she was a teenager, was a sister.
The first part of the film offers a fascinating account of Clapton's early years in bands like the Yardbirds, John Mayall & the Bluesbreakers, Cream and Blind Faith. Roger Waters of Pink Floyd is heard on the soundtrack, explaining how Clapton transformed guitar playing in Britain, enabling musicians to move away from the simplicity of Hank Marvin and the Shadows.
The documentary has a section on his friendship with Jimi Hendrix – and muffled audio recordings of the conversations they had together. There are comical, Spinal Tap-like accounts of the bad blood between his fellow band members in Cream, Jack Bruce and Ginger Baker.
When the documentary strays away from the blues, it loses much of its impetus. Clapton has given Zanuck unfettered access to every corner of his life. That means we are told in very voyeuristic detail about his courtship of Pattie Boyd, then married to George Harrison, who was ostensibly his best friend.
We also hear at great length about his years of alcoholism and drug addiction, his bizarre racist rants on stage, and his boorish antics off stage. In contemporary interviews, Clapton seems so measured, calm and astute that it is hard to credit that he was once capable of such obnoxious behaviour.
Unlike many self-destructive rock stars of the era, Clapton managed to pull himself back from the brink. After the tragic death of his four-year-old son Conor in a freak accident (the boy fell from a high-rise building), Clapton turned his life around. There is much here to relish but the film also often feels digressive and rambling, uncertain as to whether its main focus should be on the music or the life.
The Brawler (15)
★★★☆☆
Dir Anurag Kashyap, 154 mins, starring: Vineet Kumar Singh Zoya Hussain Ravi Kissan Jimmy Shergill
The Brawler is Indian cinema's answer to Rocky, a rousing tale of an underdog whose dream is to become a successful boxer. Shavan (Vineet Kumar Singh) faces challenges that might have made even Sylvester Stallone quake.
At one stage, his coach is badly beaten up by a mob after being accused of eating meat from a sacred cow. (That's not something that ever happened to Burgess Meredith.) It is made clear to Shavan throughout that, as a a fighter from a low caste, he is likely only ever to be regarded as a "brawler," not as a proper boxer.
Directed in very lively fashion by Anurag Kashyap (who made his name internationally with epic crime saga Gangs of Wasseypur), the film nonetheless takes a considerable time to get into its stride. There are frequent distracting musical interludes. The first section, which deals with Shavan's courtship of a beautiful young woman, Sunaina (Zoya Hussain), is lumbering and sentimental. She is mute. Her uncle is the devious Bhagwan Das (Jimmy Shergill), Shavan's upper-caste coach.
The second half of the film, in which Shavan takes a menial job for a railway company as he tries to train for the national championships, has much more momentum. The storytelling grows ever darker.
There is kidnapping and drugging. One benign elderly character has his legs broken. It is made very clear to Shavan that becoming a boxer isn't regarded as an impressive or respectable career choice. Cricketers and hockey stars may have a certain stature in Indian society but the country is yet to produce its equivalent to a Muhammad Ali or a Mike Tyson.
Kashyap handles the fight sequences in impressive fashion, with lots of frenetic camerawork, plenty of jarring thuds and thwacks on the soundtrack and some strident, discordant music. Shavan really does looks as if he knows how to fight.
One strange quirk here, though, is that audiences at the bouts are so small. The national championships themselves take place in a big gym with only handfuls of spectators.
Shavan has plenty to contend with. He is working very long hours in his office job, trying to train whenever he gets a break and also studying sign language so that he can communicate more directly with his wife.
The ruthless Bhagwan is trying to sabotage his career at every step. This is a love story, a thriller and a social realist drama all at once. Far too much is going on not just in the protagonist's life but in the movie as a whole.
Nonetheless, The Brawler does eventually deliver the explosive finale we all expect (even if the best of the fighting takes place out of the ring.) With its depictions of the caste system, political corruption and mob violence, it also takes us into areas which no American boxing movie would touch.
Join our new commenting forum
Join thought-provoking conversations, follow other Independent readers and see their replies