Film reviews round-up: City of Ghosts, Captain Underpants, Water & Sugar, Scribe
The return of an Oscar-nominated documentary maker, some whoopee cushion humour, the life of a brilliant Italian cinematographer, and a French conspiracy thriller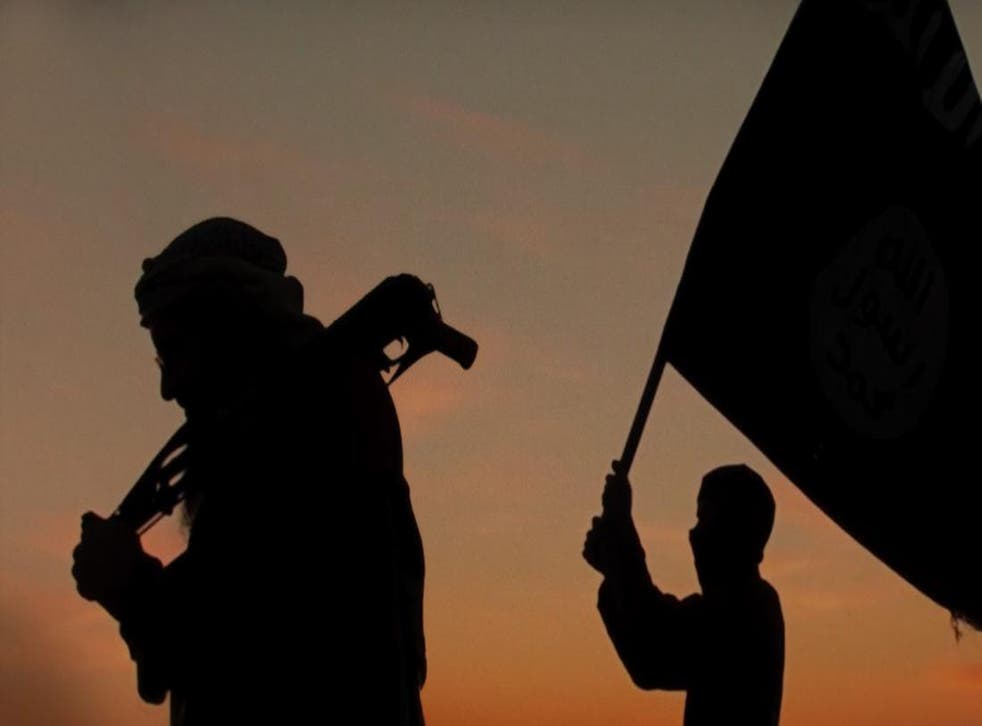 City Of Ghosts
★★★★☆
Dir: Matthew Heineman, 92 mins
Recent Isis-backed terrorist atrocities in western Europe pale by comparison with those in the city of Raqqa in Syria over the last three years. Since the summer of 2014, Isis has made the city its stronghold and the capital of its caliphate.
At the time of writing, there is a desperate battle underway to drive Isis forces out. Matthew Heineman's documentary follows young activists and citizen journalists from the city who formed the "Raqqa Is Being Slaughtered Silently" group (RBSS).
Working secretly, they've reported on the hellish events in the city since Isis started to "paint it black". They've filmed executions and beatings while also countering the increasingly sophisticated media campaigning from ISIS. As they put it, "it is not enough to expose the crimes of Isis. We must also fight against their ideology."
Heineman's grimly compelling film begins with footage of members of the group attending a black tie dinner at which they receive an international press freedom award. It's an incongruous setting, very far removed from what they've left behind in Syria.
Most of the subjects of the film have been forced into exile. Living anonymously in safe houses in Germany and Turkey, they stay in touch with contacts in Raqqa who send them reports and videos to upload. It's a fraught business. Isis knows their identities. Even in exile, they're in extreme danger. Their colleagues back home in Syria face torture and death if they're found with hidden cameras or fake ID.
The violence shown here exceeds that in Heineman's previous film, Cartel Land, about the Mexican drug wars. What makes it so startling is its casual, matter of fact quality. Isis holds executions in the town square as if killing is part of everyday life. Their barbarism has become normalised. In a scene even more shocking than the real-life executions, a little kid with a huge knife is shown decapitating a teddy bear.
The young school teachers and students from middle-class families who formed RBSS remember that, at first glance at least, Isis didn't seem much different from any other militia group on the prowl in the chaos of Syria after the Arab Spring. But their nihilistic ruthlessness quickly became very obvious.
Isis propaganda has proclaimed that the city is being very well run. We see a bizarrely upbeat video in which smiling local kids run behind an Isis leader, as if they are on some glorified school outing. Isis has put together recruitment films which make holy war seem like a real-life version of Grand Theft Auto.
That's not at all how RBSS reports it. The citizen journalists uncover the dysfunctionality as well as the terror of life in Raqqa – the poverty, squalor, hunger and decay. The citizen reporters are working and living in cramped hotel rooms and tiny apartments. Their brothers and fathers are being murdered. On the one hand, they're powerless to do anything about it. On the other, they regard the camera as "more powerful than a weapon."
Access unlimited streaming of movies and TV shows with Amazon Prime Video Sign up now for a 30-day free trial
Sign up
At a time when no western journalists could get inside Raqqa, RBSS members took over their job. They've infuriated Isis by mocking them and undercutting their version of events. They've shown considerable ingenuity, smuggling out their encrypted reports even as Isis followers tore down satellites and tried to cut the city off entirely from the outside world.
Without them, the suffering in Raqqa might hardly have been noticed in the West. This isn't a film with any obvious humour but there's a certain grim irony when the exiled Syrians in Germany are confronted by right wing protesters who want them out of the country and have no idea at all of what they've endured.
It's a struggle for Heineman to tell a tidy story in City Of Ghosts. Isis is still in Raqqa and many of the RBSS activists remain in exile. Much of film is set in their hotel rooms or apartments in western cities as they watch or upload videos or have snatched conversations with contacts back home in Syria.
The documentary can't provide an upbeat finale. Instead, it shows how its subjects try to carry on living their lives in spite of the sacrifices they've had to make. Some are starting families. Their work may put them and their loved ones in harm's way but it also helps them to cope with feelings of anger and bereavement that might have overwhelmed them otherwise.
Captain Underpants: The First Epic Movie
★★★☆☆
Dir: David Soren, 89 mins, voiced by: Kevin Hart, Thomas Middleditch, Ed Helms, Nick Kroll
Captain Underpants is wondrously inane and bizarre entertainment, an animated DreamWorks feature full of whoopee cushion humour and jokes about Y-fronts. The small miracle here is that the film (based on Dav Pilkey's books) generally sustains its freshness and comic momentum. Its plot is thoroughly random and absurd but, alongside the fart jokes, the film has some poignant observations about friendship, loyalty and the therapeutic power of laughter.
George (voiced in motormouth fashion by comedian Kevin Hart) and Harold (Thomas Middleditch) are fellow students and best friends at Jerome Horowitz elementary school. They bonded as tots when both burst into uncontrollable giggles while hearing the kindergarten teacher discussing gas coming from Uranus.
They're little anarchists who take supreme pleasure in performing as many pranks as possible in the classroom. When they're not taunting their teachers, they hide away in a treehouse and draw comics featuring superhero, Captain Underpants, a character with such extraordinary powers that he is able "to leap tall buildings without getting a wedgie".
Their nemesis is Principal Krupp, a miserable and lonely old tyrant whose motto for the school is "hope dies here." Krupp is determined "to annihilate" the friendship between the two mischievous boys and is looking for any excuse he can to put them in separate classes.
Captain Underpants: The First Epic Movie - Trailer
No superhero film would be complete without a super villain. That's why Captain Underpants serves us up Professor Poopypants (Nick Kroll), an Einstein lookalike who speaks in a Blofeld-like middle European accent.
Poopypants (full name Pee-Pee Diarrrheastein Poopypants Esquire) almost won the Nobel prize for his crazy inventions but his career has been undermined every step of the way by the mockery of his peers.
For reasons he simply can't understand, the very mention of his name prompts ridicule and laughter. After enduring years of taunting, the mad scientist has decided to become a teacher and plot revenge on humanity.
His long-term project is to disable the "hahaguffawchuckleamalus," the purple lobe inside the brain which makes people laugh. In a world without humour, he will be the dark king. His main accomplice is Melvin Sneedly (voiced by Jordan Peele, writer-director of race driven comic horror film, Get Out). Sneedly is a unique specimen, a school swat who is physically incapable of laughter.
Generally, Hollywood animation pulls in very different directions. There are all those wholesome Pixar and Dreamworks films aimed at family audiences. Then, there is the miasmatic, adult-oriented approach epitomised by the sniggering sarcasm of Beavis and Butt-Head.
The achievement of Captain Underpants is to pull the two traditions together. This is a family comedy that is nothing if not good natured but its humour is offbeat and sometimes very base.
The animation style is deliberately scattershot and self-reflexive. The film is put together (or pretends to be) in the same rough and ready fashion as the cartoon books its two heroes draw in their tree house. The credits are full of deliberate spelling mistakes.
There is a knowing quality that also used to be found in the Pee-Wee Herman movies – a sense that however infantile the humour, the creators are always tipping the wink at an adult audience.
Captain Underpants himself is a startling comic creation: a blobby, Buddha-like figure in white underwear who turns out (at least at first) not to have very many magic powers at all. "Tra-la-la-la-la" is his catch phrase.
He is engagingly stupid and quite incapable of distinguishing between real villains and ersatz ones (for example, blow up balloons of purple apes outside department stores). "Most super heroes look like they are flying around in underwear. Well, this guy actually does," one character observers of Captain Underpants as the superhero battles an army of flying toilets.
Screenwriter Nicholas Stoller is arguably the real hero here. He has managed to fashion a witty and coherent story from source material that is whimsical in the extreme. The film's title, "The First Epic Movie," suggests Underpants will soon be back and that this is shaping up as a full blown franchise.
The filmmakers have clearly realised the power of attrition in comedy. If the first mention of Poopypants doesn't work, maybe the second one will, or the third or the fourth or the fifth. They're working on the principle that even viewers as suspicious and curmudgeonly as Principal Krupp will eventually be worn down by the blitzkrieg-like attack of potty jokes and absurdist visual humour.
Water & Sugar: Carlo Di Palma
★★★☆☆
Dir: Fariborz Kamkari. 90 mins, featuring: Carlo Di Palma, Woody Allen, Wim Wenders, Bernardo Bertolucci, Ken Loach, Adriana Chiesa
This warm-hearted documentary tells the story of Carlo Di Palma (1925-2004), the brilliant Italian cinematographer who began his career in the Italian neo-realist era of the 1940s and went on to shoot a dozen films for Woody Allen. He came from a family of stagehands and electricians while his mother was a flower seller on the Spanish Steps in Rome.
Di Palma worked as a teenager on Luchino Visconti's first feature Obsession; he was an assistant on Roberto Rossellini's Rome, Open City and Paisa and was a focus operator on Vittorio De Sica's 1948 classic Bicycle Thief. (These are all long acknowledged classics of Italian cinema.)
There is an astonishing story, perhaps apocryphal, that Sven Nykvist (later to become Ingmar Bergman's cinematographer) was the Allied soldier who gave the spare film to the youthful Di Palma which enabled Rossellini to make Rome, Open City at a time of chronic shortages as the war drew to an end.
The film follows Di Palma's widow, the very regal Adriana Chiesa, as she meets admirers, friends and colleagues of her late husband. She has assembled an impressive roster of interviewees. British director Ken Loach is on hand to extol the sense of "solidarity" and "community" in the post-war Italian films Di Palma worked on, before the cult of the individual took over.
The famously private Woody Allen acknowledges the cinematographer as one of the few work colleagues he ever made friends with. Wim Wenders rhapsodises about Di Palma's use of close-ups.
The film offers some fascinating insights into Di Palma's craftsmanship – his subtle use of colour on Antonioni's The Red Desert, his chiaroscuro lighting on his black and white Italian movies like The Long Night Of '43 and his improvisatory, handheld camerawork on Allen's Husbands And Wives.
In the archive interviews dotted throughout the film, he comes across as a genial but restlessly curious and adventurous figure whose cinematography drew on his love of art and literature as well as of film. Di Palma was very versatile, equally adept at working in colour and black and white, and as comfortable making broad comedies as hermetic art house movies.
He spent many years in New York without fully mastering English. He didn't like to drive, preferring to walk whenever possible. This isn't exactly a critical portrait of its subject but it's an affectionate and informative one which highlights Di Palma's key creative role in the work of Antonioni and Woody Allen in particular.
Scribe
★★☆☆☆
Dir: Thomas Kruithof, 89 mins, starring: François Cluzet, Denis Podalydès, Sami Bouajila, Simon Abkarian, Alba Rohrwacher
Scribe is an atmospheric but overwrought French conspiracy thriller. Its woebegone office worker hero Duval (Francois Cluzet) has more than a hint of Kafka's Josef K about him. He's harassed and guilty-looking, although he seems the perfect employee at his insurance firm and doesn't appear to have done anything wrong.
Asked to search for a missing file overnight, Duval buries himself in mountains of paperwork, drives himself to a standstill, appears to have a nervous breakdown and – two years later – is reintroduced to us as an unemployed recovering alcoholic.
When Duval is offered work out of the blue by the mysterious Mr Clement, he takes it. It's a bizarre job, working for a surveillance organisation that claims to "defend" the country's interests. He is required to sit in an empty apartment and type up secret tape recordings of politicians' conversations.
If he so much as makes a typo, he is told to shred the document he is working on and start again. At this point, the film moves into Lives Of Others mode. Duval is listening to the intimate and incriminating conversations of strangers.
There's a political dimension to the story. French nationalism is on the rise. An election is looming and shadowy right wing types are plotting skullduggery involving a hostage situation which could embarrass the politicians.
Scribe isn't very satisfactorily written. The filmmakers struggle to work out whether this is a stylised fable about an overworked Bartleby-like office drone, a conspiracy thriller along the lines of The Parallax View, a love story (Duval clearly has romantic feelings for the lost and unhappy woman he meets at an AA meeting) or an action movie. Duval may be the sedentary and retiring sort but he unearths hidden reserves of courage in time for the final reel.
Cluzet plays the character stony faced, Keaton style, but this isn't a comedy. He's an engaging screen presence with a look of hangdog, wounded innocence about him that rekindles memories of Dustin Hoffman in 1970s movies but he doesn't seem the right casting when the film veers off in a Jason Bourne-like direction.
Simon Abkarian (best known to British audiences for his role in Casino Royale) plays a ruthless and very shadowy double agent type, also working for Clement. He's a character from a different, far harsher world than that which Duval inhabits.
Sara (Alba Rohrwacher), the lost soul at the AA meeting, is seen only in passing. Her back story isn't sketched in properly and her relationship with Duval seems merely tokenistic – a way of including at least one female character in a movie in which all the other major characters are male.
Director Thomas Kruithof does a fair job of portraying his clerical worker hero's growing paranoia. He also hints at a corruption that seeps through every layer of French society, reaching politicians and police alike.
There is something jarring, though, about the sudden shifts in storytelling style. One moment Duval will be doing a jigsaw puzzle, the next fighting for his life. He is both the downtrodden everyman and the unlikely hero. Reflecting its lead character, the film itself has identity problems and never manages to work out how to balance its thriller elements with its satirical intentions.
Join our new commenting forum
Join thought-provoking conversations, follow other Independent readers and see their replies