Film reviews round-up: Dog Eat Dog, United States of Love, Gimme Danger, We Are The Flesh, Your Name
Paul Schrader's often outrageous crime thriller, the romantic struggles of four Polish women, a Stooges doc by Jim Jarmusch, a distasteful Mexican horror and a body-swapping anime
Geoffrey Macnab
Wednesday 16 November 2016 11:07 Comments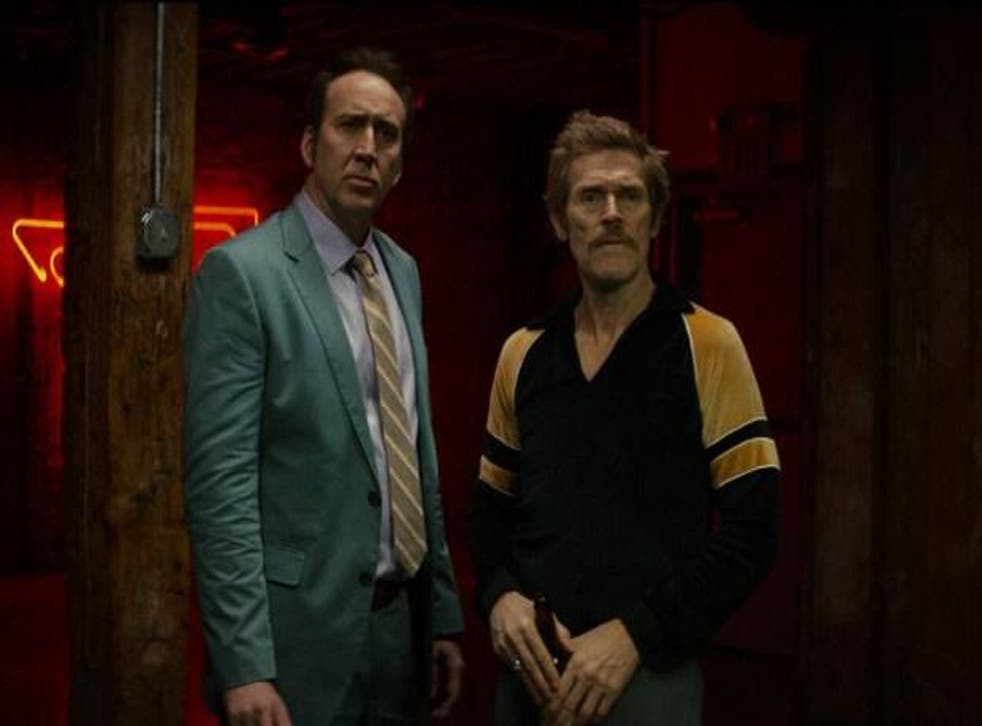 Dog Eat Dog (18)
★★★☆☆
Dir: Paul Schrader, 91 mins, starring: Nicolas Cage, Willem Dafoe
Dog Eat Dog is as close as Paul Schrader has come to making a comedy. It's a luridly violent and often outrageous crime thriller which takes its tone from its two lead actors. Willem Dafoe plays a character called Mad Dog and fully lives up to the name. A dim-witted, tattoo-covered ex-con with a prodigious drug and pornography habit, he is given to extreme psychopathic behaviour.
An early scene in which he attacks a mother and daughter is shot in the worst possible taste, as if it is a scene out of a John Waters film. Incongruously upbeat music plays as he goes on his murderous rampage in a suburban house full of dolls and in which all the walls have pink wallpaper. Troy (Cage) is a fellow ex-con who always stands up for Mad Dog because Mad Dog once stood up for him. Troy narrates the film. He's a low-life petty gangster too but one with romantic leanings. The third associate is Diesel (Christopher Matthew Cook), a thug with brains.

This is cartoonish, guerrilla-style filmmaking, clearly made on a very low budget: crude, tasteless, and grotesque but full of energy and bantering humour. Adapted from an Edward Bunker novel, it revolves around a hare-brained, doomed-to-fail scheme to kidnap a baby from a rival gangster. After some of his more solemn movies, Schrader is letting his hair down.
He even gives himself a cameo as a hoarse-voiced mobster boss called "The Greek". There are references to Oscar Wilde ("as the old fudge buster said, each man kills the thing he loves") and lots of echoes of old B-movies. Schrader won't win any awards for Dog Eat Dog but it certainly qualifies as a guilty pleasure. Dafoe and Cage enjoy themselves hugely as the low-grade, "nickel-and-dime" career criminals dreaming of the payday that will never come.
United States Of Love (18)
★★★☆☆
Dir: Tomas Wasilewski, 103 mins, starring: Julia Kijowska, Magdalena Cielecka, Dorota Kolak
Set in Poland in 1990, just as the communist era is ending, Wasilewski's drama invokes memories of Krzysztof Kieslowksi's Decalogue films (in particular, A Short Film About Love) which were shot in precisely this period. It tells the stories of four women, living in grey apartment blocks, trying to make sense of their romantic lives and to work out why they feel so unhappy at a time of new freedom and opportunities for their country.
Agata (Julia Kijowska) runs the local video shop. She has a very boorish husband and is drawn, partly as a reaction against him, to a handsome young priest. Ida (Magdalena Cielecka) is the head teacher at the school, a seemingly dynamic and commanding figure. She is in a love affair with a doctor, the father of one of her pupils, which he now wants to end. She is devastated at the thought of being abandoned and won't go quietly.
Renata (Dorotea Kolak) is a middle-aged teacher whose career is coming to an end and who lives on her own. She has a strange romantic obsession with her near neighbour, former beauty queen turned fitness instructor Marzena (Marta Nieradkiewicz).

Like Kieslwoski, Wasilewski is looking for the drama in the everyday and is homing in on his characters, observing their eccentricities and their yearnings. There are some very cruel moments here: the character punched in the face by the lover who wants rid of her, the woman drugged and assaulted by a photographer.
There are also redeeming scenes which are both humorous and tender. One character feigns an accident, pretending she has slipped on the stairs and hurt her arm, to attract attention and sympathy. There are bizarre scenes involving the pet birds that fly around one lonely woman's apartment.
Access unlimited streaming of movies and TV shows with Amazon Prime Video Sign up now for a 30-day free trial
Sign up
Wasilewski's shooting style is sometimes very arch. The colours are desaturated, as if to reflect the protagonists' unhappiness. He films the characters' bodies in unflattering style and will often shoot them from the back or show them at the edge of the frame or looking at themselves in mirrors. There are strong performances, though, most notably from Cielecka as the headstrong but increasingly vulnerable and self-loathing school head.
Gimme Danger (15)
★★★★☆
Jim Jarmusch, 109 mins, starring: Iggy Pop, Danny Fields, Ron Asheton, Mike Watt
Rock docs are made by the barrelful. They tend to follow the same conventions. There will be archive footage, the talking head interviews, the account of why a particular band split up and then the story of the reunion. Jim Jarmusch's film about Iggy Pop and the Stooges has all the familiar ingredients but Jarmusch is an accomplished enough director to move the material onto another plane.
The film makes its position clear at the beginning – the Stooges, in Jarmusch's opinion, were the greatest rock and roll band "ever". It then takes us through their history: how they came together in Michigan in the late 1960s, how they "bumbled around" America, often leaving chaos in their wake; how they split up and came back together again. Gimme Danger's trump card is Iggy Pop himself, interviewed in a variety of different settings. He is a natural raconteur with a very dry sense of humour.

Iggy (real name James Osterberg) talks about growing up in a trailer (albeit a very upmarket one) and about how he developed his on-stage persona. The idea of going bare-chested came from watching pharaohs in old movies. The dog collar was bought at a pet shop. Iggy ruefully recalls the first time he dived off stage. His expectation that audience members would catch him wasn't fulfilled and he ended up landing face first and losing some teeth.
There are poignant stories about Sixties icon Nico, who used to tell Iggy that he had much more talent than Lou Reed. Iggy is withering about flower power and the music that emanated from Haight-Ashbury after the Summer of Love.
Jarmusch makes a strong case for the Stooges as a revolutionary band. Not only did they help get rid of the Sixties (as Iggy boasts in one interview), they had an immense influence on a huge array of bands in the US and the UK. These ranged from Sonic Youth to the Sex Pistols and The Damned. There is real poignance in the story of their "reunification" and of their eventual induction into the Rock and Roll Hall of Fame. At the same time, the film has a comic undertow and plenty of moments that wouldn't look out of place in Spinal Tap.
We Are The Flesh (18)
★★☆☆☆
Dir: Emiliano Rocha Minter, 80 mins, starring: Noé Hernandez, Diego Gamaliel, María Evoli
There are a lot of bodily fluids flowing in this visually striking but often very pretentious and increasingly distasteful Mexican-made drama. The film plays a like cross between a horror movie (complete with incest, cannibalism and characters coming back from the dead) and some absurdist student art project.
Director Minter doesn't provide us with much in the way of context. A grizzled hermit (played with manic and malevolent glee by Noe Hernandez) is living apart from the world in a huge, self-enclosed warehouse. Food is provided for him which he reels in on a pulley. He spends his time cooking up grotesque concoctions of fleshy liquid or banging on his drums. He stays alive by bartering. For some reason, he has a copy of the painting of the 19th-centure portrait Master Lambton: The Red Boy lying about on the floor.
Fauna (María Evoli) and Lucio (Diego Gamaliel) are a brother and sister who stumble into his kingdom. For a while, they become a distorted version of a family. They work for him, helping him to cover the interior of the building in masking tape. (It's not explained why.) He provides food for them. Then, he begins to prey on them, forcing the brother to have sex with his sister.

There is some allegorical intent here but it is hard to work out what it is. This could be a version of the creation myth, with the brother and sister as the Adam and Eve-like innocents introduced to corruption and death. It could equally well be a post-apocalyptic drama. The hermit is a Rasputin-like figure, a demented visionary. who forces the couple to embrace their "darkest instincts", their most "grotesque thoughts". He speaks in crazed soliloquies, decrying the "rotten society" around him.
The first half of the film is relatively restrained. In the second half, the sex and blood-letting begin in earnest. "Enter every hole in her body, defile her," the hermit instructs the boy. It's at this point the film begins to resemble one of those overwrought and ridiculous Tinto Brass sex films from the Seventies.
Your Name (12A)
★★★★☆
Dir: Makoto Shinkai, 106 mins, voiced by: Kana Kanazawa, Etsuko Ichihara, Ryûnosuke Kamiki
This mind-bending Japanese animated film is very ingeniously scripted and works in multiple dimensions. Somehow, director Shinkai manages to combine romance, gender politics, a quest saga, a story of adolescent angst, and a time travel yarn while addressing post-Fukushima fears of disaster. It's a story about a boy and girl who temporarily switch bodies. The girl, Mitusha, is hitting puberty. She is chafing against life in her small, regional town.

The boy, Taki, lives in Tokyo – precisely where she thinks she wants to be. When they do swap bodies, they leave messages for one another on their cellphones so they know what they've been up to. A comet is hurtling toward earth and threatening to destroy Mitusha's town. This comet is seemingly what has enabled all the body swapping to happen.
The animation here is often beautiful and the film is dealing with dark and profound issues. The hitch is the very syrupy musical score and the contrived sentimentality of the final section of the film in which the protagonists search for each other across time while also trying to avert the apocalypse.
Register for free to continue reading
Registration is a free and easy way to support our truly independent journalism
By registering, you will also enjoy limited access to Premium articles, exclusive newsletters, commenting, and virtual events with our leading journalists
Already have an account? sign in
Join our new commenting forum
Join thought-provoking conversations, follow other Independent readers and see their replies