Film reviews round-up: Get Out, Personal Shopper, Gleason, Wolves at the Door
Jordan Peele's searing debut, Kristen Stewart in another astounding performance, a documentary of an athlete's inspiring struggle, and an abysmal take on the Manson murders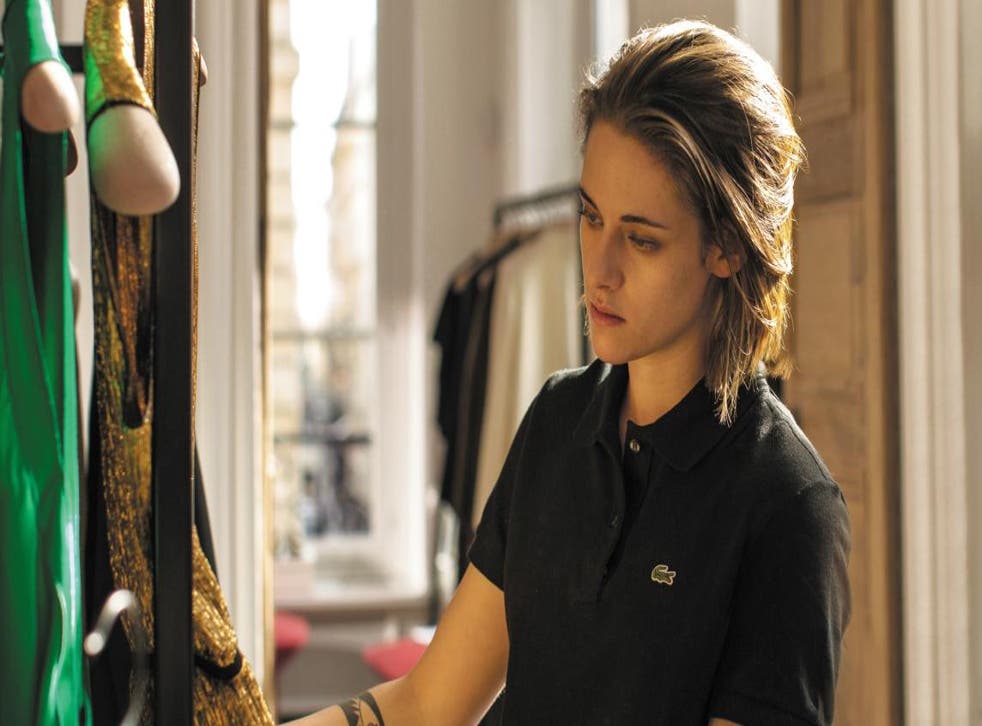 Get Out (15)
★★★★☆
Jordan Peele, 104 mins, starring: Allison Williams, Keith Stanfield, Daniel Kaluuya, Catherine Keener, Bradley Whitford, Erika Alexander
In Jordan Peele's debut feature, the writer-director has pulled off something special: a movie that is bloody and macabre enough to work as grindhouse genre fare, funny enough to qualify as full-blown comedy but one that is acutely observant of race relations in post-Obama, early-Trump, "Black Lives Matter" America.
The film's a blast but it has a serious and disturbing subtext. Thanks to its humour and irreverence, Get Out is already a big mainstream hit in the US. It has far outperformed Nate Parker's recent Birth Of A Nation which exposed many of the same racist attitudes, albeit in a period drama. This suggests just how effective humour can be in getting audiences to engage with arguments and ideas they would normally prefer to bypass.
Get Out begins with a prelude showing a young black man wandering at night through white suburbia. He is lost and is sticking out "like a sore thumb". Peele uses British music hall artists Flanagan and Allen's jaunty old wartime anthem 'Run Rabbit Run' on the soundtrack to make this early scene seem all the more unsettling.
Chris (Daniel Kaluuya) is a photographer. The walls of his apartment are full of Magnum-style pictures showing grim urban scenes. He's young, handsome, and successful. He has a white girlfriend, Rose (Allison Williams), who dotes on him. They've been going out for five months and she has invited him to the family house in the country to meet the parents. "Do they know I'm black," he asks. The answer is seemingly not.
Early on, the only hint of the violence to come is when a deer hurtles into the couple's car windscreen. Peele relishes highlighting the casual racism of the parents and their friends. Rose's father (played in bluff, hearty fashion by Bradley Whitford) wastes no time in telling his new guest that he thought Obama was the best President in his lifetime and that he would have voted for him for a third time if only that had been possible.
Rose's mother Missy (Catherine Keener in a role that allows her to be both cuddly and sinister) wants to hypnotise him so she can stop him smoking. Rose's very creepy brother Jeremy (Caleb Landry Jones) seems determined to wrestle with Chris. When they have a big family gathering, the conversation turns to Jesse Owens, Tiger Woods and to bizarre chit chat about Chris's "genetic makeup". He is very aware that he is among people who "haven't met a black person who doesn't work for them."
Every so often, Peele will throw in a shot from the point of view of the black groundsman Walter (Marcus Henderson) or of the maid Georgina (Betty Gabriel). Both behave in bizarre fashion, smiling falsely and looking as if they've had lobotomies or are on some soul-sapping drugs.
As in Invasion Of The Bodysnatchers-style horror films, everybody seems so excessively normal that we guess immediately that they are not. Peele has a flair for deadpan and ironic humour but, as the film progresses, the jokiness subsides and the storytelling becomes ever creepier. There are moments where it looks as if Get Out is about to veer off into Eli Roth-style torture porn territory but Peele will always leaven proceedings.
Access unlimited streaming of movies and TV shows with Amazon Prime Video Sign up now for a 30-day free trial
Sign up
The comic foil here is Chris's best friend Rod (Lil Rel Howery), who is back in the city house sitting for him and looking after his dog. Whenever Chris is at the moment of maximum peril, Peele will cut away to Rod, who's a TSA security guard and is the only one who suspects that Chris is in danger.
Occasionally, the storytelling here becomes just a little too preposterous. Characters we think we know suddenly begin to behave in a macabre fashion and the outrageous plot twists proliferate. There are moments that seem to be in deadly earnest followed by scenes that could belong in a Mel Brooks spoof. This, though, is still inspired filmmaking: witty, trenchant, very topical, sometimes utterly bloodcurdling but always with plenty of polemical points to make.
Personal Shopper (15)
★★★☆☆
Olivier Assayas, 105 mins, starring: Kristen Stewart, Lars Eidinger, Sigrid Bouaziz, Anders Danielsen Lie, Ty Olwin
Olivier Aassyas raised eyebrows recently when he described Kristen Stewart, who plays the lead in Personal Shopper, as the "best actress of her generation". That may be over-egging it absurdly but he draws a soulful, richly layered performance from the Twilight star.
Like Krzysztof Kieslowski with Juliette Binoche and Irene Jacob in Three Colours Blue and The Double Life Of Veronqiue, Assayas constructs the film around his star. Stewart appears in almost every scene, often alone. The director wants to register every tiny flicker in her emotions. She plays Maureen, a young woman living in Paris and working as a "personal shopper" for some brattish celebrity.
Maureen is super sensitive anyway, with a medium's powers to sense other worldly presences, but as first encountered here, she is in an especially raw and vulnerable state. Her twin brother Lewis has recently died and she yearns to get in touch with him.
There are times when Personal Shopper seems to be shaping up as a contemporary equivalent to a 19th-century ghost story, complete with spirits spewing ectoplasm, seances, and objects smashing or falling mysteriously off the sideboard. Assayas, though, is too cool and self-conscious a director to use horror conventions without a little distancing irony. Stewart's character herself remains strangely detached, even at the most morbid moments.
Personal Shopper - Trailer
There are some jarring but intriguing clashes in tone and storytelling style. One moment, we'll be in a Euro trash world of designer clothes and Cartier jewellery and the next we'll be watching a creaky old movie in which Victor Hugo holds a séance on the isle of Jersey. In its glossier moments, the film has the look of a Condé Nast Traveller photo spread. However, there are also painfully raw scenes in which Maureen's grief and yearning for her brother are very obvious.
Assayas won the Best Director award at Cannes for Personal Shopper. You can understand why. There are many bravura moments along the way. In particular, during a sequence that takes Maureen on the EuroStar to London, the director uses iPhones and text messages to crank up the tension with an ingenuity that Alfred Hitchcock himself would surely have admired.
Assayas also frequently manages to startle us, whether with scenes of Stewart dressing in her employer's luxury clothes and masturbating or in the moments in which it veers off into bloody crime story territory. This is a movie in which brilliance and banality sit side-by-side but one in which Stewart always shines.
Gleason (15)
★★★★☆
Clay Tweel, 109 mins, featuring: Steve Gleason, Mike Gleason, Scott Fujita, Mike McKenzie, Michel Varisco-Gleason, Paul Varisco Jr.
Gleason is a painfully frank documentary about former American football star Steve Gleason and his ongoing battle with amyotrophic lateral sclerosis (ALS), the condition from which Stephen Hawking also suffers. What's most admirable about the film is its refusal to downplay Gleason's emotional and physical struggles even as it celebrates his heroism.
There is an extraordinarily poignant moment here in which Gleason's sporting prowess is celebrated with the unveiling of a statue in his honour one moment and then, five minutes after he gets home, he "poops all over myself and my wheelchair… it's crazy that I can go from people saying you're my hero to having to be helped onto a toilet with my pants full of shit."
Director J. Clay Tweel reportedly had over 1000 hours of material to draw on. This includes everything from home movie camcorder footage of Gleason as a kid, plenty of archive scenes of him charging down kicks in his recklessly brave NFL sporting pomp, holiday snaps, wedding films, and even the birth of his baby. The project clearly took years to make and its subject was able to record his own deterioration. At around the time Gleason was diagnosed with ALS, he discovered his wife Michel was pregnant. He started making video messages for his child.
Tweel has done an admirable job in condensing the vast amount of material into a coherent two hour documentary. There are grotesquely uncomfortable moments along the way, none stranger than when his father, a devout Christian, is trying to get a faith healer to enable him to walk again. We see his long suffering wife Michel tending her baby with one hand as she feeds her incapacitated husband with another.
She doesn't hide the stress of living with him as he lost all control of his bodily functions, muscular movements, and eventually even the ability to speak. He has his moments of despair too. At the same time, he retains the reckless and stubborn qualities which made him such a formidable athlete. He is also intensely curious about his own condition and raises large amounts of money through a foundation to help other ALS sufferers.
The film is moving and insightful because it is more concerned with being honest than with being uplifting. This isn't the case of the sporting hero facing his illness as if it is just another opponent to be overcome. Much of Gleason's life with ALS seems truly wretched but he has enough humour, resilience and perspective never quite to succumb to despair.
Wolves At The Door (15)
★☆☆☆☆
John R. Leonetti, 72 mins, starring: Kate Cassidy, Elizabeth Henstridge, Jane Kaczmarek, Adam Campbell, Eric Ladin, Lucas Adams
Wolves At The Door is a repellent, misconceived, and pointless film. Its subject matter is the murder by members of the Manson family of the pregnant actress Sharon Tate and four of her friends in Los Angeles in 1969. OpeniGet ng intertitles refer to the "summer of love" and the end credits have some grim footage of Charles Manson threatening the world with carnage but that is just about all the context that is provided.
The film itself simply dramatises the murders. In spite of all the shots of shadowy characters looming in doorways or at the end of corridors, or the sounds of doors creaking and footsteps coming closer, there's next to no tension. We all know what is going to happen. The filmmakers seem entirely uninterested in exploring the motivations of the killers or in providing much back story about the victims.
Instead, this is a very generic horror film in which the killers hunt down their prey. Quite why anyone considered this a worthwhile story to tell on screen in this numbskull way is the only real mystery here.
Register for free to continue reading
Registration is a free and easy way to support our truly independent journalism
By registering, you will also enjoy limited access to Premium articles, exclusive newsletters, commenting, and virtual events with our leading journalists
Already have an account? sign in
Register for free to continue reading
Registration is a free and easy way to support our truly independent journalism
By registering, you will also enjoy limited access to Premium articles, exclusive newsletters, commenting, and virtual events with our leading journalists
Already have an account? sign in
Join our new commenting forum
Join thought-provoking conversations, follow other Independent readers and see their replies