Film reviews round-up: Song To Song, It Comes At Night, The Midwife, The Last Word
Narcissistic protagonists lack a sense of humour, families try to keep a mysterious killer disease at bay, midwifery and hospitals get a dystopian twist and a strong performance in a feel-good film
Geoffrey Macnab
Wednesday 05 July 2017 16:56 Comments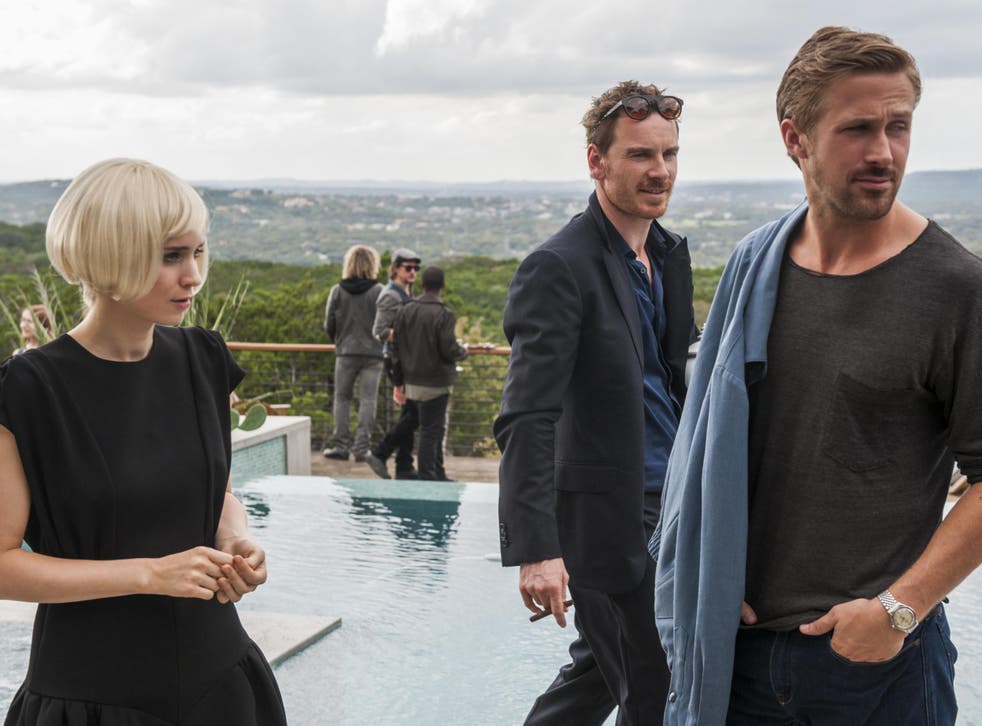 Song To Song (15)
★★☆☆☆
Dir: Terrence Malick, 129 mins, starring: Ryan Gosling, Rooney Mara, Natalie Portman, Michael Fassbender, Cate Blanchett
"I don't seem to bring people happiness any more," Faye (Rooney Mara) confides in one of the many winsome voice-overs running through Terrence Malick's Song To Song. They're words which Malick could easily have uttered himself. In his recent features he has pioneered an impressionistic and very intimate style of filmmaking which has occasionally entranced audiences but has more often left them baffled and frustrated.
Malick doesn't bother with conventional narrative or characterisation. Instead, the camera goes on walkabout, curling, diving, dipping and swooping its way around the main protagonists as they negotiate climactic moments in their lives and careers. Dialogue is sparse and Malick's storytelling style is elliptical in the extreme. He leaps back and forth in time and place in a bewildering fashion. The editing isn't driven by any desire to make matters clearer but by Malick's desire for lyrical or jarring juxtapositions.
If you're looking for grace notes, you'll find plenty here. There are lots of dreamy close-ups of Mara and Nathalie Portman (playing a beautiful waitress in a diner) as well as artfully framed shots of nature, kids, pets, mariachi bands, sunsets, etc. The great Mexican cinematographer Emmanuel Lubezki has an uncanny (and not altogether helpful) knack of making the most banal moments seem sacred and ritualistic.
Characters talk in rhapsodic fashion about playing with the "flame of life." (This means having sex occasionally.) The film is set in the music world. It has cameos from Patti Smith (in dotty aunt mode), John Lydon ("learn all the rules when you're young because that makes mum and dad happy and then throw the f***in' lot of 'em out of the window," the ageing punk advises), and from a very sinewy-looking Iggy Pop. In its own eccentric and abstract way, it makes pleasurable viewing but there is no dramatic tension whatsoever. Nor does Malick show anything even approaching a sense of humour. Everybody here is so precious and narcissistic that you half wish that somebody would belch or fart or tell a dirty joke.
Like the Oscar-winning La La Land, this is story about young artists on the make. Faye and BV (Ryan Gosling) hope to establish themselves in the Austin, Texas, music world. She's a songwriter, he's a musician. They're in love… after a fashion. Faye is also drawn to the hard-driving, hedonistic music manager Cook (Michael Fassbender). Cate Blanchett pops up too and Gosling tells her she's gorgeous as she nervously chews her hair.
The setting here is a problem. This isn't a tale about ordinary folks growing up on the Texan plains. It's about very privileged and pampered music biz types who spend their days in designer hotels or glass-fronted modernist houses or backstage at music festivals. As they eat sushi off naked bodies or make love in the desert, they can't help but look as if they're on leave from some hipster lifestyle ad. There is a strong argument the film would have worked better with unknown actors rather than with such well-known movie stars.
Malick's detached style is also incongruous. The characters are going through seismic moments in their lives, experiencing love and betrayal. They're young and, at least in theory, rebellious and ambitious – but there isn't much spark about them. The oneiric style makes it seem as if they are sleepwalking through scenes. As in To The Wonder and Knight Of Cups, Malick is working with some of the biggest names in Hollywood but he isn't giving them much of a chance to craft a performance. He seems to want them to behave, not to act. Gosling has some of the same charisma that he brought to La La Land while Mara looks suitably pensive and anguished at the metaphysical meaningless of it all but there's no sense of either changing or developing. Nor do we get much sense of Fassbender's ruthlessness.
The voice-overs don't do much to elucidate matters. Characters will speak in trite one-liners, saying words which sound as if they've been cribbed from songs. "I love the pain, it feels like life," or "I don't like to see the birds in the sky because I miss you" are examples of the observations they will make in very solemn fashion.
Access unlimited streaming of movies and TV shows with Amazon Prime Video Sign up now for a 30-day free trial
Sign up
The guest stars are never introduced or contextualised. At one stage, we see Val Kilmer on stage at a music festival, thrashing round in belligerent fashion before attacking the sound system with a chainsaw. Why he is there or who he is supposed to be isn't explained.
"Nothing felt real," Mara laments at the start of Song To Song. That, sadly, is an observation that can just as well be aimed at the movie as a whole.
It Comes At Night
★★★★☆
Dir: Trey Edward Shults, 92 mins, starring: Joel Edgerton, Kelvin Harrison Jr, Carmen Ejogo, Christopher Abbott, Riley Keough
It Comes At Night is a pared-down and ingenious horror film which benefits from writer-director Trey Edward Shults' very matter-of-fact approach to the grim events it depicts.
The film unfolds in a house deep in the woods where Paul (Joel Edgerton), his wife Sarah (Carmen Ejohgo) and their young son Travis (Kelvin Harrison Jr) live. They're as far from the outside world as they can get. We see them in gas masks, killing and burying Sarah's father, who has contracted some mysterious disease. The film doesn't explain what this disease might be. It could be radiation, it could be some global pestilence. What we do know is that "people in the city have started getting sick", that the illness makes you vomit blood and become violent, and that Paul and his family want to hide away. They board up their home to make it look abandoned and never go out at night.
When a stranger desperate for food breaks into the home, their first instinct is to kill him. They think better of it, though. Will (Christopher Abbott) is like them, a father and husband trying to keep his family alive. They invite him, his wife Kim (Riley Keough) and very young son to move into their home. The idea is to pool resources.
On one level, this seems like an old-fashioned American story of homesteaders trying to survive in a hostile environment. They hunt. They live off the land. On another, the film is about the attrition between neighbours. "You can't trust anybody but family, good as they seem," Paul warns his family. In its own subtle way, the film is exploring many different relationships. There's the obvious sexual attraction between the voyeuristic adolescent Travis and the young wife played by Keough (Elvis Presley's granddaughter who was so memorable as the travelling saleswoman in American Honey). Then, there's the bonding between the two men, who see themselves almost as brothers. At times, as the families adjust to life together, we almost forget that this is a horror film at all. The menace is signalled in subtle fashion – in the dreams and nightmares of the characters, in the way the two families hide information from one another and in the misadventures of a pet dog that goes out hunting and doesn't come back.
Edgerton excels as the rugged family man who'll do anything to protect those he cherishes. The film shows us some of the very best in human nature – compassion, resilience and courage. In the final reel, though, it also shows us some of the very worst. This is a story of civilisation but also of barbarism. Director Shults manages to induce a sense of mounting apprehension and terror without having to summon up monsters or even resort to doors slamming and characters screaming. All it takes is the heavy breathing of the family members in their gas masks and their very sudden shifts in behaviour from friendliness to cunning and savagery. They're aware that they can't escape their fate but that doesn't stop them taking extreme measures to survive just a little bit longer. This is certainly a bleak story but it's also a rich and very nuanced one.
The Midwife (12A)
★★★★☆
Dir: Martin Provost, 117 mins, starring: Catherine Deneuve, Catherine Frot, Olivier Gourmet
The Midwife is a very cleverly written and well-observed film that plays like one of the Dardenne brothers' social realist dramas – but with extra humour and the added bonus of a diva-like performance from Catherine Deneuve thrown in for good measure.
The midwife of the title is Claire (Catherine Frot), a single mother living on an estate and with a grown-up son she hopes will make it in the medical profession. She has a near genius for her job. If a baby is upside down in the womb or has the umbilical cord tied around its neck, she's the one who'll sort out the problem. (The birth scenes here are so realistic they looks if they must have been shot in a real life maternity ward.) Claire also has an empathy with the mums whose babies she delivers in often fraught circumstances. Needless to say, her skills are undervalued. Hospitals are increasingly being run along factory lines, midwives are now being called "birth technicians," and success is measured by how many tots are delivered each year, not by the quality of care.
Outside work, Claire leads an austere and quiet life. She doesn't drink and she doesn't go out. Her one hobby is gardening. Then comes the call from Béatrice Sobolevski (Deneuve), her father's old mistress, getting back in touch after more than 30 years.
As she has demonstrated in some of her later films, notably François Ozon's Potiche, Deneuve, the one-time ice queen of French cinema, is a consummate comic actress. Her role here suits her perfectly. Béatrice is very glamorous in an ancient-monument-going-to-seed kind of way. She drinks incessantly, plays cards for high stakes, listens to old crooners and has an appetite for everything life can throw at her. She's tactless, self-obsessed but also very likeable. For all her jewellery and aristocratic airs, she is a fabulist from a tough working-class background. "When I die, you can just put me in a garbage bag and throw me in the Seine," she blithely advises the woman into whose world she blunders.
Béatrice knows that she is unlikely to live for long. Claire has to tend her. At the same, she pries Claire out of her shell.
As Claire, Frot, who played the opera singer with the hideous voice in Marguerite (2015), is the perfect foil for Deneuve: her opposite in looks, temperament and attitude. Frot makes her character seem both heroic (when at work) and very vulnerable as she contemplates her own loneliness. Love appears for her in the shape of a hirsute and charismatic long distance lorry driver (Gourmet), who gardens in the same allotment.
The film sometimes drifts off in a sentimental direction but it is also often moving. Take the scene in which Claire helps a mother whose birth she assisted at almost 30 years before, or the moment Béatrice visits the humble apartment she grew up in, before she added the "evski" to her surname Sobolevski and started pretending she was middle European royalty. You can tell almost exactly how matters will end but when it comes to pathos, sharp-eyed observation and barbed humour, The Midwife certainly delivers.
The Last Word (15)
★★☆☆☆
Dir: Mark Pellington, 108 mins, starring: Shirley MacLaine, Amanda Seyfried, AnnJewel Lee Dixon, Thomas Sadoski
The Last Word is mainly notable as a platform for its venerable star, Shirley MacLaine, now, 83, who shows she's the same mercurial and headstrong presence toward the end of her career as she was at its start. She plays Harriet Lauder, a very wealthy and thoroughly obnoxious former advertising agency boss. Amanda Seyfried is Anne, the young local journalist she hires to write her obituary.
At first, Anne can't find anybody who'll say anything remotely nice about Harriet. The old woman's gynaecologist, her priest and her former work colleagues queue up to call her "a hateful, hateful woman," "a human black cloud" and to wish ill on her. Much of the first part of the film is devoted to establishing that the character is an absolute bitch. Then, there's the predictable about turn as we learn that, beneath the sour exterior, she's free-spirited, doesn't tolerate hypocrisy or sexism, and has hidden reserves of empathy and generosity. She's even a big fan of Ray Davies and The Kinks.
There are some toe-curling moments here – Harriet re-inventing herself as a DJ, her sickly sweet relationship with a problem child she takes under her wing, her hyena-like hysterical laughter during a brief encounter with her estranged daughter. Nonetheless, MacLaine is surprisingly sprightly and shows a pleasure in playing an old curmudgeon that recalls Walter Matthau in his grumpy old man mode. This isn't a very distinguished film but it's likely to be remembered for its central performance. It's refreshing that an octogenarian like MacLaine can still get starring roles – and that she can still carry them off with such gumption. Why such a bland film has a 15 certificate is the real mystery here.
Register for free to continue reading
Registration is a free and easy way to support our truly independent journalism
By registering, you will also enjoy limited access to Premium articles, exclusive newsletters, commenting, and virtual events with our leading journalists
Already have an account? sign in
Join our new commenting forum
Join thought-provoking conversations, follow other Independent readers and see their replies