Film reviews round-up: Star Wars: The Last Jedi, Ferdinand, Shot Caller, Mountains May Depart
The movie you've all been waiting for, John Cena as a kindly bull, Jaime Lannister plays tough guy, and a Chinese epic
Geoffrey Macnab
Wednesday 13 December 2017 11:27 Comments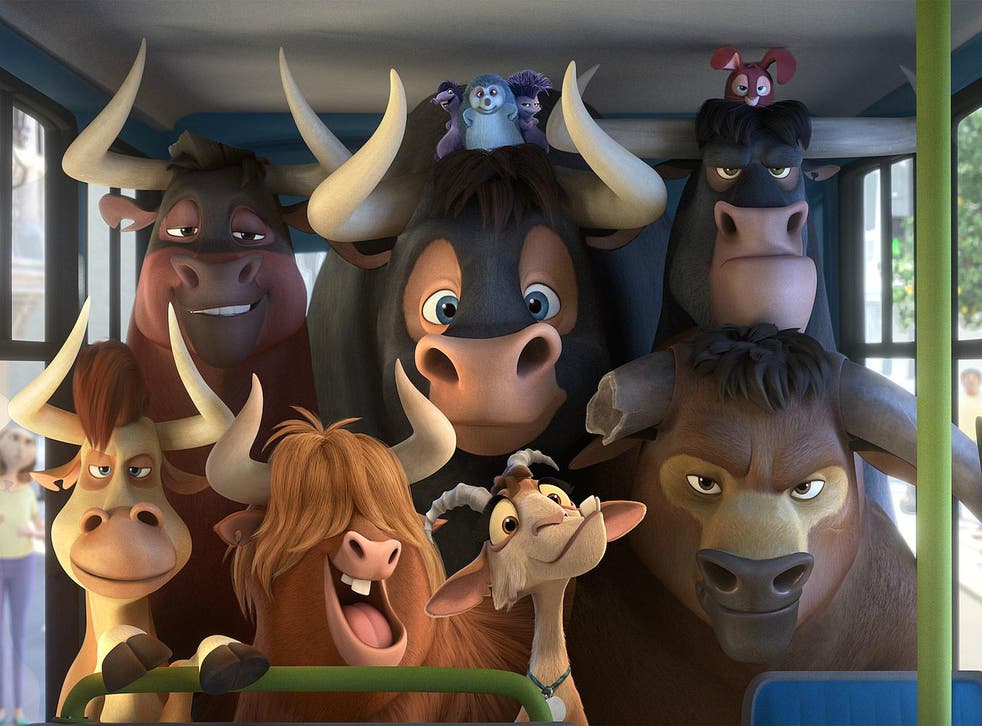 Star Wars: The Last Jedi
★★★☆☆
Dir. Rian Johnson, 152 mins, starring: Mark Hamill, Carrie Fisher, Adam Driver, Daisy Ridley, John Boyega, Oscar Isaac, Andy Serkis, Lupita Nyong'o, Domhnall Gleeson, Anthony Daniels, Gwendoline Christie
The Last Jedi is a curious mixture of the breathtaking and the banal. It features some of the best scenes in the current Star Wars cycle next to moments that are bombastic and repetitive in the extreme. The film takes itself very seriously one moment and is utterly tongue in cheek the next. All the elements for a great movie are here but they're not in quite the right balance – and balance as Luke Skywalker (Mark Hamill) tells Rey (Daisy Ridley), is everything.
One of the main challenges facing director Rian Johnson is that there are so many cards in play. This isn't just the latest instalment in a long running franchise. Johnson has huge amounts of baggage from the first Star Wars movies to attend to as well as all the plot lines involving the newer characters.
This is the last screen performance from the much loved Carrie Fisher as Princess Leia. Fisher had completed her work on the film before her untimely death last December and she features very prominently here. Hamill's Skywalker is also back at the centre of the story.
The film, which lasts for a lengthy 152 minutes, becomes increasingly frustrating in its final stretch. It builds up to a big emotional climax… and then it builds up to another big emotional climax. The main characters face off with light sabres… and then more of the main characters face off with light sabres. Johnson can't quite work out how to end it all.
For all the complexity of the subplots, the storyline is reassuringly familiar. This is again a tale of plucky rebels fighting against enormous odds. They refuse to allow the First Order fascists and their stormtroopers to snuff out the fire of resistance completely.
Early on, as the action unfolds to another wonderfully rousing score by John Williams, this is space opera of the very highest order. The special effects are first rate. If you enjoy fire, fury and slow-motion explosions, you'll find plenty to relish here. Johnson strikes a nice balance between the moments of Kubrick-like shock and awe, in which we see space in its vastness and mystery, and the B-movie elements.
The director takes us to many different corners of the galaxy. One of the best parts of the film is that involving Rey's efforts to prise Luke Skywalker out of retirement. As we discovered in The Force Awakens, Skywalker is living a hermit's existence on the remote planet of Ahch-To.
It may sound like a snooze but this is, in fact, a rainswept promontory very far from anywhere. Skywalker has turned his back on his Jedi past. The scenes on the island resemble something from a futuristic David Attenborough documentary.
Access unlimited streaming of movies and TV shows with Amazon Prime Video Sign up now for a 30-day free trial
Sign up
The place is full of exotic mammals, including sea cow-like creatures which provide Luke with his milk and little fish-faced critters with wheel barrows. Rey (again played with tremendous gumption and charm by Ridley) is the would-be Jedi. Skywalker is her potential guru – but only if she can persuade him to take her under his wing.
While Rey is trying to re-enlist Skywalker in the rebel cause, Leia and her followers are under severe stress in another part of the galaxy. They're being hunted down by the unctuous and Uriah Heep-like General Hux (an enjoyably smirking and malevolent Domhnall Gleeson). Hux knows that if he bungles his mission, he will have to answer to the evil leader Snoke (Andy Serkis under the usual layers of make-up).
Arguably, we see a little bit too much of Snoke. He represents the dark side and is supposed to be evil and mysterious. Bring him out of the shadows, though, and his mystique very quickly diminishes.
He becomes just another rubbery faced villain with a funny, amplified voice. When Rey comes face to face with him, it's a bit like Dorothy meeting the Wizard of Oz. The sense of anti-climax is palpable.
There is plenty to enjoy here. Oscar Isaac's daredevil pilot Poe careers around space with a recklessness that even Han Solo would have admired. The film is full of scene-stealing turns from droids and robots, both old and new.
In one memorable interlude, we are whisked off to the galaxy's sleaziest planet, a sort of Reno in space where high-rollers who've become rich through arms dealing like to gamble, drink and party. It's here we encounter Benicio Del Toro's character, a stuttering type who seems like a cross between Fagin and the Artful Dodger. The resistance needs him for a daring, last ditch plan to save Leia but as he very openly tells everyone who meets him, he is absolutely not to be trusted.
One of the strengths of the film is also one of its weaknesses. Johnson always makes time for character development. This may be a rip-roaring matinee adventure but there are interludes so that Kylo Ren (Adam Driver) and Rey can commune together across time and space or so that Skywalker can mull over the past and meditate on what being a Jedi really means. The mysticism is quite appealing in its own way but it slows down the narrative.
The more earnest moments will always be leavened with slapstick or irony. Hamill plays the ageing Skywalker in engaging fashion, bringing just the right mix of solemnity and self-mocking humour to the role.
One of the most likeable characters is Kelly Marie Tran's Rose Tico, a maintenance worker turned resistance heroine who embarks on a very risky mission with John Boyega's Finn – and has an excellent comic rapport with him. Laura Dern also registers strongly as Leia's right-hand woman, the quietly spoken but astute and steely Vice Admiral Amilyn Holdo.
There are enough characters and subplots here to fill a dozen movies. That ultimately is the problem. For all the skill and enthusiasm with which director Johnson marshals his elements, The Last Jedi becomes increasingly choppy and distracting.
Too much is going on and you begin to suspect the story here might be better told in a mini-series than a feature film. As we leap from one character to another, reach a finale and then realise that there are still loose ends to tidy up, the force of the film gradually begins to ebb away.
Ferdinand
★★★☆☆
Dir. Carlos Saldanha, 106 mins, voiced by: Kate McKinnon, Bobby Cannavale, John Cena, David Tennant
"Bullfighting is not a sport – it is a tragedy," is the headline from one of the first articles about bullfighting that Ernest Hemingway ever wrote. That is not how the corrida is portrayed in the sprightly and incongruously cheerful new animated feature from the team behind Ice Age and Rio.
Director Carlos Saldanha portrays a world in which blood is never spilt. There may be abattoirs for fighting bulls which don't meet the grade ("chop houses" as they're called) but there is never death in the afternoon.
You can see the contortions the filmmakers are twisting themselves into right from the outset. This is a 3D family movie, made in iridescent colours and full of shots of flora and butterflies. It's a witty and enjoyable affair but also a disingenuous one which fails to acknowledge its own lurking morbidity. It wants to have it both ways – to draw on the mythology of the bullfight but to keep the killing out of it
The film is based on the 1936 book, The Story Of Ferdinand, by Munro Leaf, already made into a short film by Disney in the late 1930s. Its main character is Ferdinand, first encountered as a sweet natured little bullock, more interested in cultivating roses than in fighting. There is no mention whatsoever of his mother but little Ferdinand's father is taken away early to fight in the corrida. He never returns.
Little Ferdinand makes a daring escape from the bull compound and is taken in by a farmer and his daughter. Here, he befriends a shaggy dog (which looks as if it has just stepped out of a Dulux ad) and lives an idyllic life.
He grows bigger and bigger – one reason why the little girl and her father try so hard to keep him out of sight. Bulls are judged on appearances. He looks ferocious in the extreme even if he is a big, herbivorous softie underneath those horns.
Some ingenious set-pieces are thrown in along the way. We see Ferdinand wreak havoc at a town flower market, and then, in one of the film's best scenes, the bull is let loose in a china shop.
The filmmakers have an eye for comic details – little old ladies with dusters which make the bull itch disastrously or the annoying bee that stings him in his buttocks, provoking a volcanic response, or the surreal moment in which a caterpillar disappears up his nostrils; by the time he sneezes it out, it has turned into a butterfly.
We know exactly what the fates have in store for Ferdinand. He is bound to end up in the bullfight arena sooner or later, face to face with the conceited matador ("El Primero"). In theory, one or other of them has to die. In practice, we know that is not going to happen. In spite of its evasions, this is still a film of considerable charm.
The voice work helps immeasurably. David Tennant gurns and mutters away in entertaining fashion as the fiery Scottish bull, Angus, who can't see through the hair on his forehead and therefore thinks he is blind. Whenever he tries to confide in anyone, he ends up speaking to their backside.
There are three scene-stealing hedgehogs called Uno, Dos and Quatro (they don't like to talk about what happened to Tres) who befriend Ferdinand in his hour of need, and three snorting, whinnying, conceited Austrian horses, Klaus, Greta and Hans, who mock him relentlessly from the other side of the electric fence. Bobby Cannavale gives the film its testosterone injection with his vigorous voice work as Ferdinand's would-be nemesis, Valiente, a bull who loves to fight.
The evocation of Spain is on the half-hearted side. We hear castanets on the soundtrack, one or two characters speak with Spanish accents and there are the inevitable "ole's!" when the bullfighting begins in earnest. There is no sense, though, of what period in which the film is set.
Is this the Franco era or the modern day? It is hard to tell. If you are not an American Football fan, some of the in-jokes may leave you baffled. Former star quarterback Peyton Manning voices the good-looking, narcissistic "Guapo", a bull who is predictably wayward in his aim.
There is some sort of message here about tolerance, courage and inclusion but Ferdinand is stuck on the fence when it comes to that tricky question about whether bullfighting is sport or blood-soaked barbarism. We are encouraged not to think too hard about what the matador really does with his sword and to enjoy the good natured high jinks the film provides instead.
Bingo: The King Of The Mornings
★★★☆☆
Dir. Daniel Rezende, 102 mins, starring: Vladimir Brichta, Leandra Leal
Brazilian Oscar contender Bingo: The King Of The Mornings is an uneven affair. At its best, it has a transgressive energy reminiscent of Martin Scorsese's The King Of Comedy. Its main character is the type of charismatic delinquent you could imagine a young Robert De Niro playing.
Augusto Mendes (Vladimir Brichta) is a small-time actor in Rio in the 1980s, dreaming of making it big. He appears in soft porn films to pay the bills and is devoted both to his young son and to his mother, an ageing diva who was once a big name in Brazilian theatre. Augusto is very resentful of the bosses at the big Brazilian TV stations who haven't spotted his talents.
Augusto's big break comes in unlikely fashion when he wins the role of the lead clown in a kids' TV show. The American producer gives him the role because he makes the crew laugh, little realising that Augusto's routine was a foul-mouthed tirade in Portuguese against him.
As played by Brichta, Augusto is anarchic, impulsive, shameless, and very flamboyant He takes the business of being a clown very seriously, studying under a veteran circus performer. Augusto looks every bit as threatening as Pennywise in Stephen King adaptation It, but his grotesquerie is part of his appeal.
Fuelled by drugs and alcohol, he has a recklessness which appeals to the kids, who are bored of safe, mainstream TV. He involves the young viewers in his shows, inviting them to call in and encouraging the studio audience to participate too.
As the success of the show increases, Augusto becomes increasingly frustrated. No one knows his real identity. The producers insist he keeps it secret. When he takes off his make-up, he sinks into humiliating anonymity.
Augusto is also so self-obsessed that his relationship with his son frays to breaking point. He is too busy working, womanising and partying to remember the boy's birthday or even when to pick him up after school.
In his debut feature, director Daniel Rezende (a renowned editor) foregrounds the sheer chutzpah and energy of his protagonist but the latter part of the film is far less invigorating than the beginning. There is a grim inevitability about Augusto's slip into booze-filled self-pity. He lusts after his uptight, strictly religious producer, Lucia (Leandra Leal), and takes a bet with the cameraman that he will soon be able to seduce her. Instead, he falls prey to her goodness and Christian zeal.
The film is based on the true story of Arlindo Barreto, who played Bozo on Brazilian TV, really did become a drug addict and found solace and redemption through the Baptist church. Augusto is a far more appealing character when he is behaving badly than when he is trying to do the right thing.
Vladimir Brichta plays him with tremendous verve, capturing the character's recklessness, his ambition, his humour, his naivety and his cheerful sleaziness. His performance holds together a film that otherwise would have risked turning smug and sanctimonious.
Shot Caller
★★☆☆☆
Dir. Ric Roman Waugh, 121 mins, starring: Nikolaj Coster-Waldau, Jon Bernthal, Lake Bell
"I don't get this guy," a probation officer says of released convict Jacob Harlon (Nikolaj Coster-Waldau) late on in brutal crime drama Shot Caller. You can understand his confusion. Jacob was a stockbroker from Pasadena living a "blessed" life with wife (Lake Bell), loveable kid, and all the middle-class trimmings.
Then he was responsible for a car accident in which his best friend was killed. He was sent to prison on a manslaughter charge – and, in no time at all, underwent an extraordinary metamorphosis. The bourgeois businessman was transformed into a bearded, tattooed, testosterone-driven, muscle bound, white supremacist gang member with a streak of absolute ruthlessness about him.
"Once a dude gets institutionalised, anything is possible," one character observed of the startling way that inmates' personalities are liable to change inside Californian clinks.
On many levels, Shot Caller makes no sense whatsoever. It beggars belief that Jacob would take so many decisions so damaging to his family. The film explains that different rules apply within the prison system. Even so, his behaviour is unfathomable.
New prisoners have two choices: either to become victims or predators. Jacob, the politely spoken businessman, gets in touch very quickly with his inner warrior. In no time at all, he is brawling, stabbing stool pigeons and taking part in race riots. He also does his fair share of the menial tasks, hiding smuggled drugs up his backside and conveying messages among the gang members.
As an exposé of a broken penal system, the film is thoroughly unconvincing. As a thriller, it is on the clumsy side. As a story about an Edward Bunker-like ex-con not going straight, it's pretty patchy too. Some of the dialogue sounds as if it was warmed up from creaky old TV cop shows.
Shot Caller is, though, an excellent opportunity for its star Coster-Waldau (who also experienced long-term imprisonment in Game Of Thrones) to show his prowess as a full-blown method actor. He is equally credible both as the stockbroker and as the hardened thug Jacob becomes.
He shows viciousness, cunning and appears to relish the camaraderie of his new existence alongside his low-life friends. Jacob warns his disbelieving wife that she needs to wash away the "stink" of him from her life.
Director Waugh knows how to stage a brawl or a close-quarter stabbing. Where he struggles is in constructing a coherent plot. "A warrior's deadliest weapon is his mind," we are told at one stage. If that is the case, it's a weapon that Jacob has no idea how best to use.
Mountains May Depart
★★★★☆
Dir. Jia Zhangke, 123 mins, starring: Zhao Tao, Jing Dong Liang, Zhang Yi, Dong Zijian​
Jia Zhangke's Mountains May Depart might best be described as an intimate epic. It combines family melodrama with a probing analysis of changing times in contemporary China. The film unfolds over three decades, opening in 1999, taking us to 2014, and then onto 2025.
In the first section, dance instructor Tao (played by the director's partner and regular collaborator Zhao Tao) is a seemingly carefree young woman. She lives in a fast-changing provincial town. Two men are wooing her. One, her childhood friend Liangzi (Jing Dong Liang), is a worker at the local mining company.
He's the decent and reliable type. Her other suitor is the impatient and ambitious Zhang (Zhang Yi), part of a new breed of entrepreneurial businessmen. It is startling how quickly Jia raises the stakes. This isn't just a story of young love but of radically different philosophies. Liangzi stands for the old collective vision. Zhang is a symbol of a brash new China in which the individual has the chance to flourish. He is also far more ruthless in his courtship than his rival.
Mountains May Depart isn't as openly bleak in its depiction of contemporary China as Jia's 2013 feature, A Touch Of Sin, but it does reveal how suddenly individuals can be uprooted and their lives transformed. There is no security for anyone. The relatively idyllic life that the three protagonists enjoy in the opening chapter doesn't last for long.
In the second episode, set in 2014, Tao is living in the big city and confronted by the anxieties and disappointments that come with middle age. Her marriage has broken up, her father is old and close to death. She has a child but her husband is now living with another woman.
She barely gets to see her son, Dollar, and is very aware that she is "of no use to him". Tao is past 40 and has little chance of finding another husband. The world is already passing her by. In the intervening years, the entire country has changed.
Material wealth has increased hugely, at least in the big city (if not in the remote backwater where Liangzi is now living). New opportunities are opening up but many of the old bonds that kept society together have frayed.
The third section deals with the experiences of Dollar (Dong Zijian) as a young student living in Australia, where his father has gone to build a new life. It's 2025. Dollar has completely lost touch with his mother. He has an affair with a foreign language teacher (Sylvia Chang), herself uprooted from her original background. The teacher helps him to confront his past and to remember his mother.
This final section may be set in the future but Jia doesn't resort to sci-fi cliches. 2025 seems little different from the present day. The director's interest is less in how the technology has changed than in what has happened to his protagonists over the quarter of a century the film covers.
The Australian scenes are mannered and a little maudlin. Jia isn't above using soap opera like plot conventions but even at its most manipulative and emotional, the film never loses its focus on the bigger picture. This is a film not just about upheavals in Tao's life but about convulsive changes in the society around her too.
Register for free to continue reading
Registration is a free and easy way to support our truly independent journalism
By registering, you will also enjoy limited access to Premium articles, exclusive newsletters, commenting, and virtual events with our leading journalists
Already have an account? sign in
Join our new commenting forum
Join thought-provoking conversations, follow other Independent readers and see their replies