Film reviews round-up: The Beatles: 8 Days a Week, The Infiltrator, The Clan, Sour Grapes
Ron Howard's charming documentary on music's most iconic group, Bryan Cranston in a tense drug thriller, and a documentary on the 'Gen X Great Gatsby'
Geoffrey Macnab
Thursday 15 September 2016 10:18 Comments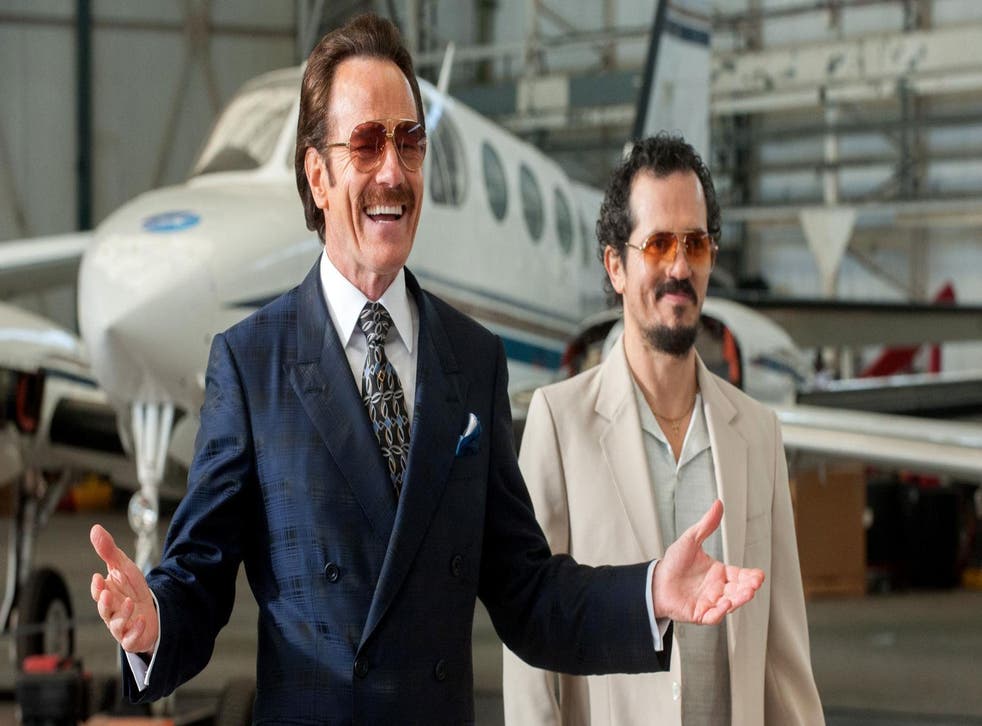 The Beatles: 8 Days A Week - The Touring Years
★★★★☆
Ron Howard, 120 mins, featuring: Ringo Starr, Paul McCartney, George Harrison, John Lennon, Whoopi Goldberg, Richard Curtis, Eddie Izzard, Sigourney Weaver, Elvis Costello, Larry Kane
No-one can accuse director Ron Howard of shirking. Over the last three years, he has completed Grand Prix drama Rush, maritime epic In The Heart Of The Sea and the soon to be released Da Vinci Code sequel, Inferno. The hard-working American has also somehow found time to make this fascinating documentary about The Beatles in their early years.
The material it covers is familiar enough but it is still a poignant and very entertaining account of its subject, one that makes excellent use of archive material and that is driven along at frantic pace by The Beatles' music.
"By the end, it became quite complicated; in the beginning, things were very simple," Paul McCartney sums up the story in a nutshell. The film captures brilliantly the sheer sugar rush of euphoria surrounding the band at the height of Beatlemania. More than half a century later, it is impossible not to be taken aback by the shrieking hysteria of the fans clamouring for a piece of John, Paul, Ringo and George.
Once their manager Brian Epstein had put them all in suits, they became, in their own words, a "four-headed monster." The very sight of them provoked riots. Queues for their shows stretched more than a mile long.
Early on, Epstein and the band members were deliberately targeting the young female audience but there was nothing cynical in the way they did so. Their very obvious pleasure both in their own music and in each others' company was felt by their fans. (Ringo Starr talks about being an only child and regarding the other three Beatles as surrogate brothers.)
There's a wonderful moment here in which we see the band members in a hotel in New York listening in awe to one of their songs being played on a transistor radio, as if they can't believe that they're reached such exalted heights. Even more striking is the footage of thousands of Liverpool FC fans singing a Beatles song in perfect harmony at Anfield.
Alongside the photos, concert and newsreel footage, the documentary features interviews with the band members and with a few of the celebrity fans touched by The Beatles in their touring years (among them writer Richard Curtis, actresses Whoopi Goldberg and Sigourney Weaver and musician Elvis Costello.)
Comedian Eddie Izzard pays tribute to their genius for repartee; the way they could all charm and confound interviewers trying to heckle them or ask them loaded questions. Goldberg enthuses about the way they broke down racial barriers. To her as a kid growing up in the early 60s, they weren't white guys - they were The Beatles. Part of their genius was that they made everyone feel equally welcome. Weaver, meanwhile, expresses the gushing enthusiasm of the teen fan she once was. "I felt as much as a girl could feel."
Access unlimited streaming of movies and TV shows with Amazon Prime Video Sign up now for a 30-day free trial
Sign up
We all know that the sugar rush isn't going to last. The relentless work schedule began to take its toll. The famous throwaway comment in a newspaper interview by Lennon about The Beatles being more popular than Jesus provoked a huge backlash in the US. By the mid-1960s, there was a sense that the band was going through the motions on stage.
They weren't kids anymore. The old exhilaration was no longer there. They wanted to make music, "not be in a circus." They eventually decided that was better done in the studio with George Martin than on the road.
Howard's approach is far from critical. He doesn't rake over the old feuds or look in any detail at the band members' private lives and solo careers or try to come up with a revisionist account of their lives and careers. There aren't any revelations here that Beatles fans won't already have come across elsewhere.
What makes the film magical is the sheer richness of the archive material and the pace at which it has been edited. The documentary never feels like an exercise in nostalgia. Howard manages to make the "live" music sound as fresh as ever. He eschews voice-over narration and doesn't try to analyse The Beatles phenomenon in too academic a way.
There is real pathos in the use of the footage from their rooftop concert in 1969. Here, for a few moments at least in their final public performance, they recapture that sense of utter exhilaration in performing together that they had somehow lost along the way.
The Infiltrator (15)
★★★☆☆
Brad Furman, 127 mins, starring: Bryan Cranston, Diane Kruger, Benjamin Bratt, Olympia Dukakis, Amy Ryan, John Leguizamo
The Infiltrator - Trailer
Fans of Scarface and Carlito's Way will enjoy The Infiltrator, a shamelessly derivative but very energetic thriller that has Bryan Cranston in the kind of role that Al Pacino might have relished a generation ago. The film (based on a true story) is set in the 1980s, when Pablo Escobar was in his prime and hundreds of millions of dollars worth of cocaine was being smuggled into the US from Colombia every year.
Cranston plays undercover agent Robert Mazur, a happily married family man offered retirement but who agrees to take part in one last "sting." He passes himself off as a crooked financier who'll help the Medellin Cartel to launder their dirty money in the US and Panama.
Cranston clearly relishes a role that carries obvious echoes of his performance in TV's Breaking Bad. He is playing a seemingly strait-laced suburban former accountant who doesn't find it any struggle at all to hang out with Colombia's most vicious drug dealers and gangsters. When his cover is threatened, the character doesn't hold back on the violence either.
There's one chilling scene in which he assaults a waiter to save face with his new mobster pals. Nor does it bother him much when associates are killed in front of him. He takes a battered brown briefcase wherever he goes. This contains the hidden recording equipment with which he hopes to incriminate the bad guys.
At times, The Infiltrator is very cheesy indeed. Lines of dialogue sound as if they're cribbed from some old Michael Mann thriller. John Leguizamo, as Cranston's livewire, foul-mouthed sidekick, could almost be reprising his role as the equally combustible Benny Blanco from The Bronx in Carlito's Way. What makes the film fun, all the same, is the enthusiasm with which it is acted and directed.
There's a wonderfully camp performance from Yul Vazquez as a purring Colombian gangster in a white tuxedo who draws pictures of potential victims on napkins. Diane Kruger enjoys herself as an improbably glamorous undercover agent pretending to be Mazur's "fiancée." Benjamin Bratt makes a suitably sleek and charming drugs baron. Olympia Dukakis has a scene-stealing turn as Cranston's very ruthless, materialistic and outspoken elderly aunt. When cars crash, they do in spectacular fashion.
There is something Iago-like about Cranston's character, who pays very little attention to the wife (Julia Aubrey) he ostensibly loves and who thinks nothing of betraying his gangster friends. His motivation is impossible to surmise. It's left unclear whether he is driven by hatred of the drug dealers or by professionalism or if he simply goes undercover for kicks. Whatever the case, Cranston's performance is fascinating. He manages to be sympathetic, aloof and just a little creepy all at the same time.
The film, though set in 80s America, was partly shot in the UK and has a British producer. This presumably explains the number of British actors who pop up unexpectedly in character roles (Jason Isaacs and Daniel Mays among them.) You won't find much originality in The Infiltrator but it has at least some of the flamboyance and fieriness of all those 70s and 80s gangster movies it is trying so hard to imitate.
Sour Grapes (15)
★★★★☆
Reuben Atlas, Jerry Rothwell, 85 mins, featuring: Rudy Kurniawan, Jay McInerney, Arthur Sarkissian, Bill Koch
There's a whiff of Catch Me If You Can with a flavour of Patricia Highsmith and a faint taste of F. Scott Fitzgerald to Sour Grapes. This heady and very entertaining documentary is the cautionary tale of a con artist who tricked wine experts into spending fortunes on rare vintages which weren't at all what they seemed.
Rudy Kurniawan was a geeky, bespectacled Indonesian living in California on an expired student visa who somehow became part of the wine collecting elite at a time when fine wine was beginning to generate huge investment returns. Nobody knew quite where his money came from or who he really was but almost everybody enjoyed his company. He had a diffident charm and he appeared passionate and very knowledgeable about his subject. Some likened Rudy to a "Gen X Great Gatsby."
Journalists have already written extensively about the Kurniawan case but this is a story that lends itself to film. Directors Jerry Rothwell and Reuben Atlas have managed to get hold of plenty of video footage of their subject, who clearly enjoyed being in the eye of the camera. They've also interviewed most of the key protagonists: the sommeliers, wine writers and collectors who swarmed around Kurniawan.
The bizarre side to the story is that his victims still seem to like him so much. His behaviour and motivation is hard to fathom. In his own eyes at least, he was an artist as much as he was a crook. He showed outrageous chutzpah but there was also a touching naivety about him. Of all the people he deceived, arguably he was his own greatest victim.
The Clan (15)
★★★★★
Pablo Trapero, 108 mins, starring: Guillermo Francella, Peter Lanzani, Lili Popovich, Gastón Cocchiarale, Giselle Motta, Franco Masini
Pablo Trapero's brilliant new film The Clan is an unsettling and provocative thriller which can also be read as an allegory about bad faith and corruption in the post-dictatorship Argentina of the 1980s. What makes it all the more disturbing is that is based on a true story. During the military junta and the years of the "Dirty War,", the Government was behind the disappearance and death of many of its own citizens.
After the fall of General Galtieri, some of his old henchmen kept up the bad work, kidnapping, ransoming and sometimes killing their fellow citizens. The violence had become part of everyday life.
Trapero's ingenious screenplay confounds audience expectations. The most sympathetic character here is also one of the most monstrous. Alejandro Puccio (Peter Lanzani) is a good looking young rugby star, playing for the national team. He seems sensitive and everybody likes him. Even so, he is a willing helper when his father Arquimedes (a chilling performance from Guillermo Francella), a patriarch with links to the old military regime, orchestrates the kidnappings.
This is a family drama. Trapero accentuates the ordinariness of the Puccio clan. We see them eating meals together. We follow Alejandro's sporting triumphs and his courtship of a beautiful young woman. All the time, we are aware that the kidnapping victims are being held in squalor in the basement and that these victims' relatives are mad with grief.
Register for free to continue reading
Registration is a free and easy way to support our truly independent journalism
By registering, you will also enjoy limited access to Premium articles, exclusive newsletters, commenting, and virtual events with our leading journalists
Already have an account? sign in
Join our new commenting forum
Join thought-provoking conversations, follow other Independent readers and see their replies