Film reviews round-up: The Beguiled, War for the Planet of the Apes, Cars 3, David Lynch: The Art Life, The Death Of Louis XIV
Sofia Coppola's Cannes-beloved piece of Southern Gothic, an ape epic, Pixar's latest sequel, a portrait of an auteur, and the end of a king 
Geoffrey Macnab
Wednesday 12 July 2017 12:17 Comments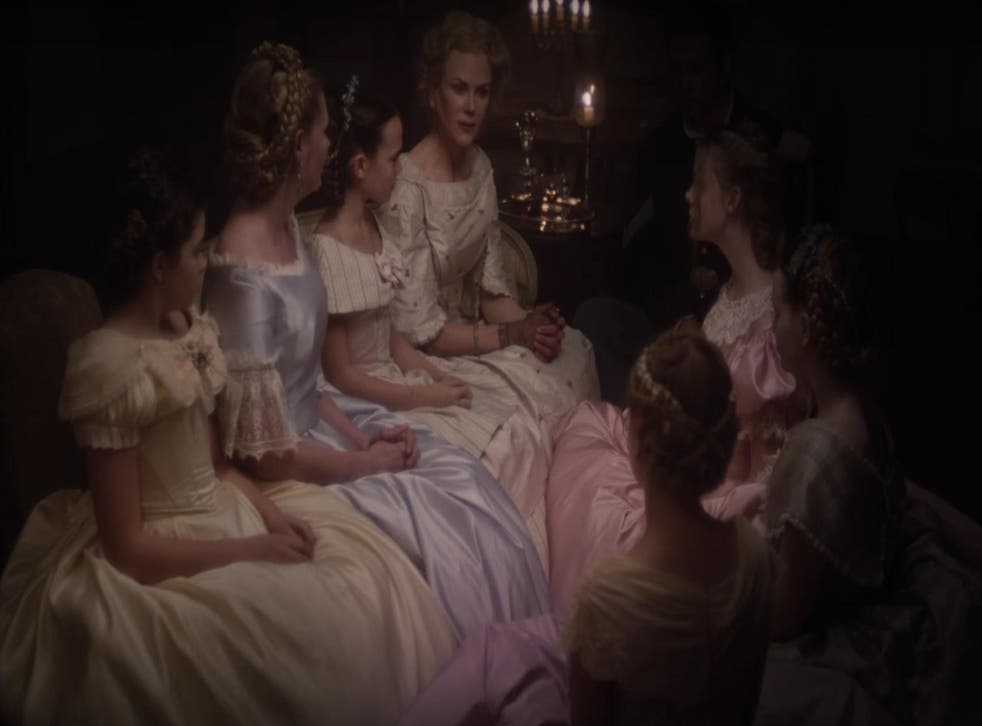 The Beguiled (15)
★★★★☆
Sofia Coppola, 93 mins, starring: Colin Farrell, Nicole Kidman, Kirsten Dunst, Elle Fanning
The presence of a wounded, ruggedly good looking Union soldier in the grounds of a Virginia girls' school stirs unholy passions in Sofia Coppola's remake of The Beguiled (the 1971 Don Siegel movie starring Clint Eastwood.) This is Southern Gothic at its most lush and delirious. It is also very comic in its own macabre way. Coppola conjures up a wonderfully fervid atmosphere.
The female characters here all dress in the kind of vestal white dresses that rekindle memories of the schoolgirls in Peter Weir's Picnic At Hanging Rock. Outside the school grounds, the civil war is raging and the Confederates are close to defeat. This doesn't stop the headmistress Miss Farnsworth (Nicole Kidman) from insisting that high standards of etiquette are maintained.
She, though, is just as prey to the soldier's charms as any of her students. Coppola shoots the film in a self-consciously arch way. The first images are of a young girl, Amy (Oona Laurence), walking through the grounds on a very misty morning, looking for mushrooms to pick.
The trees, especially the weeping willows, are overgrown. Amy is like a character in a fairy tale, an equivalent to Little Red Riding Hood. "He was all alone in the woods. I couldn't leave him there to die," she explains her surprising discovery in the woods.
Philippe Le Sourd's cinematography adds to the gothic feel of the storytelling. He makes extensive use of natural light, which leaves the women looking pale and ghost-like even in the daytime scenes. The night scenes, meanwhile, rely on candle light.
To the women, Corporal John McBurney (Colin Farrell) is like the big, bad wolf. They project all their fantasies onto him. He's an object both of fear and of erotic fascination and longing. They're terrified that the Union soldiers are out to rape every Southern woman.
At the same time, they have romantic yearnings for McBurney and view him as a Heathcliff figure. He is also a welcome antidote to the overwhelming tedium of their daily routine. They enjoy petting and pampering him. At first, thanks to his injuries, he is no immediate threat.
"It's a shame, isn't it, that I couldn't have remained helpless," he laments late in the film when his vigorous good health causes the women such consternation.This is a film full of irony. McBurney isn't really a heroic figure at all.
Farrell captures well McBurney's sexual opportunism and sleaziness as well as his roguish Irish charm. He's a low ranking soldier, probably a deserter, who would have died without the intervention of the women.
Access unlimited streaming of movies and TV shows with Amazon Prime Video Sign up now for a 30-day free trial
Sign up
He can't quite believe his luck that he has a chance of survival. As in Powell and Pressburger's famously lurid 1940s melodrama Black Narcissus, in which nuns in the Himalayas are thrown into a state of lust and confusion by the presence of a man, the women here begin to behave very badly.
Their real enemy isn't the stranger in their midst but themselves. They conspire to spend time with him alone. He eggs them all on, little realising that their capacity for violence far exceeds his own Coppola's women enjoy themselves in roles in which their true feelings toward the man are slowly revealed.
Early on, they look and behave demurely, as if they have stepped out of the pages of a Louisa May Louisa May Alcott novel. Alicia (Elle Fanning) hardly speaks but McBurney's presence unlocks her inner coquette.
Edwina Morrow (Kirsten Dunst) appears stern and even dowdy in the opening scenes but McBurney quickly helps her loosen up too. Kidman's performance is very cleverly judged and has a sardonic quality which stops the film from seeming too overblown.
Her Miss Farnsworth is fussy, precise and bossy, with a lilting southern accent that has just a trace of Scarlett O'Hara about it. She is as much a victim of her own repressed desires as any of the other women but has a wonderfully pragmatic way of dealing with the most problems.
She is good at first aid and handy with a saw too. Her insistence on maintaining decorum at all times ensures that the most fraught moments here tend to have a freakishly comic undertow. She is a bit of a monster but a very polite and well-spoken one.
The film is a mish-mash of genres. It borrows elements from westerns, horror films, fairy tales and crime movies. Its mannered, playful style, though, is all Coppola's own. As she has shown in films from Marie Antoinette to The Bling Ring, she loves to probe away at the desires, neuroses and fears of young female characters who can behave like angels one moment and like "vengeful bitches" (as McBurney calls them) the next.
Reflecting its title, The Beguiled is made in such an enchanting and delicate fashion that we don't realise immediately just how dark and morbid it really is.
War For Planet Of The Apes (12A)
★★★☆☆
Matt Reeves, 140 mins, starring: Andy Serkis Woody Harrelson, Judy ​Greer.
The give-away is the 12A certificate. War For The Planet Of The Apes promises "ape-calypse," "holy war" and extreme levels of violence and retribution. It features fires, floods and avalanches. Adding to the film's very obvious biblical undertow, there are scenes in which the apes are crucified.
Their long suffering leader Caesar (Andy Serkis) is a Moses-like figure, leading them out of the wilderness toward the promised land. The shaven-headed Colonel (Woody Harrelson), Caesar's human nemesis, is one part Kurtz from Heart Of Darkness and one part Pontius Pilate.
Nonetheless, when it really comes to it, the film shies away from the abyss. It has a strain of sentimentality that you'd expect to find in a Disney family feature, not in a dystopian affair like this.
At the darkest moments, a sweet-natured, mute little girl is on hand to show the apes that not every human is a cruel as the Colonel. There's also "Bad Ape," a mischievous zoo chimp who will always provide at least a hint of comic levity whenever the storytelling becomes too despairing.
The result is a film which, like its predecessors, is intelligent and entertaining but ultimately a little too tame to do justice to its often very bleak themes.The story starts two years on from Dawn Of The Planet Of The Apes.
Humankind is still teetering on the brink of extinction after the calamity of the Simian Flu. War rages on. Caesar and his apes are rumoured to be deep in the forests. Rather than leave them to live in peace, the Colonel is determined to trap them down and wipe them out.
Our sympathies are with the apes right from the outset. That's not just because those big-eyed baby chimps look so adorable. The Colonel's soldiers are the aggressors. They wear helmets on which they proudly describe themselves as "monkey killers" and show no forbearance when they finally spot the apes.
Caesar, by contrast, is measured and keen to avoid bloodshed. "I did not start this war," he declares solemnly in the face of extreme human aggression. Andy Serkis is again wonderfully expressive as Caesar.
He may be acting via "motion capture" (as in the previous film and Lord Of The Rings) but whether through the editing, the technology at Weta Digital or his movements, the film always gives us a sense of the character's inner life.
There are frequently close-ups of Caesar's face. He is very conflicted about almost everything and has far more of a conscience than any of the humans who are trying to exterminate him and the other simians.
He is very troubled by his own capacity for violence. When those closest to him are slaughtered, he begins to behave (to his own shame) with the same malevolence as Koba, the human-hating ape he vanquished in Dawn Of The Planet Of The Apes.
War For The Planet Of The Apes - Trailer 3
For no particular reason, much of the film unfolds in the dead of winter. Rise Of The Planet Of The Apes (2011), the first film in the re-boot, began in San Francisco but at times here it looks as if Caesar and his followers have ended up somewhere deep in the Swiss Alps.
There's even a scene high up in a deserted ski resort.The mood of the storytelling swings wildly. At certain moments, we lurch in the direction of Tarzan-style action adventure. For example, we see Caesar dangling high above a waterfall and then clambering to safety through a torrent.
An early battle scene unfolds like something out of Henry V. Caesar's followers are just as lethal with their arrows as the English archers at Agincourt. We have chases on horseback and hand to hand fighting.
However, the scenes inside the prison can't help but rekindle memories of Nazi death camps. The Colonel himself stands on the balcony, looking down on the suffering apes just in the way that Ralph Fiennes' Amon Göth took stock of the prisoners in Schindler's List.
He has them all building some gigantic wall. The humans, it turns out, aren't just fighting the apes. They are in bitter conflict with each other too. For a few moments, the film becomes very grim indeed.
Director Matt Reeves goes all out to show the extreme suffering of the apes in captivity. They have neither food nor water. If they don't work, they are killed. Then, in one of the film's many switches in style, Reeves enters Great Escape mode.
You can't help but wonder at Caesar's tactics. He is so keen for revenge against the Colonel that he risks walking into every trap laid for him. His plan of confronting his arch enemy face to face hardly ranks with the battle strategies of other military leaders whose names are invoked.
There's a random quality to the plotting, a sense that the filmmakers are scavenging ideas from all over the place. Explosive action sits next to philosophising. One moment Caesar is a martyr, the next an action hero.
The film has less allegorical force than might have been expected. Reeves isn't dealing with race or class prejudice in anything other than the most generalised way. (In spite of the Colonel's desire to build a wall, it is hard to see any veiled references to Trump here.)
As a parable about the decline of civilisation, War For The Planet Of The Apes is broadly effective. From the viciousness of the Colonel to the treachery of the homesteader who hides a gun under the firewood he is carrying, the humans are the villains.
They're the species on the way down. At times, you suspect the filmmakers are throwing in humour, action and pathos simply as a way to distract from the extreme pessimism that's really at the core of their story.
Cars 3 (U)
★★★☆☆
Brian Fee, 109 mins, voiced by: Owen Wilson, Bonnie Hunt, Armie Hammer, Nathan Fillion, Kerry Washington
11 years after Cars (2006) first revved into cinemas, its four wheeled hero Lightning McQueen is looking a little tarnished - and that's the point. "I am speed," Lightning (still voiced in an engaging, whiny way by Owen Wilson) says to himself with a diminishing sense of conviction.
His status as the fastest vehicle in the Piston Cup is under threat. He now has to compete against a number of souped-up "next gen rookies," among them brash, super quick Jackson Storm (voiced by Arnie Hammer.)
Cars 3 is certainly on the elegiac side. This is Pixar's answer to one of those westerns about a gun slinger going to seed or sports movies about a boxer who's no longer a contender. The young kids at whom the film is aimed are unlikely to have seen the first two instalments.
They may well wonder why so much fuss is being made about a racing car seemingly in near terminal decline.The premise may sound downbeat but the storytelling style remains as upbeat as ever. This is cheery, engaging fare. There are in jokes about Lightning McQueen merchandising (worth billions to Pixar in real life) and whether he should see himself as a car or as a "brand."
The filmmakers deal in wry, witty fashion with the old cars' struggles to adjust to a data driven world. Every bit as obnoxious as Jackson Storm himself is the number crunching analyst Natalie Certain (voiced by Kerry Washington) , a TV pundit who works out that Lightning's statistical chances of winning his comeback race stand at precisely 1.2%.
Underlining the nostalgic mood of the film, Lightning projects footage of old races featuring his mentors and competes in demolition derbies (having first disguised himself by smattering his shiny red bodywork and familiar no 95 number with mud.)
The film expresses a strong suspicion of modernity as represented by simulation machines and corporate capitalists with shiny hi-tech headquarters. Lightning's own tastes are old fashioned. He likes to race on the dirt and to hang out with blue collar, salt of the earth friends like Mater, the buck toothed tow truck.
The main female protagonist is Cruz Ramirez (voiced by Cristela Alonzo), a coach who puts racing cars through their paces at Sterling, the company which now owns Rusty's old racing team. She's a would-be racer herself whose career on the track stalled at the outset.
Lightning is hostile toward her new-fangled methods but soon strikes up a productive friendship with her. (A full throttle love affair between them is out of the question as the sleek blue Porsche Sally Carrera is still around.)
For all the films' success, the premise behind Cars is still as jarring as ever. By eliminating the humans and anthropomorphising the vehicles, the creators risk driving themselves into a cul de sac. Some of the language the four wheeled characters use makes no sense whatsoever.
"Go kick those rookies in the trunk," Lightning is told at one stage - advice which might have seemed more sense if he actually had a pair of legs. Director Brian Fee and his screenwriters take us down surprising by-ways and manage to bring original elements to familiar set-pieces.
For example, the climactic race in Florida doesn't unfold in quite the way that audiences will have anticipated. The action is also handled with considerable ingenuity, whether the mayhem of the demolition derby or a mesmeric slow motion crash.
Lighting McQueen is remarkably philosophical about his own waning powers. He may be an alpha male but there's very little testosterone in his tank. For all his achievements, he remains modest and good natured.
Cars 3 itself is a sprightly and likeable film because it shares Lightning's self-effacing qualities and his nostalgic fondness for looking at life through the rear view mirror.
David Lynch: The Art Life (15)
★★★★☆
Rick Barnes, Olivia Neergaard-Holm, Jon Nguyen, 86 mins, featuring: David Lynch
David Lynch - The Art Life is a fascinating, very intimate portrait of the artist and filmmaker in which we hear Lynch talk through key formative moments his life in stream of consciousness fashion. It helps that the filmmakers haven't just interviewed their subject at length but have access to treasure troves of home movie footage and photographs.
As you might expect, Lynch is determinedly oddball. The Twin Peaks and Wild At Heart director reminisces about his childhood in engagingly quirky fashion. When he was growing up in the midwest, his world was no "bigger than a couple of blocks."
He was living a very typical American family life with loving parents. He enthuses about what seems to have been one of his very happiest childhood memories, namely the days he spent sitting with his little friend Dickie Smith in a mud puddle.
"It was so beautiful!" he rhapsodises. "You get to squeeze mud and sit under the shade of the tree." He hated school and got in with "a bad bunch" in the ninth grade to the shame of his mother.
The moment of epiphany came when Lynch met a boy called Toby Keeler who told him his father was a painter. This "popped all the wiring" for the young Lynch who decided instantly that he too would become an artist.
His notion of the "Art Life" is borrowed from Robert Henri's book The Art Spirit. "I can't remember much about it now," he says of the book even as he explains that, for him, being an artist boiled down to smoking cigarettes, drinking coffee and painting.
"That's it. Maybe girls come into it a little bit."Lynch's deadpan delivery offers us no hint as to whether he is being tongue in cheek. He talks at one stage about walking out of a Bob Dylan concert and then evicting a housemate who had the temerity to complain he had done so.
The focus here is on Lynch as an artist and the film only touches in passing on his adventures in filmmaking. At the end of the documentary, we learn about how he came to make Eraserhead after moving to LA.
He shot the film in disused stables in a huge mansion in Beverly Hills on the campus of the American Film Institute. One of the drawbacks of the emphasis here on Lynch as a painter is that we're given very little sense of what he is like as a film director; how he casts his movies; behaves with his actors and crew or how he edits them and deals with financiers and producers.
There is nothing here either about his interest in transcendental meditation. Although he speaks very openly about his childhood, he barely mentions his private life as an adult. We see him working patiently in his studio with his tiny daughter Lula beside him, but we learn little about his current family.
The concern of the documentary is entirely with his "art life" and anything that doesn't relate to that life is excluded. For all the insights here about his formative years, the quirks in his personality, his warped dreams and his devotion to his work, the film still feels like half a picture Another more conventional documentary could usefully fill in the blanks.
The Death Of Louis XIV (12A)
★★★☆☆
Albert Serra, 115 mins, starring: Jean-Pierre Léaud, Patrick d'Assumçao, Marc Susini
In the week The Beguiled is released in British cinemas, this is another story about a bed-bound man who exercises huge fascination on those tending him. The invalid here is Louis XIV (played under a voluminous wig by veteran French New Wave star Jean-Pierre Léaud.)
He is slowly dying and there is nothing his doctors, courtiers and advisors can do about it. Albert Serra's sombre film is the absolute definition of a chamber piece. It unfolds almost entirely in the king's room as he lies on his death bed. He isn't granted privacy or even much dignity. He is being asked for money for building projects. Quacks try to revive him with an elixir containing bull's sperm.
The more serious doctors led by the conscientious Fagon (Patrick d'Assumçao) contemplate amputating his leg to stop the gangrene spreading. He is fetched water and fed wine and biscuits. There is the obvious irony that the most powerful man in France has become utterly dependent on others.
His wealth and power count for nothing as his condition worsens. The doctors and courtiers are helpless too. They want to help their king but don't have the means to do so. Playing the longest serving King of France, Léaud doesn't get to say much. His performance is all grimaces, groans, heavy breathing and pleas for his valet to bring him water.
Léaud gives his character dignity even as his faculties begin to fail. There is an obvious pathos in seeing the actor who starred as the rebellious young boy in François Truffaut's The 400 Blows at the start of his career cast as the decrepit monarch here. This is a study of a man dying. It's a claustrophobic affair. We barely see any daylight.
In its own sombre, ritualistic way, the film makes compelling viewing. Serra tackles the story in a precise, matter of fact way, paying close attention to rank, etiquette and costume, but never concealing the suffering of the king or the inability of his doctors to comfort or heal him.
Register for free to continue reading
Registration is a free and easy way to support our truly independent journalism
By registering, you will also enjoy limited access to Premium articles, exclusive newsletters, commenting, and virtual events with our leading journalists
Already have an account? sign in
Join our new commenting forum
Join thought-provoking conversations, follow other Independent readers and see their replies