Film reviews round-up: Brawl in Cell Block 99, Happy Death Day, I Am Not A Witch
A razor-sharp drama, the latest Blumhouse horror, a modern-day Zambian fable and a seller for toys
Geoffrey Macnab
Wednesday 18 October 2017 11:30 Comments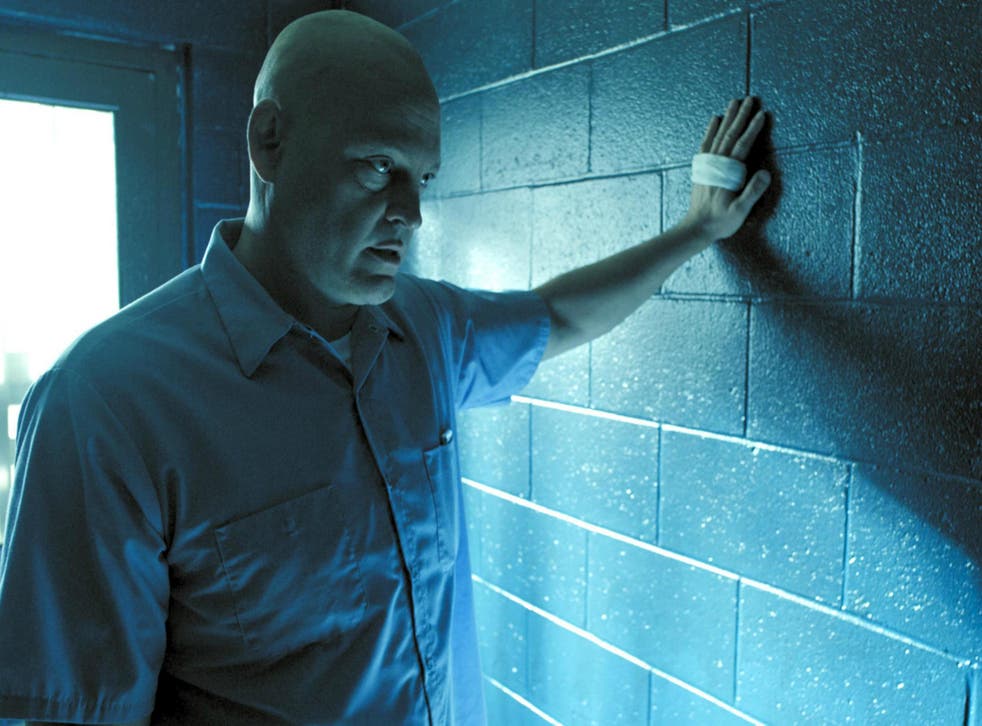 Brawl In Cell Block 99 (18)
★★★★☆
Dir: S Craig Zahler, 127 mins, starring: Vince Vaughn, Don Johnson, Jennifer Carpenter, Udo Kier
It takes a moment or two to realise that the thuggish, shaven headed, blue collar worker in his boiler suit we see being laid off at the start of Brawl In Cell Block 99 is played by Vince Vaughn (the star of comedies like Swingers and Wedding Crashers).
Bradley Thomas (Vaughn's character) is an imposing character with a tattoo of a crucifix on the back of his head. He looks as if he might explode into an act of extreme aggression at any moment. The paradox about Bradley, and one of the reasons that Cell Block 99 is such an intriguing film, is that he's also a quintessential American everyman with a hint of John Steinbeck's Tom Joad about him.
Writer-director S Craig Zahler includes here many of the elements that made his previous feature, the Western Bone Tomahawk, so distinctive. Cell Block 99 has moments of stomach churning and repulsive violence.
Bradley's enemies are likely to have their arms wrenched off or their heads kicked in to a bloody pulp. This is also an exercise in B-movie genre filmmaking. Everything from its title to its very stylised plot leads us to expect a contemporary equivalent to an old Don Siegel exploitation movie or an Edward Bunker adaptation. At the same time, the film has an unexpected quirkiness and depth of characterisation.
Vaughn probably won't win any awards but this is one of his most surprising and most affecting screen performances. He plays Bradley as a fatalistic but essentially decent man who goes to extreme lengths to protect his wife Lauren (Jennifer Carpenter).
"South of OK, north of cancer," is the laconic way Bradley describes how he is feeling at the start of the movie. He has gone through life always "getting the skimmed milk" and hoping that maybe luck, for once, will bring him "the cream".
A one-time boxer and former drug addict, he aspires to do the right thing. That isn't easy when he loses his job and comes home to discover that his wife is having an affair. There's a tremendous scene early on in which he vents his anger on his wife's car, smashing its wing mirrors, pulling off its bonnet and pummelling its body work, hurting his fists as he does so.
By the end of the scene, the car is left in as much of a wreck as the gangsters, prison warders and low-lifes who later cross him. What's startling is the way he keeps his emotions under wraps, even as the violence escalates. He never appears to lose his temper and he never raises his voice.
In spite of the title, it takes a while for Bradley actually to reach prison. When he loses his job, he discusses in practical terms with Lauren how they can stay afloat and save their relationship. There are oblique references to a baby they lost earlier in their marriage.
Access unlimited streaming of movies and TV shows with Amazon Prime Video Sign up now for a 30-day free trial
Sign up
Out of necessity, Bradley takes a job as a driver and henchman to a mobster, Gil (Marc Blucas). For a while, he thrives. He is living in much more affluent circumstances and Lauren is pregnant again. He is counting down the days to the birth of his baby daughter. It's at this point that his world unravels all over again.
The storytelling is stylised and, at times, very far-fetched. You can tell that this isn't a piece of social realism when the very camp German actor Udo Kier appears on screen at the prison visitors' window and when we see Miami Vice's Don Johnson as Warden Tuggs, the drawling tyrant in charge of the maximum security prison where Bradley is eventually sent.
Bradley endures all the petty humiliations that come with imprisonment in movies like this. He is strip-searched and forced to give up all his possessions, including his stainless steel wedding ring. He is put in a cell whose lavatory is overflowing with excrement.
Warden Tuggs makes him wear a belt which can be used to electrocute him whenever he misbehaves. Bradley accepts all the suffering with his familiar, deadpan stoicism. He also inflicts pain. Throughout the film, he remains the same even-tempered and calculating figure, assessing the odds at the very moment that he is provoking a fight with a guard or gouging someone's eyes out.
Perhaps because of its lurid violence and pulp movie credentials, Cell Block 99 is being given a relatively modest cinema release in the UK. Its predecessor Bone Tomahawk performed fitfully at the box office before finding a huge audience on VOD and DVD.
Whether or not the new film is a hit, it underlines Zahler's credentials as a writer-director with an utterly distinctive style. In terms of its storyline alone, this is a bit of a potboiler, a typical prison drama, but the dialogue is razor sharp and the performances, especially that of Vince Vaughn, are far more nuanced and poignant than you'd expect.
Happy Death Day (15)
★★★☆☆
Dir: Christopher Landon, 96 mins, starring: Jessica Rothe, Israel Broussard, Ruby Modine, Rachel Matthews, Charles Aitken, Jason Bayle
It's a testament to the ingenuity of the filmmakers behind Happy Death Day that they can make even deja vu seem fresh and original. This is a horror movie/romcom/thriller from low-budget horror meister-producer Jason Blum that rips off its premise shamelessly from Harold Ramis' Groundhog Day (but at least has the grace to acknowledge it is doing so).
It is ingeniously structured in its own right, even if some of its plot twists and contortions don't entirely stack up. Director Christopher B Landon (son of Little House On The Prairie's Michael Landon) combines the macabre and the comic elements in a generally effective fashion.
Jessica Rothe plays Theresa "Tree", a college student who wakes up in the dorm room of a young man, Carter (Israel Broussard), that she doesn't recognise. She is very hungover and doesn't know if she slept with him or not. It's her birthday but she is not happy at all.
Estranged from her father, whose phone calls she refuses to answer, still grieving the death of her mother, she has grown up to be selfish and brattish. She is having an affair with a college professor and is one of the more obnoxious members of her extremely obnoxious campus sorority. Sure enough, she soon discovers that she is living exactly the same day again and again. It always ends with her being murdered by a man in a grotesque mask.
The filmmakers come up with many different ways of killing "Tree" off but most involve her being stabbed to death. Just like Bill Murray in Groundhog Day, she goes through extreme swings of mood as she is forced to repeat the same experiences again and again. She moves from fury to resignation to enlightenment.
She eventually turns detective so she can solve her own murder. In the process, she becomes closer and closer to Carter, a clean cut but bland type whom she at first wants to shun. There are lots of very grisly moments here that could come straight from some 80s slasher movie but they sit alongside scenes that might belong in a John Hughes-style bratpack campus comedy.
Rachel Matthews excels as Danielle, the supremely bitchy president of the sorority who always wants to know who is sleeping with whom and makes very sure that no sorority members have been eating cakes, drinking chocolate milk or associating with the wrong kind of friends.
Rothe, too, is engaging as the heroine trying to work out why she is being caught in a time warp. Part of the point here is that she refuses to accept her status as victim. Living the same day again and again enables her to fight back.
As in Groundhog Day, the audience knows at least as much as the protagonist. The film plays on the tension between repetition and difference. We can tell exactly when the phone by the bedside will ring, when the sprinklers will go off, when we will hear the car alarm and just when Tree will be approached by the do-gooder lobbyist asking her to sign a petition against global warming. Every replay of the day also includes new information and sometimes surprising variations.
The filmmakers throw in references to John Carpenter movies and include lots of morbid touches (the students here like to keep toy skulls as ornaments; whenever a TV is turned on, we are always bound to see a news report of some recent murder or killer on the loose).
It's only in the latter stages that Happy Death Day begins to seem formulaic and contrived. What's impressive is the way the filmmakers take some already very familiar elements, repeat them again and again, and yet still manage to give them a fresh spin.
I Am Not A Witch (12A)
★★★★☆
Dir: Rungano Nyoni, 93 mins, starring: Gloria Huwiler, Chileshe Kalimamukwento, Travers Merrill, Ritah Mubanga, Dyna Mufuni, Maggie Mulubwa
Rungano Nyoni's debut feature is a delicately observed modern-day fable about a little Zambian girl accused of being a witch. The film is set in the modern-day but portrays a world in which witchcraft is accepted as an everyday occurrence.
There is a bizarre exchange early on when tourists come on a bus to look at the witches. One asks why these women all have ribbons tied to them. "These are used to prevent the witches from flying.
"They cannot fly anymore," the guide blithely explains, adding that these women are capable of travelling as far as the UK. "That's why they usually fly – to go and kill." The witches in question are seemingly mild-mannered, middle-aged women in scarves and smocks and with paint on their faces.
The little girl is first charged with witchcraft when she is caught looking at a woman who loses her footing and drops some water. "A lot of strange things have been happening, things that never used to happen," the woman tells the local police officer of the bad luck the girl has brought the community. She is very vague in her accusations but the girl is an outsider and unable to defend herself.
A witchdoctor pronounces on the case. The policewoman eventually calls a government official (Henry BJ Phiri), who sees an opportunity. A young waif with magical powers can make him money, help him get on TV chat shows and even give him an opportunity to sell eggs.
At first, the girl's predicament has a comic aspect. She is regarded a chosen one as much as she is a pariah. Everyone thinks she has special powers and that she can identify criminals and cause droughts to end.
Maggie Mulubwa plays the little girl in a quizzical, earnest and very poignant fashion. She hardly speaks. Sometimes, she tries to run away. She gives the impression she is completely puzzled by what is happening to her.
She joins a community of other women accused of being witches who are working with the government. They present her with a choice – she can either cut the ribbon and be turned into a goat or agree to remain a witch. She chooses the latter option and is given the name "Shula", which means "to be uprooted".
Director Nyoni, who was born in Zambia but raised in Wales, tells her strange story in down-to-earth, matter-of-fact fashion. This is nothing like a horror movie. Nonetheless, Nyoni exposes the sexism, hypocrisy and superstition that riddles the society in which the little girl is trapped.
The film is very picturesque in its own surrealistic fashion. The women accused of being witches are attached by their ribbons to giant spindles, which look like abstract sculptures. The film highlights an obvious clash between tradition and modernity.
Shula is caught in the middle in a world in which people are summoning ancient spirits one moment and then speaking on their mobile phones the next. Soon, she is beginning to wish she had taken the option to become a goat.
For all its satirical elements, I Am Not A Witch retains an air of mystery. There is also considerable pathos in the plight of its young heroine, who seems to have no say at all in how she lives her own life.
My Little Pony (U)
★★☆☆☆
Dir: Jayson Thiessen, 104 mins, voiced by: Tara Strong, Emily Blunt, Michael Peña, Liev Schreiber
An animated feature inspired by the Hasbro toy line, My Little Pony: The Movie is just as cutesy and sentimental as you expect it is going to be. There hasn't been any attempt here to include the wisecracking, offbeat humour that the Lego movies will always throw in for the adults. In its own terms, it is perfectly serviceable half-term entertainment for undemanding kids but a little less sugarcoating would surely have helped.
The story begins on the planet of Equestria. Mischievous young unicorn Twilight (breathlessly voiced by Tara Strong) is the Princess Of Friendship and she is busily organising a "festival of friendship".
The celebrations are spoilt when, for reasons never really entirely explained, the Darth Vader-like "Storm King" (Liev Schreiber sounding grumpy) invades. Helped by his accomplice Tempest (Emily Blunt), an embittered and friendless unicorn with a broken horn, he enslaves all the other little horses.
Twilight and a few friends escape and go an epic journey to find help from the Queen of the Hippogriffs. Tempest and the other villains are in relentless pursuit. The Storm King needs Twilight's powers (although we're never quite sure what these are or what he plans to do with them).
We are in a day-glo world in which the colours pink, blue and purple predominate and in which explosions of glitter and stars are never far away. Every so often, the action will stop so we can hear songs like "Friendship Is Magic" or "It's Time To Be Awesome".
Taye Diggs voices a devious cat who looks as if he'll double cross the little ponies and Zoe Saldana voices a piratical parrot. For all the Storm King's blustering and the occasional setback that Twilight and her friends endure, we know exactly how this pony race is going to end. Friendship and harmony are bound to prevail.
The screenwriters themselves seem a little exasperated at the constraints under which they're working. "I am so totally over this cute pony thing," the Storm King complains toward the end of the movie, voicing a sentiment which it sometimes seems the filmmakers themselves share.
Register for free to continue reading
Registration is a free and easy way to support our truly independent journalism
By registering, you will also enjoy limited access to Premium articles, exclusive newsletters, commenting, and virtual events with our leading journalists
Already have an account? sign in
Join our new commenting forum
Join thought-provoking conversations, follow other Independent readers and see their replies