Film reviews round-up: The Greatest Showman, Jumanji: Welcome to the Jungle, Pitch Perfect 3
Hollywood's latest big top extravaganza, 'The Greatest Showman', is a musical biopic of Nineteenth century entrepreneur and circus master, PT Barnum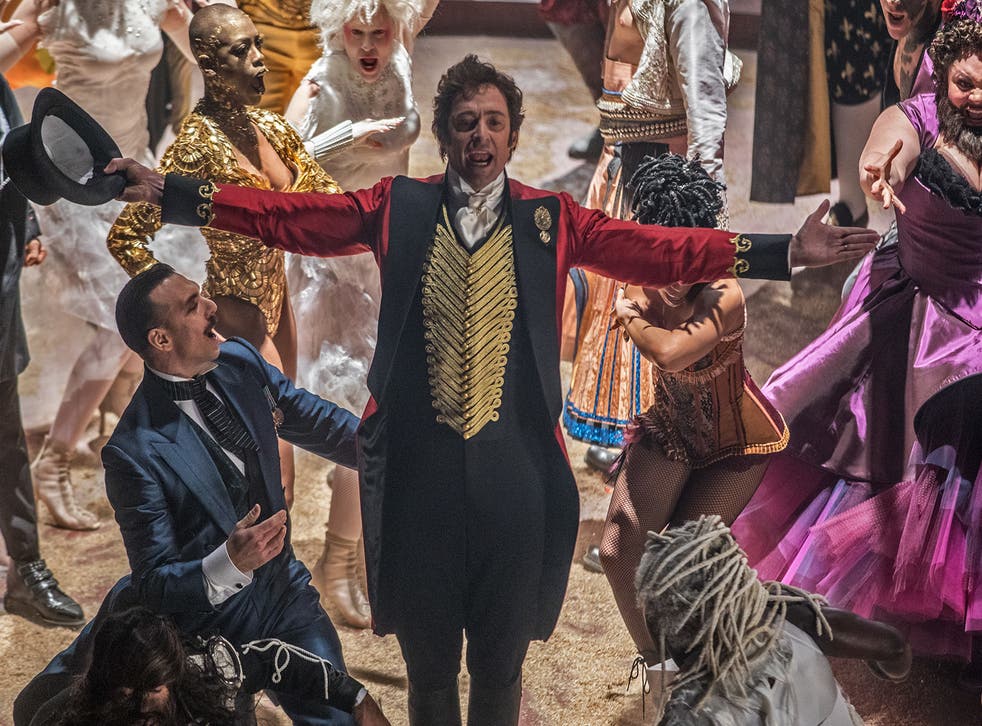 The Greatest Showman (PG)
★★★☆☆
Michael Gracey, 105 mins, starring: Hugh Jackman, Michelle Williams, Rebecca Ferguson, Zac Efron, Zendaya, Jacqueline Honulik
Roll up, roll up for Hollywood's latest big top extravaganza, The Greatest Showman, a musical biopic of Nineteenth century entrepreneur and circus master, PT Barnum. It's a strange affair, combining Dickensian elements and moments of bleakness and grotesquery with lots of singing and dancing staged in a deliberately anachronistic fashion. Hugh Jackman carries the show, playing Barnum with an energy and reckless optimism that rekindles memories of Gene Kelly in his pomp but the songs aren't especially memorable and the cringey sentimentality can't help but dampen the mood.
As the title proclaims, Jackman's Barnum is the "greatest showman". All the other cast members are therefore in his shadow. Michelle Williams has an especially thankless task as his long suffering wife, Charity, who sticks by him, even if she never gets any decent routines of her own. Williams is a formidable actress and it is dispiriting to see her here in such a token role. Even Zac Efron, the veteran star of all those High School Musical movies, is never really more than Barnum's trusty lieutenant and second in command.
Phineas Barnum is first encountered as a boy growing up in very straitened circumstances. His father Philo (Will Swernson) is an impoverished tailor who takes his son with him when he goes to measure up important clients. That is how little Barnum catches his first sight of the beautiful and very privileged young Charity, soon to become his wife.
Barnum has "a million dreams" (in the words of one song) but isn't, at first, able to offer Charity "the life I promised you" (in the words of another.) He becomes a humble, Bartleby-like office worker whose prospects diminish yet further when the firm he works for goes bust. They're still happy, though. They have two beautiful young daughters and Barnum is able to keep the family entertained by improvising light shows on the rooftops and by singing to the kids. At least, before his life as a showman begins in earnest, he is a reliable and devoted family man.
There are contradictions about Barnum which director Michael Gracey doesn't want to investigate too closely in case they get in the way of the song and dance. He's a hustler and a bit of a charlatan who makes his fortune by hoodwinking the public. Barnum is only able to get the money for his first museum show by tricking a bank into giving him an unsecured loan. His attitude toward the "unique persons" he puts on display (bearded ladies, tattooed men and dwarves) is ambivalent. He is giving them employment and a chance to express themselves but he is also exploiting them and inviting the public to ogle them as "curiosities." There are echoes here of Tod Browning's 1932 horror film, Freaks, which offered a far less rosy view of life behind the scenes in shows and circuses like the ones that Barnum stages.
Barnum is a bit of a snob too. Having grown up in poverty and still resentful at being treated in such dismissive fashion by Charity's wealthy family, he craves revenge against high society. He also wants acceptance from it. That is why he recruits a celebrated opera singer, the "Swedish nightingale" Jenny Lind (Rebecca Ferguson), and organises a nationwide tour for her. It's why he lives the life of a wealthy gentleman. Barnum hankers after critical approval and is strangely deferential to the dour and joyless newspaper founder and publisher, James Gordon Bennett (Paul Sparks, from House of Cards and Boardwalk Empire), who gives his shows such lousy reviews. One of the most poignant and revealing moments comes when he enjoys a "legitimate" success with Jenny Lind and is too embarrassed to allow the circus performers to come to the after-show party. "A man's station is only limited by his imagination" is one of Barnum's mottos as he sets out to climb as high as he can – but he doesn't necessarily want his associates to join him at the top of the tree.
As the film progresses, Barnum and co have to endure the snobbery of the swells and the hostility of the masses, some of whom can't stand seeing "freaks" on centre stage. We are treated to brawls and a spectacular fire. There are the inevitable marital tensions. Barnum is away from home incessantly; devotes much of his attention to Jenny Lind and is always ready to gamble what he has already on a new show or quixotic venture. "When will it ever be enough for you?" is the inevitable question as he pursues fresh successes. The long suffering Charity watches from the sidelines while he make the key decisions in their lives.
As Barnum and Charity try to keep their marriage together, his right-hand man Phillip (Zac Efron) is busy wooing high-flying trapeze artist Anne Wheeler (Zendaya). Phillip is from a wealthy, aristocratic background. She is from far more humble stock. Their budding romance across race and class lines provides at least one decent sub-plot as Barnum's fortunes rise and fall and rise again in very predictable fashion.
Access unlimited streaming of movies and TV shows with Amazon Prime Video Sign up now for a 30-day free trial
Sign up
As in so many biopics, musical or otherwise, dramatic tension is in relatively short supply. We are taken through the subject's life in broadly chronological fashion. What really matters here are the routines and the performances.
Jackman proves himself a very reliable musical trouper, just as at ease tap dancing and singing as in wearing big whiskers and using his claws as Wolverine in X-Men movies. He has already been nominated for a Golden Globe and you can understand why. He brings tremendous zest to the role and manages to ensure Barnum remains sympathetic in spite of his reckless treatment of those around him. The film doesn't skimp on the spectacle either and offers an intriguing account of the early days of the American travelling circus. This, though, is a patchy affair. The liveliness of the musical routines can't conceal the threadbare nature of the storyline.
Jumanji: Welcome To The Jungle (12A)
★★★☆☆
Jake Kasdan, 119 mins, starring: Dwayne Johnson, Karen Gillan, Kevin Hart, Jack Black
Multiple layers of irony and plenty of self-mocking humour characterise Jumanji: Welcome To The Jungle, a good natured but one-dimensional sequel to the 1995 film starring Robin Williams. This is again a case of the main characters getting stuck inside a board game and then enduring experiences in the wilds akin to those faced by contestants in I'm a Celebrity...Get Me Out of Here!
The main joke here, funny initially but overplayed, is that the four teenage leads from the opening "real world" part of the film are given new bodies as well as new identities when they are whisked away from afternoon detention cleaning out the basement at Brantford High School and into the world of the game.
The earnest, Adrian Mole-like hero, Spencer (Alex Wolff), is turned into dashing, muscular explorer, Dr Smolder Bravestone – and is played (very engagingly) by Dwayne "The Rock" Johnson. He's still cowardly and diffident, even if he now has bulging pecs and a punch that can send his enemies skyward.
Former wrestling star Johnson may not have much range as an actor but after two decades of appearing on screen in Fast And Furious and Mummy movies, he knows just how to underplay and send up his own macho image. "I'm a nerd," we hear him protesting proudly late on here, aghast that anyone could doubt the fact.
The other three students all undergo similar transformations. Bethany Walker (Madison Iseman), the prettiest and most narcissistic girl in high school, is turned into Professor Sheldon Oberon – and is played by Jack Black. The self-obsessed young temptress who can't get out of bed without first taking a selfie is horrified to find herself in the body of a little, fat middle-aged man: a "living garden gnome" as she calls himself/herself. Cue the predictable jokes about gender, sex and what it's like peeing when you are standing up. Black enjoys himself as the bearded, knobbly-kneed Lolita in baggy shorts and a pith helmet.
Enduring a metamorphosis in a different direction is Martha Kaply (Morgan Turner), the introspective young school rebel who doesn't want to waste her time on gym lessons when she could be studying to get into Princeton and who'll never join in any group activity. In the world of Jumanji, she is turned into Ruby Roundhouse (Karen Gillan), a lithe and seductive jungle girl in tight shorts and a cut-off t-shirt.
The fourth of the teenagers to be given a new body is hunky but dim-witted high school football star, The Fridge (Ser'Darius Blain), who is turned into diminutive zoologist, Franklin Finbar (played in comically yapping fashion by Kevin Hart).
Plot-wise, the new Jumanji is sheer hokum. To get out of the game and back home to the real world, the four "avatars" have to group together, work out a series of strange riddles and complete the game. They have three lives each. This allows the filmmakers to indulge in a few enjoyably morbid gags in which characters fall off cliffs or are gouged by wild animals. Whenever this happens, they rematerialise and carry on just as before. The downside, of course, is that there is very little element of risk. The villains, represented by a scowling Bobby Cannavale as an evil explorer or by his various gun-toting, motorbike riding henchmen, aren't especially threatening. Nor are the various snakes, hippos or rhinoceroses the group encounter.
As stunt follows stunt and joke follows joke, the film begins to resemble a series of sitcom sketches strung together with out-takes from Jewel Of The Nile or Raiders Of The Lost Ark. When the group encounter Jefferson "Seaplane" McDonough (Nick Jonas), a guide and adventurer who has been stuck in Jumanji for years and who has the look of a young Indiana Jones, that's the excuse for yet more in-jokes about the 1990s and how old-style youth movies have been changed by the advent of the smart phone.
Jumanji: Welcome to the Jungle carries the predictable messages about tolerance and not dismissing your school colleagues whether they're prettier than you or uglier or they're jocks or swots. There is room for everyone. A little like the characters in The Wizard Of Oz, the four youngsters discover their better natures and their own innate qualities. That, though, is not why audiences will want to see the film. The pleasure here lies in the often very goofy comedy and the tussling between the four leads, all of them doing their outrageous best to steal scenes from under each other's noses.
Pitch Perfect 3 (12A)
★★☆☆☆
Trish Sie, 93 mins, starring: Anna Kendrick, Rebel Wilson, Brittany Snow, Hailee Steinfeld, Ruby Rose, Elizabeth Banks
"We have so much footage. How are we going to edit it all," the hapless documentary maker Gail (Elizabeth Banks) is heard muttering at the end of Pitch Perfect 3. It's a question that hints at the throw-at-the-screen-and-see-if-it-sticks nature of this misfiring second sequel. From the moment when Rebel Wilson crashes through the roof of a luxury yacht to when her fellow acapella singers set fire to DJ Khaled's suite in a five star hotel in the south of France, the storytelling here has an utterly random quality. This may be in keeping with the singing routines that the group the Bellas are able to improvise at a moment's notice but it doesn't make for smooth or satisfying viewing. PP3 feels as if it has been made for the sake of making it and then shot in the most exotic locations available. Such niceties as meaningful plot lines or plausible characterisation are simply afterthoughts.
As the story begins, the members of the Bellas have had to stop the singing and get regular jobs. For reasons never explained, they're still followed around by documentary makers/talent judges Gail and John (John Michael Higgins), who take a morbid pleasure in their misfortunes. Bella (Anna Kendrick) has a seemingly impressive job as an assistant record producer but hates having to deal with talentless, brattish rappers when she could be making her own music. Her roommate Fat Amy (Wilson) is eking out a precarious existence with her routine as a "Fat Amy Winehouse," singing misery ballads in a strident voice.
The others have also graduated from college and are working in fast food vans or as personal trainers, vets and masseuses. They're all miserable and would much rather be competing in sing-offs. It doesn't take long before the opportunity arises to do so. Through one of the group member's fathers, who is top military brass, they invited to Spain to perform (and compete) at an armed forces base. Then, for reasons not fully or even partly explained, they play four cities in four days. They're competing against other groups (which all use musical instruments and don't just rely on vocal harmonies) for the chance to open for DJ Khaled on his next tour. Their main competition comes from girl group, Ever Moist, whose lead singer Calamity (Ruby Rose) is sassy and vindictive.
"We never do anything with dignity," the Belles proudly proclaim – and it is a boast they fully live up to throughout the movie. Between musical performances, they ogle the handsome officers and make as much mischief as they can. One or two have "father" issues. Fat Amy's old man, Fergus (a furtive looking John Lithgow), is a sleazy Australian crook in the Barry McKenzie mode. He turns up out of nowhere, seemingly set on a reunion with his daughter – but she suspects he has ulterior motives. Aubrey (Anna Camp) is pining for attention from her soldier father, but he is always too busy to see her perform.
Whatever struggles the women experience in the outside world, they're happy when they are singing. They tell each other again and again that they are "family" and vow to stick together, whatever happens. Given that they are young adults, on the verge of careers and new lives, this isn't a promise they are at all likely to keep.
Members of the Bellas are all equal in theory but some turn out to be more equal than others. Anna Kendrick's Bella is definitely the real star here; she gets the most screen time and the most attention from DJ Khaled. Rebel Wilson is the joker – the film's most subversive figure and the one who always makes the splashiest entrances.
The songs are put across with a sharpness and enthusiasm that much of the rest of Pitch Perfect 3 lacks. When they're performing on stage, the Belles work wonders with their intricate harmonies. Off stage, the narrative very quickly unravels. The filmmakers just don't know what to do with their characters, who are caught in some limbo between college and adult life. They graft on a preposterous crime story, complete with a thoroughly illogical mass kidnap scene, and include explosions and fires to distract us from the fact that there are as many leaks in the plot as there are in Fergus' fast sinking yacht.
The interplay between the Belles is still fun. Kendrick, Wilson, Camp, Hailee Steinfeld and co give the impression they're enjoying themselves as much as ever. This is a film produced, directed, written by and starring women and in which the men who do feature are just there as filler. That is admirable but it's a pity that the storytelling in Pitch Perfect 3 is so absolutely off key.
Register for free to continue reading
Registration is a free and easy way to support our truly independent journalism
By registering, you will also enjoy limited access to Premium articles, exclusive newsletters, commenting, and virtual events with our leading journalists
Already have an account? sign in
Register for free to continue reading
Registration is a free and easy way to support our truly independent journalism
By registering, you will also enjoy limited access to Premium articles, exclusive newsletters, commenting, and virtual events with our leading journalists
Already have an account? sign in
Join our new commenting forum
Join thought-provoking conversations, follow other Independent readers and see their replies