Film reviews round-up: The Secret Scripture, Snatched, Colossal, Machines
Rooney Mara faces institutional cruelty, Goldie Hawn and Amy Schumer play mother-daughter, Anne Hathaway controls a kaiju, and a new documentary on Indian textile factories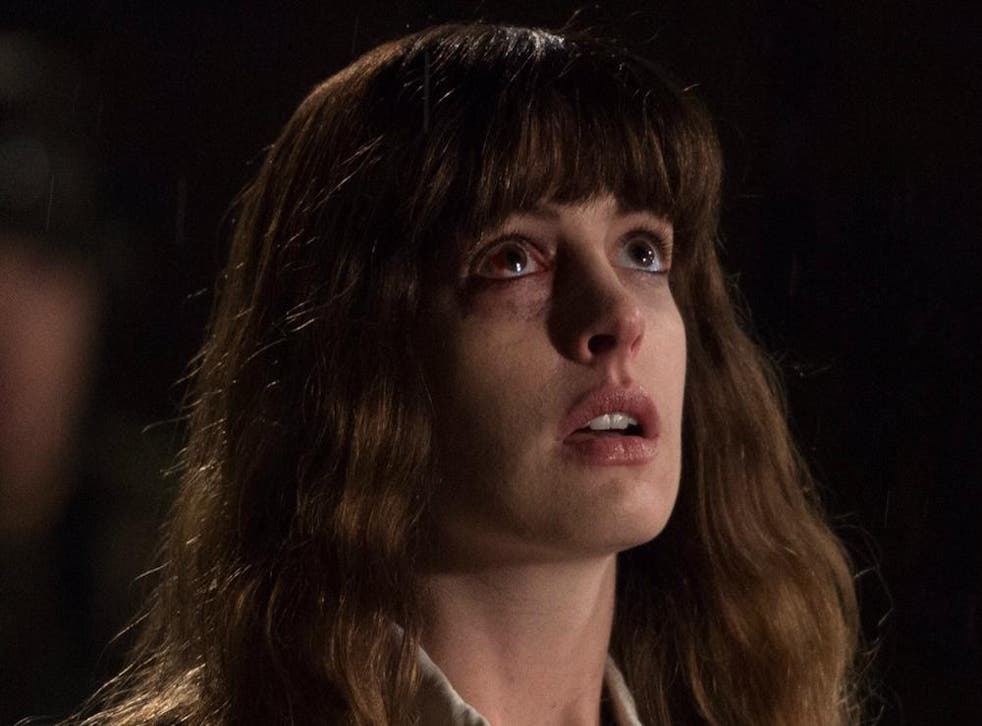 The Secret Scripture (12A)
★★☆☆☆
Jim Sheridan, 108 mins, starring: Rooney Mara, Jack Reynor, Theo James, Aidan Turner, Eric Bana, Vanessa Redgrave
Melodramas don't come more overwrought than Jim Sheridan's version of Sebastian Barry's Booker prize winning novel. Unfolding to the accompaniment of a piano-based soundtrack (with "Moonlight Sonata" to the fore), this is the story of the benighted Rose McNulty.
She is played as a young woman by Rooney Mara - and as a very old one by Vanessa Redgrave. She is an innocent woman who has been made to suffer like Job because her beauty brought out sexual jealousy and malice in those around her.
As first encountered, Rose is the venerable, long-term patient in a psychiatric hospital. She had been locked up many years before for brutally killing her own newborn child. The hospital is about to be closed to make way for a luxury hotel and its main doctor (Adrian Dunbar) is keen to hurry on Rose somewhere else as soon as possible.
Another doctor, Stephen Greene (Eric Bana), has come to the hospital to look at Rose's case and rubber-stamp her removal. It's at this point the heart-tugging begins in earnest. Stephen has issues in his own life that heighten his curiosity about this elderly woman "living in her own little purgatory" and who "just can't function in the real world." Rose has a Bible on the pages of which she has secretly scrawled her reminiscences.
There are shades of Stephen Frears' Philomena and Peter Mullan's The Magdalena Sisters here. This is yet another drama which exposes the cruelty of the Irish state toward "fallen" women. Rose is being punished because of the hypocrisy, misogyny and anti-British feeling of others.
Her diary entries prompt the flashbacks to the 1940s, when she was a young woman during the Second World War. She was a Protestant. The Catholics, and especially the local branch of the IRA, had no interest at all in supporting the British war effort. Rose wasn't remotely political herself but her actions - and her very presence - exposed her to extreme danger.
The most ambiguous figure here is the young and good looking priest Father Gaunt (played by Theo James in a febrile way that rekindles memories of an equally anguished Montgomery Clift in I, Confess.) He is widely respected but can't deal with his own sexual attraction toward Rose.
It doesn't help her cause, either, that she has fallen in love with a young man. Michael McNulty (Jack Reynor) who has become an RAF pilot - and who is therefore regarded with loathing by the many who want the Brits to lose the war.
Access unlimited streaming of movies and TV shows with Amazon Prime Video Sign up now for a 30-day free trial
Sign up
Sheridan does an effective job of showing the backbiting and feuding in the small town where Rose is spending the war years. Mara is very striking as the beautiful, stubborn heroine who won't give in to intimidation or apologise for loving the RAF man.
In the scenes in which the young couple hide away in a cottage in the woods, the film takes on a fairytale aspect. Redgrave impresses, too, playing Rose as a frail but still very steely old woman who has endured incarceration for 50 years or more and knows the injustice of her own situation. "I did not kill my child," she repeats again and again.
It's the construction, not the performances, which undermines The Secret Scripture. The flashbacks are handled in a clunky fashion. Elements which might have seemed convincing on the page in a literary novel feel very contrived in a movie.
Rose will be walking through the woods when the RAF man just happens to be hanging from the trees by his parachute. The links between Bana's character, psychiatrist Stephen Greene, who never knew his real mother, and the venerable Rose, who has spent over half her lifetime pining for a lost child, seem just a little glib and convenient.
If The Secret Scripture had been made as a full blown Hollywood weepie, the sudden plot reversals and heavily telegraphed final reel revelations would have been easier to take. Instead, the film at least flirts with realism. It has brutal moments - assassinations during wartime, shock treatment and forced feeding in the asylum.
There are competing and contradictory accounts about what happened to Rose's child and Sheridan deliberately obfuscates matters in flashbacks which seem to be showing us the truth but may, in fact, be lies. The lachrymose music has a deadening effect.
Occasionally, it does tug at the heartstrings in the way that was surely intended. Its impact, though, is dulled by the shifts in time, lurches in tone and its very tricksy and contrived plotting.
Snatched (15)
★★☆☆☆
Jonathan Levine, 90 mins, starring: Amy Schumer, Goldie Hawn, Joan Cusack, Ike Barinholtz, Christopher Meloni, Óscar Jaenada
You can tell this is a very base comedy from the scene early on in which Emily Middleton (Amy Schumer) and her mother Linda (Goldie Hawn) are offered a "welcome" drink at the expensive hotel in Ecuador where they've arrived on holiday together.
The drink in question is a suspicious looking concoction, white, viscous and so disgusting that Hawn instantly spits it out. The joke here, so crude and mindless that even raunchy, end of the pier entertainers like Roy Chubby Brown would be embarrassed by it, is that this is "whale cum".
Your heart sinks when you see comedians as talented as Schumer and Hawn being fed such low-grade gags. There are moments here which are genuinely funny but Snatched feels overall like a very botched job. This is Hawn's first movie in 14 years and one of her least distinguished. It doesn't have anything like the momentum or charm of Trainwreck, Schumer's abrasive but witty and sweet-natured romantic comedy from 2015.
The film has barely started when Schumer's character Emily is told by her hipster musician boyfriend Michael (Randall Park) that he is splitting up with her on the grounds that he wants "hundreds of pussies" and she only has one. This means that Emily has no one to take with her on her already paid for, non-refundable holiday to South America.
She's single. So is her cat-loving mum (Hawn). After discovering an old photo album which reveals that the mum used to be quite a party gal, Emily decides to take her on the holiday.
Hawn's an old trooper and still has some of that quirky charm she first displayed in Rowan and Martin's Laugh-In half a century ago. Whether she's smearing her daughter's body with suntan lotion or trying to calm herself at a moment of crisis by reading a pornographic magazine, she can squeeze the comedy out of the most unpromising situations.
Schumer has a nice line in self-deprecation too. At first, she'll seem to be the butt of the joke but invariably somebody else ends up looking even more stupid than she does. Here, she is charmed by James (Tom Bateman), a good looking but very smarmy Englishman in the Colin Firth mould.
Her relationship with him leads to the key event in the movie, the kidnapping of Emily and her mum by hardened gangster/drug-dealer type Morgado (Oscar Jaenada), who looks and behaves as if he is on leave from an episode of Narcos. He does point out, quite accurately, that Emily and her mother have no interest at all in South America or its people.
Much of the rest of the movie consists of mother and daughter trying to flee from their captors. They run through the jungle, head down river in an African Queen-like boat piloted by a hapless American adventurer and Emily stops at one stage for an impromptu medical examination. This prompts the most grotesque scene in the entire movie - the doctor trying to coax out a gigantic tapeworm from deep in Schumer's gut.
Snatched Clip - Poofy Face
While mother and daughter are getting into more and more trouble, back home in the US Emily's brother Jeffrey (Ike Barinholtz) is contemplating how best to rescue them. He is a determinedly nerdy character who hates to leave home but he's the one Morgado contacts to demand a ransom.
Between scenes of Schumer and Hawn desperately trying to escape their captors, there are scenes of Jeffrey having tetchy conversations with a state department official (Bashir Salahuddin) who makes it very clear the American government has little interest in rescuing the two women. Jeffrey is crestfallen to discover that the government doesn't even have an "A-Team" like a squad of hardened veterans to send into South America in search of them.
The third comic double act in the movie, after the mum and daughter and Jeffrey and the agent, is Wanda Sykes's motor-mouthed Ruth and her silent friend Barb (Joan Cusack), guests at the same hotel who seem to moonlight as vigilantes.
Katie Dippold's screenplay is episodic and haphazard. Amid all the jokes about incontinence and snoring, the film can become very vicious. There are torture scenes. Baddies get their heads smashed with spades or are savaged by dogs.
What's most disappointing about the film is that the relationship between mother and daughter simply doesn't change. The film begins with an inter-title promising us "violence, mayhem and a reckless disregard for life" and then adds "the kidnappers did bad stuff too". This promises a war of attrition between Schumer and Hawn's characters.
In fact, Emily and her mom get on just fine. Each embarrasses the other from time to time but there's no hostility between them. It's clear from the outset that they're far too much for the villainous Morgado to handle. This means there is no dramatic tension whatsoever. This isn't so much a coherent movie as a lot of comedy sketches strung together. While Schumer turns out to be a dead-eyed shot, the film itself has a very wayward aim.
Colossal (15)
★★☆☆☆
Nacho Vigalondo, 109 mins, starring: Anne Hathaway, , Dan Stevens, Jason Sudeikis, Tim Blake Nelson, Austin Stowell, Agam Darshi
Writer-director Nacho Vigalondo's Colossal is a bizarre affair, a US indie drama set in a small town that keeps on turning into a Godzilla-style Asian monster movie. It's an ugly mish-mash of a film in which the two storytelling styles continually chafe against each other.
Anne Hathaway (who also executive produced) plays Gloria, a young woman living in New York with her censorious English boyfriend Tim (Dan Stevens) and drinking and partying to make up for the fact that she can't find a job. Tim claims to love her but that doesn't stop him booting her out of their shared apartment. She is therefore forced back to the town where she grew up. Her old home is empty, stripped of furniture and with nobody living there.
She moves back in and sleeps on the floor. She also picks up on an old friendship with Oscar (Jason Sudeikis), someone she has known since childhood. Oscar has never left the town. He runs a dead-end bar where he hangs out with his friends, the waspish, drug-addled Garth (Tim Blake Nelson) and the good looking but very dull Joel (Austin Stokewell.)
For a while, it seems as if we're back in the realm of early Tom DiCillo or Jim Jarmusch films in which listless characters sit around in bars, mulling what might have been. The difference here is that as Gloria and her friends drink their days away, a monster is on the loose in Seoul. TV carries live transmissions of this giant creature, roaming the city and leaving devastation in its wake.
It's here that the film becomes very absurd indeed. Hathaway realises that the monster is mimicking her movements. If she dances around in the town's old playground, the monster will perform exactly the same moves at exactly the same time. It is her mirror image.
The most impressive aspect of Colossal is its willingness to deal with the disappointments and burning resentments of its main characters. At first, Sudeikis' Oscar seems laid-back and genial. Gradually, we discover that he is hugely frustrated with his life and has strong feelings for Gloria.
The film suffers from credibility problems - and that's not just because of the gigantic creature wreaking havoc in South Korea. Hathaway seems strangely cast as Gloria. She is supposed to be a self-pitying near alcoholic who can't take control of her own life. Hathaway, though, is such a strong screen presence that it's hard to believe in her as such a weak and needy type.
Vigalondo certainly surprises us and defies expectations. Colossal seems at times to be shaping up as a low-key, character-based comedy but then will suddenly head off in a far bleaker direction. By depicting the monster, he is giving a literal form to ideas that would more normally be dealt with in metaphorical fashion. The strategy, though, is flaky and distracting. The film would surely have worked far better with the monster left in the box and the Korean scenes excised altogether.
Machines (12A)
★★★★☆
Rahul Jain, 71 mins
A kid can barely keep his eyes open as he works at the machines. An adult chews tobacco in his moments off, the only small luxury he can afford. Everyone works 12 hour days. Jain's brilliant documentary about life inside a vast Indian textile factory both conforms to our preconceptions and sometimes turns them on their head.
As we might expect, the conditions are hellish. The machines move at an unrelenting pace and the humans have to keep up with them. What is surprising is the beauty of the film. There are long held shots in which the camera glides all around the vast factory floor, showing exhausted workers asleep on the bundles of textiles they've been so busy producing and sudden explosions of colour.
Much of the film is fly on the wall observation but there are selected interviews with workers and their foremen. The factory employees, many of them extremely skilled, have few rights. If they do try to form unions, they face intimidation from their bosses.
They're both resilient and fatalistic - half resigned to their own exploitation. They want to fight back but are very aware of what it might cost them and their families. Jain doesn't editorialise or include a didactic John Pilger-style commentary pointing out the injustice of it all or explaining just where and how all those garments westerners wear are made. Even so, the film has a quietly devastating charge.
Join our new commenting forum
Join thought-provoking conversations, follow other Independent readers and see their replies