Foxcatcher - movie review: Steve Carrell is creepily brilliant but this film is hollow at its core
This is a film that we all know is going to end badly
Geoffrey Macnab
Thursday 08 January 2015 15:28 Comments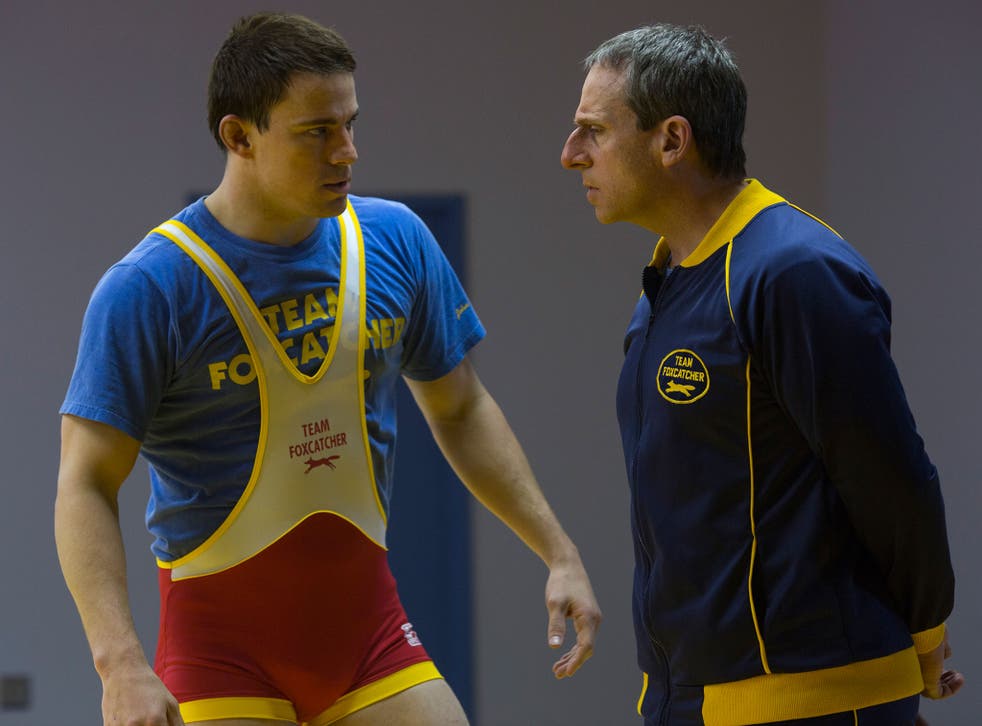 "What does he get out of all of this?" the bewildered wrestler Dave Schultz (Mark Ruffalo) asks early on in Bennett Miller's Foxcatcher when he learns from his brother Mark (Channing Tatum) that blue-blood multi-millionaire John du Pont (Steve Carrell) is investing a fortune in training facilities for US wrestlers.
It is a question that the film itself struggles to answer. Foxcatcher is brilliantly acted and extremely well crafted in a wintry, slow burning way but has an emptiness at its core. Its problem is that Du Pont himself is an inscrutable figure whose behaviour is utterly unfathomable.
Foxcatcher is the antithesis of the Rocky-style sports movie with a triumphalist narrative and "The Eye Of The Tiger" blaring away on the soundtrack. It opens in disconcerting fashion, more Brideshead Revisited than Big Daddy or Giant Haystacks, with evocative black and white home movie footage of fox hunts on the Du Pont estate. This is accompanied by mournful music. Although it unfolds over several years, the film seems to be set in a permanent winter, with leaves or snow on the ground and no sunshine.
Mark Schultz is first shown living in small town America in the mid 1980s, eking out an existence in a tiny apartment, training in a decrepit gym and giving lectures to sceptical school kids about how he won his gold medal at the 1984 Seoul Olympics.
Baftas 2015 nominees

Show all 20
The filmmakers are alert to the class divide between the wrestler and his patron. Schultz wears jeans and trainers. Du Pont lives in old world splendour in a huge country house.
The film shows its two lead actors in a new light. Channing Tatum is generally cast as the action hero/romantic lead (White House Down, Dear John) or the goofy jock while Carrell is the comedian who excels at playing the harassed everyman. Here, both are in far more intense groove.
Tatum's tongue-tied, slightly dim-witted wrestler here isn't so far removed from the undercover cop he played played in 21 and 22 Jump Street. The difference here is that he is in earnest. Tatum captures Mark's mix of innocence, aggression and, latterly, his self-loathing and self-pity too. He is also completely credible as an Olympic-level wrestler.
There is a comic element to Carrell's Du Pont. He likes his friends to call him 'golden eagle' and his behaviour is often eccentric in the extreme. "I am an ornithologist. More importantly, I am a patriot," he declares at one stage. Thanks to his immense wealth, he has a sense of privilege and entitlement and yet is terrified of his elderly mother (Vanessa Redgrave), a tweedy matriarch who dismisses wrestling as "a low sport."
Du Pont cuts an absurd figure when he himself takes up wrestling in the over 50s category or when he fusses around Mark at competitions, fanning him with a towel. His sexual attraction to the wrestlers is apparent - although the real Mark Schultz has complained that the film misrepresents his relationship with the tycoon. Carrell's performance is effective because it is so creepy and ambiguous. His huge aquiline nose gives him a patrician air. Sometimes, he seems to be speaking sense but then he will suddenly switch subjects, for example talking about his love of wrestling one moment and his passion for birdwatching and stamp collecting the next. He wants to be a mentor and a leader and yet we are always aware, as he seems to be too, that the wrestlers only listen to him because of his immense wealth.
Access unlimited streaming of movies and TV shows with Amazon Prime Video Sign up now for a 30-day free trial
Sign up
Arguably, the best performance of all comes from Mark Ruffalo as Dave Schultz, the decent, loyal family man who tries to look out for his little brother but ends up caught in Du Pont's web as a result. Ruffalo has bulked up to play Schultz and is barely recognisable beneath his beard. His Dave is as grounded and pragmatic as Du Pont is flighty and eccentric. In one scene, we see him help his brother, who has just been on a self-destructive food binge, lose 12lb in 90 minutes in order to make the weight for his next bout.
This is a film that we all know is going to end badly. Miller's sombre storytelling style doesn't leave room for doubt on that score. Sporting triumphs here are experienced only fleetingly. One of the fascinations of Foxcatcher is that it is a "sports movie" (if it can be described as such) that is far more concerned with the events behind the scenes than it is with the World Championships or Olympics. Miller is probing away at the strange mix of motivations that drive both the wrestlers and their hangers-on and cheerleaders, Du Pont foremost among them.
In the end, Du Pont's personality defeats the filmmakers. He is simply too enigmatic a figure for them to unpick. We are never sure how seriously to take him. If he is suffering from mental illness, he is as much the victim as the wrestlers he preys on. If he isn't, his behaviour is all the more deplorable. Is Bennett using him to satirise the old American ruling and moneyed class, corrupt, violent and with a distorted sense of patriotism? Is this a twisted love story? Is it the case study of a poor little rich boy who has Norman Bates-like issues with his mother? It simply isn't clear and that is why the film feels so frustrating in spite of the consummate craftsmanship with which it has been made.
Register for free to continue reading
Registration is a free and easy way to support our truly independent journalism
By registering, you will also enjoy limited access to Premium articles, exclusive newsletters, commenting, and virtual events with our leading journalists
Already have an account? sign in
Join our new commenting forum
Join thought-provoking conversations, follow other Independent readers and see their replies